Hungry Big Island Monarch Butterfly Caterpillars - Seaview, Lower Puna, Far East Big Island, Hawai'i - May 31, 2022

Warm greetings all! 🙏 💚
Several months ago I created a planting bed (that I've mentioned in a few previous posts) under a hala (Hawaiian name) tree, Pandanus tectorius, where I planted two ramgoat dashalong, Ternera ulmifolia, and several tropical milkweed, Asclepias curassavica. The milkweed plants strongly attract female monarch butterflies, Danaus plexippus, in search of an appropriate plants to lay their eggs, and these plants can be completely defoliated by hungry caterpillars (there are still too few plants, that are not sufficiently well developed yet). I plant the tropical milkweed in part for the monarchs, but I have to protect the plants a bit until they fully establish, and begin seeding themselves around the garden.
To many people's surprise, my own included when I discovered it, there are monarch butterflies in the Hawaiian Islands, which appeared when the giant milkweed, or crown flower, Calotropis gigantea, was introduced into the Islands. The monarchs here are non-migratory, and are surprisingly common, even though in our area of Hawai'i - the far East side of the Big Island of Hawai'i - the caterpillars only eat two species of plants of which I'm aware, the above mentioned tropical milkweed and giant milkweed. Thankfully at The Sanctuary of The Blue Dragon, in Seaview, where my partner, @kai-sunrise, and I live, both species are growing (I brought and planted the tropical milkweed), though I need to propagate and plant more of both to support the local monarch populations, and so the plants I do have planted are not overly taxed by having too many leaves eaten too often.
Yesterday I noticed that the leaves of tropical milkweed were being eaten again, so I looked over the plants for caterpillars, something I do periodically. I found several caterpillars, of different ages, which I gently collected and moved to the giant milkweed, nearby.
This is the bed under the hala tree where I have the tropical milkweed and ramgoat dashalong planted. The milkweed have the red and yellow flowers, and the ramgoat dashalong have larger yellow flowers. The monarch caterpillars like to munch the milkweed down to stubs!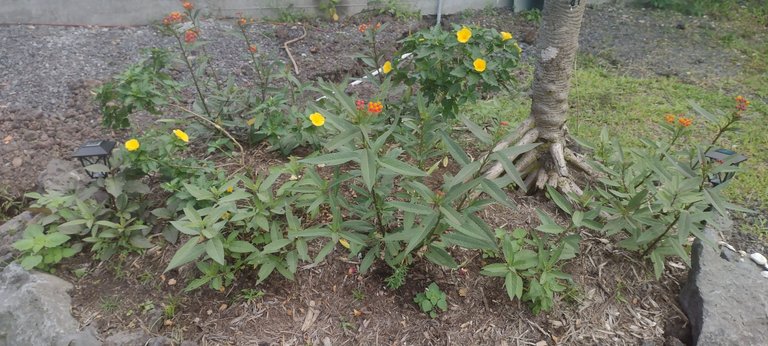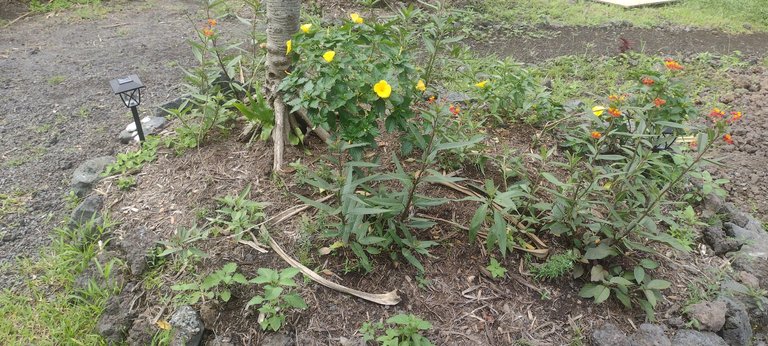 Here's the group of monarch caterpillars that I found on the tropical milkweed, and moved to the giant milkweed. There's a notable difference in size between them, so much so that one quite small one can be seen crawling on a larger one. They are such cute and pretty little buggers!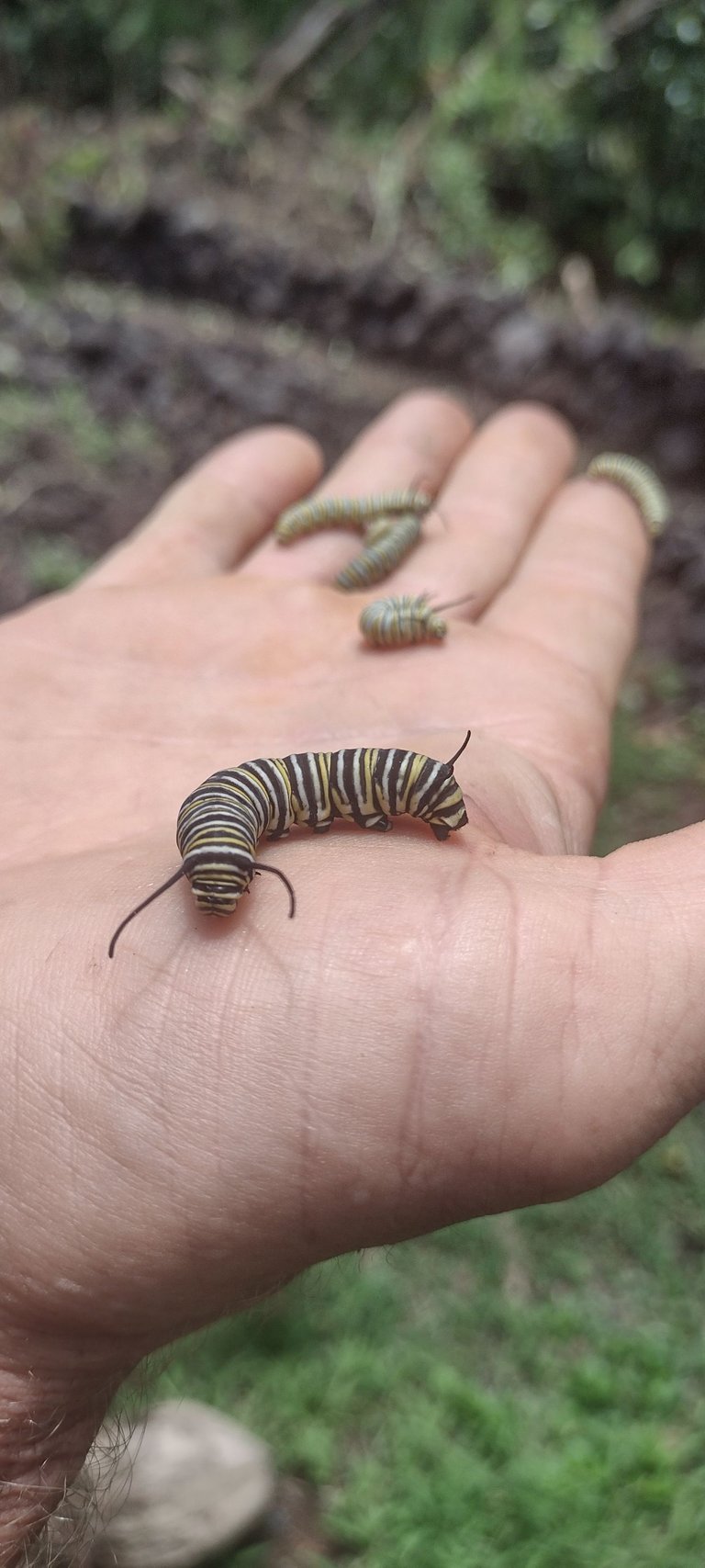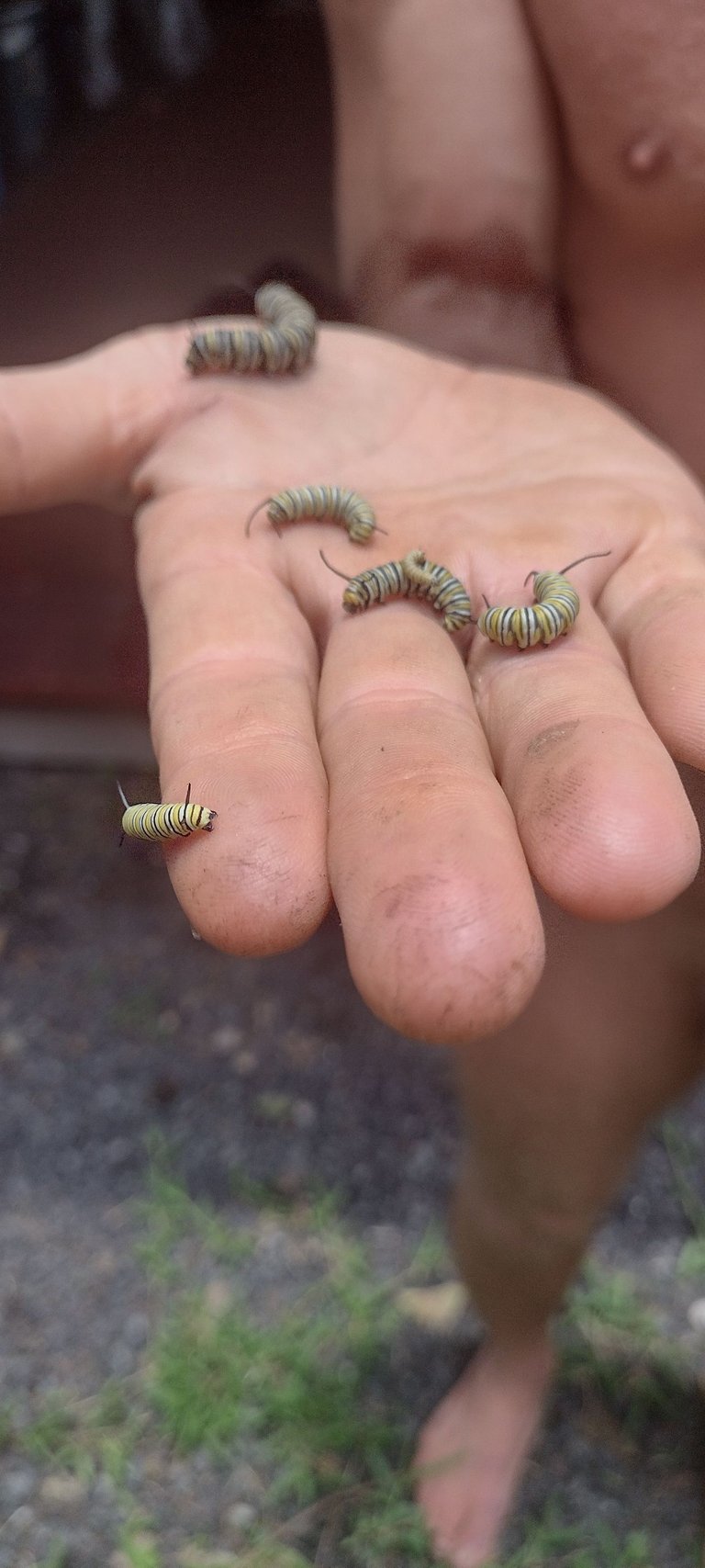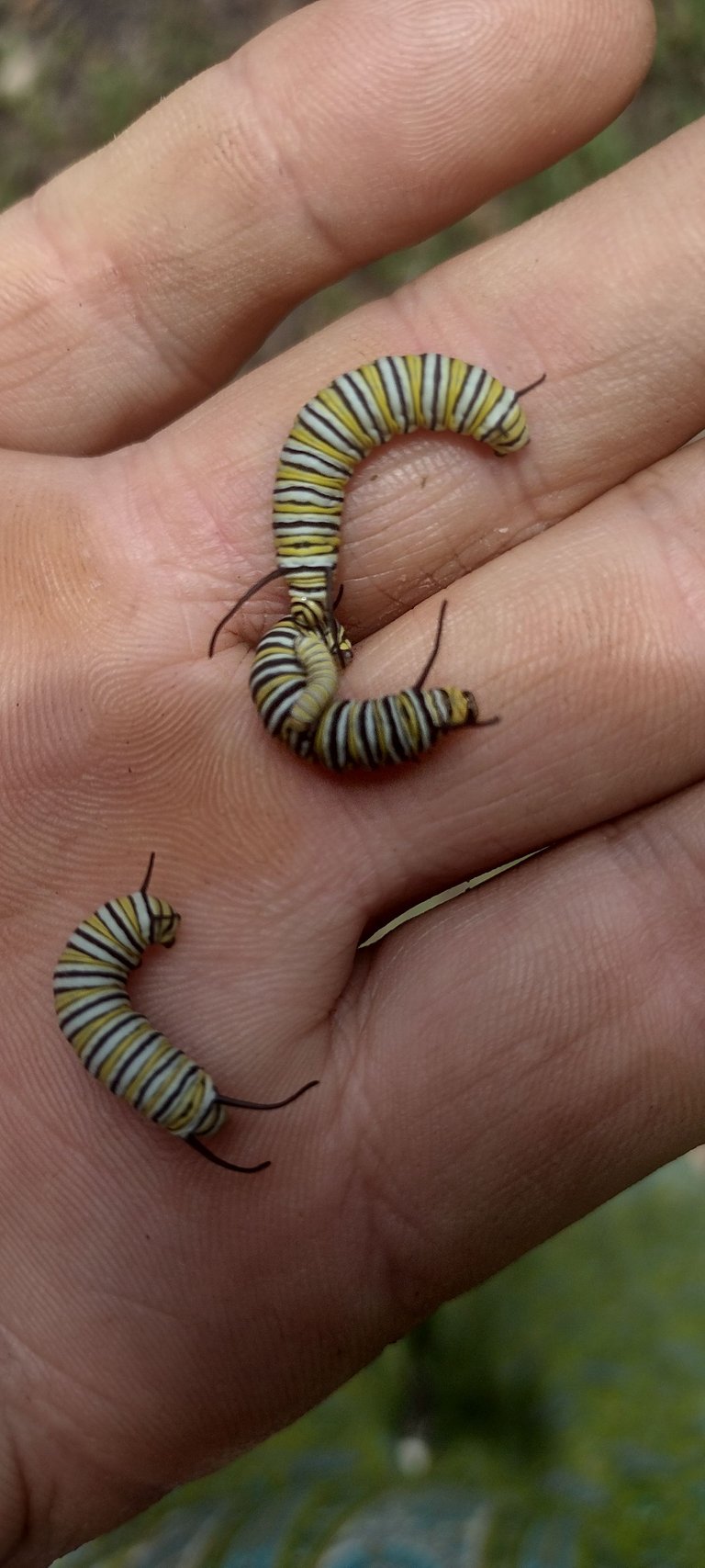 This is the giant milkweed, where I relocated the caterpillars. Notice that its leaves have many holes and missing sections, from caterpillars munching. While it doesn't look great, this plant has large, thick leaves, which provide a lot of food for the caterpillars, and can still maintain its vigor.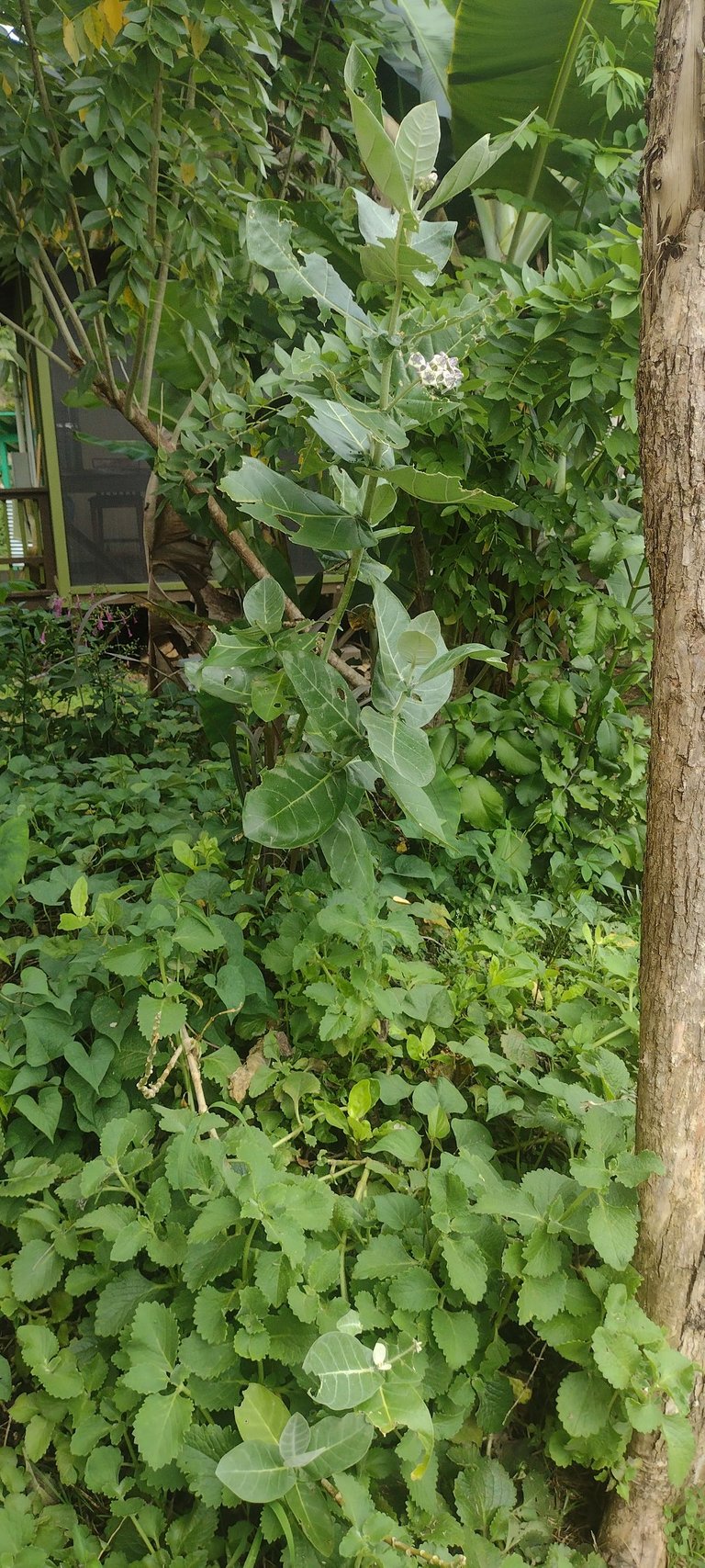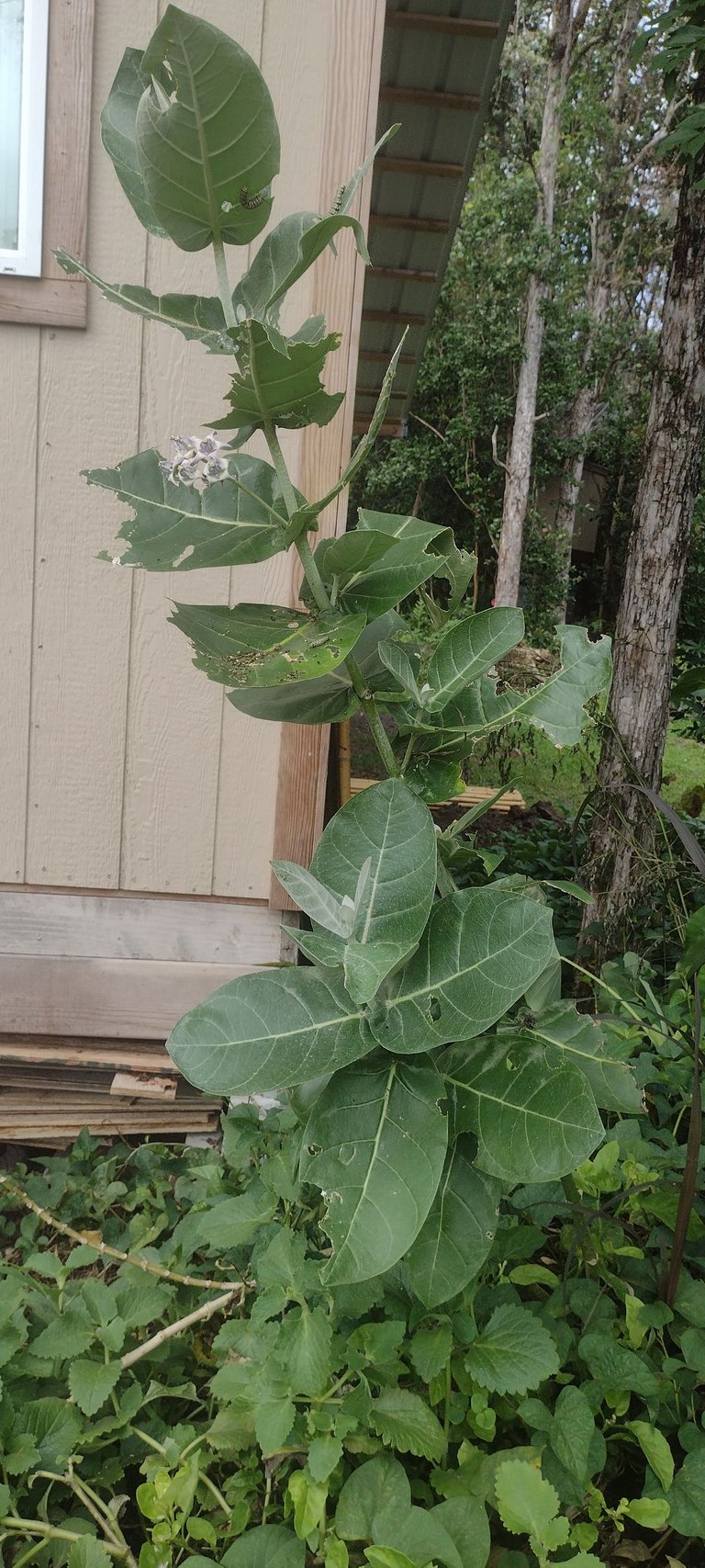 Here you go little fellas, your new home! The green, brown, and black globs on the leaf are caterpillar droppings, collecting in a flat area.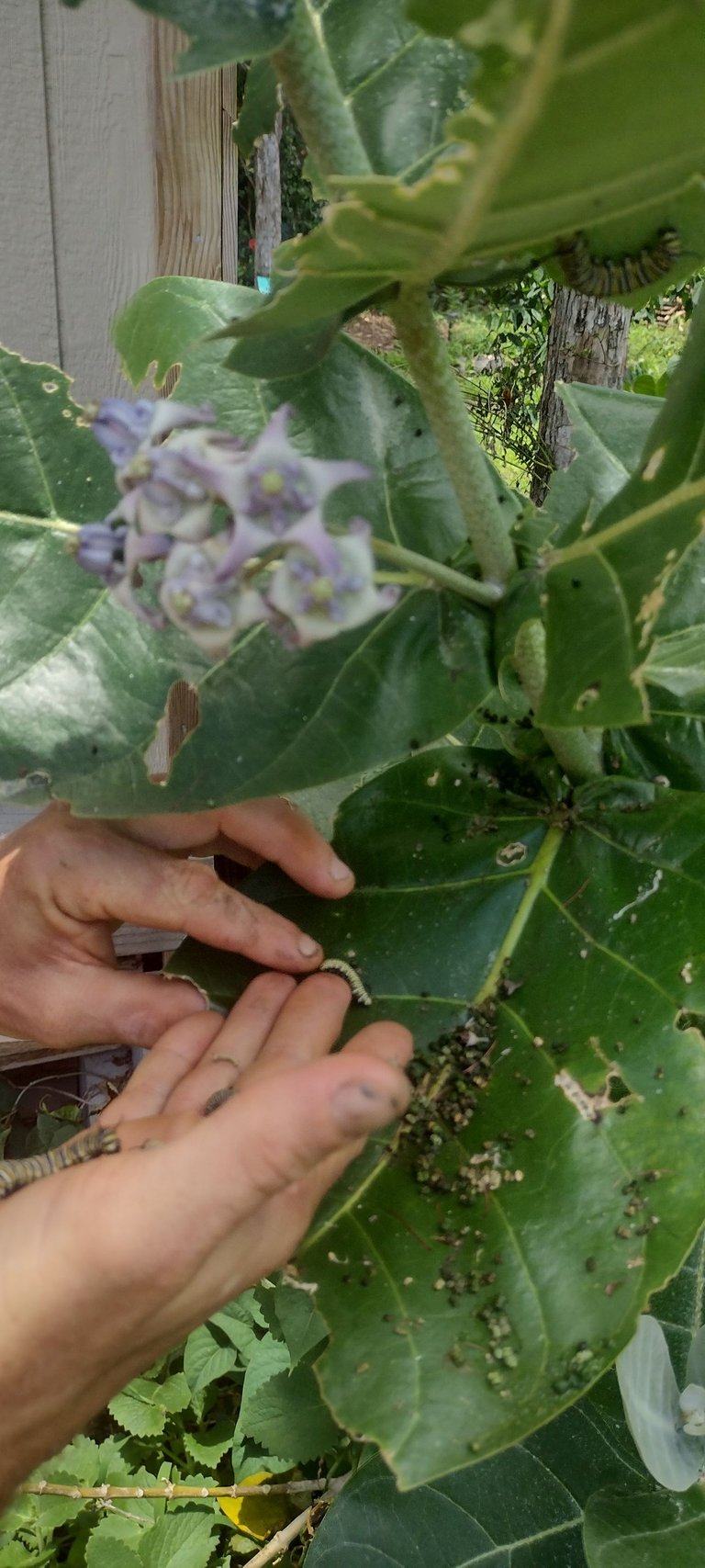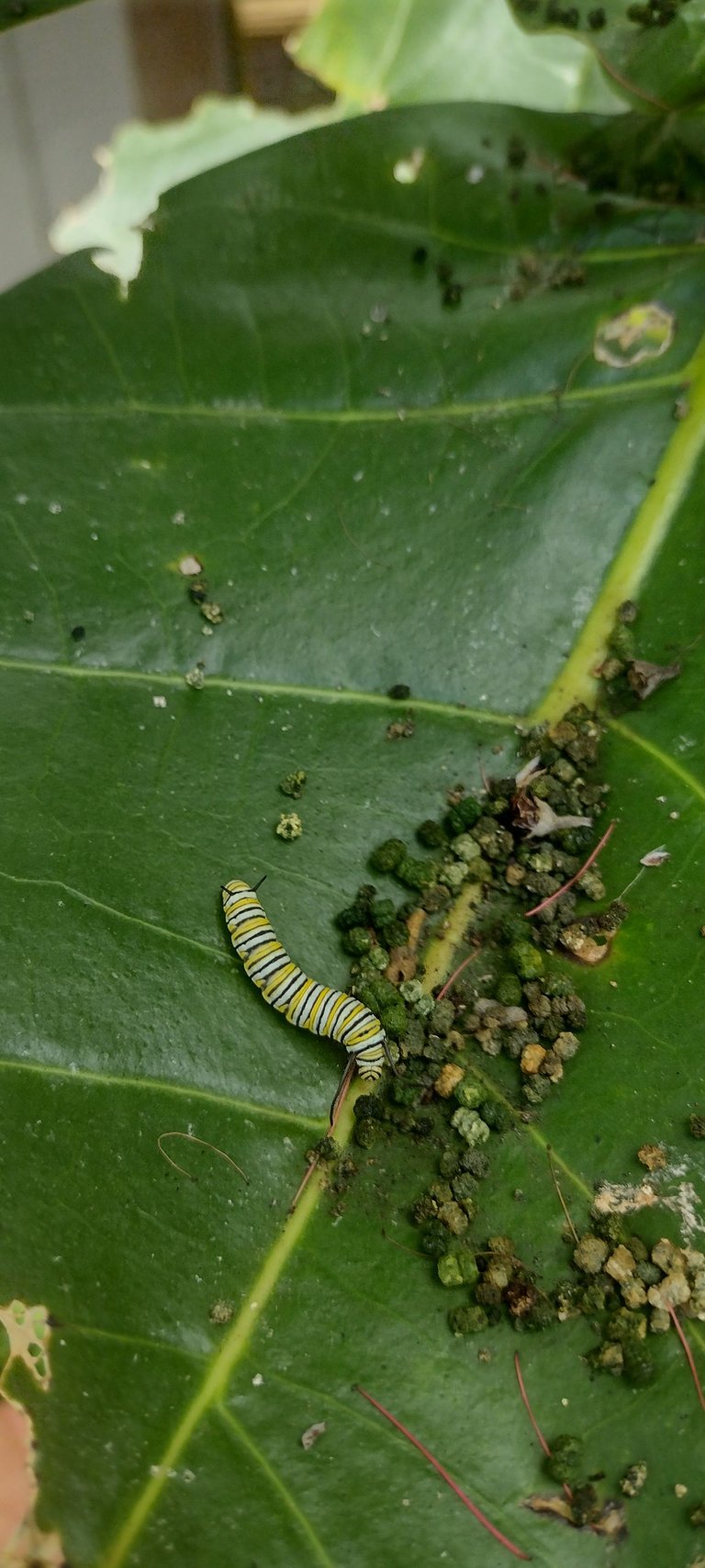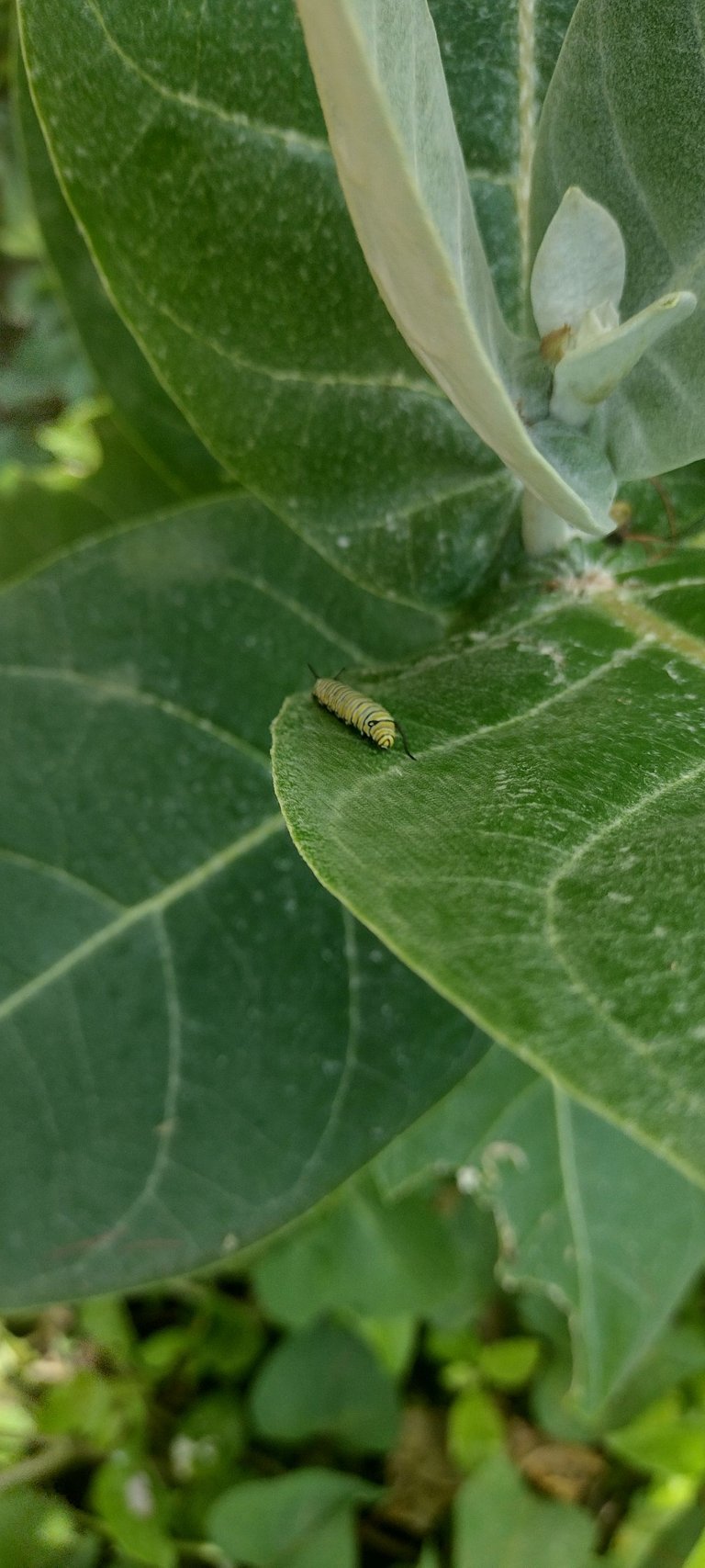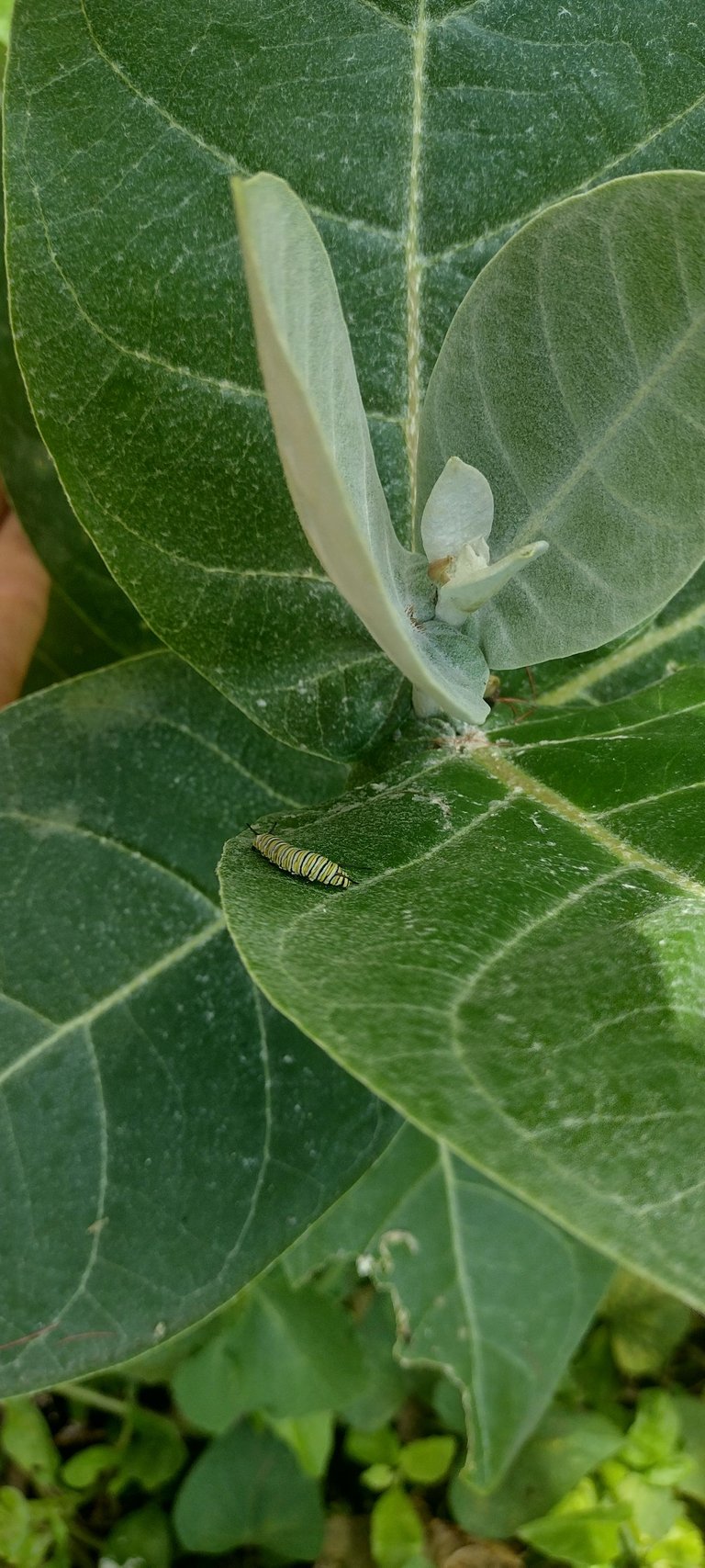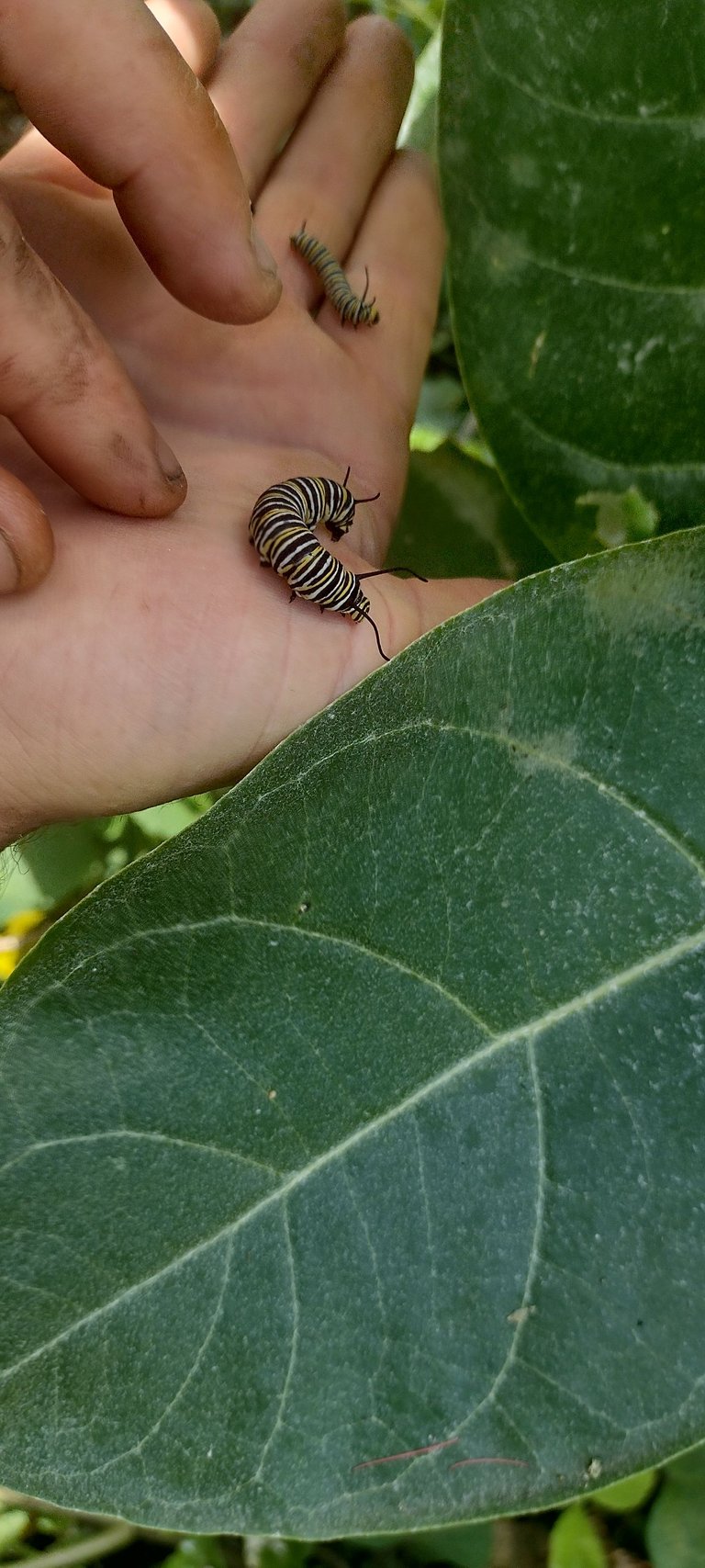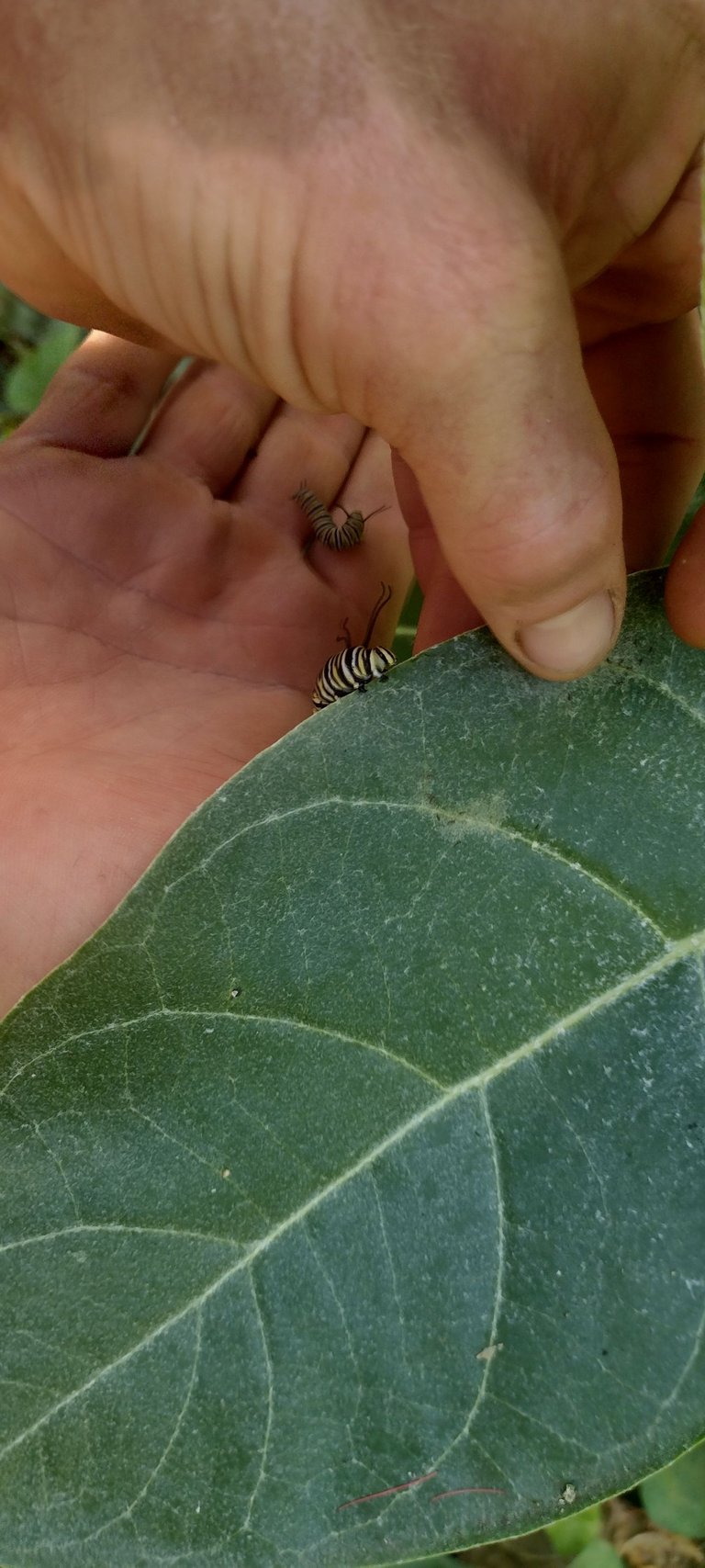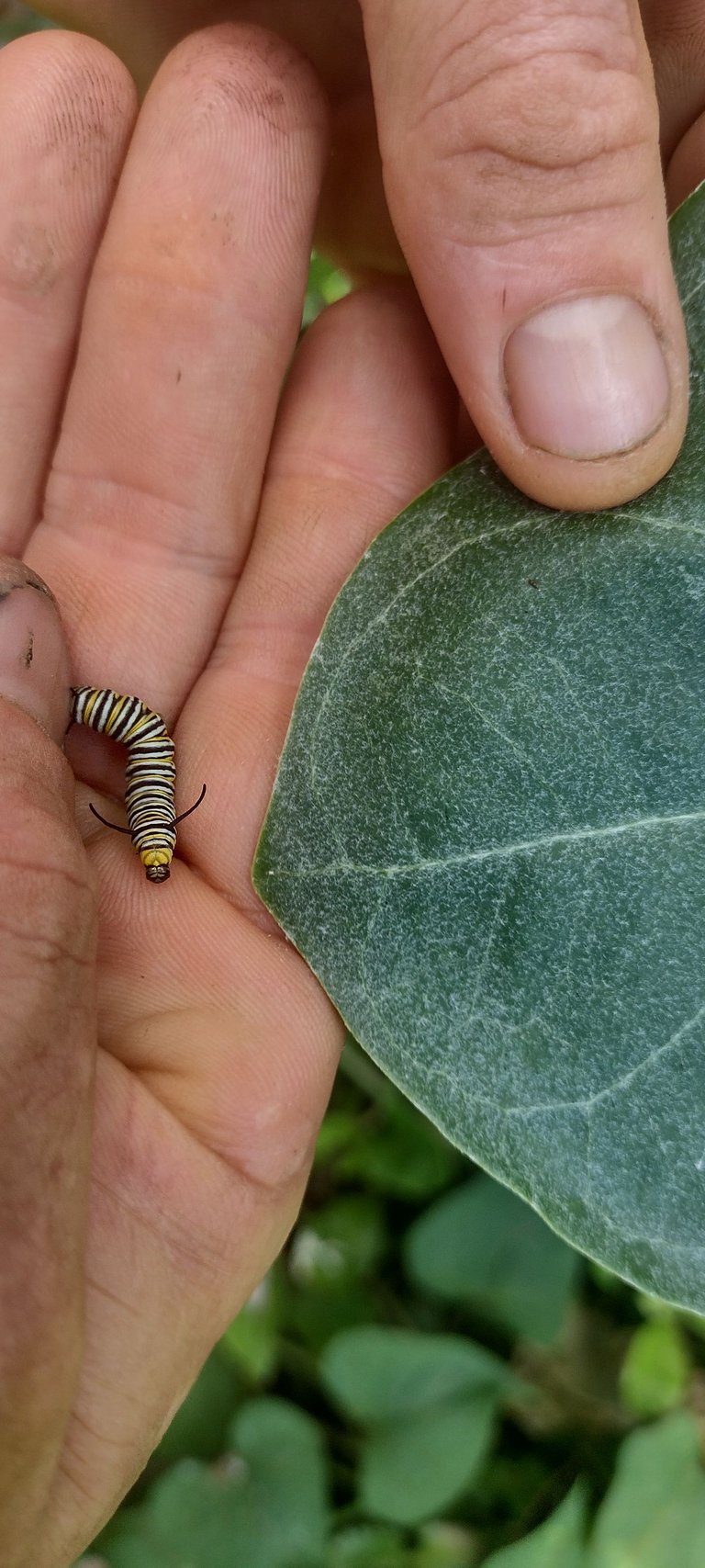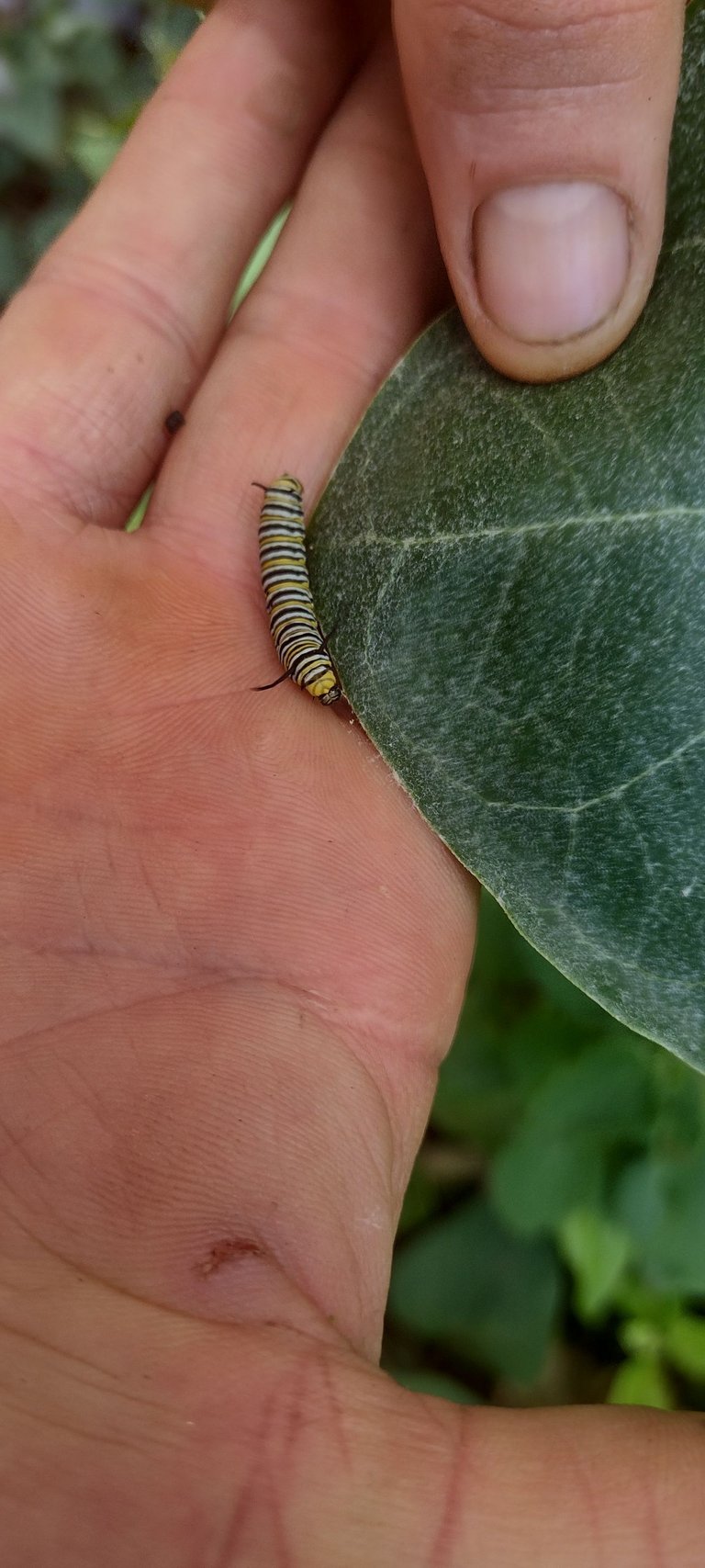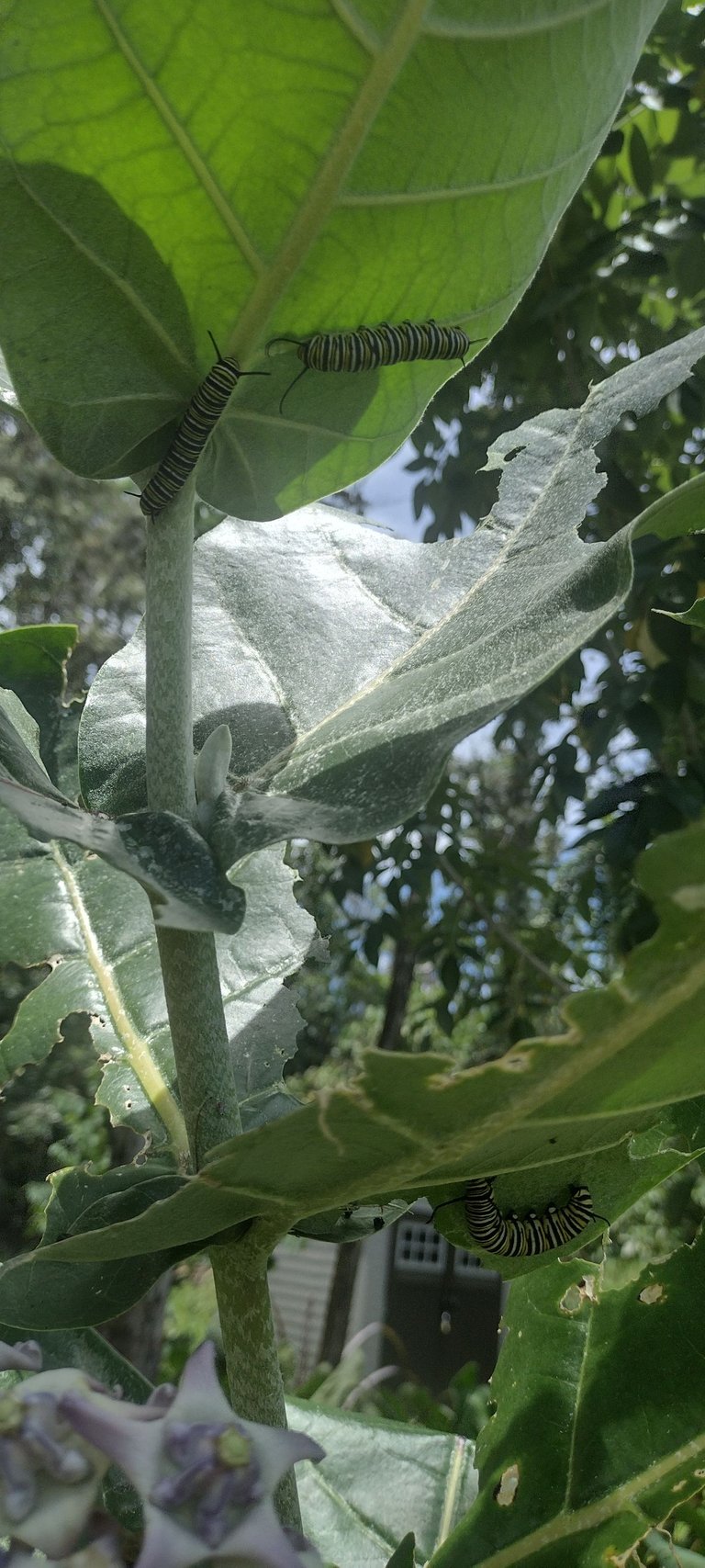 That's all for now! I hope y'all enjoy this post! 🦋
Thank you all so much for allowing me to share more of the beauty and magic from my life and my world with you, and for your continuous appreciation and support! I am deeply grateful! 🙏 💚


*Image created by @doze
---
---