#Index4Index Daily Inspired Motivation: Challenges Help Us to Become Our Best! - GaiaYoga Gardens, Lower Puna, Far East Big Island, Hawai'i - Monday, January 30, 2023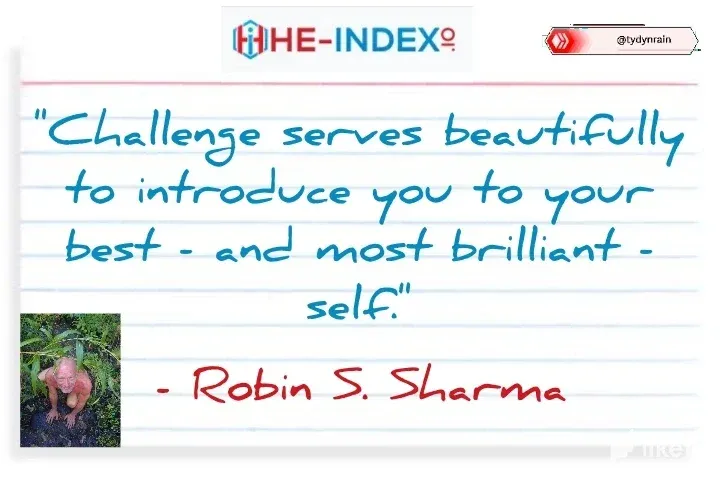 This post is my ongoing daily participation in @jongolson's fantastic Index4Index Initiative. Read his post, and get yourself involved!
Today's Index4Index Daily Inspired Motivation is about our challenges being necessary and essential catalysts that assist us to unfold the most radiant version of ourselves. We mind as well learn to love out challenges because they quite literally help bring out the best version of us!
"Challenge serves beautifully to introduce you to your best - and most brilliant - self."
-Robin S. Sharma

For them to do their job, so to speak, it is necessary that we face the challenges that come into our experience with optimism, openness, and willingness. We can't run from them, in other words! Summon the courage from the depths of your heart (courage and heart come from the same root - cour, heart), believe in yourself, and go get 'em!
Many challenges don't feel good, and may be terrifying or frustrating, but they are there in our experience to teach us very valuable lessons that we can't usually learn any other way! We must walk through the fire 🔥! When we are able to do this, the fruits of our courage can introduce us to a version of ourselves that we've never known, and an expression of our lives that would blow our minds and hearts (open)!
Our challenges help refine us, if we do not resist them, and that's the thing. If we resist, the challenges persist! If we face them, however, they dissolve before us like snow in the hot sun, giving us life-giving water to quench our deep thirst!
You are, regardless of what you've been told, or even what you believe, an immensely potent being, that has the inherent capacity to successful surmount any challenge that comes your way! Don't ask for easier challenges, rise to the challenge of being your best, most brilliant, self! You got this!
Remember, dear friends, that we are all in this together, that we rise by lifting others, and that together we thrive, so onward and upward, joyfully together! 😁🙏💚⚡💥🔥✴️✳️❇️👣🌱✨🤙
---
For the best experience view this post on Liketu
---
---