#Index4Index Daily Inspired Motivation: Life and Success on Our Own Terms - GaiaYoga Gardens, Lower Puna, Far East Big Island, Hawai'i - Wednesday, November 23, 2022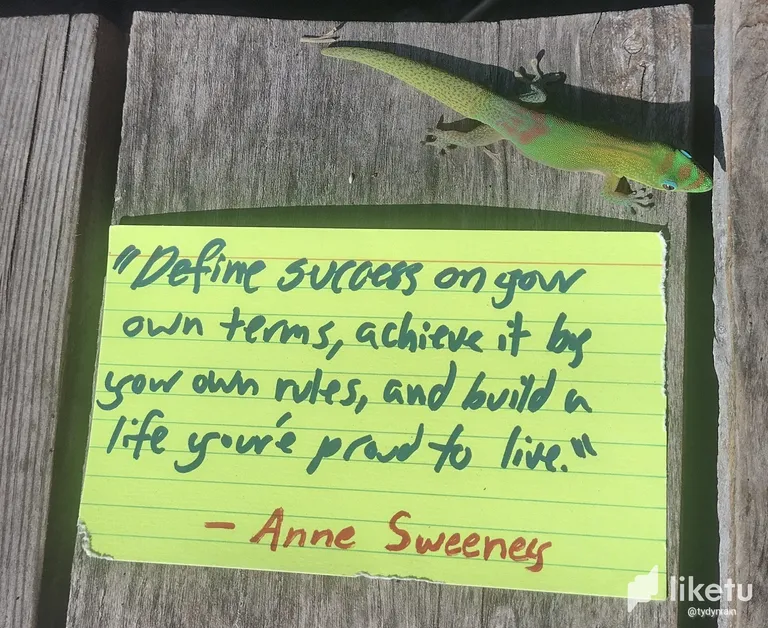 This post is my ongoing daily participation in @jongolson's fantastic Index4Index Initiative. Read his post, and get yourself involved!
The quote that I'm sharing today in this Index4Index Daily Inspired Motivation is about defining success, and living our lives, on our own terms. That's entrepreneurship (and sovereignty!) in a nutshell!
"Define success on your own terms, achieve it by your own rules, and build a life you're proud to live."
- Anne Sweeney

This quote puts a big smile on my face! When we think about being successful, whose definitions of success are we using? By whose rules are we playing? I realized quite a while ago that the whole 'system' was nothing more than covert slavery, and with this realization, I chose to go my own way, and do my own thing in pretty much everything. I refuse to participate in, or to support, a system that does not have my (or others') best interest in mind (and that's everything and anything 'mainstream').
Doing things on my own terms, in my own way, is a necessity for me, hence me choosing to live barefooted and naked, very close to Earth and Nature, deep in the jungles of Lower Puna, far East Big Island, Hawai'i, in a 16-acre, off-grid, clothing-optional, food-forest intentional community. I love my life and how I live, and I'm constantly revisiting and refining what I choose to have in my life. Because of this, my life continues to become more and more meaningful and fulfilling. That is indescribably beautiful to me!
Living on our own terms means learning to become more and more self-reliant, self-sufficient, self-directed, and self-dependent across as many domains of our lives as possible. It is learning to do, make, build, repair, and grow things for ourselves, and creating our own systems in, well, everything. Aligning with others who are also operating from this place of sovereignty, freedom, and empowerment is exactly how we will move through this dark night of the soul through which Humanity is now moving. We got this!
Remember, dear friends, that we are all in this together, that we rise by lifting others, and that together we thrive, so onward and upward, joyfully together! 😁🙏💚⚡💥🔥✴️✳️❇️👣🌱✨🤙
---
For the best experience view this post on Liketu
---
---