Seaview Garden Update: Wild Pig Protection Wall, Three New Beds, and Breadfruit and Cacao Trees Planted - Seaview, Lower Puna, Far East Big Island, Hawai'i - May 24, 2022

Warm greetings all! 🙏 💚
This update will be quite a bit shorter than my last one, but still juicy, in a gardening sort of way. There are actually many things happening in the garden as of late, but I'll save those for another post.
Wild pigs have been making deeper and deeper incursions into the garden, traveling in from the road of all places. While pigs in the jungly suburb of Seaview are not common, because there are so many wildish places for them to hide during the day, when their populations grow (which they do quickly, as females can get pregnant at four months old, and can have litters of usually four to six piglets) they begin to expand their territories. As of late they've had a buffet of various neighborhood gardens. Some of them are quite large, too. My partner, @kai-sunrise, scared a large male (a few hundred pounds) that ran right in front of me, as we were returning to The Sanctuary of The Blue Dragon, after a super fun Sunday Funday out and about in Lower Puna. It scared the bejeezus out of me. Image a very large black pig running in your direction at night.
They began rooting out and devouring the cassava, Manihot esculenta, planted in the long berm along the road, demolishing the surrounding plants on the berm, leaving large craters. Not a pretty sight, let me tell you. They also didn't stay on the berm along the road, either, but began rooting into and thrashing several other planting beds deeper into the garden. When they started tearing up soil and plants in the new herb garden, about which I've written here multiple times, we had to take action.
We decided to build a very solid (lava) rock wall around the herb garden, Kaï and I collected lots of large lava rocks from around the property, and carefully began piecing the lava wall puzzle together.
Aside from the rock wall, I also planted two a Breadfruit and two cacao trees, and I created three new planting beds in the back of the property. I look forward to deciding what plants to put in them.
Here's the herb garden after we finished building it. We had to protect the various important plants, many of which finally began to explode with growth. The Gotu Kola, Centella asiatica, the mugwort, Artemisia vulgaris, the orange mint, Mentha x piperita f. citrata, the purslane, Portulaca oleracea, and the pink-flowered tobacco, Nicotiana tobacum, are all doing very well indeed. We also planted three more varieties of mints (peppermint, spearmint, and chocolate mint), and two species of vervain, Stachytarpheta species (that I described collecting in a previous post - a third species can be seen growing just outside the wall).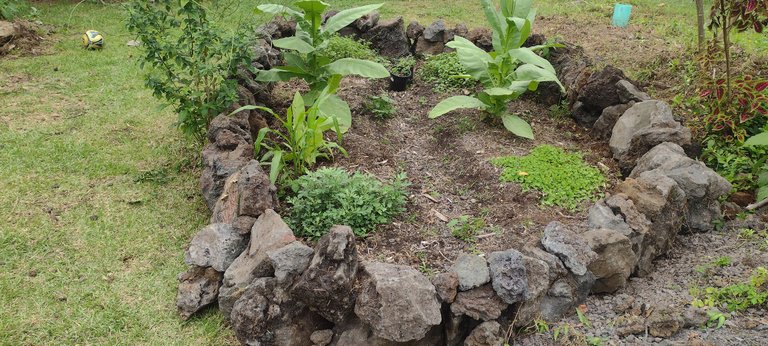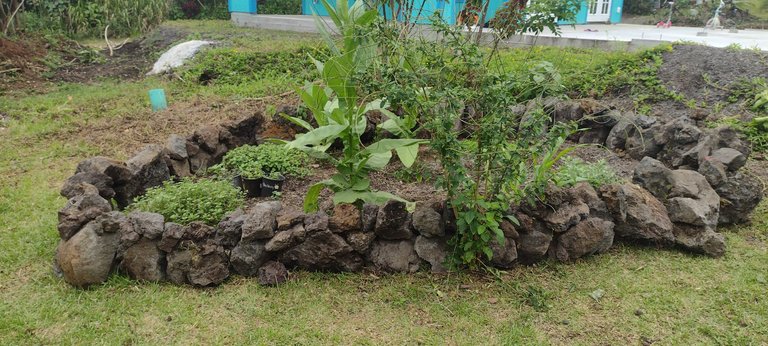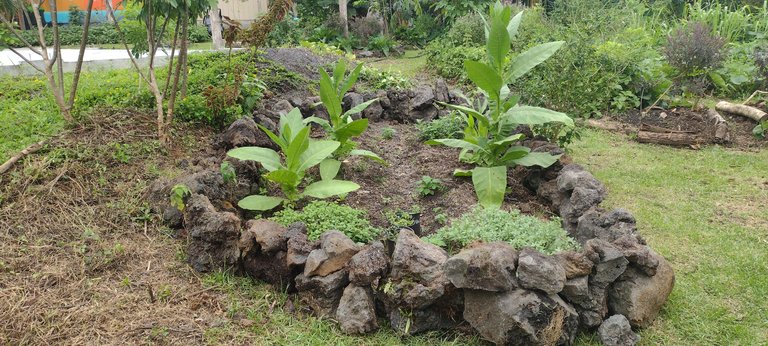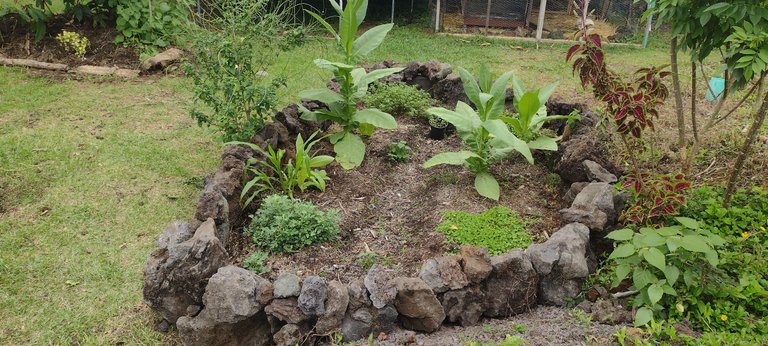 Along with the new herb garden wall, I also created three new planting beds around an Ohia, Metrosideros polymorpha, around a mango, Mangifera indica, and around a coconut palm, Cocos nucifera. I still have to decide what to plant in these beds.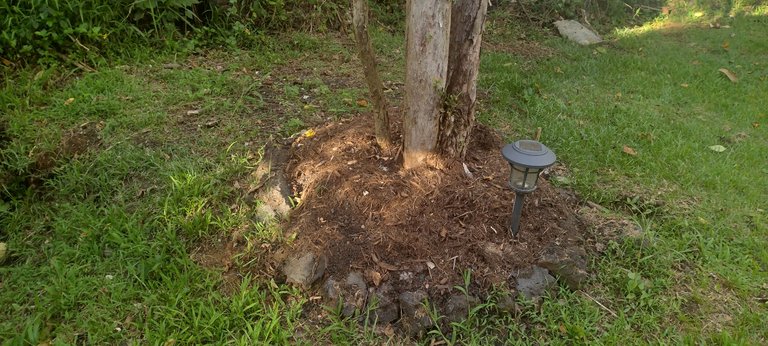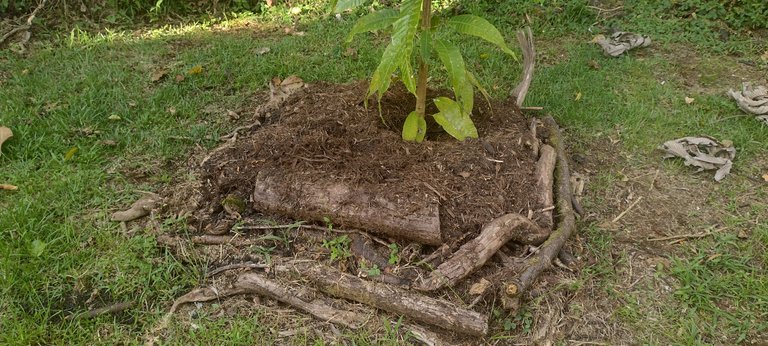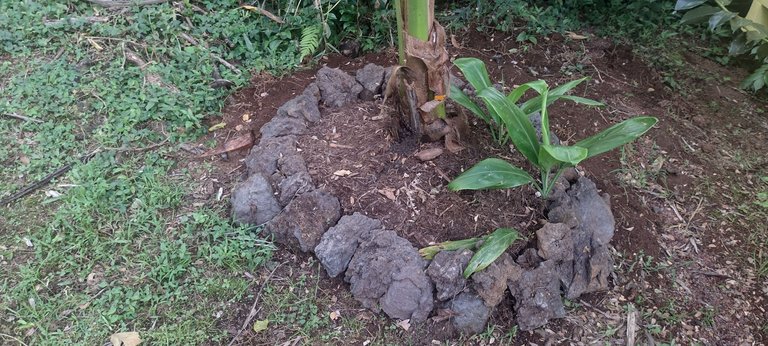 I also planted two cacao trees (that I grew from seed), Theobroma cacao, that I showed in this post.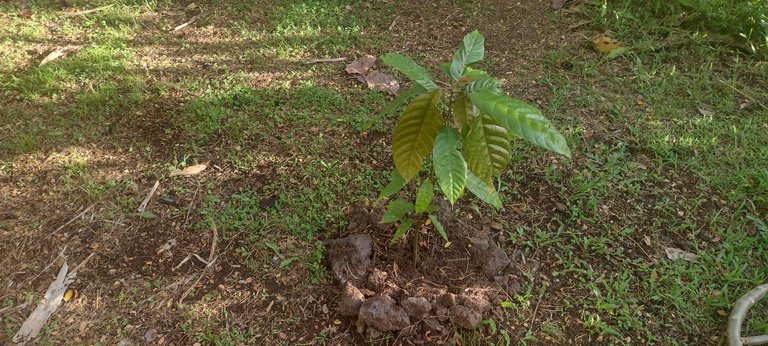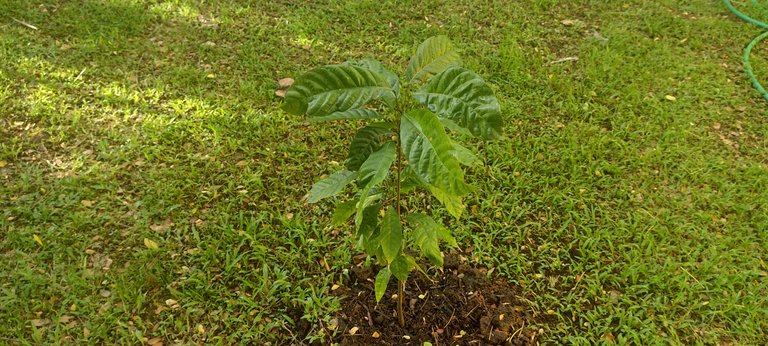 The last update for this post is planting an ulu (Hawaiian name), or breadfruit, tree, Artocarpus altilis. These trees grow quite large over time, with a wide spread, so I put it in an area on the edge of the property where it will have room to expand well.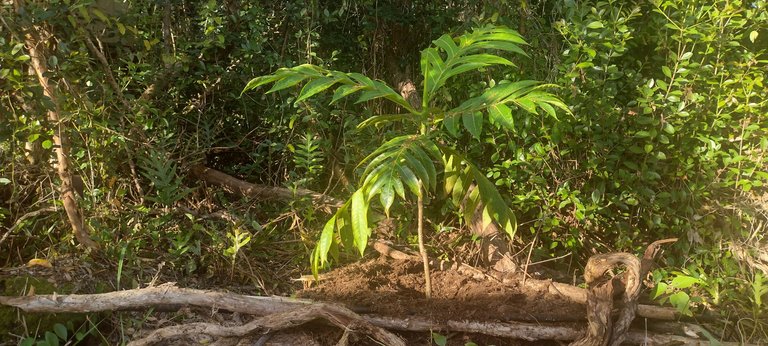 That's all for this Seaview Garden Update! Until next time!
Thank you all so much for allowing me to share more of the beauty and magic from my life and my world with you, and for your continuous appreciation and support! I am deeply grateful! 🙏 💚


Image created by @doze.
---
---