My Hive Goal for 2022 is enormous and why I stopped powering down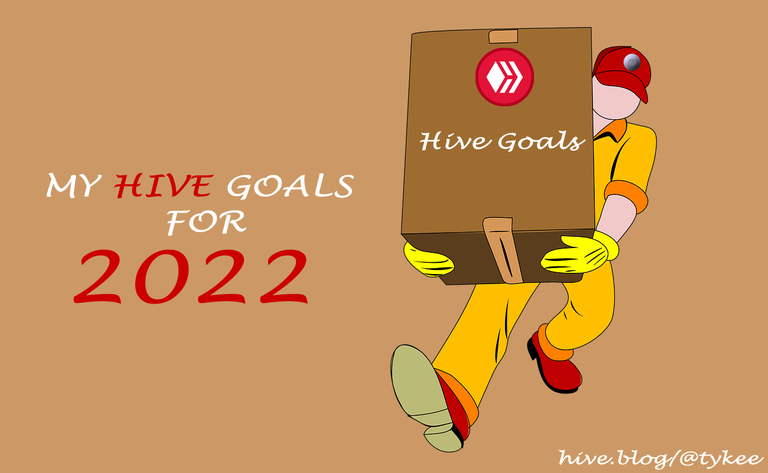 My Hive Goal for 2022 is bigger than what I can earn on Hive. There have been many benefits of holding a considerable amount of Hive, but the growth of the Hive ecosystem and the vast applications that are coming out of the blockchain have shown more need to hold a decent amount of Hive power. The fact is staying and keeping up with so many activities of hive is time-consuming. If you want to be up to date here, you have to stay here often and read every update coming from the communities. My activities on this chain at a point last year were poor. I was busy setting up my business and working for a company and I could not add staying up with Hive with it until I re-strategize my plans and work.
2022 is moving and people are already setting the resolutions, financial intentions and hive goals for the year. I planned on how I can accumulate more Hive this 2022. The first step is to stop powering down, as this will only keep my wallet in awful shape. I was powering down because of so many bills and responsibilities I have to fix, but I had already cleared the majority.
I had a goal of reaching 500 Hive power before December 2021 when I returned to posting actively but I could not reach it as the Price of Hive pumped and the quantity of Hive payout reduced. 2022 is still looking new and I am not in a rush. It is important to set good foundations for everything before building. I am currently setting foundations for everything I want to do in 2022. There is a popular saying that- "it is crazy to expect a different result doing the same thing over and over".
I want to hold up to $8,000 Hive by December 2022. Well, this might look like nothing to some people, but it is something I would like to achieve, along with many communities tokens. I know I cannot earn this just by posting. I planned to buy some also since I have already created other streams for good income. The entire crypto market is down, but Hive still trades above $1. This means when there is a general takeoff, the price will be off the roof.
So, this is the discount time to accumulate some Hive. I will venture into Vlog this year because I got a very good camera recently. I have been doing a few photography posts on Hive and it has been fun. Since I am enrolling in an AI and Automation course, I will also post on programming and other related content this year. 2022 is a year full of so many responsibilities for me. I have a company to manage, many projects to manage, students to teach, and many more.
While I have so many responsibilities, I am also building a solid team for my company so that I can have more time. I was the only developer, graphic, writer, and finance guy for my company but currently, I have a designer, finance expert, developers but I remain the writer guy for now. So, I will cover more even with so many activities.
That will be all. The goals are clear and distinctive. I will start running with them starting today.
Thank you for the support!

My name is @tykee (Balogun Michael), a software developer/content writer and the founder of Meshboc Limited. I use my content to share my opinions on tech, lifestyle, and finance.
Contacts
Twitter
Instagram
Discord: tykee#8770


---
---