Amazed And Relishing The Taste Of Exotic Food On My Taste Buds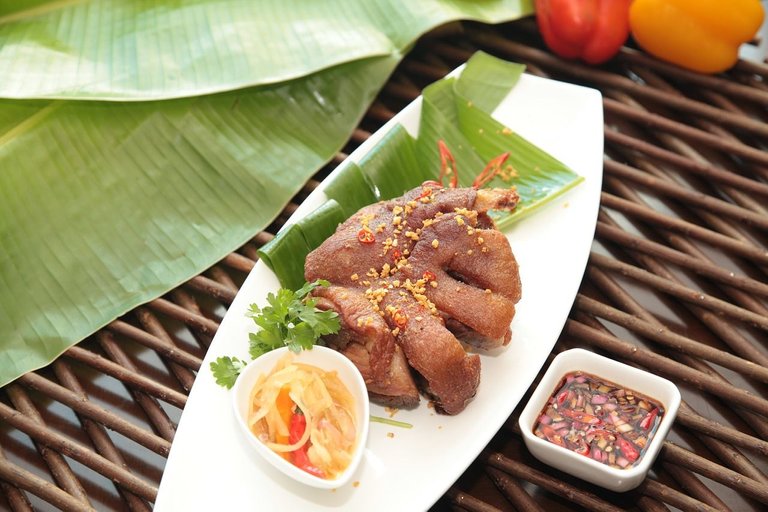 ---
I grew up in a nice neighbourhood as a kid. My neighbourhood was beautiful and clean, so also were the residents who were friendly and a wonderful set of people. Most of my neighbours were affluent and renowned individuals. I also had a lot of great friends whose company I enjoyed.
My friends and I always had fun together during our leisure time and visited each other often. One of my friends, Olu, was really close to me. Our families shared a special relationship that grew stronger with the progression of time. We shared many special moments and experiences together. I was having a conversation with a friend of mine recently about having an open mind and the willingness to try out foods that are considered "unique or uncommon " in our culture. As we continued with our conversation he told me that he relishes toad meat. This revelation made me recall an amazing experience that I had so many years ago when I paid Olu a visit at home.
It was a pleasant Saturday afternoon. I had completed my homework from school and also done my share of the domestic chores at home. I needed an avenue to refresh myself and to have fun. Paying Olu a visit was the thought that came to my mind and that was the lead that I followed. I walked down to Olu's house which was a house away from mine. I got to his house in a blink of an eye! Olu and I exchanged pleasantries when I arrived at his house. He led me into the house and offered me a drink. He kept me company briefly before asking to be excused as he was dealing with his homework from school before I arrived and needs to go complete it. I obliged to his request to be excused and asked about his folks. He told me they were at the back yard preparing lunch. I proceeded to the back yard to greet his folks. The pleasant aroma of grilled steak caught my nose as I approached the back yard. "I am in for a treat! ", I mischievously said to myself. I greeted Olu's parent when I eventually got to the bank yard and offered to assist them with preparation for lunch. I assumed the meat on the grill was beef but was in disbelief when the source was disclosed to me. Olu joined us later after he completed his homework. Lunch was ready and served to everyone
We had rice, tomato sauce and grilled steak for lunch. We engaged in a conversation as we had lunch and talked about several issues. I never knew Olu was observing me as I ate. He observed that I really enjoyed the grilled steak as I chewed chunks of it in my mouth. Olu was about to take a jab at me! He began by asking me if I knew the source of meat for the steak. I responded by telling him I don't know and that it has a pleasant taste. He smiled at me and told me that it was snake meat. I almost choked when he revealed this to me. I was surprised it tasted this good and became uneasy about eating it. I dreaded snakes a lot. "They have venom and are poisonous" I said to Olu. Olu's dad hearing my statement smiled and told me that I was correct about the attributes of snakes. However, he went on to enlighten me that they are edible. He told me that snakes that are to eaten as food have their venoms removed and are delicately prepared by competent chefs or cooks. He also told me that meats from uncommon sources like snakes are referred to as exotic meat by chefs. He allayed my fears by telling me that the snake meat I had as steak was safe to eat and I have nothing to worry about. He smiled at me again and asked me if I liked the taste of the "exotic meat" that I was served. I was still in disbelief about the source of the steak but had to be honest with him and myself. I responded by telling the truth. "It tastes amazing* I said to him. Olu's dad is a master chef and the recipient of the coveted master chef award that is awarded by the makers of Maggi( a renowned seasoning cube in Nigeria).
I felt much better after being assured by Olu's dad about the safety of consuming well prepared exotic meat like snake meat. I also appreciated the opportunity of being able to try something new. It changed my perception on food that are classified as uncommon in our society. I am happy I had this experience. It made me open to trying foods that I have never had before. Don't judge a book by it's cover.
---
Thanks for reading,
Have a splendid day folks.
---
image source: pixabay.com
---
---