Embarking On A Journey To Benin For An Induction Ceremony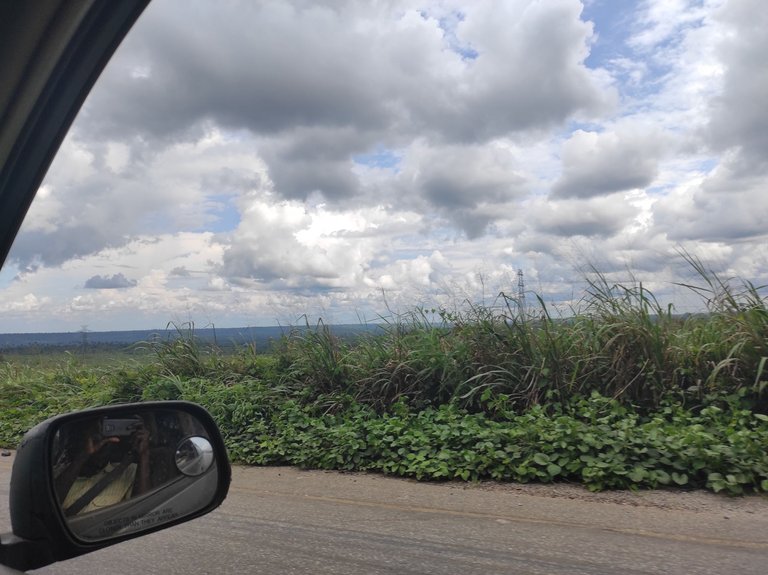 A nice landscape view of rolling plains in Benin
I and members of my family embarked on a journey to Benin to witness my younger sister's induction ceremony as a medical laboratory science graduand. The journey was quite interesting.
Arrangements had been made some days earlier with the driver whose vehicle we chartered for the journey on when he would come pick us up. The driver was to arrive at our house by 6.30am on Sunday. We woke up early on Sunday morning, got prepared, conducted a prayer session and were ready to embark on the journey anticipating the arrival of the driver. The driver gave us a call that he would arrive at our house by 7am and apologised for the inconvenience this reschedule may cause us. We accepted his apology, the new schedule and waited for his arrival. We received a call later on from the driver telling us that he is in our neighbourhood but is having issues locating our address. Consequently, my younger brother and I had to go meet him at the major street in our neighbourhood to lead him home.
We led the driver home and put our luggage into the vehicle. We got into the car and embarked on the journey to Benin with the expectation of arriving at our destination safely. The driver and I had a conversation on the way were he disclosed to me that he would prefer we go through Epe rather than Berger. His reasons were to avoid traffic on the Lagos - Ibadan expressway because of the reconstruction work going on that route. Secondly, the Shagamu - Ijebu Ode section of the Lagos - Ore expressway that would be plied after exiting Lagos was in a deplorable state. We would save time and have a more pleasant drive if we go through Epe and emerge at the last section of Ijebu Ode on the Lagos - Ore expressway that is in a good condition. Consequently, we followed the Epe route. It was an easy decision to make. We settled for the drivers preference. After all he is more conversant with the routes than us! He plys them frequently.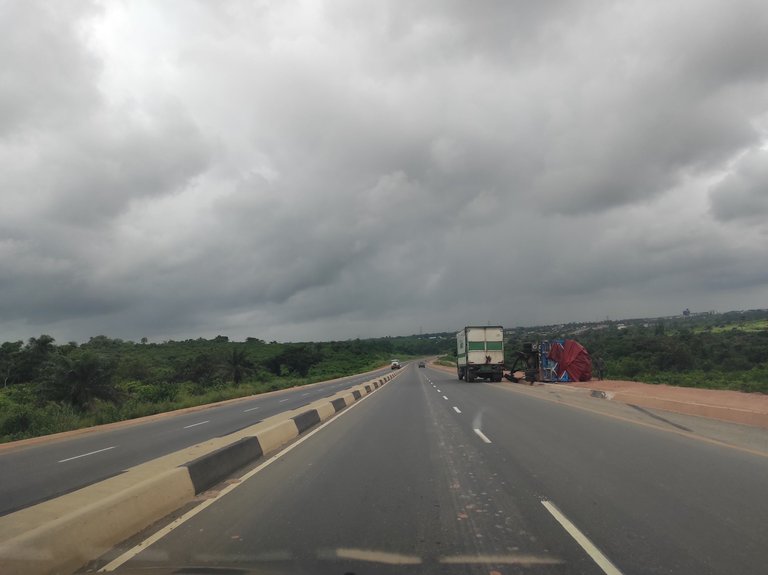 A newly constructed road in Epe
As we drove into Epe from the Lekki - Epe expressway, I was surprised by the width of the road as it has been expanded and dualised while being reconstructed. The last time I passed through this route was in 2018 and although the road was in a good condition back then it was not having the the new features that have been integrated into it by the present reconstruction work. I was really impressed by the state of the reconstructed roads in Epe. We had a smooth drive on these roads. I also observed a lot of residential and industrial estate developments as we drove through them. This developments made me appreciate the value of quality infrastructure and the impact it has on the lives of citizens. It makes life more comfortable! The roads in Epe were free of traffic and as a result we soon emerged at the section of Ijebu Ode that was in a good condition on the Lagos - Ore expressway. We had succeeded in evading the heavy traffic at Berger and also saving valuable time.
We listened to music from the stereo in the car as we proceeded with our journey. There were several construction work on some sections of the Lagos - Ore expressway after Ijebu Ode which had some diversions for motorist. These diversions made us move from one carriageway to the other on several occasions. There were also several scenes of vehicular accidents on the way. Our driver noticed a fault in our car's brake system as we approached Ore. The car jerks forward and makes a squeaky noise whenever he applies the brake. We had to make a stop at Ore for repairs to be carried out by a mechanic. The stop at Ore availed us the opportunity to use the restroom and to also flex some strained muscles! The repair on the brakes was done and we were delighted that it did not take a lot of time. The resolution of this issue enabled us to continue our journey.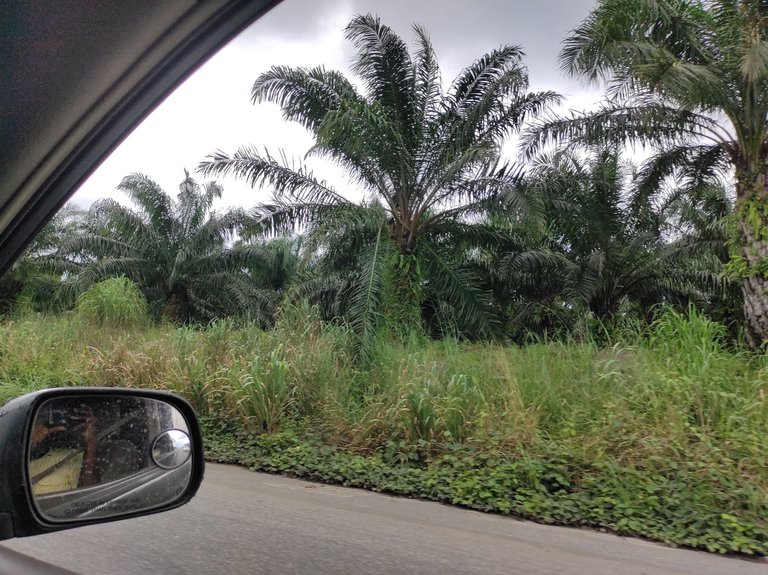 An oil palm plantation in Benin
We encountered traffic as we got close to Benin. A truck laden with cement was involved in an accident and as a result discharged its load on the bridge we were to drive through. We were held up in traffic in this area for quite some time as efforts were made by the officials of the Federal Road Safety Corps and the police to maintain the steady flow of traffic. We eventually negotiated our way out of the traffic and the accident scene. It was a smooth and free drive to Benin afterwards. We got to our lodge in Benin by 4pm and were delighted to have arrived at our destination safely. We conducted a prayer session and thanked God for protecting us on our journey. My mum contacted my sister and informed her of our arrival in Benin after the prayer session. My sister was excited about this news and quickly came to our lodge with her friend to welcome us. We ere happy to see each other.
---
Thanks for reading,
Have a splendid day folks.
---
attention: all photos are mine.
---
---