MAKING MISTAKES IS NORMAL - SPLINTERLANDS PT/EN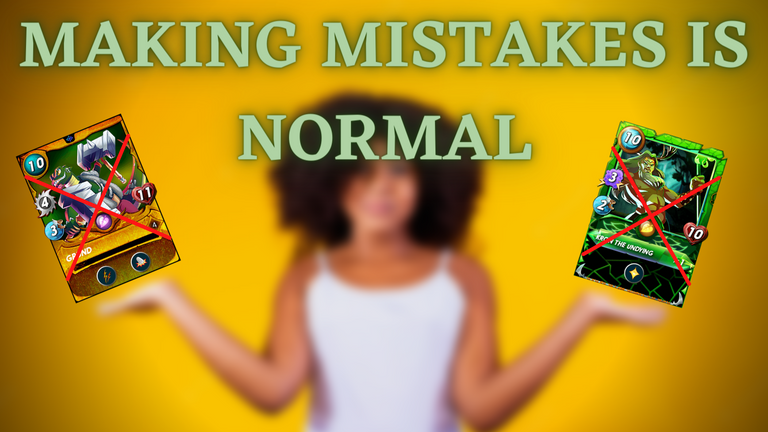 VERSÃO EM PORTUGUÊS

(nativo)


ENGLISH VERSION

(translate google)

Vão existir muitas partidas de Splinterlands que ao clicar em BATTLE e olhar para o campo de batalha, você de cara perceberá que suas escolhas foram horríveis e você será masacrado.
E sim, isso é normal! É normal errar, principalmente quando não sabemos o que o oponente irá escolher. Esse não é um jogo de estratégia de ação e reação e é sobre isso que irei falar no post de hoje.
There will be many matches of Splinterlands that when you click on BATTLE and look at the battlefield, you will immediately realize that your choices have been horrible and you will be slaughtered.
And yes, this is normal! It's normal to make mistakes, especially when we don't know what the opponent will choose. This is not an action and reaction strategy game and that's what I'm going to talk about in today's post.

MISTAKES
Por quê nós cometemos erros tão grotescos em algumas partidas? Simplesmente pela forma como o jogo é construído. Splinterlands é um jogo de estratégia baseado na dedução, antecipação e planejamento.
Why do we make such grotesque mistakes in some games? Simply because of the way the game is built. Splinterlands is a strategy game based on deduction, anticipation and planning.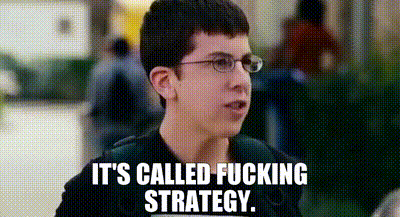 Você nunca terá certeza absoluta da composição do oponente, então tudo que lhe resta é analisar todas as informações disponíveis da partida e traçar um planejamento, tentando deduzir as maiores possibilidades do inimigo e traçando maneiras de se antecipar e counterá-lo.
Vão existir partidas em que você achará que montou a melhor composição possível mas ao iniciar a batalha, perceberá que sua composição realmente seria perfeita CONTRA UNIDADES MÁGICAS, mas o oponente veio com um time repleto de assassinos e dizimou sua linha traseira.
Você tem culpa desse erro? É claro que não!
You will never be absolutely sure of the opponent's composition, so all that remains is to analyze all available information from the match and draw up a plan, trying to deduce the greatest possibilities of the enemy and outlining ways to anticipate and counter him.
There will be matches where you'll think you've put together the best composition possible but when you start the battle, you'll realize that your composition really would be perfect AGAINST MAGIC UNITS, but the opponent came with a team full of assassins and decimated your line rear.
Are you to blame for this error? Of course not!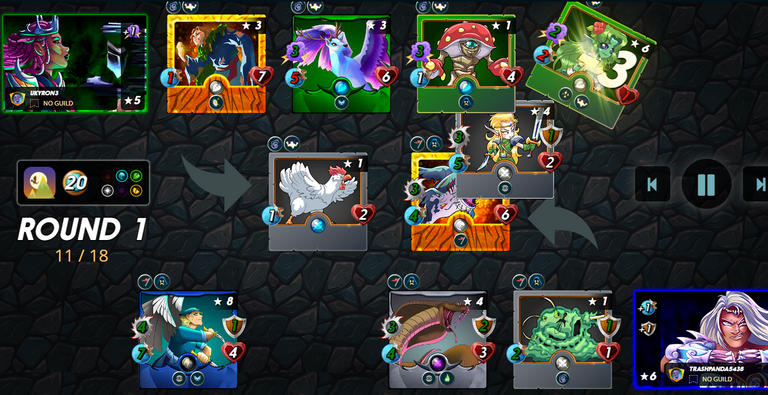 Você apenas não acertou, e compreender essa diferença é crucial para que você não fique se martirizando ou se irrite com esse jogo. Aqui você trabalha com probabilidades, então na sua cabeça você pode planejar uma estratégia perfeita, mas na hora de executar...
Expectativa: diminuir o dano do Tank inimigo e deixar as duas unidades frontais segurarem algum dano até que o Kron pudesse ser buffado pela Llama fazer a mágica acontecer.
Realidade:
You just didn't get it right, and understanding this difference is crucial so you don't beat yourself up or get annoyed with this game. Here you work with probabilities, so in your head you can plan a perfect strategy, but when it's time to execute...
Expectation: Decrease enemy Tank damage and let the two front units take some damage until Kron could be buffed by Llama to make the magic happen.
Reality:
---
BATTLE LINK
---
Como podem ver as coisas não saíram nada parecido com o planejado, tudo por conta do posicionamento errado de uma única unidade. Mas como eu falei antes nós não podemos considerar um erro, afinal, pensem comigo nas possibilidades:
Se meu oponente optasse por unidades de ataque a distância ao invés dos assassinos, todos teriam gasto seus ataques nas minhas unidades frontais, o debuff do Alchemist teria sido aplicado e o Kron chegaria em sua posição para receber os buffs e ganhar o jogo sozinho.
Se meu oponente optasse por unidades de ataque a distância ao invés dos assassinos e eu tivesse colocado o Alchemist na última posição, o Kron não receberia os buffs da Last Stand e acabaria sendo eliminado por não ter sua ultra cura e ser focado por todas as unidades do adversário.
Essas eram outras duas possibilidades além da que aconteceu, o que mostra que dentre as opções eu apenas não escolhi a estratégia certa. Então não se preocupem quando vocês não acertarem, guardem a experiência e tentem novamente na próxima batalha.
As you can see, things didn't go quite as planned, all because of the wrong positioning of a single unit. But as I said before we can't consider it a mistake, after all, think with me about the possibilities:
If my opponent opted for ranged attack units instead of assassins, everyone would have spent their attacks on my front units, the Alchemist debuff would have been applied and the Kron would arrive at his position to receive the buffs and win the game alone.
If my opponent opted for ranged attack units instead of assassins and I had placed the Alchemist in the last position, the Kron would not receive the buffs of the Last Stand and would end up being eliminated for not having his ultra heal and being focused by all the opponent's units.
These were two other possibilities in addition to what happened, which shows that among the options I just didn't choose the right strategy. So don't worry when you don't get it right, save the experience and try again in the next battle.

TRYING TRAMPLE
Eu estava doida para testar o Grund level 4 que aluguei pois queria ver essa unidade realizando vários ataques em um turno.
I was dying to test out the Grund level 4 I rented because I wanted to see this unit perform multiple attacks in one turn.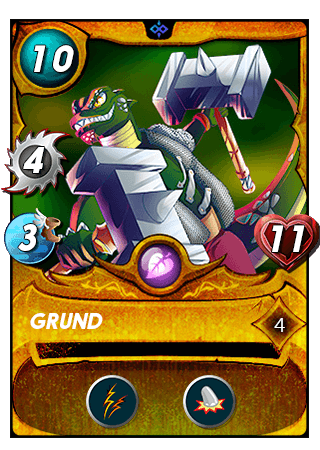 Ao surgir uma partida de baixa mana, pensei que era uma ótima possibilidade de utilizá-lo pois meu oponente poderia optar por várias unidades fracas de baixo custo e o Grund as eliminaria de uma vez. Bem, minha estratégia poderia dar certo, exceto pelo fato de que elas eram mais rápidas que ele, resultando nisso:
When a low mana match came up, I thought it was a great possibility to use it because my opponent could opt for several low cost weak units and Grund would eliminate them all at once. Well, my strategy might work, except the fact that they were faster than him, resulting in this:
---
BATTLE LINK
---
Acham que isso foi o suficiente para me fazer desistir? É claro que não! Eu guardei esse momento na memória e quando surgiu uma nova oportunidade para tentar utilizar o Grund eu montei uma composição exatamente para impedir que essa situação se repetisse.
Para isso utilizei o Creeping Ooze por conta da habilidade Slow

e o Brownie que possui a habilidade Swiftness

(igual ao meu oponente na partida mostrada acima, aprendendo com o inimigo 😎), com essas duas combinadas eu iria garantir que o meu Grund conseguisse ao menos atacar dessa vez 🤣.
Além disso coloquei uma outra unidade para atacar antes do Grund, apenas para garantir que ele pudesse abater algum possível tank de altíssima vida (como as velocidades eram iguais, a unidade arqueira recebe prioridade na ordem de ataques).
Como a partida possuía a regra de combate Stampede

o combo ficou muito mais poderoso e eu finalmente consegui executá-lo, resultando nessa cena magnífica:
Do you think that was enough to make me give up? Of course not! I kept that moment in memory and when a new opportunity arose to try to use Grund I created a composition precisely to prevent this situation from happening again.
For this I used Creeping Ooze because of the skill Slow

and the Brownie which has the skill Swiftness

(same as my opponent in the match shown above, learning from the enemy 😎), with these two combined I would guarantee that my Grund could at least attack this time 🤣.
Also, I put another unit to attack before Grund, just to make sure he could kill any possible tank with very high health (as the speeds were the same, the archer unit gets priority in the attack order).
As the match had the Stampede combat rule

the combo got much more powerful and I was finally able to execute it, resulting in this magnificent scene:
---
BATTLE LINK
---

FINAL CONSIDERATIONS
As coisas nem sempre dão certo e tudo bem. Devemos aprender com cada derrota e inovar nossas estratégias pois somente assim conseguiremos aumentar nossa taxa de vitórias.
Se você gostou, peço que deixe o seu "like" nessa postagem e me siga para ver outros conteúdos sobre Splinterlands. Beijos e até a próxima!
Things don't always work out and that's okay. We must learn from each defeat and innovate our strategies because only then will we be able to increase our win rate.
If you liked it, please send a "like" on this post and follow me to see other content about Splinterlands. Kisses and until next time!
---
---