BACKFIRE AND MISS STRATEGY - SPLINTERLANDS [PT-BR/ENG]

VERSÃO EM PORTUGUÊS

(nativo)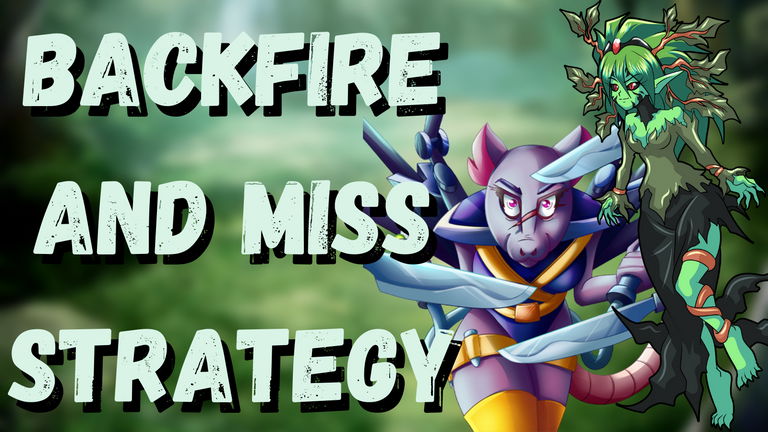 Quando você tem certeza que o oponente não escolherá unidades mágicas por causa da regra de combate Lost Magic

, é possível optar por composições mais focadas no sistema de esquiva, fazendo uso de um conjunto de habilidades que aumentem as chances de esquiva do seu time e ainda lhes traga outros benefícios.
É sobre isso que abordarei nesta partida de Splinterlands que será apresentada hoje!

A PARTIDA

Com a garantia de que todas as unidades ficariam mais robustas e sem a chance dos magos estragarem minha estratégia, resolvi montar uma composição baseada na altíssima velocidade através da escolha de unidades rápidas e com habilidades que beneficiassem esse objetivo. Assim ficou a minha composição: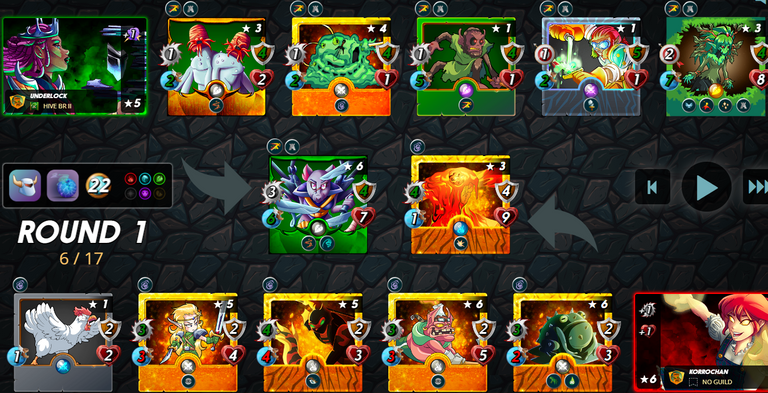 A escolha da invocadora Obsidian não é a melhor, mas esta é a invocadora que eu tinha a disposição que se encontra no level 5. Mas nesse caso utilizar o Mylor Crowling ou o Wizard of Eastwood seriam ótimas opções para combinar com essa estratégia.
Para maximizar as chances da esquiva funcionar escolhi o Creeping Ooze devido a habilidade Slow

e o Brownie por conta da Swiftness

, pois ambas influenciariam na velocidade das unidades objetivando o aumento na chance de esquiva do meu time.
As outras unidades de menor custo foram apenas para resistir a ataques e aplicar algum efeito adicional se conseguissem, mas o foco da composição não é elas.
Os verdadeiros protagonistas são a Venari Knifer e a Spirit of the Forest pois possuem altíssima velocidade

além de habilidades que potencializam o sistema de esquiva, como o Fly

que aumenta as chances de esquiva e o Backfire

que causa dano no atacante que erra seu golpe.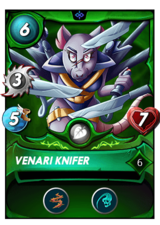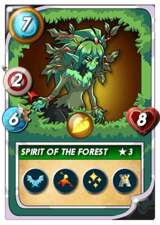 Enquanto o Knifer atuaria na linha de frente como um Tank que "reflete" dano ao errarem

ou acertarem

ele (duplamente efetivo), a Spirit foca totalmente na esquiva, visando sobreviver o máximo de tempo possível para conseguir aplicar eficientemente suas duas habilidades de suporte, Protect

e Tank Heal

.

ESTRATÉGIA NA PRÁTICA
Esses foram os resultados obtidos na batalha, lembrando que para assistir o confronto completo basta CLICAR AQUI!
---
VENARI KNIFER
O Knifer conseguiu se esquivar de 6 ataques e ativar seu efeito de Backfire, causando um alto dano e ainda evitando ser ferido. Sem falar que ele estava atacando e sempre que recebia um golpe seu efeito de Thorns também feria o oponente.
Esse combo de habilidades fez com que ele fosse o MVP da partida e também o maior causador de dano.
---
SPIRIT OF THE FOREST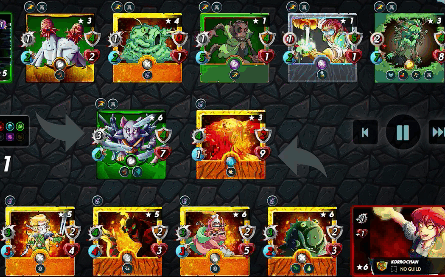 Sua velocidade exorbitante e o bônus de esquiva advindo da habilidade Fly permitiu que a Spirit também se esquivasse de 6 ataques, dando-lhe tempo suficiente para causar dano e exercer sua função dupla de suporte que mitigou muito dano do inimigo.
A Spirit executou 5 curas no seu Tank ao longo da partida, anulando completamente o efeito do Posion

que o atingiu.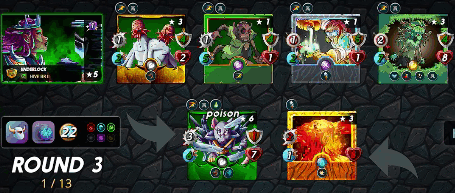 CONSIDERAÇÕES FINAIS
Apesar de muitas pessoas possuírem certo receio de montar composições focadas no sistema de esquiva (afinal depende um pouco da sorte), é fato de que elas podem funcionar muito bem se você montar o time em prol dessa estratégia, pois quanto mais cartas e efeitos se complementarem, maiores serão suas chances de fazer a esquiva pender para o seu lado.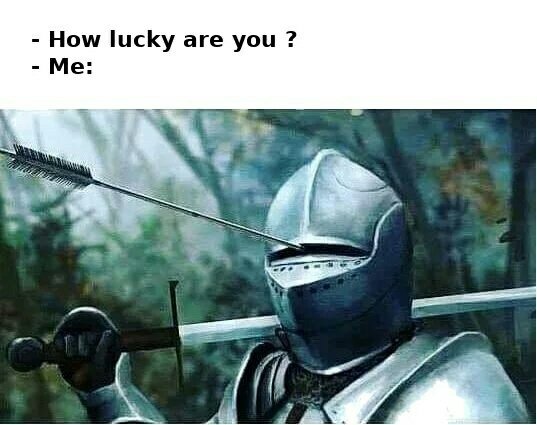 Muito obrigado a todos que leram até aqui, espero que tenham gostado. Se vocês curtirem meus conteúdos, peço que deixem o seu voto na postagem e sigam o meu perfil para poderem acompanhar as futuras postagens.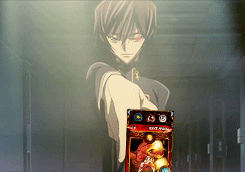 ---

ENGLISH VERSION

(translate google)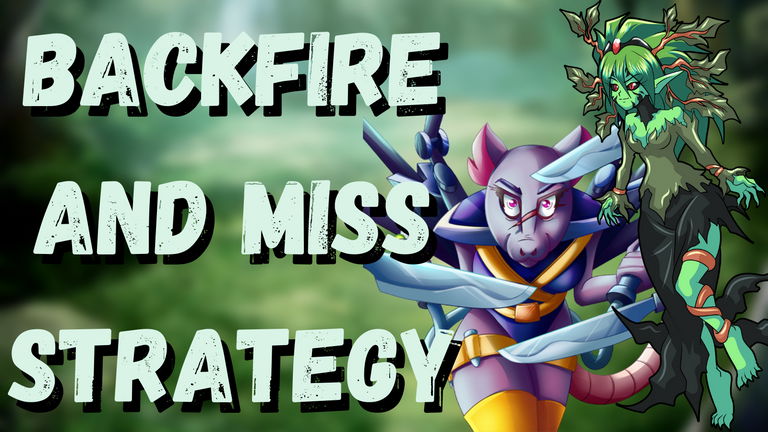 When you are sure the opponent will not choose magic units because of the Lost Magic combat rule

, it is possible to opt for compositions more focused on the dodge system, making use of a set of skills that increase your team's evasion chances and still give them bring other benefits.
That's what I'll be covering in this match of Splinterlands that will be presented today!

THE MATCH

With the guarantee that all units would be more robust and without the chance of mages spoiling my strategy, I decided to build a composition based on high speed by choosing fast units and with abilities that would benefit this objective. This is my composition: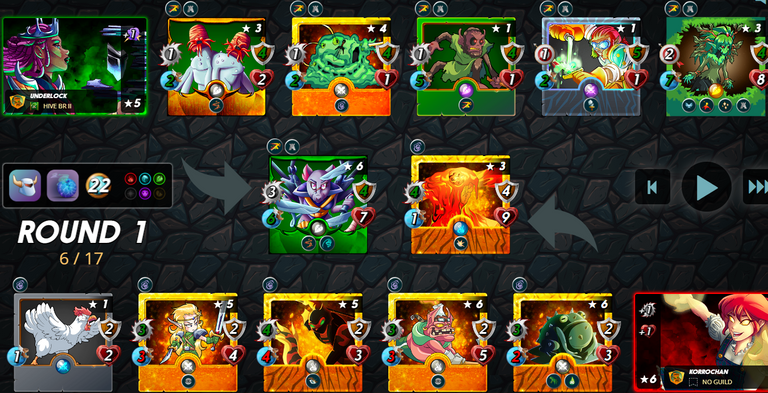 The summoner choice Obsidian is not the best, but this is the summoner I had available that is in level 5. But in this case use Mylor Crowling or Wizard of Eastwood would be great options to combine with this strategy.
To maximize the chances of the dodge working I chose Creeping Ooze due to the skill Slow

and Brownie by Swiftness

, as both would influence the speed of the units aiming to increase the dodge chance of my team.
The other lower cost units were just to resist attacks and apply some additional effect if they could, but the focus of the composition isn't them.
The real protagonists are Venari Knifer and Spirit of the Forest as they have very high speed

in addition to abilities that enhance the evasion system, such as Fly

that increases the evasion chances and Backfire

that damages the attacker that misses.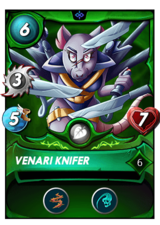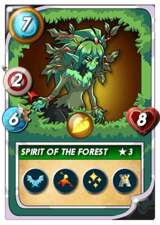 While the Knifer would act on the front line as a Tank that "reflects" damage when they miss

or hit

he (double effective), Spirit focuses entirely on dodging, aiming to survive as long as possible to be able to efficiently apply his two support abilities, Protect

and Tank Heal

.

STRATEGY IN PRACTICE
These were the results obtained in the battle, remembering that to watch the full confrontation just CLICK HERE!
---
VENARI KNIFER
Knifer managed to dodge 6 attacks and activate its Backfire effect, dealing high damage and still avoiding being hurt. Not to mention that he was attacking and whenever he received a hit his Thorns effect would also hurt the opponent.
This skill combo made him the MVP of the match and also the highest damage dealer.
---
SPIRIT OF THE FOREST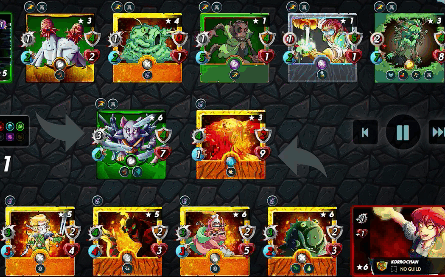 Her exorbitant speed and the dodge bonus from her Fly skill allowed Spirit to also dodge 6 attacks, giving her enough time to deal damage and perform her dual support role that mitigated a lot of enemy damage.
Spirit performed 5 heals on his Tank over the course of the match, completely nullifying the effect of the Posion

that hit him.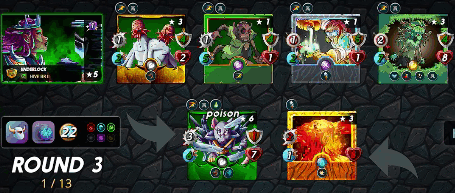 FINAL CONSIDERATIONS
Although many people have a certain fear of putting together compositions focused on the dodge system (after all, it depends a little on luck), it is a fact that they can work very well if you assemble the team in favor of this strategy, because the more cards and effects complement each other, the greater your chances of tipping the dodge to your side.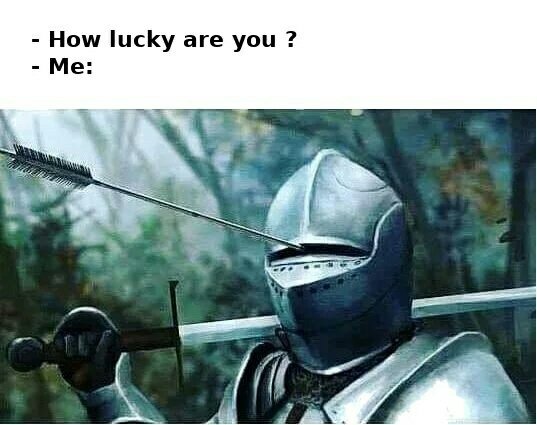 Thank you so much to everyone who read this far, I hope you enjoyed it. If you like my content, I ask you to send your vote on the post and follow my profile so you can read future posts.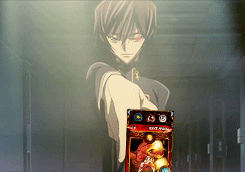 ---
---