DRAGONS ARE LEGENDARY - SPLINTERLANDS [PT-BR/ENG]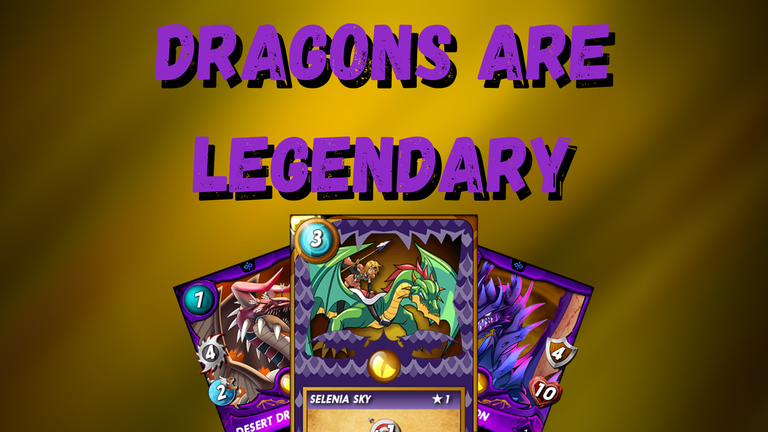 VERSÃO EM PORTUGUÊS

(nativo)

A maneira como o Splinter de Dragão

foi elaborado em Splinterlands se difere totalmente dos outros elementos. Ele é extremamente versátil e recheado de cartas absurdamente poderosas, mas possui apenas 3 cartas de raridade comum, 9 raras, 8 épicas e 25 lendárias. Percebeu alguma coisa?
Seu foco principal com certeza são seus invocadores (afinal eles que habilitam essa versatilidade) e suas unidades lendárias (que são muito overpowers), além de algumas cartas pontuais que funcionam bem em qualquer deck. E hoje eu quero falar sobre essa maneira de funcionar e o quanto ela combina com os dragões.

DRAGÕES SÃO LENDÁRIOS
Esse elemento não quer te encher de opções de raridade comum, afinal já existem muitas opções em cada um dos elementos. Os dragões oferecem cartas poderosas e impactantes para aqueles que desejam investir mais pesado.
Seus invocadores habilitam o uso das unidades de Dragão e se encaixam em qualquer composição e elemento, abrindo as portas para que os Dragões possam aparecer em composições físicas, a distância ou mágicas sem o menor problema.

Dessa forma você pode combinar um invocador que consiga amplificar o potencial de algum elemento e ainda incrementar os poderosos Dragões Lendários para tornar o seu time uma verdadeira perfeição.
Mas para que isso seja possível é importante que se tenha boas opções de Dragões né? Os devs de Splinterlands sabem disso e por isso não deixam faltar essas cartas (geralmente muito caras) no arsenal dracônico.

Essas cartas possuem uma característica em comum: a maioria possui um alto custo de mana, impossibilitando a maioria de ser utilizado em partidas onde a mana é mais escassa. Todavia, em partidas de altíssima mana disponível se torna quase impossível bater de frente contra esse exército de dragões lendários.
A situação só piora quando olhamos para essas cartas em leveis superiores, pois o aumento de status e o ganho de habilidades as tornam ainda mais fortes, inclusive a maioria dos jogadores que eu enfrento no Gold quando utilizam o Splinter de Dragão costumam montar times quase completos de cartas lendárias lv 2 ou 3, e isso é insano de se enfrentar!

CADA VEZ MAIS FORTES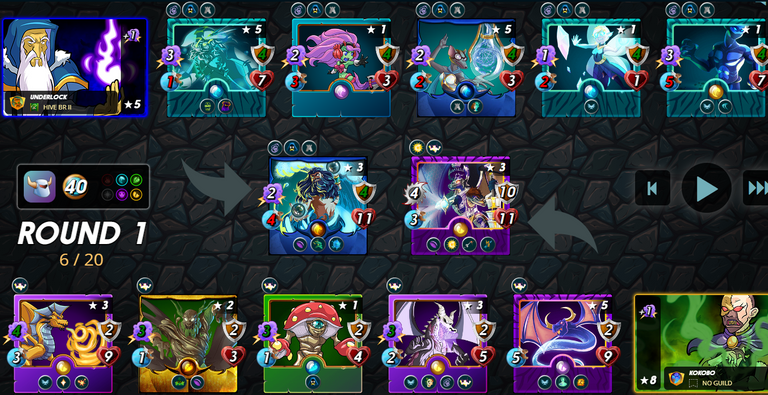 Conforme você avança de liga se torna cada vez mais comum jogadores que utilizem invocadores de Dragão de level alto e preencham seus times com três ou quatro uniadades lendárias e de level alto, e essas cartas são realmente duras de se combater, pois a versatilidade dos Dragões abre mais opções para que a pessoa escolha unidades que counterem o seu Focus Element (é fácil prever alguém quando todas as partidas do seu histórico são do mesmo elemento).
Já quem utiliza os Dragões não tem tanto esse problema, afinal, Dragões podem se misturar com qualquer coisa. Como eu disse no início da postagem, o Splinter de Dragão foi elaborado para ser diferente e isso o torna o melhor "elemento" do jogo (eu odeio usar a palavra elemento para os Splinters de Vida, Morte e Dragão kkkkk).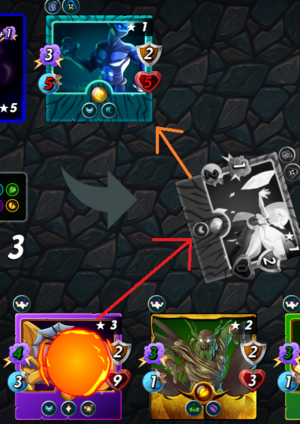 LINK DA BATALHA

VALE O INVESTIMENTO?
Toda essa versatilidade e poder destrutivo tem um custo. Além da alta mana das unidades esse custo vem em dólares. As principais cartas do Splinter de Dragão (os invocadores e unidades mais utilizadas) são bem mais caras se compararmos com os outros elementos, até mesmo aquelas menos utilizadas.
Dessa forma você precisa estar mais disposto a abrir os bolsos se for comprar um set de cartas desse Splinter, mas vale a pena?
É claro que vale!

Com a vinda da Chaos Legion surgiram muitos novos dragões bem úteis e com preços baratos (se comparado com as cartas mais antigas), tornando assim esse Splinter mais acessível para os jogadores mais novos no jogo.
Vale a pena vagar pela loja em busca daqueles que se encaixam em suas principais composições ou até mesmo ir em busca de realizar um aluguel maroto quando receber uma Focus Dragon, sendo possível montar um set extremamente poderoso de dragões pagando pouco (se você souber procurar).

CONSIDERAÇÕES FINAIS
Dragões não são baratos. Eles são extravagantes, perigosos, de alto custo e absurdamente poderosos e versáteis. Se você deseja enfrentá-los ou utilizá-los é melhor estar verdadeiramente preparado para entrar de cabeça, e não tenha medo de pegar os melhores lendários, afinal, Dragões são lendários!
Muito obrigado a todos que leram até aqui, espero que tenham gostado. Se vocês curtirem meus conteúdos, peço que deixem o seu voto na postagem e sigam o meu perfil para poderem acompanhar as futuras postagens.

---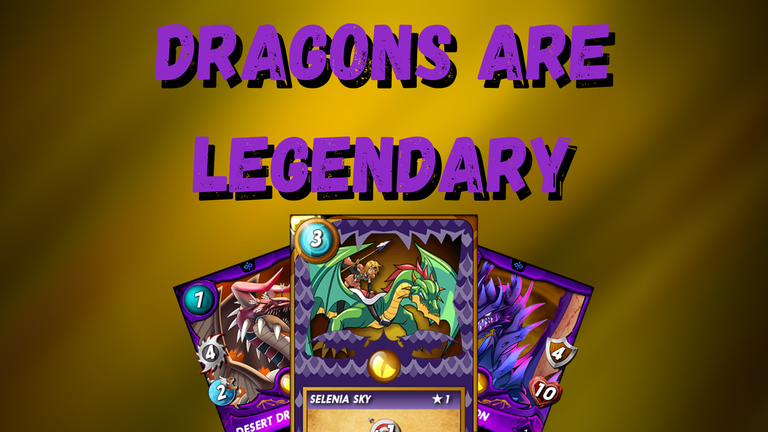 ENGLISH VERSION

(translate google)

The Way Dragon Splinter

was crafted in Splinterlands differs completely from the other elements. It is extremely versatile and filled with absurdly powerful cards, but it only has 3 common rarity, 9 rare, 8 epic and 25 legendary cards. Did you notice something?
Its main focus is certainly its summoners (after all, they enable this versatility) and its legendary units (which are very overpowered), in addition to some point cards that work well in any deck. And today I want to talk about this way of working and how well it works with dragons.

DRAGONS ARE LEGENDARY
This element doesn't want to fill you with common rarity options, after all there are already many options in each of the elements. Dragons offer powerful and impactful cards for those who want to invest more heavily.
Its summoners enable the use of Dragon units and fit into any composition and element, opening the door for Dragons to appear in physical, ranged or magical compositions without the slightest problem.

That way you can combine a summoner that can amplify the potential of some element and also increase the powerful Legendary Dragons to make your team a true perfection.
But for this to be possible, it's important to have good Dragon options, right? The Splinterlands devs know this and that's why they don't miss these (usually very expensive) cards in the draconic arsenal.

These cards have one characteristic in common: most have a high mana cost, making most of them impossible to be used in games where mana is more scarce. However, in very high available mana matches it becomes almost impossible to face this army of legendary dragons.
The situation only gets worse when we look at these cards at higher levels, as the stat increase and the ability gain make them even stronger, including most of the players I face in Gold when using Dragon Splinter tend to build almost complete teams of lv 2 or 3 legendary cards, and that's insane to face!

INCREASINGLY STRONGER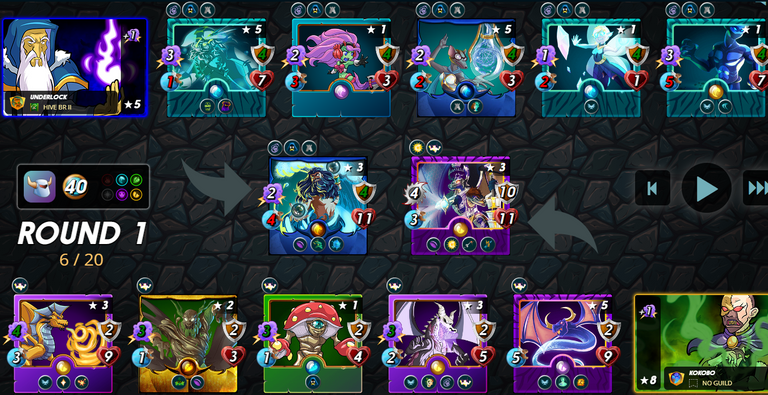 As you advance in the league, it becomes more and more common for players to use high level Dragon summoners and fill their teams with three or four legendary and high level units, and these cards are really tough to fight, because the versatility of Dragons opens more options for the person to choose units that counter their Focus Element (it's easy to predict someone when all their history matches are of the same element).
Those who use Dragons don't have that problem, after all, Dragons can mix with anything. As I said at the beginning of the post, the Dragon Splinter is designed to be different and that makes it the best "element" in the game (I hate to use the word element for the Life, Death and Dragon lol).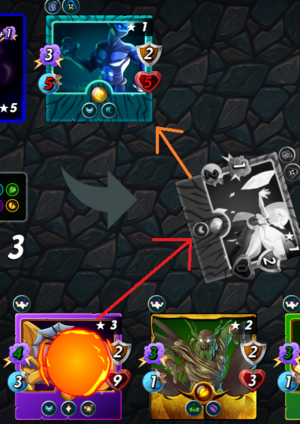 BATTLE LINK

WORTH THE INVESTMENT?
All that versatility and destructive power comes at a cost. In addition to the high mana of the units, this cost comes in dollars. The main Dragon Splinter cards (the most used summoners and units) are much more expensive compared to the other elements, even the least used ones.
So you need to be more willing to open your pockets if you're going to buy a set of cards from this Splinter, but is it worth it?
Of course it is!

With the coming of Chaos Legion came many new very useful and cheap dragons (compared to the older cards), thus making this Splinter more accessible for newer players in the game.
It's worth wandering around the store in search of those that fit your main compositions or even going in search of a naughty rental when you receive a Focus Dragon, being possible to assemble an extremely powerful set of dragons for little (if you know how to search).

FINAL CONSIDERATIONS
Dragons are not cheap. They are extravagant, dangerous, costly, and absurdly powerful and versatile. If you want to fight them or use them, you better be truly prepared to jump in, and don't be afraid to get the best legendaries, after all, Dragons are legendary!
Thank you so much to everyone who read this far, I hope you enjoyed it. If you like my content, I ask you to send your vote on the post and follow my profile so you can read future posts.

---
---