RENTAL TIME TRICKS - SPLINTERLANDS [PT-BR/ENG]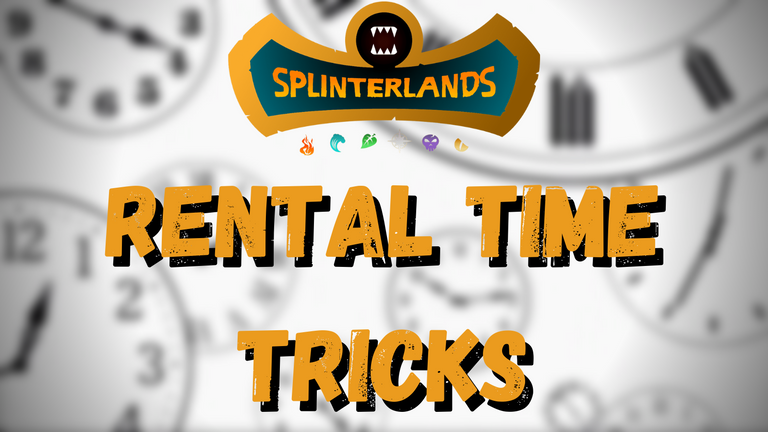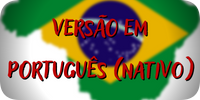 © Ukyron3

INTRODUÇÃO
Com objetivo de conquistar o emblema Weekly Author no Hivebuzz eu decidi fazer um post por dia abordando composições ou estratégias de Splinterlands que podem te fazer vencer partidas utilizando combos ou se aproveitando das regras de combate.

Hoje eu compartilharei alguns truques envolvendo o tempo que me permitem otimizar os gastos com aluguel e fazer um uso otimizado do ECR ao longo dos dias. Espero que essas dicas sejam úteis e te faça economizar durante o seu próximo aluguel!

TRUQUES DE TEMPO DE ALUGUEL
É extremamente importante utilizar o tempo ao seu favor se você planeja ter um menos gasto com alugueis para assim aumentar sua rentabilidade no Splinterlands. Vamos olhar então alguns truques para que você possa tornar o seu tempo mais lucrativo dentro do jogo.

QUANDO COMEÇAR SEU FARM?
Acredito que a maioria das pessoas tenha o costume de entrar no jogo, abrir seus baús, carregar um novo Focus Element e ir em busca de alugar cartas para poder fazer farmar baús e gastar seu ECR até onde deseja, e no dia seguinte repete o processo. Mas qual é o problema nisso?
Ao adotarem essa rotina, quando o dia seguinte chegar você receberá um novo Focus Element e suas cartas estarão prestes a expirar. Mas e se por acaso vier o mesmo elemento do dia anterior? Quando isso acontece você ficará triste ao perceber que poderia ter aproveitado o mesmo aluguel para fazer o farm e teria uma economia completa com seus custos do segundo dia.

Para evitar que a repetição do elemento se torne uma tristeza e tornar isso uma felicidade absoluta, a dica de tempo que eu te dou é simples:
Ao receber um novo Focus Element aguarde algumas horas para realizar os seus alugueis e executar o farm, pois dessa forma você terá a chance de aproveitar esse aluguel no dia seguinte seja em uma missão do mesmo elemento ou Dragão.

E você pode se perguntar se sua conta ficará desregulada ou com ECR no 100% por mais tempo, mas nós não deixremos isso acontecer através dos truques abaixo.

CALCULE SEU GASTO DE ECR
O seu ECR se regenera em aproximadamente 25% a cada 24 horas. Digamos que você vá iniciar sua nova rotina agora e se encontra atualmente com 100% de ECR e 17 horas da sua missão.
Você poderá gastar aproximadamente 25%~30% do seu ECR para que amanhã no mesmo horário você já esteja pronto para fazer o novo farm e com a possibilidade de reaproveitar o aluguel caso venha o mesmo elemento do dia anterior.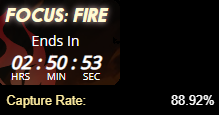 Se quando estiver próximo de completar o horário da missão você estiver com o ECR muito próximo de 100%, considere tentar jogar mais algumas partidas para que o mesmo fique próximo de completar 100% horas depois de receber a nova missão.

USE O TEMPO EXTRA PARA MAIS ECONOMIA
Ok, eu devo esperar algumas horas para iniciar o meu farm, então o que fazer durante essa espera? A melhor coisa que você pode fazer é colocar BIDS de aluguel.
Como vão levar algumas horas até que você comesse o seu farm é possível fazer o BID de várias cartas que você pretende utilizar, dessa forma ao longo das horas é possível que algumas ou até a maioria seja alugada automaticamente por preços bem abaixo do valor atual do mercado.

Ao fazer o BID eu consegui gastar apenas 4,389 DEC nessas duas cartas lendárias. Agora se eu fosse pagar o valor de mercado...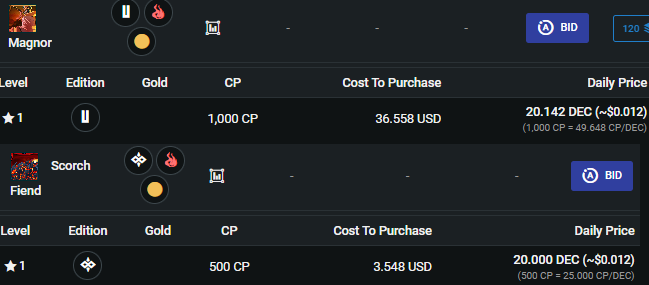 Nem preciso comentar né? Então fica mais do que óbvio que você conseguirá economizar muito se horas antes de realizar o farm fizer os BIDs das cartas que você pretende utilizar. Quando finalmente chegar a hora, aquelas que não forem alugadas você pode pegar manualmente e completar seu set para rushar a maior quantidade de baús que você conseguir conquistar.

Os BIDs podem ser feito pelo site Peakmonsters e se por acaso você não souber como fazê-lo, deixarei o link de uma postagem antiga que eu falo exclusivamente sobre essa ferramenta de BID.
DETALHE IMPORTANTE: quando uma carta é alugada pelo BID o tempo mínimo do aluguel é de dois dias. É importante observar isso pois talvez seja necessário realizar o cancelamento desses alugueis antes de virar para o segundo dia.

Para resolver isso basta selecionar as cartas alugadas pelo BID, clicar em Rent e depois em Stop Renting, fazendo com que todas sejam canceladas ao mesmo tempo.

Também é preciso cancelar os BIDs feitos indo no seu Profile e acessando a aba Rentals, pausando ou excluindo todas as ordens de uma vez para que não ocorra de alugar novamente a carta (que você não iria utilizar mais) após fazer o cancelamento do seu aluguel.

MAS E AS NOVAS MUDANÇAS?
Elas ainda estão meio obscuras para mim então não posso discorrer tanto sobre, mas o que posso falar é que vejo muitos pontos negativos em algumas das mudanças mencionadas, principalmente no fato da obrigatoriedade do aluguel das cartas serem de no mínimo 2 dias.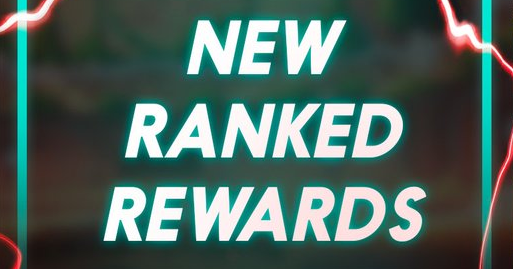 Vamos esperar para ver como as coisas serão implementadas pois isso pode mudar absolutamente tudo na forma como jogamos Splinterlands atualmente. De qualquer forma é provável que todas essas dicas continuem sendo válidas com pequenas alterações de acordo com a maneira que as mudanças forem implementadas.

CONSIDERAÇÕES FINAIS
Devemos sempre nos aproveitar dos detalhes para diminuir nossos custos e maximizar nossos ganhos, pois fazendo isso iremos garantir sempre o crescimento contínuo das nossas contas. Espero que essas dicas tenham agregado algum valor para você e sejam úteis para tornar sua vida no Splinterlands mais lucrativa!
Muito obrigado a todos que leram até aqui, espero que tenham gostado. Se vocês curtirem meus conteúdos, peço que deixem o seu voto na postagem e sigam o meu perfil para poderem acompanhar as futuras postagens.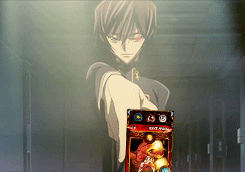 ---
Você pode ganhar renda passiva por delegação de tokens de tribo para "The Cartel".


Clique neste banner para entrar no servidor de Discord "The Cartel" para saber mais.
---
---
---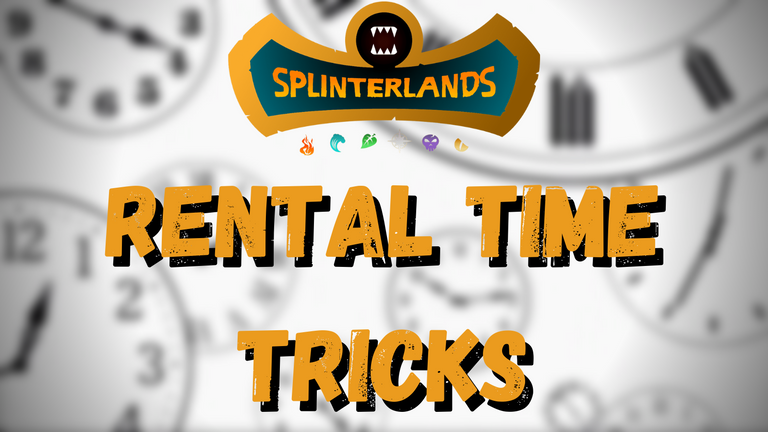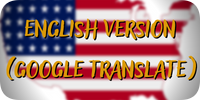 © Ukyron3

INTRODUCTION
In order to earn the Weekly Author badge on Hivebuzz I decided to make a post a day covering compositions or strategies from Splinterlands that can make you win matches using combos or taking advantage of the combat rules.

Today I'm going to share some time tricks that allow me to optimize rent expenses and make optimal use of ECR ​​throughout the days. I hope these tips are helpful and save you money during your next rental!

RENTAL TIME TRICKS
It is extremely important to use time to your advantage if you plan to spend less on rentals to increase your profitability in Splinterlands. Let's look at some tricks so you can make your time in the game more profitable.

WHEN TO START YOUR FARM?
I believe most people have the habit of logging into the game, opening their chests, loading a new Focus Element and going in search of renting cards to be able to farm chests and spend their ECR as far as they want, and on the day next repeats the process. But what's the problem with that?
By adopting this routine, when the next day arrives you will receive a new Focus Element and your cards will be about to expire. But what if by chance the same element from the previous day comes? When this happens you will be sad to realize that you could have used the same rent to farm and would have had a complete savings on your second day costs.

To prevent the repetition of the element from becoming a sadness and make it an absolute happiness, the time tip I give you is simple:
When you receive a new Focus Element, wait a few hours to carry out your rentals and run the farm, because that way you will have the chance to take advantage of this rental the next day, whether on a mission of the same element or Dragon.

And you may wonder if your account will be deregulated or ECR at 100% longer, but we won't let that happen through the tricks below.

CALCULATE YOUR ECR SPEND
Your ECR regenerates by approximately 25% every 24 hours. Let's say you are going to start your new routine now and you are currently at 100% ECR and 17 hours into your mission.
You will be able to spend approximately 25%~30% of your ECR so that tomorrow at the same time you are ready to make the new farm and with the possibility of reusing the rent if the same element comes from the previous day.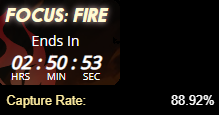 If when you are close to completing the mission time you have the ECR very close to 100%, consider trying to play a few more games so that it is close to completing 100% hours after receiving the new mission.

USE EXTRA TIME FOR MORE SAVINGS
Okay, I should wait a few hours for my farm to start, so what to do during this wait? The best thing you can do is place RENTAL BIDS.
As it will take a few hours for you to eat your farm, it is possible to BID several cards that you intend to use, so over the hours it is possible that some or even most of them are automatically rented at prices well below the current value of the Marketplace.

By making the BID I was able to spend only 4,389 DEC on these two legendary cards. Now if I were to pay market value...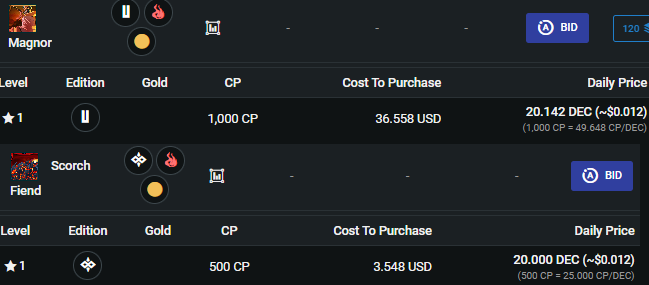 I don't need to comment right? So it is more than obvious that you will be able to save a lot if hours before carrying out the farm you make the BIDs of the cards you intend to use. When the time finally comes, those that aren't rented you can pick up manually and complete your set to rush as many chests as you can.

The BIDs can be done through the website Peakmonsters and if by any chance you don't know how to do it, I'll leave the link to old post that I talk exclusively about this BID tool.
IMPORTANT DETAIL: when a charter is rented by the BID, the minimum rental time is two days. This is important to note as you may need to cancel these rentals before turning to the second day.

To solve this, simply select the cards rented by the BID, click on Rent and then on Stop Renting, causing all of them to be canceled at the same time.

It is also necessary to cancel the BIDs made by going to your Profile and accessing the Rentals tab, pausing or deleting all orders at once so that you do not have to rent the card again (which you would no longer use) after canceling your rental.

BUT WHAT ABOUT THE NEW CHANGES?
They are still a little obscure for me so I can't talk too much about them, but what I can say is that I see a lot of negative points in some of the changes mentioned, especially in the fact that the rental of cards is mandatory for at least 2 days.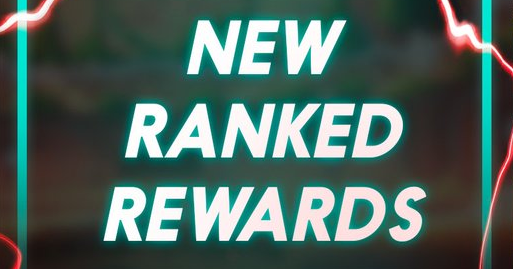 Let's wait and see how things are implemented as this could change absolutely everything about the way we play Splinterlands these days. Anyway, it is likely that all these tips will continue to be valid with small changes according to the way the changes are implemented.

FINAL CONSIDERATIONS
We must always take advantage of the details to reduce our costs and maximize our gains, because by doing this we will always guarantee the continuous growth of our accounts. I hope these tips have added some value to you and are helpful in making your life in Splinterlands more profitable!
Thank you so much to everyone who read this far, I hope you enjoyed it. If you like my content, I ask you to send your vote on the post and follow my profile so you can read future posts.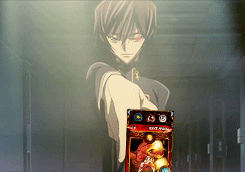 ---
---
---