Technical Analysis 101 - Day Trading Strategies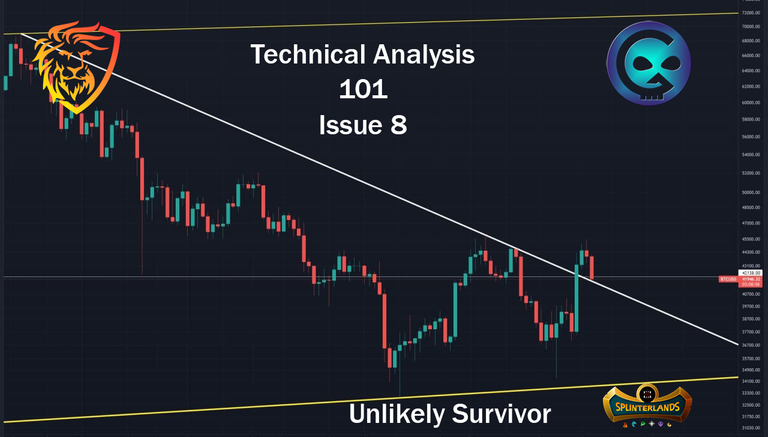 Well, BTC got a nice little boost today up 8.75% in last 24 hours, it has passed the 8 week EMA and is bumping up against the 55 week AMA, but it still did not open and close the week above $43k we are probably not moving into a bull market yet. We have cover a lot of elements you need to understand in order to become a successful trader, but we have not really gotten into trading strategies. Today I am going to be covering essential strategies day traders use to make profit. Specifically we are going to be looking at range trading, scalping and news based trading. You should also know that day trading is not for everyone, it can be highly stressful and require a lot of work examining market data and most day traders treat it like their full time job. I will be covering how skilled traders can make a living from these strategies but some people may find the level of engagement overwhelming longer term trading strategies can be less intense and risky and I will be covering more of them in future articles. You should also be aware most day traders do not out perform the market, this is not always true some do out perform the market but the tend to be the exception not the standard.

Range trading is identifying when a particular asset is regularly moving in a giving range also known as a channel. This is often easier to do in a sideways market, this is also where a day trader can make gains on the market making multiple trades between the range while the market is going sideways making no noticeable gains. Remember a trend is a trend until its not no matter how regular one of these ranges seems to be it will eventually break, each test of the top or bottom could be the one that breaks out so you need to be prepared for that and not assume it will continue forever. It can be important to have insight into when the trend might be changing, remember what we talked about in regards to RSI divergence when the price trend moves in a different direction could signal a shift in momentum. Moving average cross overs if the price can stay above to 50 MA on the daily time frame it is a good sign the trend is going to continue, should it break to 50 especially the hundred or higher then there is a good chance the market is changing.
Scalping is a fast paced form of day trading in which scalpers make many smaller safer trades inside a day that they hope will add up to a good amount of profit collectively. This can still be a form of range trading and can look much the same but it general involves price ranges that are in the pennies and entries and exits that last only minutes. Scalpers need to react quickly and have very strict parameters for their trades, one bad trade can erase a whole days profits. There is arbitrage scalping where a trader identifies a difference in price for the same asset on two different exchanges and if the move quickly enough can buy on one and sell at a profit on the other.
News based trading involves watching for important information to come out that could or should affect market prices. For example there is news of a bug in the code of a project you invested in, there is a high probability a sell off will follow. However the key to being successful here is to not follow the movement in the wake of the news but get ahead of it. There is a saying out there "Buy the rumor, sell the news" basically you want to be ahead of the curve for the majority of the market. So if there is a rumor a coin is going to get listed on a major exchange, you want to start buying it before it becomes news and everyone else is. This is where your sources of information are important watching major news outlets are fine but know that by the time it reaches major outlets it is probably already being reacted to. If you want to be ahead of most you need more direct sources like telegram groups, developer blogs, discord, twitter and community forums can give direct access to information before everyone else is repeating it.

---
---