Fully Onboarding SL Newbz! How? AND Why!


First of all : I just want to say that hanging out in the SplinterLands Discord server is almost as fun as playing the game! I am so thankful for the community that the SL team & community have created over the last few years.
2ndly- You can monitor your Resource Credits: Here
So! Here's The Deal!! for a little while the other day, I was on a losing streak and I tired of losing so I decided to go hangout in the SplinterLands discord.. and since then, I haven't stopped hanging out with the community (I hope they are understanding my sense of humor) It started with asking some of my own questions about the game, and it slowly turned into answering, other folks questions about the blockchain that this game calls home, and commonly finding them information regarding where to buy/sell/trade their vouchers... etc. etc.
But then in the last 2 days I found this cannel called #rc-issues-request and I immediately knew what that meant: SplinterLands Newbs who are working with vary little RC's being delegated a miniscule amount of hive in comparison to the amount of new players & bots who are being onboarded to this game daily.... ...[To view your RC balance Go Here and enter your account name]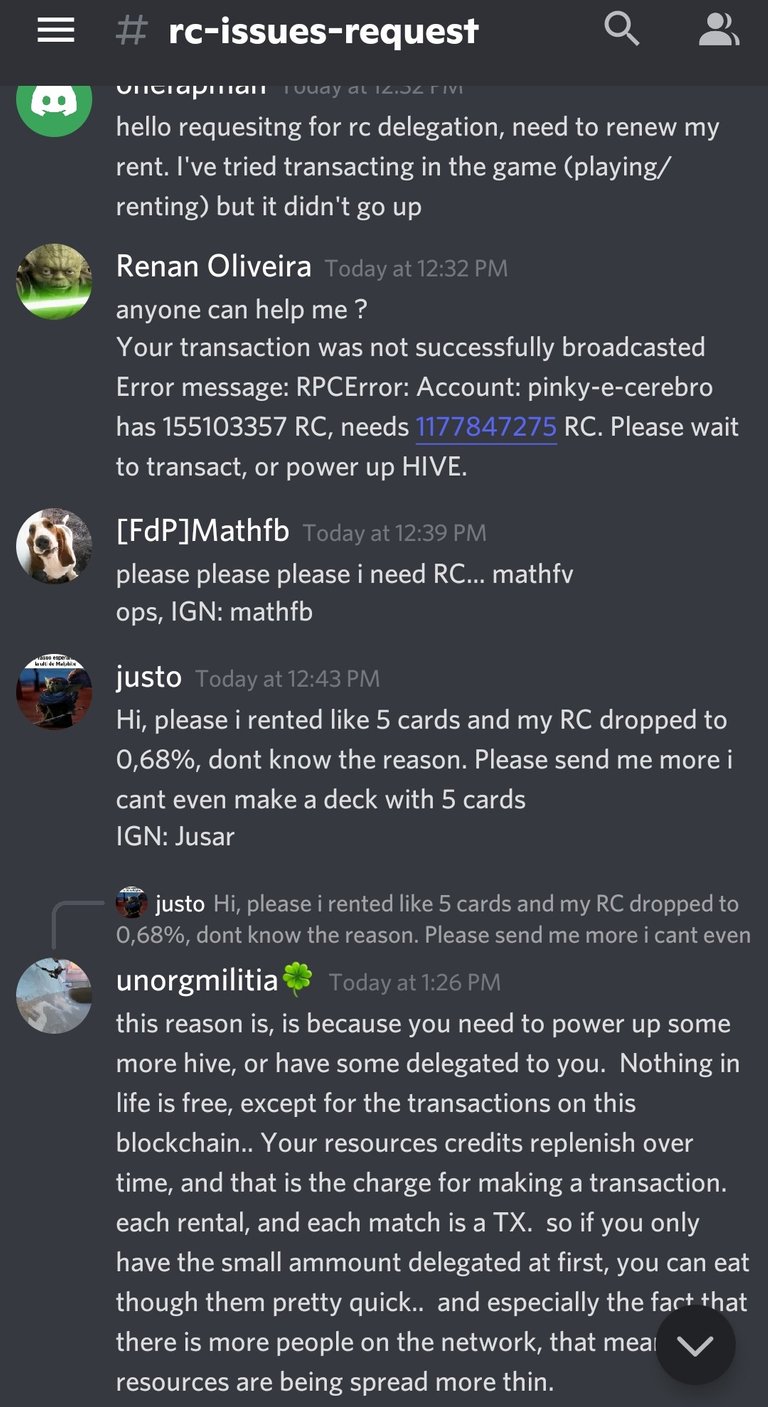 As you can see from the above screenshot, these folks are absolute fiends for this infamous "P2E" NFT card game; There's just one problem: THEY RENTED A BUNCH OF CARDS (or are trying to rent) and they cant play any dang matches in order to cover their rental investments, so they are panicked and lookin for a fix! Well.. Lucky for them! I am the kind of guy who likes to be overly helpful from my computer chair (with a beer in hand). I am able to alleviate their problems instantly with the HIVE that I powered up back in February.
The way I look at it is: a certain portion of these people are asking for a delegation for their alt-accounts which they may or may not be automating with bots. And a certain amount of the people are ONLY interested in the P2E aspect of this crypto thing.. but I have seen that there is actually people who are actively using the social media aspect of this chain as well, and I make sure to give them props for that a follow and upvote on the most recent up (if there is one)
Basically this is a way for me to break the ice with people wither they are doing social media, or just gaming.. but I am able to make a real connection with them, and be in a position to pass along my list of helpful hivelinks that I created recently. and to encourage them to begin educating themselves about all of the aspects of this blockchain.
[In online-gaming if a name doesn't seem to have meaning, as well as having random numbers its assumed to be a bot]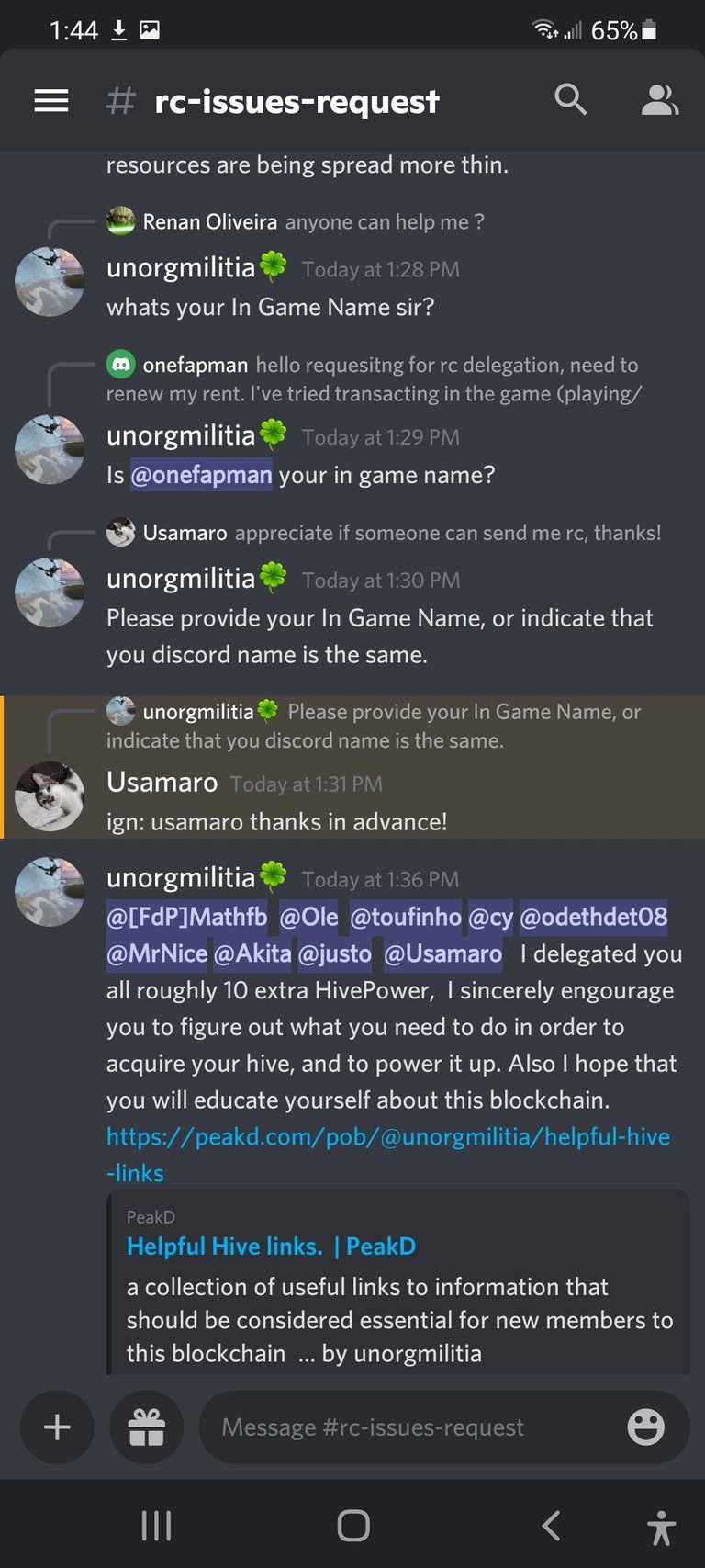 Sometimes I catch myself thinking about my progression in life before hive, and how my priorities were focused on revolution, now that I am on hive, I am focused on "OnBoarding" its basically the same exact concept of OnBoarding semi-oblivious people to fully understanding and engaging with a revolutionary idea/concept, and giving them enough accurate & well described information in order to empower them to pick up the banner and to be inspired to begin to do similar efforts.
....... The OG's on HIVE had said "Don't market the blockchain, market the Dapp"......
Well these fine folks have half onboarded themselves onto one of IF NOT! the most popular Dapps on our blockchain, and one of the most amazing card games ever invented.. but they have found themselves in a pickle (RC's) That's where I come in: I dangle the pickle in front of them, while I encourage them to begin educating themselves.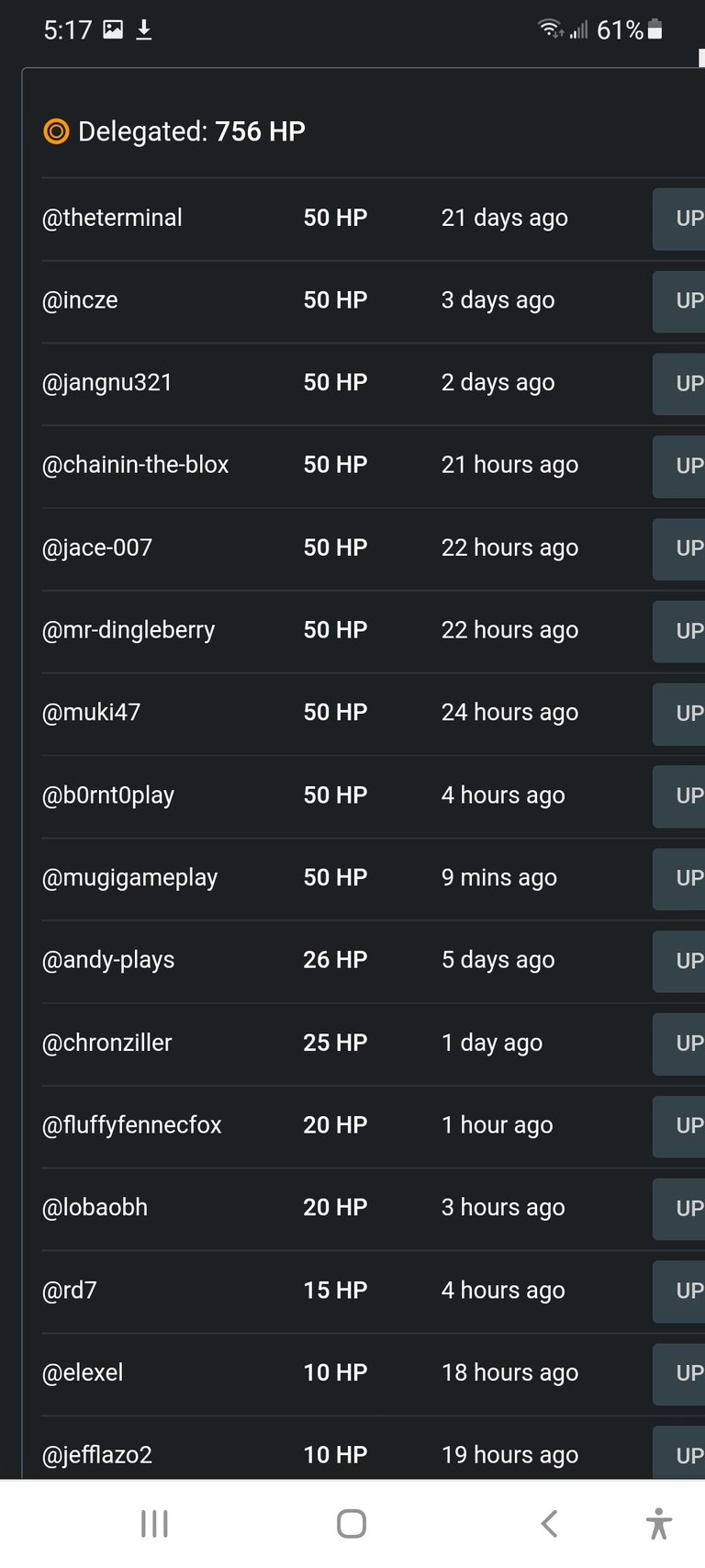 I'll give it a while and see how it goes, and check up on these lil grasshoppers after a week or so, and see if they are posting, commenting or curating at all.. or if they have powered up any of their own hive since I first gave my delegation. In the end.. if I begin to miss this HP I'll analyze how the list looks, and adjust accordingly.
AND OBVIOUSLY!! if anyone wants to help, and give these folks another 10, 20, 50 HP plz do so.. I will deff miss my hive at some point in time.
---
---