Look on the actions HBD
HBD,
Hive could profit a lot from it. But we have a 5% fee in place for converting Hive -->HBD that makes it difficult to use for larger amounts. It is way too much in the world of money. I don't know a HF would be needed for it to change, but 0.1% to 0.3% are enough.
Simply because we want people to Burn Hive and generate stable coins. Special on the low price levels. As more we can burn today, the better it is for long term.
Today we need 3,4 Hive for 1 HBD. 250k HBD would burn close to a million Hive.
We need big boys that use our stable coin for stuff outside of hive. Defi, payments, hedge, savings. This use case alone could triple the price of Hive.
HBD pays 10% APR. That's really competitive.
IMO we need an onchain DEFI pool for Hive/HBD with 10% APR + a little fee for trades that the investors in the pool earn for trades.
This would add a lot of liquidity and makes it sexy for larger boys to step in
Whales tell you the fee is fine.
Look at the actions. I don't see any whale or big investor moving funds into the Hive ecosystem to stake HBD.
I'm sure a lot will hold tether. But why if we have HBD, that pays APR onchain.
I tell you because it doesn't work to move hundreds of thousands into Hive into HBD and at some point out.
Tether has more liquidity and is in an unlimited matter there. The tokens are air? Maybe but this is not the point.
Tether can work on demand. If I need today 1000$ stablecoin, I could buy any.
If I want today 1.000.000$ stablecoin, it works for most, but HBD would be out at this place. It would work if i could buy in these case hive to convert it. But 5% fee? sorry, any other stable coin works better and has higher acceptance.
Here is an explainer: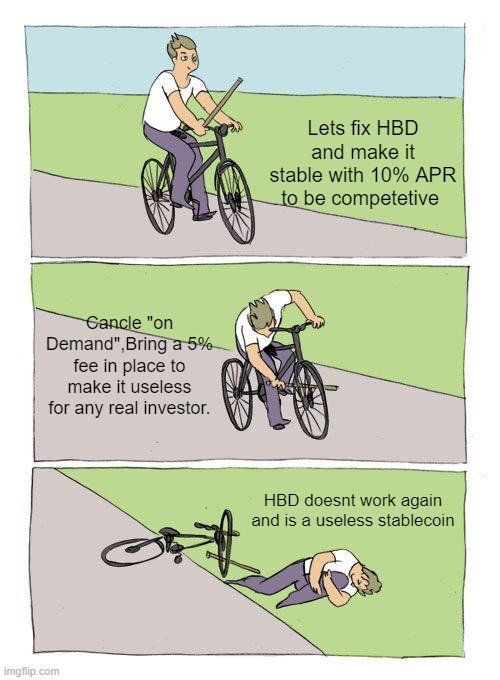 IMO if it would work on today's state, people would use it on larger scale because 10% are amazing and Hive should be save compared to other stablecoins we know close to nothing about.
---
---