bHBD Staking on CubDeFi is the shortest route to Maximize "once in a blue moon" Pump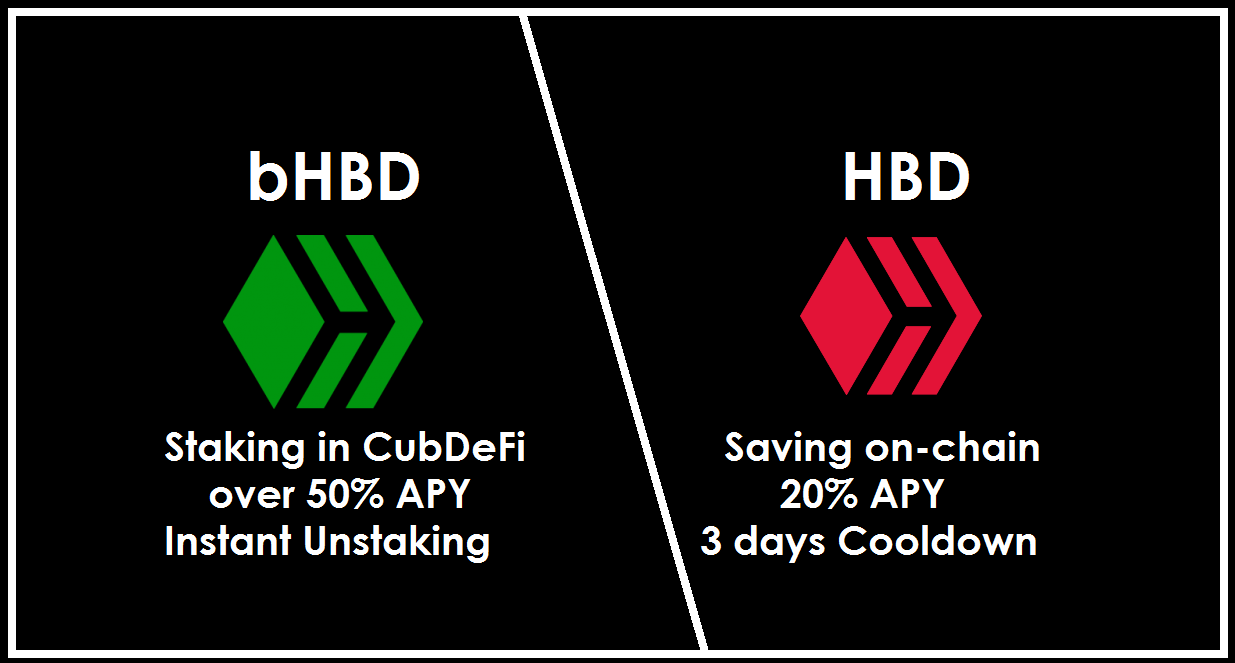 bHBD Staking versus HBD Savings
In my crypto investment journey, one of the most painful experience is watching a rare asset dip/pump without having the liquidity to take advantage of the moment. I can remember one of those days when a whale LEO liquid holder dumped LEO in the hive-engine market to the lows of 0.0003 which afforded a lucky buyer to buy over 50k LEO tokens for less than $5. While such opportunities are rare, it could be so painful to see it happen live, when you cannot participate.
Two days ago, the crypto exchanges recorded top change in market value for Hive Dollars (HBD) from $0.9 to $2.4 which meant over 166% rise in asset price. That is a rare occasion for HBD which is designed to be a stablecoin pegged at $1 USD. However, accounts who had some good volumes of HBD in liquid were able to cash out big and we know such events may never happen over the next 12 months.
Some users owned high volumes of HBD but couldn't participate in the pump because their asset were fixed in savings which has a cool down period of 3 days. This makes the staking of Hive Dollars in a sustainable and future-looking DeFi like CubFinance. This message has been grandly captured by the official tweet of @leoFinance
Ready to earn 38.17% APR on your $HBD without a 3 day unstaking period so you can take advantage of the once in a blue moon pump?

Really cool to see how CubDeFi has been built to offer investors a vast array of profits while also giving room for flexibility in the case of divestment or asset reshuffling. With xCUB and xCUB features coming in the near future, then we can say that CubDeFi gives investors the freedom to choose from short term to long term investment options all with huge returns.
Yesterday, I called on DeFi enthusiasts not to miss out of the insane returns of 171% to 190% APY from staking bHBD and bHIVE on CubDeFi respectively. As I pen this post, the returns rate is already reducing as more liquidity is added to the pools. This means that providing liquidity as at yester would afforded an investor the privilege of earning as much ass twice of what is paying out today.

How to Stake bHBD on CubDeFi
@Anomadsoul had sent an earlier video giving a guide on how to stake bHIVE and bHBD on CUbDeFi. The guide is simplified for anyone to understand. However, that can be done in just three simple steps and few clicks as below:
@LeoFinance is committed to building superb crypto-finance solutions and what we already have is a testimonial to bank on. Today's community update ius giving a peak into the future on what to expect.

What is LeoFinance?
LeoFinance is a blockchain-based Web3 community that builds innovative applications on the Hive, BSC, ETH and Polygon blockchains. Our flagship application: LeoFinance.io allows users and creators to engage and share content on the blockchain while earning cryptocurrency rewards.
LeoFinance | CubFinance | Hivestats | LeoDex | LeoFi
Delegate HP & Earn 16% APR, Paid Daily. Currently @ 2M HP
LeoFinance's mission is to put Web3 in the palm of your hands.
Twitter: https://twitter.com/FinanceLeo
Discord: https://discord.gg/E4jePHe
Whitepaper: https://whitepaper.leofinance.io
---
---
Thumbnail Image Source
---
Posted Using LeoFinance Beta
---
---