Compound your Hive and HBD APYs on CubFinance, Earn $Bullish CUB

I had a very interesting discourse with a friend earlier today. He's one of the people I introduced $LEO back then in 2020 Q4 but he missed the buying opportunity because he didn't really know about Hive, let alone Hive-engine tokens. He felt so bad when I told him how I made 1000x profit on LEO and he's not talking it easy this long bear season with stacking the LEO token. In his words, he asked "Chief, how can I maximize 1,000 HIVE worth of Investment for the best profit?". My Response was simple - CubFinance!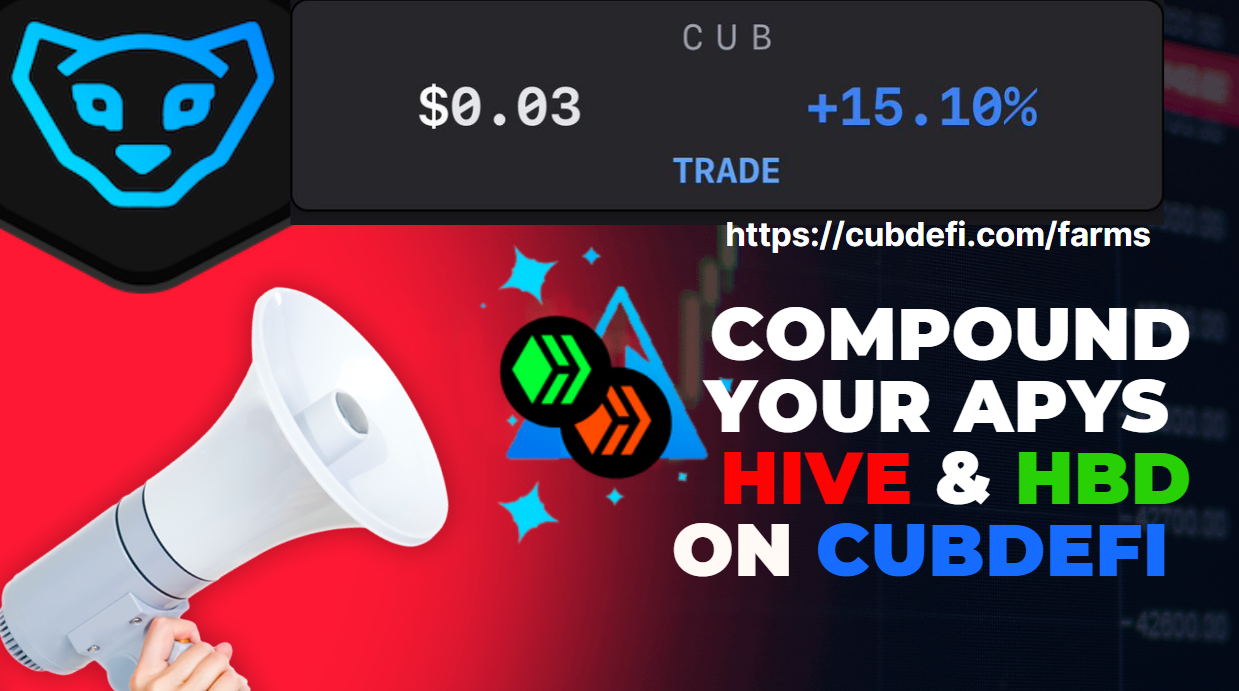 DeFi, short for Decentralized Finance being one of he most successful innovations in the blockchain and cryptocurrency environment has become a source of income and funding for mega projects for many and equally making many paupers rich. This only happens when you know your onions and put your capital where it is safe, and sustainably utilized for your good.
Many have thought that crypto is a get-rich-quick scheme where they can invest today and cash out today and that has caused many crypto projects to fail within their first three years and making investors poorer than they entered. This is not so with projects from the @LeoFinance developers. Sustainability, security and utility provision has always been the watchword.
CubFinance, being the first DeFi project by LeoFinance has undergone a lone bear curve since June 2021. The downtrend curve in the price of $CUB, the DeFi token has been worrisome to investors until the implementation of the Multi Token bridge feature which allows for derivatives of cryptocurrencies from other chains to be created on CubFinance, and by extension, Binance Smart Chain. The derivatives generates revenue to the DeFi through wrapping/unwrapping fees, arbitrage fees and staking fees. The revenue generated has been used to buy out $CUB from the market and burn same out of circulation. Derivatives of Hive blockchain based assets ( $bHBD, $bHIVE and $bLEO) were first and the the CUB revenue is growing steadily. More details can be seen on October's CUB report.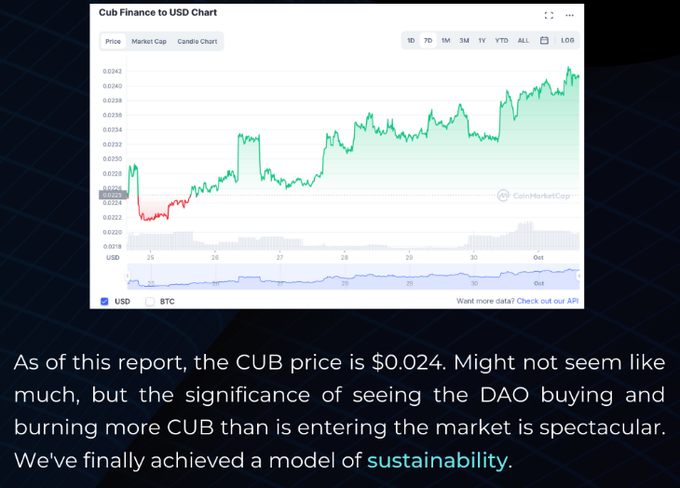 source
MTB on CubFinance creates a scarcity model for $CUB and each volume burned daily attempts to eat off the volume of $CUB minted for the day. Finally, it is obvious that the Escape velocity for $CUB is closer signaling a higher rate of burn over the inflation of $CUB. That is the mark of sustainability for the Cub DeFi project.
There has been a significant burn of CUB from September 2022 that has helped spike the price of $CUB from the lows of $0.02 to $0.03 as at today. source That is really a great news for $CUB investors as the journey to the scarcity of $CUB has begun and will continue till we get back $CUB at $3 and more.
A look at the CubFinance farms shows that staking $HBD on CubFinance as $bHBD, is already paying out about 2x APY what is obtainable on the Hive blockchain while staking $HIVE as bHIVE is paying about 3x the APY obtainable on Hive.
Reminder: the #1 place to stake #HIVE assets and earn yield + build on-ramp liquidity is https://cubdefi.com/farms
bHBD-bHIVE is paying 27.86% APY
bHBD-BUSD is paying 39.37% APY
bHBD-CUB is paying 30.94% APY
bHIVE-CUB is paying 37.40% APY
Many people are compounding their HIVE
source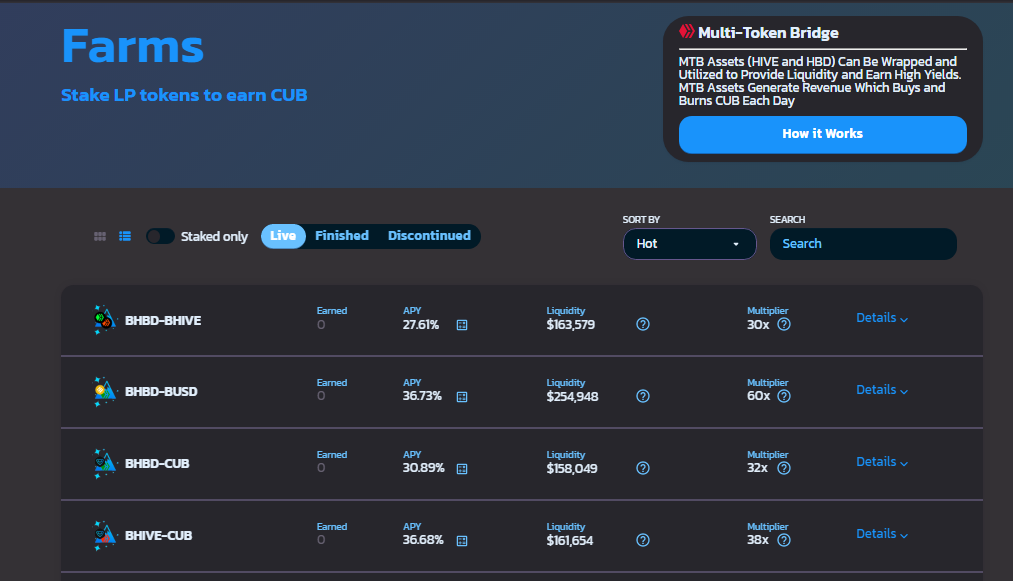 This recent update by @LoFinance gives more details on that. From the above, an investor can compound his or her $Hive and $HBD APYs on CubFinance. This comes with an additional benefit of earning the bullish $CUB token with a 1000x price action potential.
It is true that CubFinance is turning out to be the Best DeFi 2.0 Deal that ever exists with huge Prospects into the future and many millionaires and billionaires are about to emerge. Just watching as things turn out on CubDeFi could be a regrettable decision. Get involved now!
Here's how to provide bHBD-bHIVE Liquidity
Wrap HBD to bHBD using https://wleo.io/hbd-bsc/
Wrap HIVE to bHIVE using https://wleo.io/hive-bsc/
Match your bHBD with an equivalent amount of bHIVE
Provide liquidity on https://pancakeswap.finance/add/0x874966221020d6ac1aed0e2cfad9cbfee0ba713b/0x9faf07d1fbc130d698e227e50d1fb72657c0a342
Add LP Tokens to the Farm Vault on https://cubdefi.com/farms
Here's how to provide bHBD-BUSD Liquidity
Wrap HBD to bHBD using https://wleo.io/hbd-bsc/
Match your bHBD with an equivalent amount of BUSD
Provide liquidity on https://pancakeswap.finance/add/0xe9e7cea3dedca5984780bafc599bd69add087d56/0x874966221020d6ac1aed0e2cfad9cbfee0ba713b
Add LP Tokens to the Farm Vault on https://cubdefi.com/farms

What is LeoFinance?
LeoFinance is a blockchain-based Web3 community that builds innovative applications on the Hive, BSC, ETH and Polygon blockchains. Our flagship application: LeoFinance.io allows users and creators to engage and share content on the blockchain while earning cryptocurrency rewards.
LeoFinance | CubFinance | Hivestats | LeoDex | LeoFi
Delegate HP & Earn 16% APR, Paid Daily. Currently @ 2M HP

---
---
Let's Connect
Hive: https://leofinance.io/@uyobong
Twitter: https://twitter.com/Uyobong3
Discord: uyobong#5966
---
Posted Using LeoFinance Beta
---
---