Dieselpool LP Earnings: "ONEUP : SPT" and "SPORTS : SWAP.HIVE"

Thirteen days ago, I started providing liquidity to hive-engine diesel pools and I shared the experience in this post. It all started with the gaming tokens ONEUP : SPT pool. My initial stakes were 493 ONEUP and 2780 SPT and after 13 days, there is a significant change in the volume of the tokens that are placed in the liquidity in my account - 485.76 ONEUP and 4143 SPT. While I may not actually explain why ONEUP tokens are going down, however, I've seen a huge growth in my position with SPT by over 1,000 tokens.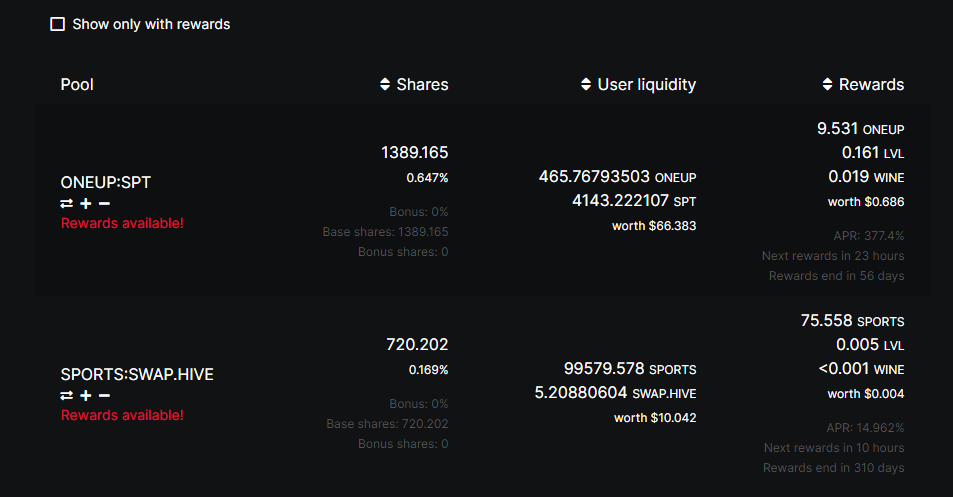 source
According to BEESWAP statistics, the ONEUP: SPT pool has an APR of 377.403% and would last for the next 56 days. 377.4% APR is huge and that means that a liquidity provider earns at least 1% of his shareholdings daily. It looks good to receive that awesome amount of rewards from a baby ONEUP token. I've had my bias for gaming token of late and I think I'm making the right decision with the way that play2earn games are taking the centre stage in the crypto sphere and becoming a new source of sustainable income for game lovers and investors.
In the next few days when I hit this month's target for ONEUP staking (for content curation), I'll gladly add some more ONEUP and SPT to the pool to get back a share of at least 2% of the entire LP in the pool. My share is presently 0.647% showing that there have been a significant addition of more ONEUP and SPT to the pool which is increasing the total pool quantity and reducing my share.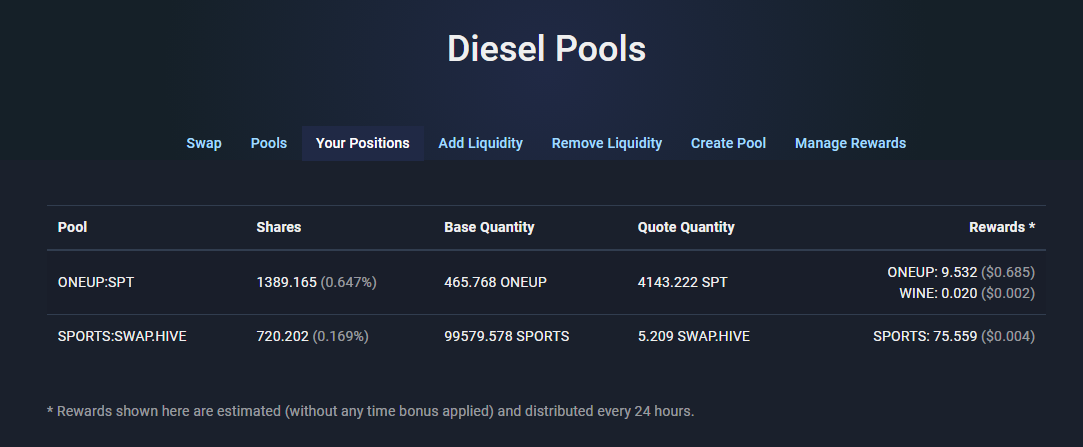 source
On SPORTS:SWAP.HIVE pool, the average APR was quite low (14.962%) and I thus added a small liquidity for test purposes. However, since this is going to add to the overall wellbeing of the SPORTS token, I may consider some more tokens, say at least 1 million SPORTS in the pool to help build the health of the SPORTS token.
Liquidity provision rewards for SPORTS: SWAP.HIVE pool would last fo the next 310 days and that can be a compounding effect on the overall earnings from providing liquidity to the pool.
Like I'll always say, the SPORTS token is so underrated and underutilized. SPorts is a huge sector with huge base of loyalists. All we need is to scale the marketing of the community and the token out thee to local sports teams so they can use as fan tokens. I'm also hopeful that soonest, we'll begin to have a sports-based game on Hive with the 1UP collaborations that would bring more game lovers to the Hive blockchain.
This DeFi experience at the second layer of Hive blockchain has been nothing short of amazing. Being a part of it in this little way has helped increase my knowledge. I'm still learning.
In all, I'm not discouraged with providing liquidity for the two pools. I'm hopeful things could get better if we all can contribute our lit
Posted Using LeoFinance Beta
---
---