Hive ATH: A time to have the best "buy" Deals for LEO, ONEUP, SPT

Hive pomps are green seasons foe HIVE HODLers, however, the hive-engine markets bleed in times as this. Many see life as a two faced coin - a win or loose. While that may not really apply to the highs and lows in crypto market, it may send some temporary feelings to onlookers. Hive made some long green candles up the market chart against the USDT and its exciting we touched the $1.55 price mark. It may not be where Hive ought to be after 5 solid years of proven strength, speed, true community, scale-ability and strength.
While HIVE made green candles today, many second layer token holders, including myself found it as an opportunity to take some profits. Yes, we need to do that so we can solve real-time problems with our crypto earnings here. Some of us here pay 90 to 100% of our bills from cryptocurrencies, and particularly HIVE. The sell pressure in the hive-engine markets have led to a dip in prices of some tokens. Funny enough, it made the market healthier.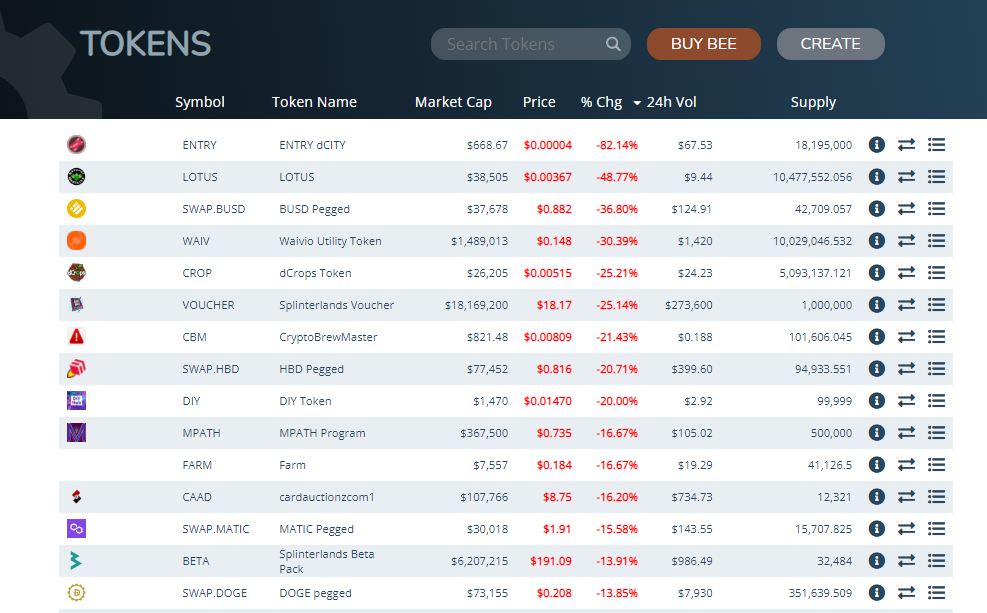 @Tasmaster4450 would say that the bear cycle is always inevitable in crypto charts as it allows for new investors to buy into the tokens, thereby making the market stronger. Weaker hands sell off during pumps and stronger hands buy in. As I write this post, HIVE still rallies above $1.4 and there are no signs of dipping lower especially with the airdrops coming ina few weeks to HIVE HODLers. This new range of Hive price has kept the market red for most hive-engine tokens.
There are a few hot tokens on the second layer that every investor needs to have in their HODLing or curating portfolio. Good enough that most of these tokens are dipping and the moment becomes quite perfect to buy in. My eyes have been on a few tokens during the temporary bear:
BEE at 0.65 HIVE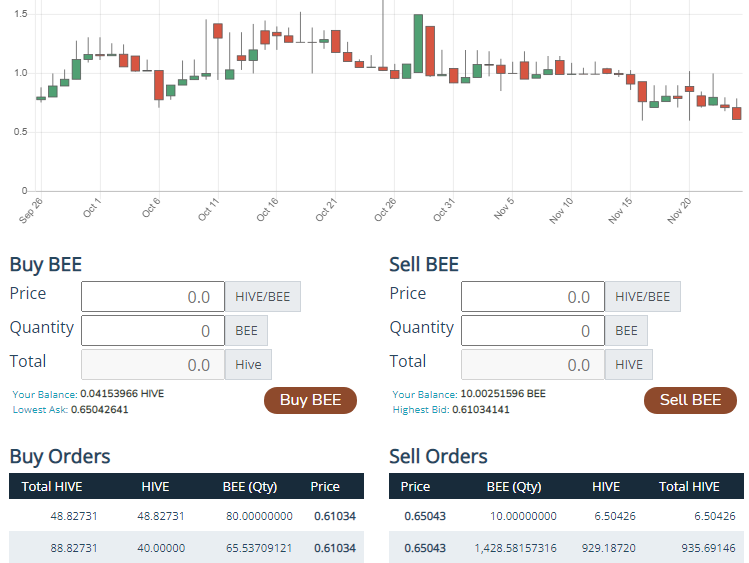 The base token of the Hive-engine (BEE) is now trading for 0.65 HIVE adn that's far cheap as we know it would soon level up at 1:1 ratio with Hive when Hive price corrects. This is because it's the major token that drives Hive's second layer. Every new development in Hive-engine would either need BEE for a burn or a stake to be integrated. It's a cool time to pick up some BEEs.
LEO at 0.017 to 0.192 HIVE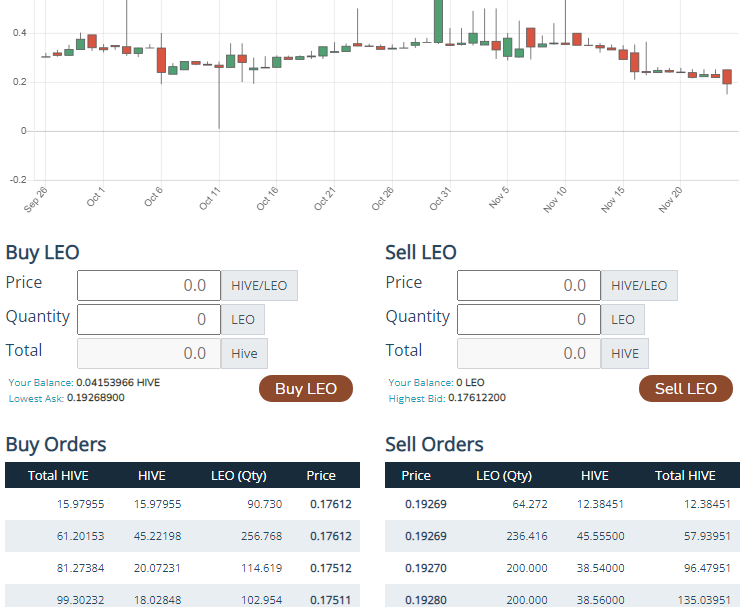 Our king LEO also suffered a huge dump following Hive's ATH. LEO is now trading for at 0.017 to 0.192 HIVE. That's a huge opportunity to stack some more volumes of LEO in lieu of the developments coming.
ONEUP at 0.03 to 0.05 HIVE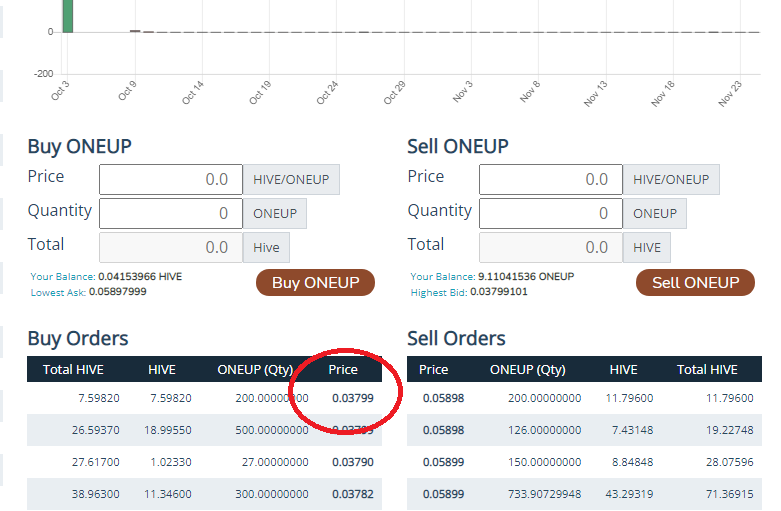 My recent favourite token - ONEUP suffered a hit during the HIVE ATH. Anyone who has earned ONEUP over the last few weeks would know how valuable the token is in any way it's invested. More developments are on the way and that would make ONEUP more valuable. One can take advantage of the dip to fill one's bags for curation and dieselpool staking.
SPT at 0.005 to 0.0077 HIVE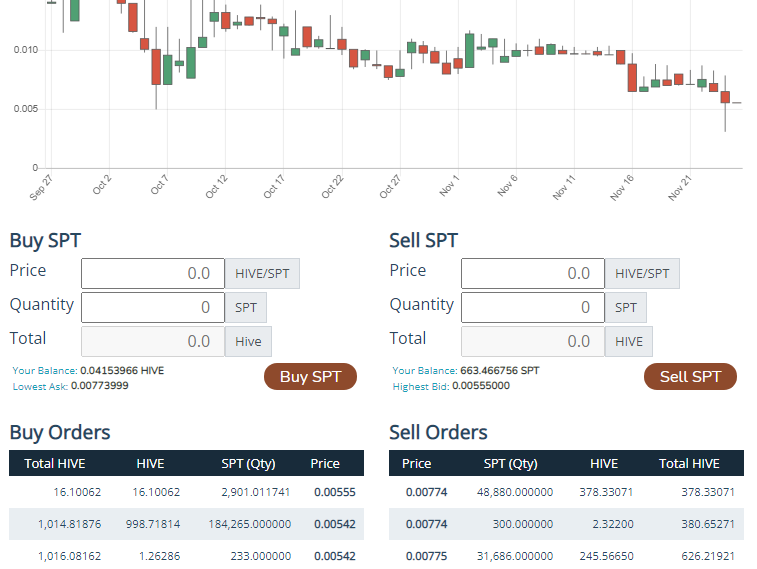 It's obvious that Splinterlands tokens would dump at a time as this. SPT is now trading at 0.005 to 0.0077 HIVE and one can easily gather hundreds of thousands of the token while the cheap days remain. I think it's time to hit my November goal of 50k SPT Power with this price.
Hive and hive-engine tokens have always been on an alternating pricign direction, the move which is always determined by HIVE price. Never get scared when the second layer tokens dump while you still HODL. It only shows new investors would be coming in and that chaep,
What is Hive?
Hive is an innovative and forward-looking decentralized blockchain and ecosystem, designed to scale with widespread adoption of the currency and platforms in mind. By combining the lightning-fast processing times and fee-less transactions, Hive is positioned to become one of the leading Web3 blockchains used by people around the world. source
What is Hive-Engine?
Hive-Engine is a smart contract platform on top of the Hive blockchain. It allows communities and businesses to build their own tokens, which are then built on top of the technology provided by Hive. This is the ultimate layer 2 solution. The token created on Hive-Engine is then immediately tradable with Hive on their exchange
Posted Using LeoFinance Beta
---
---