My Contents pooled 107 Visitors to leofinance.io from Google in the last 30 Days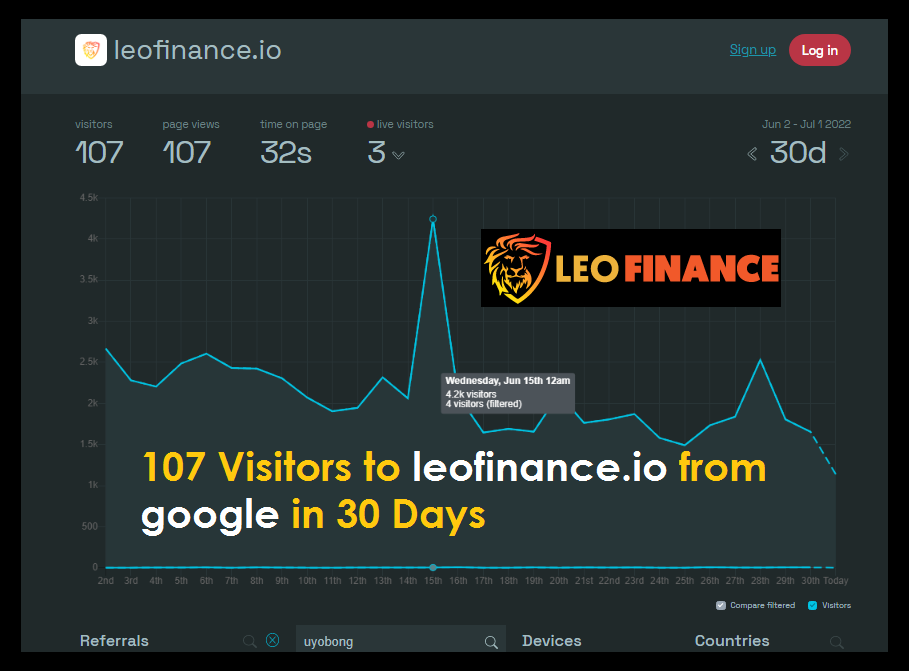 I decided to check my leofinance.io referral stats on simpleanalytics and it was interesting to see how much traffic my contents drew to leofinance.io from google.
@Finguru, @Hitmeasap and other SEO gurus on LeoFinance have been making big waves when it comes to content marketing and traffic flow to LeoFinance. This is a great effort towards the actualization of the mission of leofinance which is to democratize financial knowledge and grant access to opportunities by building on Web3. Gradually, the web is and search engines are tracking leofinance contents and sooner, we'll become a top site for crypto information. Thanks for the marketing strides led by @Anomadsoul that is helping us reach the and bringing them to make thjeir imprints on leofinance.io.
There is a lot we've got to offer in this web3 gateway application that do not just offer information to crypto enthusiasts, but also offer the opportunity foe anyone whop cares to earn crypto while learning. Gradually, the crypto communities out there are pitching their tents here on leofinance via the community pages and would soon be a thing for all.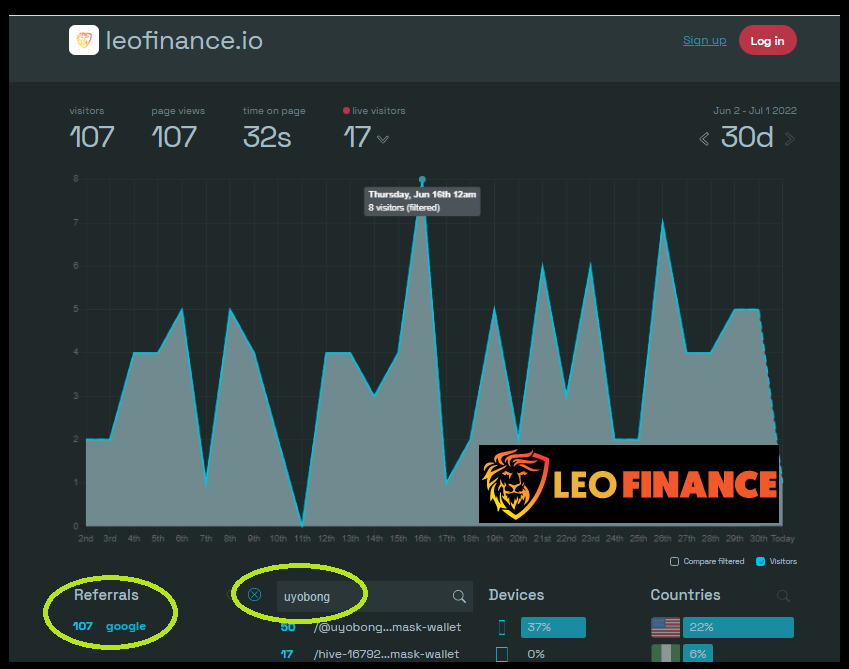 The top posts that referred 50, 17 and 6 content consumers to leofinance.io in the last 309 days (June 2 to July 1, 2022) are:
It really surprises how the MetaMask guide post has performed so healthily over the past months. It was a simple post that gave a guide on how to link MetaMask wallet to leofinance wallet for participation in wLEO pool on Ethereum blockchain. I'm excited that google ranks the post link top when searching for "How to link your Hive account to MetaMask Wallet". It was just a title so precise and on point giving direction for those who need to perform that operation. A 365 day statistic on the post shows that it has brought over 2k visitors to LeoFinance interface.

While understudying other great SEO content creators on Hive, capturing your post title is an awesome and precise way is key in post ranking in search engines. The other post on 'Stable Coins on Hive blockchain and the Beautiful Future has also made a decent 6 referrals from google to leofinance interface. That's quite small but a great way to start.
I'm looking forward to create more strategic contents and guide posts especially for other blockchains like Solana and Bitcoin.com PR services in the couple of days and weeks to come.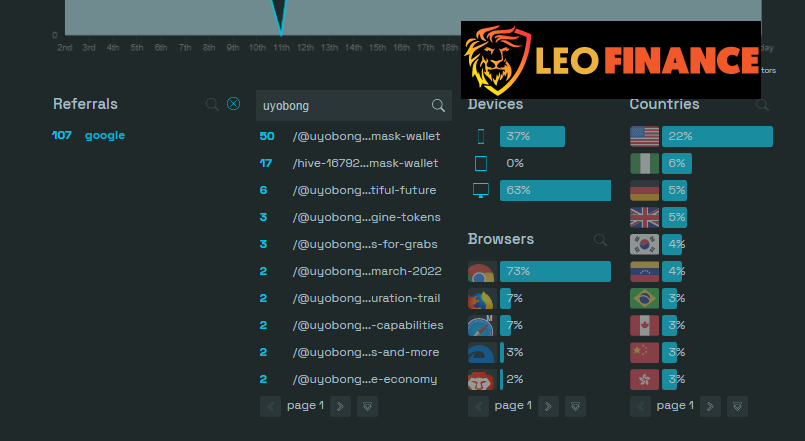 In every little way, we can contribute our quota to the growth of the LeoFinance ecosystem. Every impression made here matters. It's time to get eyes of every crypto loving person to this blockchain full of opportunity and growth via the LeoFinance community. With the many bridges to other chains available and those to come, I believe that there is more to write that content consumers are looking for. Let's keep pushing!

What is LeoFinance?
LeoFinance is a blockchain-based Web3 community that builds innovative applications on the Hive, BSC, ETH and Polygon blockchains. Our flagship application: LeoFinance.io allows users and creators to engage and share content on the blockchain while earning cryptocurrency rewards.
LeoFinance | CubFinance | Hivestats | LeoDex | LeoFi
Delegate HP & Earn 16% APR, Paid Daily. Currently @ 2M HP
---
Posted Using LeoFinance Beta
---
---