ONEUP, SPT in Dieslpool still yielding close to 400% in APY
As top global DeFi tokens pass $135 B in market capitalization, it is interesting to see that the hive-engine dieselpool has passed $500 million in volume and on daily basis many Hive and hive-engine token holders are adding to the liquidity pools thereby making room for ease of trading tokens. With the dieselpools on Hive, I've had the privileges of buying and selling tons of tokens without making an impact on the price of the token.
My first ever leap into the DeFi pools was after the announcement of the ONEUP : SPT pool. My interest in the ONEUP token as it powers the blockchain gaming community on Hive gets increasing on daily basis. My grand goal is to increase my gaming token holdings as this is the latest trend in the cryptoverse. Looking at the growth within the Splinterlands ecosystem, having a good bite of SPT was another good decision.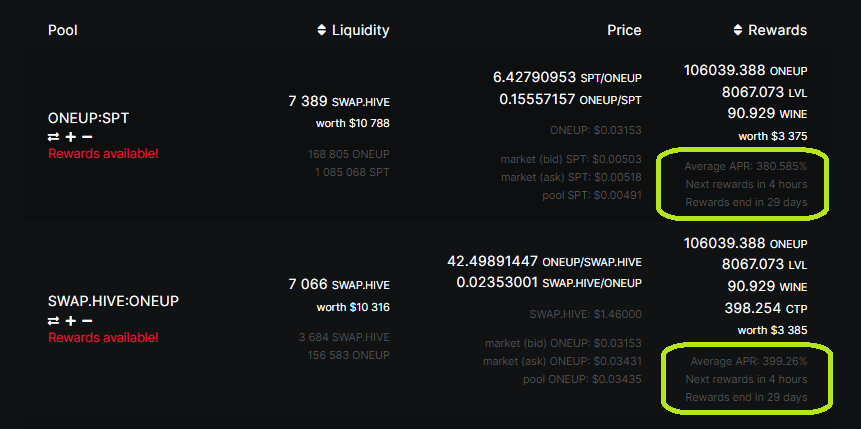 source
ONEUP token pooled against SPT, SWAP.HIVE and PIZZA has over $27,000 worth of tokens locked up in the three pools and presently records as one of the highest reward paying dieselpools. With Average APY for liquidity provision ranging from 164% to 399%, it's interesting to see how profitable providing liquidity to the ONEUP pools can be.
It is likely that some early LP providers are pooling out their stakes in the pools, thereby making the it more rewarding for the remaining liquidity providers. The ONEUP pools with SPT and SWAP.HIVE have 29 more days to offer bonuses to liquidity providers, while the recent pool with PIZZA still has more 70 days to go.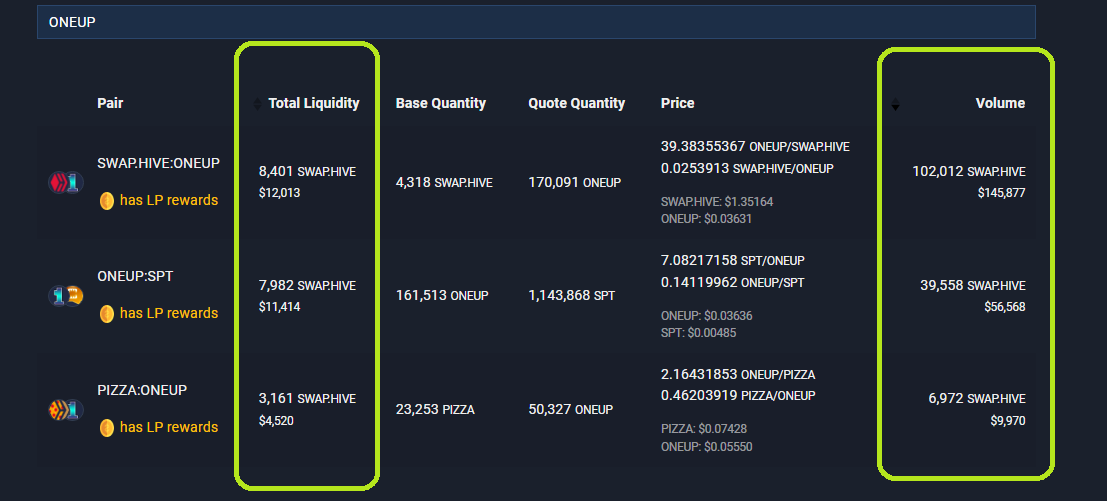 The ONEUP liquidity pools makes it easier to buy ONEUP token with either HIVE, SPT or PIZZA tokens and they seem to be way cheaper than what is obtainable in the hive-engine market. At present, each ONEUP token goes for 0.022 SWAP.HIVE. It's a decent and way easier way to purchase as much ONEUP tokens for curation (which is a long-term profit-giving investment option on Hive and hive-engine) or HODLing towards the future when the tokens would buzz as its usecases increase.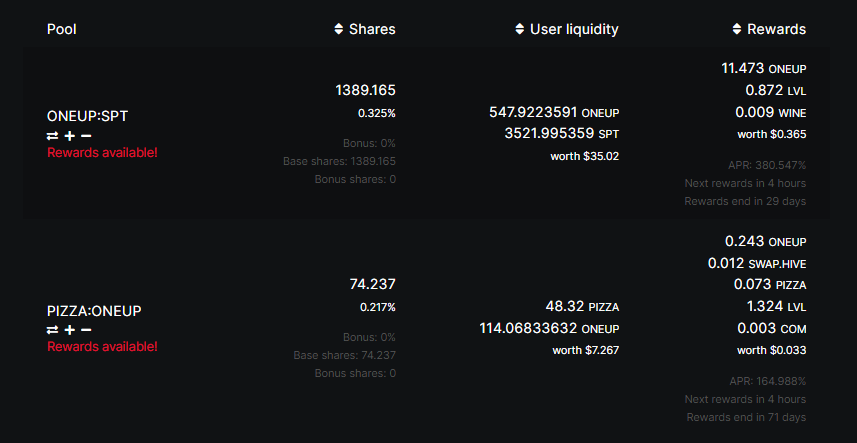 Receiving $WINE, $LVL, and $ONEUP worth )$0.36 daily is a very cool returns on a $35 investment. The pool with PIZZA pays out ONEUP, SWAP.HIVE, PIZZA, LVL and COM as bonuses for providing liquidity.
The ONEUP token promises to be an asset that would facilitate bridge building and cross-chain marketplace in the blockchain gaming industry. The creativity within the community is top notch with many investment options already thriving within the first 100 days of the community and token existence.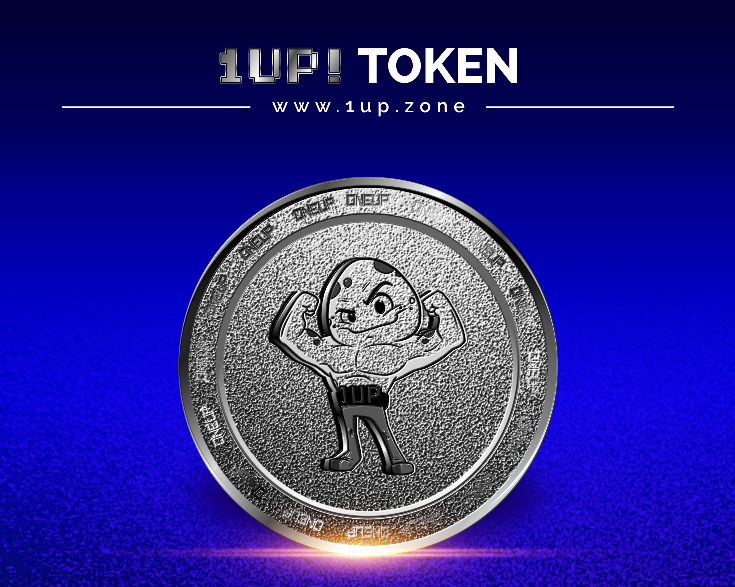 Some of my recent 1UP posts would inspire you top consider an investment option in gaming assets.
What is Hive?
Hive is an innovative and forward-looking decentralized blockchain and ecosystem, designed to scale with widespread adoption of the currency and platforms in mind. By combining the lightning-fast processing times and fee-less transactions, Hive is positioned to become one of the leading Web3 blockchains used by people around the world. source
Contact the 1UP Team
The 1UP team are so open for discussions, ideas and contribution regarding to the growth of the blockchain gaming community on Hive blockchain. Utilize these handles to reach them.
Posted Using LeoFinance Beta
---
---