Saving my Cash in Hive-engine Token (LEO) more valuable than Fiat (Naira)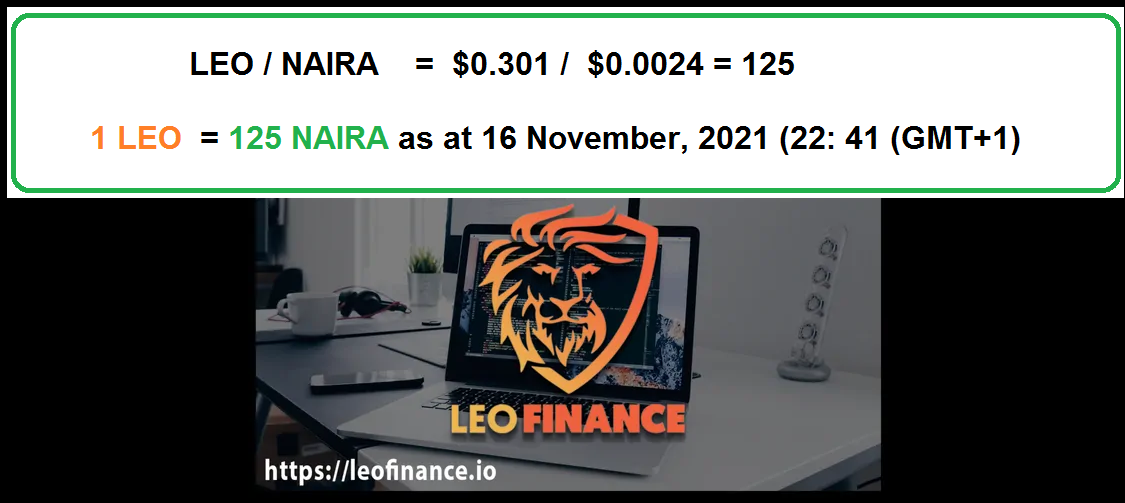 19 months ago, specifically on the 22nd of April, 2020, I published a post titled "How much is LEO Token Worth in Your Local Currency?". Many who there at the inception of Hive would tell how enthusiastic I was with the LEO token even when its value was just around 1 to 2 Cents. The enthusiasm actually paid off as it motivated me to earn and acquire as much LEO as I could then and invested them in LEO curation with mouthwatering curation rewards. In fact, my LEO holdings was instrumental to the diversification of my hive-engine and entire crypto holdings when I sold some during the bull run and took some tangible profits.
I know many would say that the prices of cryptocurrencies are so volatile. True and I agree because I witnessed the LEO token at 1 Cent, at $1 and the present 30 Cent, however, knowing what to do in relation with the price shifts would keep one ahead of the tide. From March 2020 till date, creating content and curating contents on Hive blockchain has been my major source of income, tangible income at that and it's exciting. I've undertaken routine and huge projects successfully with Hive and Hive-engine token funding.
Within this two years of Hive and Hive-engine tokens' existence, I can vividly say that it is more valuable holding my finances in form of Hive-engine tokens than fiat (in my case Naira). It's a sad truth but we face it. My local currency has been following a downward spiral in the last few years in the parallel market against the US Dollar. While the official market trades 410 units for 1USD as at today, 510 - 520 units of the same Naira is being traded against 1 USD in the black markets.
I wish I kept all my Savings in LEO
When I published this post 19 months ago, 1 LEO was worth $0.017 (NGN 6.539) and it would have required about 30 LEO for one to get a low-budget plate of food. I was brainstorming on how valuable LEO was at that time and how it would help meet my financial needs then, especially at the heart of the covid-19 pandemic.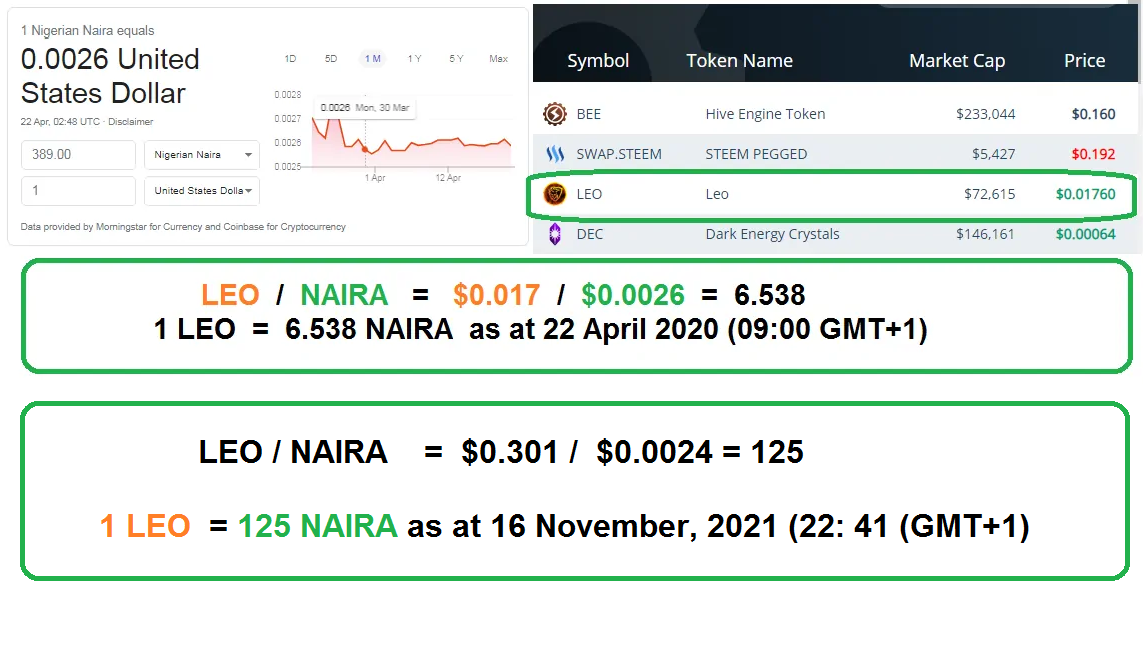 Today, 1LEO is trading averagely for $0.3 and that's equivalent to 125 Naira. That simply means that 10 LEO today would purchase a standard plate of food against 30 that was needed months ago for a low-budget meal. My big pain is that I saw a further devaluation of Naira coming and yet I ignored it.
Steem and hive actually are worth more than NGN 45 and NGN 35 respectively which are about 1/3 and 1/4 the price of 1litre of refined Gasoline. If these two cryptos grow as wished, then content creation could be worth more than owning barrels of oil. ... I furthered to see how much a finance based crypto like LEO could be worth and I was shocked to see that LEO is worth more than 6.5 Naira at the interim. What this means to me is that it could be more valuable holding my finances in form of LEO than fiat especially now that LEO would have more growing tendencies having moved to hive blockchain.
Holding $1,000 in a saving account as at April 2020 is now worth $750 and more fearful is the fact that what was purchased for $750 in April with the Naira currency would require $1,500 today due to high rate of importation. Day-in day-out, the Nigerian government is fighting hard how the citizens would abandon cryptocurrencies that has put food on the table of many.
I wish I had $1,000 invested in LEO then, I would be worth 20x the investment, that is $20,000. Do the maths yourself. In fact, I would have cashed out a good portion of the investment when LEO had hit $1 and probably bought some more during the dip. Curation then was yielding 30% APY and with the many investment options and airdrops, my worth within the LEO portfolio would have headed towards $50,000 if not more.
I hope that in the near future, we would be able to access more tangible products with Leo when marketplaces are integrated. Earning LEO can really help many families make a living as about 30LEO can afford a plate of food for low income earners.
Earning 30 LEO in April 2020 would have just secured a plate of food, but today, 30 LEO can do more. It can buy at least half a dozen of exercise books for school children. Crypto market capitalization is growing towards surpassing every sector in the world. Within the Hive blockchain, we're seeing a massive development that could pitch HIVE towards $5 value and LEO towards $2 soon. Several Hive-engine tokens have passed the 1 Cent value mark and some are well over $0.1 and more.
This is the case for Naira and may not be so for other Fiat currencies. I would love to know the LEO-FIAT price relationship form your end. Let's utilize the comments section of this post.
Posted Using LeoFinance Beta
---
---