Sweet November: $600 Hive and $300 Hive-engine Tokens Earned

As we begin a new month, it is important to be grateful for the blessings of the previous. Here I'm I thanking all who have in a way contributed to earning $90 in November from content creation and curation on Hive blockchain.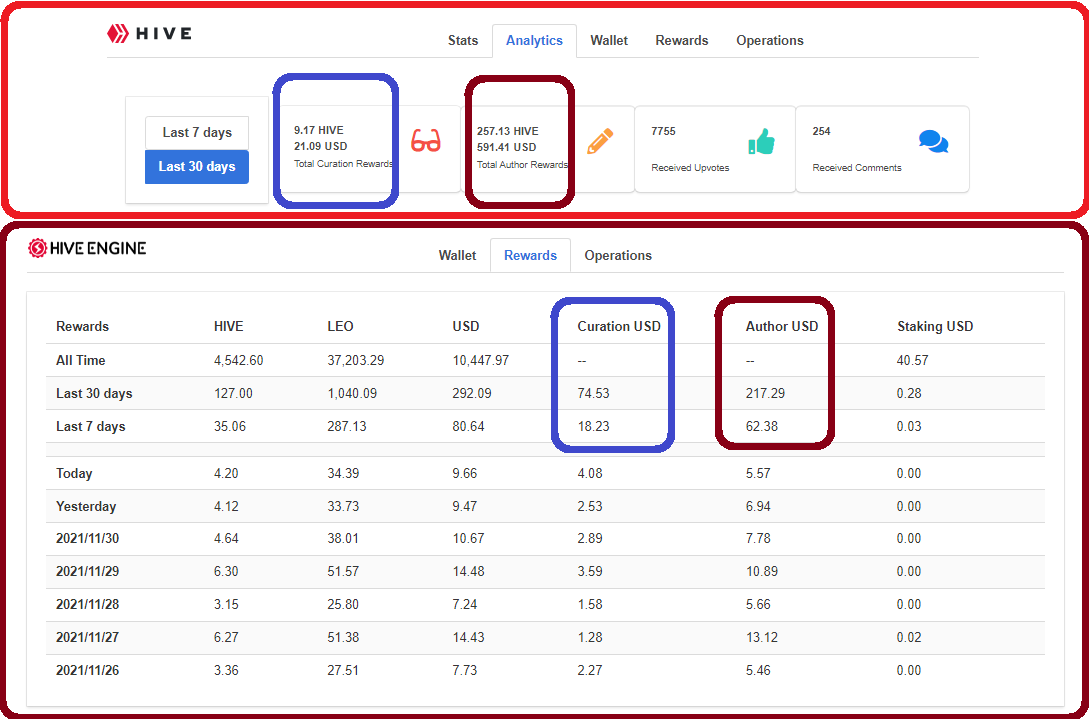 I made a quick look-up on my account stats via hivestats to catch a glimpse of what my earnings in November looked like. It was a merry view to see that both authorship and curation earnings ran closer to the $1,000 mark in the 30 days. This went ahead to confirm @abh12345.leo's report on my engagement in the Hive blockchain for the month of November, 2021.
The report showed that I created contents to the Hive blockchain with a total of 18718 characters divided into 55 top level posts and 116 comments. I am excited that I was able to published at least one post everyday of 30 days in November. That required a lot of discipline on my side to be able to make posts daily. A total of 171 engagement impressions on the Hive blockchain was made over the month of November.
In November (2021), you authored 55 top level posts comprising of 255907 characters. You also entered 116 comments onto the Hive blockchain totaling 18718 characters of text.
Giving out 986 "likes" generated about $21 x 2 on the main chain and $74 x 2 on the second layer outposts, totaling $190, and that resulted into $95 curation rewards and $95 to the authors
In November, you cast 986 votes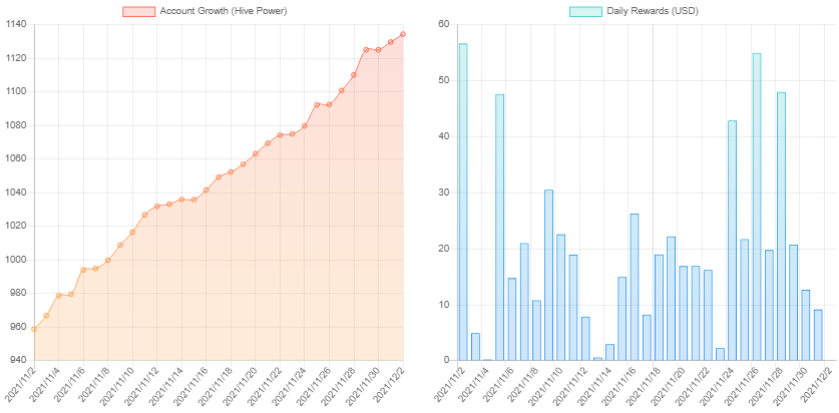 A more detailed look at my financial transactions from my main account in the month of November showed the following:
Last month, you transferred 0.000 HIVE to @honey-swap and withdrew 405.4 HIVE. You sent 0.000 HIVE to @leodex, and received 0.000 HIVE. And you sent 0.000 HIVE to @hiveswap, and received 31.65 HIVE from @hiveswap (BeeSwap).
A whole 405 HIVE worth $931 was withdrawn from my Hive-engine wallet in November. Interesting to see that huge amount of cash gets locked in the second layer of Hive. That had gone a long way to settle bills and as well provide footings for my next big off-chain project.
You earned 17103.258505 VESTS via Curation, which is approximately 9.224694 Hive Power.

And as an author, you earned 198.520000 HBD, 0.000000 HIVE, and 311047.568582 VESTS (approximately 167.764439 Hive Power) in November.
The beauty of content creation and curation on Hive blockchain is that it helps us to invest by default by powering up a part of our earnings to enable us give value to other users as well. Interesting to see the growing scale of my Hive Power and I'm pomped to get to 10k HP this time. My Hive Power has been well powered from second layer earnings in the past and I see more of that coming in December and in 2022.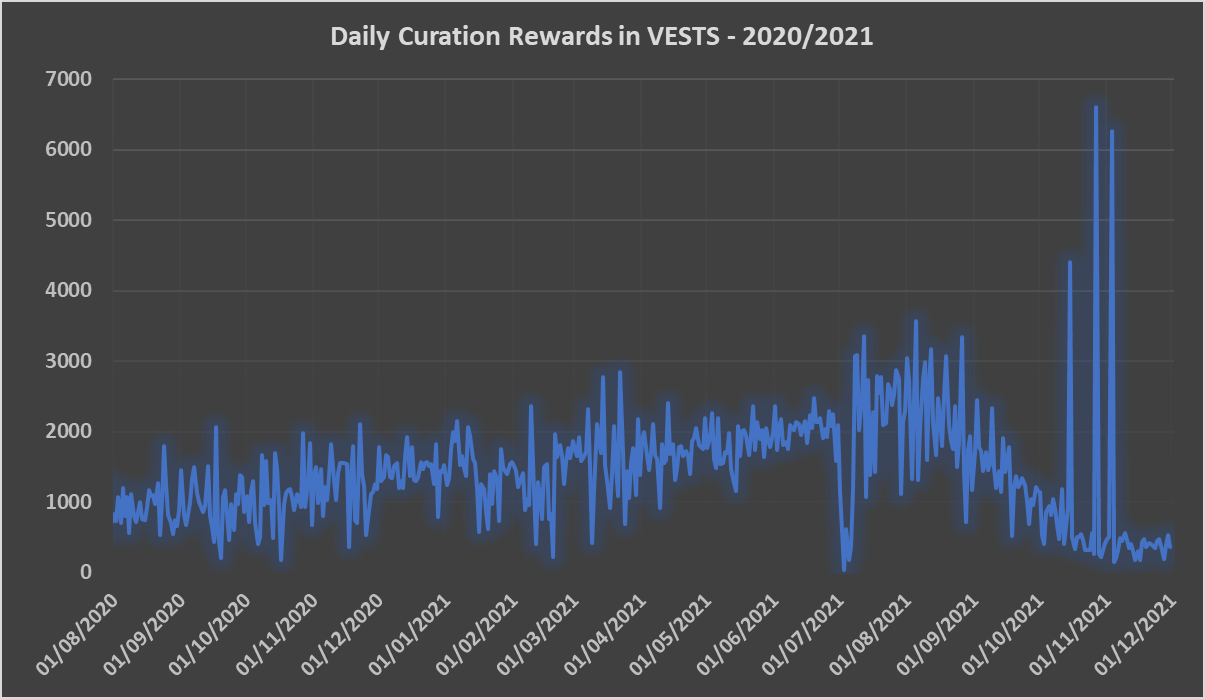 From the above chart, it looks like everything peaked towards the end of the month alongside with the Hive's new ATH value. It's really cool that our social activities on the Hive blockchain are actually paying our bills on everyday basis. Being here is fun and the fun gets bigger, better and more valuable by the day.
What is Hive?
Hive is an innovative and forward-looking decentralized blockchain and ecosystem, designed to scale with widespread adoption of the currency and platforms in mind. By combining the lightning-fast processing times and fee-less transactions, Hive is positioned to become one of the leading Web3 blockchains used by people around the world. source
What is Hive-Engine?
Hive-Engine is a smart contract platform on top of the Hive blockchain. It allows communities and businesses to build their own tokens, which are then built on top of the technology provided by Hive. This is the ultimate layer 2 solution. The token created on Hive-Engine is then immediately tradable with Hive on their exchange.
About me...
I am a called teacher, a serial entrepreneur and a Graduate of Agricultural Engineering. Nigeria is my root and a place full of opportunities. I dropped out of a Master's Degree programm due to funds, yet i do not regret growing the courage to start my buzsines from the scratch. Today, I've built layers of Businesses on the Hive blockchain in terms of Curation and it's a sustainable passive way of earning crypoto while learning.
I am your favourite Hive Tribes Promoter and Curapreneur!
I am @Uyobong.
Let's connect on Twitter
Posted Using LeoFinance Beta
---
---