The Rebound: Buying and Staking 427 LEO - 6k LEO Power Reached
I'm back, better and stronger to push further my investment in LEO token and support the development in the Leofinance community. In the history of this community, it would be on record that I've grown so tangibly and evidently with earning LEO from the inception of Hive blockchain in March 2020. Many thanks to @Dtrade and @Taskmaster4450le who were a great motivation. It all started with a high level of engagement. I was almost very ignorant about cryptocurrency themes and the content that earn acceptability in the #leofinance tag prior to the split of the chain. The only way I could have helped myself was to dedicate several hours of my day reading leofinance posts that were earning as well as follow up with the comments underneath.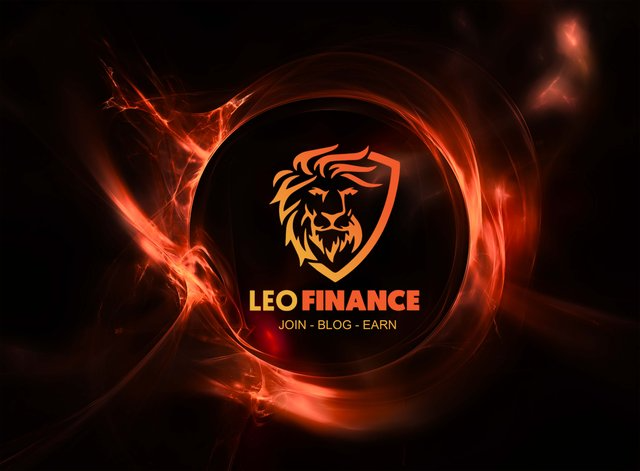 There were days I made organic comment impressions as much as 50 and I can remember my highest was 102 in the leofinance community. It was no mean task as several hours of the day were spent, however, it wasn't a wasted effort. As I began to earn the attention of other community members, I started sharing my growth stories and kept staking my LEO tokens. I wasn't tired telling everyone that cared to read my posts why they needed to either start creating a LEO content or buying the token. I told friends about LEO and some of them who are not active on hive, bought LEO and staked them for curation.
I grew and grew and grew with my stakes of LEO up-till over the 20k LEO Power mark. All these happened when LEO was way down the 0.2 Hive price mark. The curation rewards grew and it rounded over $1 and more as LEO began to gain price traction and attention of the Hive users when development scaled. My LEO holdings rounded over $10k USD and more and I could take profits to load up other hive-engine tokens like SPORTS, LIST, CTP, CCC, LENM and others. I'm glad I took those decisions then as the tokens were way cheaper and I could afford tonnes of them with almost no Hive. That's how my hive-token Curapreneurship gained relevance.
Events happened and a time came when huge cash was needed for family projects. That too happened when the LEO price was fully ripe. I would say it was divine arrangement and that led to powering down my LEO tokens and cashing them out. Between November 2020 to April 2021, I cashed out nearly $12k and that was the primary funding source for my late dad's burial and the completion/furnishing of the 2 bedroom apartment I presently occupy. I enjoy the stress of telling you these stories to tell how LEO as a crypto has been useful in funding real life projects.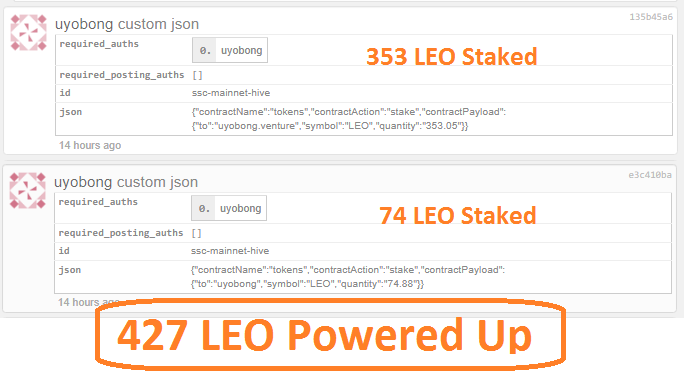 Transaction IDs - 353 LEO Staked and 74 LEO staked
I'm glad that the prices have stayed down this long such that I can recover and load up my bags. 50k LEO Power was the long term goal and it's still. Capping on with 6k LEO Power as of yesterday after powering up 427 LEO tokens is an amazing step for me. I'm excited to see my LEO Power grow again and hopefully my curation value and returns will be growing too. I see LEO back to the days of $1 each and it would be nice amassing the huge returns then. Thanks to the Leofinance team and all who've contributed thus far to the growth of the community and LEO related projects.
It can only get better!
Posted Using LeoFinance Beta
---
---