Threadathon: Deepeing Engagements, Hitting Milestones and More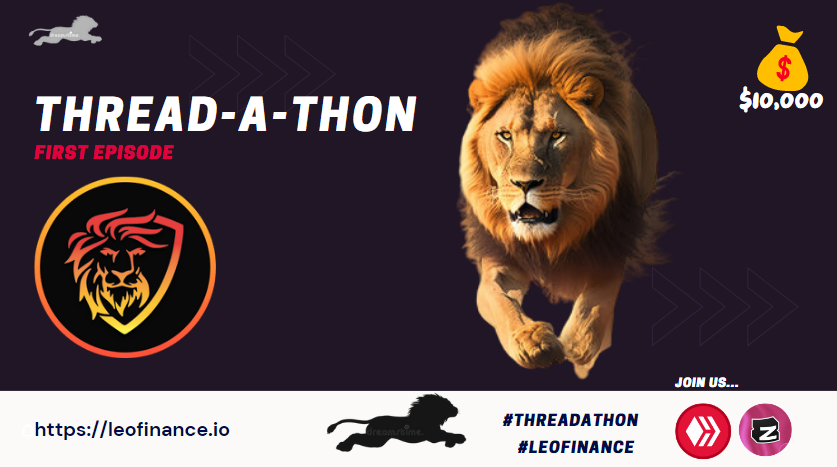 LeoFinance's first Thread-A-Thon is ending in 4 hours!
The first weekend Threadathon hosted on LeoFinance new UI is already in its 67th hour and the microblogging marathon is already showing the possibilities hidden in Leothreads. With just 5 more hours to the end of the #threadathon, several milestones have been unlocked in the web3 based microblogging decentralized application built on Hive blockchain.
If you are just seeing the word for the first time, threadathon was coined to describe a microblogging marathon where users of Leothreads battle to create more short form contents over a long period of time thereby stimulating quality engagement, interaction and communication with other users for the sharing of meaningful knowledge, assets and wealth.
The threadathon which became a part of the weekend quests in the ongoing LeoFinance onboarding Campaign hosted on Zealy has shown to be the most exciting and has stirred tons of activities and engagements on LeoThreads. Users were so excited to be offered a whooping 10,000 XP in a quest titled "#Weekend Battles" which required that participants make more Threads than @khaleelkazi, @anomadsoul, @rmsadkri and @taskmaster4450, during the weekend UTC.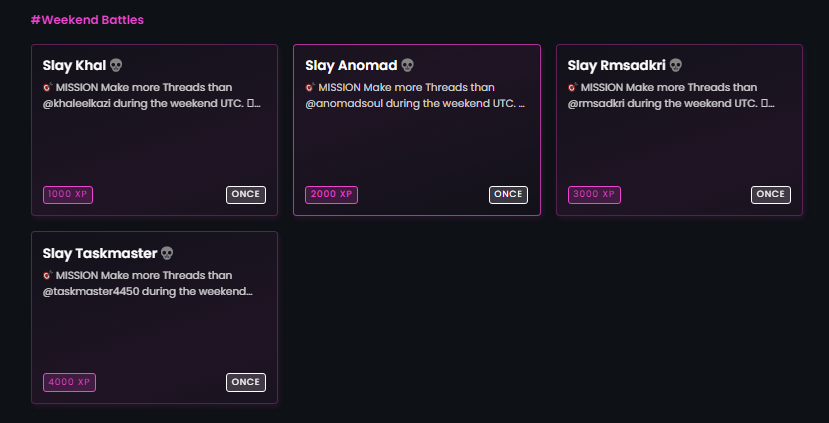 The uniqueness of the #threadathon was not identified until after the first 24 hours which featured the emergence of unsuspected users on top of the leaderboard for the challenge.
Top 50 Threaders Create over 33k Threads in Less than 72 Hours
It is beautiful to see that the latest update by @leogrowth 2 hours ago shows that 50 top users in the #threadathon leaderboard has created over 33,000 microblogs in about 68 hours. That is a massive count of threads within three days from just 50 users and that is more than the total count of threads created last week by all the users.
The increased engagement on LeoThreads has been a source of inspiration for ore user sot join the sprint. With others creating at lease 1,800 threads within 72 hours others are inspired to set threading targets for themselves which if not fulfilled in this first edition would be pursued in the next edition.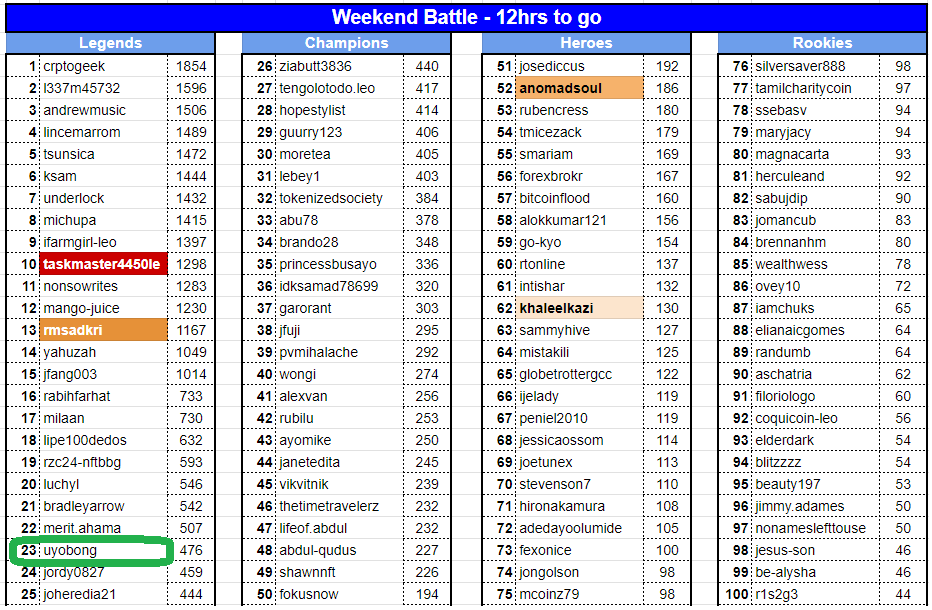 I was personally inspired to push in at least 500 threads daily but I discovered it was no mean task especially when you have a loaded weekend with other offline activities. However, I am sure I would be able to create at least 500 threads over the 72 hours in quest. I'm just 24 threads away from that milestone and I hope that would still place me among the #threadathon Legends. I'm sure to hit at least 1,500 threads count in the next threadathon and I'll do well to join the sprint quite early.
Beyond striving to reach my set threads count, I have enjoyed the massive engagement, learning that has occurred within the few hours of my participation. Lots of knowledge and pieces of wisdom has been compressed into pictures, and words with less than 20 characters.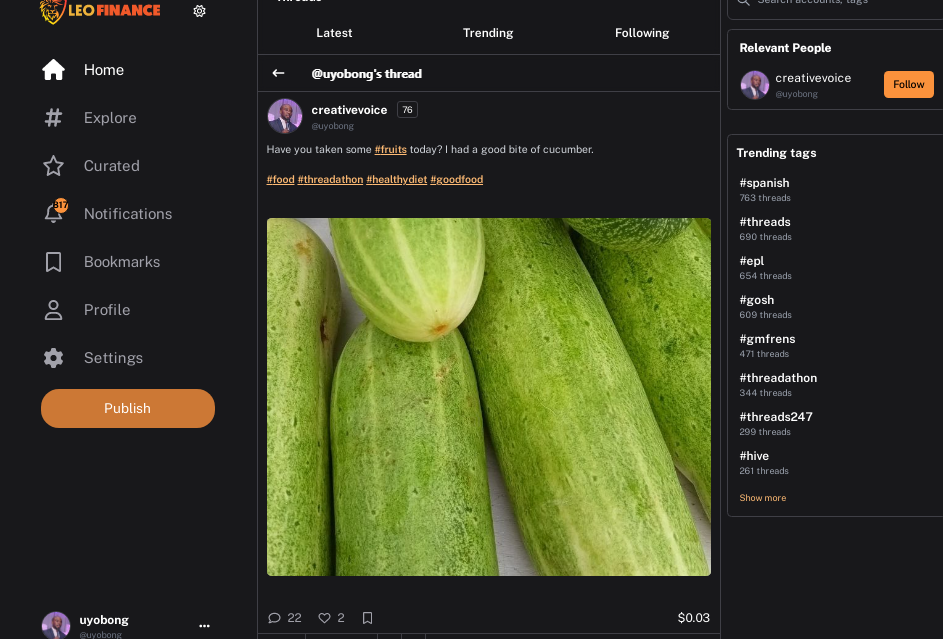 It has been beautiful to see some of my threads stimulate massive engagements between 22 and 30 interactions. That means a lot for those who understand what Hive blockchain and LeoFinance represent as a social media front.
I started promoting the #threadathon hashtag about 20 hours into the battle and I am excited to see that the tag made it to the trending feed with over 340 threads count. While most of those threads were created by me, it became an easier way to help me track my growth live in the weekend engagement battle.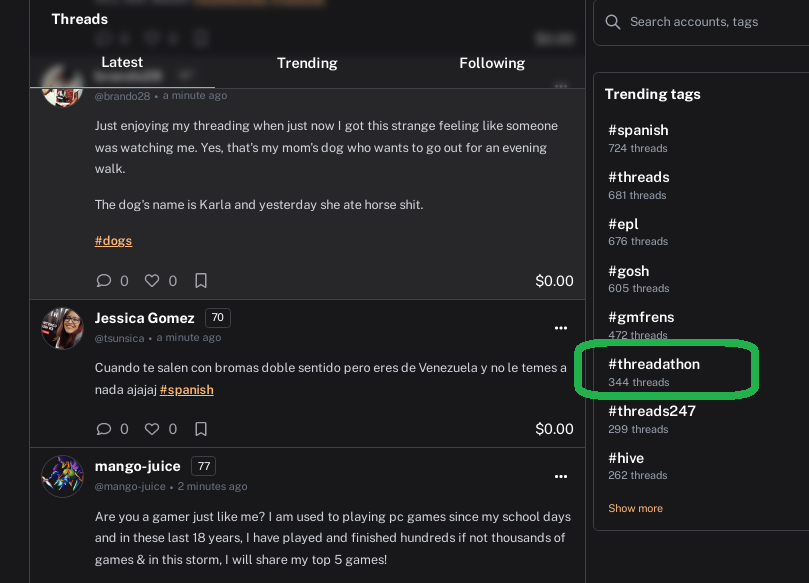 This Threadathon is opening up more possibilities for leoThreads, the LeoFinance ecosystem as a whole and the Hive blockchain. Let us summarize them as follows:
Deepening engagements
Breaking personal and community milestones
Increasing threads count
Increasing Leo ads revenue
Increasing JSON transactions on hive blockchain
Potential growth for the $LEO token.
This is only the first episode of the threadathon and I'm hopeful we would have better numbers in the next episode. How I wish this becomes an every week event that would sure define a new way of spending the weekend with web3 friends all over the world. With number of engagements and threads growing, Leothreads is gradually taking its space as the "Twitter on the blockchain".
Moreover, the users participating in the Threadathon are earning $LEO, $HIVE and $HBD cryptocurrencies and there can be nothing merrier than being rewarded with money for cruising fun. and discussing with friends.
Are you joining the Thread-A-Thon? What is your Status?
---

If you found the article interesting or helpful, please hit the upvote button, share for visibility to other hive friends to see. More importantly, drop a comment beneath. Thank you!
What is LeoFinance?
LeoFinance is a blockchain-based Web3 community that builds innovative applications on the Hive, BSC, ETH and Polygon blockchains. Our flagship application: LeoFinance.io allows users and creators to engage and share content on the blockchain while earning cryptocurrency rewards.
---
---
Let's Connect
Hive: https://leofinance.io/@uyobong
Twitter: https://twitter.com/Uyobong3
Discord: uyobong#5966
---
Posted Using LeoFinance Alpha
---
---