What can 1 BTC (or 1 Pegged Bitcoin on H-E) buy in your Country at today's ATH Value?
Today, 20th October, 2021 again makes history after Bitcoin made a new All-time High price of $66,900 and that means a whole lot for crypto holders and the cryptosphere as a whole which also recorded an all-time high market capitalization a high above $2.63 trillion source. It therefore sends strong signals to all the sectors and government trying to fight cryptocurrency globally. In fact, it follows that the more crypto is being fought, the more it is being marketed and attracts new investors. With this development, the hope that Bitcoin reaches $100k in price loks realer than ever.
As Bitcoin price continue to surge, it is likely that Bitcoin ownership has gone beyond the reach of an average person. In fact, holding a single unit is now an exclusive reserve of the elites. Many would regret why they never bought Bitcoin at $400, $1000, $3,000, $10,000, $20,000 and even at $40,000. Some persons who took advantage of the temporary dip few weeks ago can gladly cash out over $10k in profit from a single unit of Bitcoin owned.
Sadly, it's hurting for some persons whose fiat is continually losing value like the Nigerian Naira thereby making harder to buy into BTC at this time or later. As Bitcoin market the new ATH value, I googled to see how much that's worth in my local currency and it was cool to see that it amounts to the much 27.4 million Naira. That's some very big money that could be enough to fund some huge and tangible projects. On daily basis, the Nigerian Naira continues to lose value in the parallel fiat market against USD and that bring untold hardship to nationals since most of or good are imported and it all bites hard on the common man.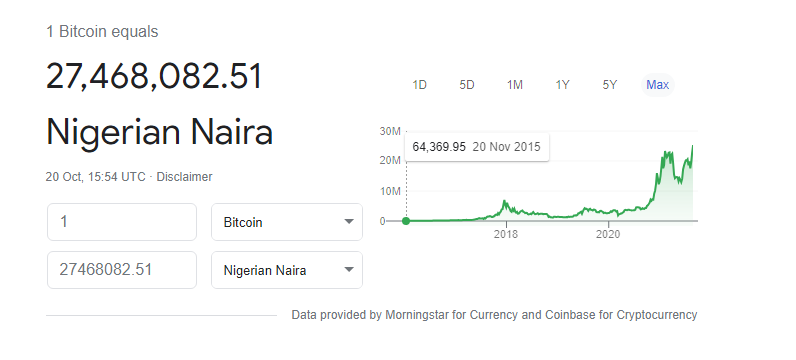 In times as this, funding projects with cryptocurrencies such as Bitcoin can be of great relieve as it means more Naira for a few coins. At the present value of Bitcoin in Naira, owning 1 unit can better the lives of many Nigerian citizens at a time as this.
In Nigeria, 1 BTC at today's price would not just buy a thing, it can employ as many people as possible and can fund a several cottage industry start up, Moreover, 1 BTC at today's rate can build a small smart city where as much as 100 young people can be intensively trained to acquire a skill for a few months and afterwards they could be given a start up cash of at least 100,000 Naira to run their small scale businesses.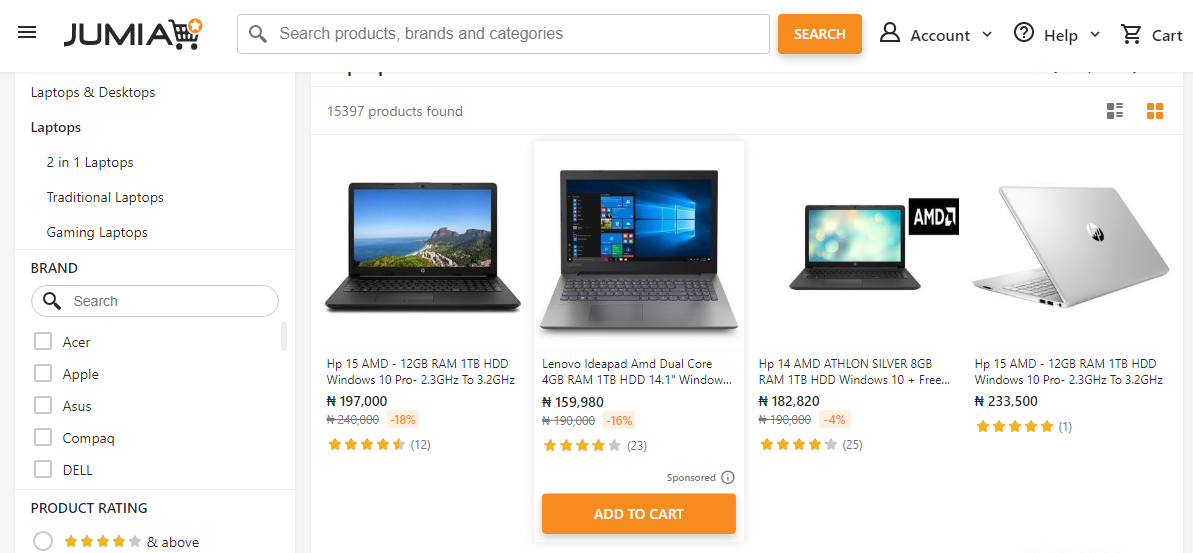 If you asked me what I would do if I had 1 BTC today, it would be to empower 100 young Nigerians by giving them soft skills and then gifting them with a laptop of moderate rating to start up their life. Coincidentally, today, being 20th October marks One year since young Nigerians were massacred at the Lekki Tollgate on Lagos for #EndSars Protest. Nothing has changed with our governance since then other than improved level of hardship on the masses. There is a hard bite of unemployment in the Nigerian populace and any attempt to empower young people would be a good effort.
An average Laptop costs about 200,000 Naira (that is $487 at official dollar rate) on Jumia a top ecommerce platform in Africa. As such, for a hundred persons, we need about 20 million Naira to purchase a laptop for each. Those 100 young people would be trained on several soft skills like blogging, graphics design, web design, public speaking, animation, video editing , photography and more. Setting up the training centre (rent and paying the tutors) for the Six months would take about 6 million Naira. With that, we see how we can graduate 100 skilled youths who are empowered to make a living and employ other in the long run with 1 Bitcoin.
In case you wish to send in some Bitcoin, you can use this hive-engine pegged Bitcoin address below:
bc1qzf7n02hj5fxe082vnsaha8ffyxaajyfpy6xrtf
The above are not mere wishes for me, It's a vision I know would become material some day with a personal or crowd fund.
What can 1 BTC buy in your Country at today's ATH Value?
What Is Bitcoin (BTC)?
Bitcoin is a decentralized cryptocurrency originally described in a 2008 whitepaper by a person, or group of people, using the alias Satoshi Nakamoto. It was launched soon after, in January 2009. Bitcoin is a peer-to-peer online currency, meaning that all transactions happen directly between equal, independent network participants, without the need for any intermediary to permit or facilitate them. Bitcoin was created, according to Nakamoto's own words, to allow "online payments to be sent directly from one party to another without going through a financial institution." source
Posted Using LeoFinance Beta
---
---