First Contest ERM - The importance of commenting [ENG - ESP]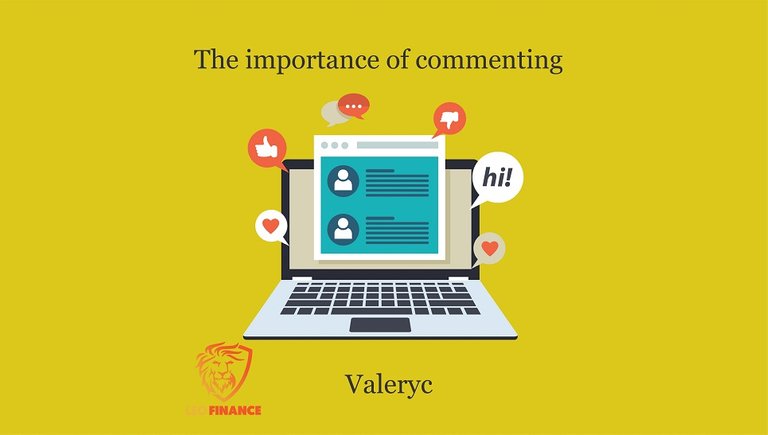 Hi everyone, my name is Valeria, and this is my first post on Leo Finance. The post is about the contest from @erarium and @aliento.leo answering two questions that they did.
You can read about it on this link: Link
Hola a todos, mi nombre es Valeria, y esta es mi primera publicación en LeoFinance. La publicación es acerca del concurso de @erarium y @aliento.leo para responder dos preguntas que ellos hicieron.
Pueden leer sobre esto en este enlace: Enlace
First question:
What is the importance of commenting on the platform and why do you measure your engagement?
Answer:
Commenting on this platform is a very important thing. When we read a post, we can upvote it and that would be all. But it's not enough, if we want to grow up, we should write a comment to tell to the user what we feel to read his post, to tell him that we like it and that we are interested in his content.
The engagement we get is worth it. And when we received a comment in our posts, it means that was read and that it could be a good reading for that person.
Primera pregunta:
¿Cuál es la importancia de los comentarios en la plataforma y porque este mide su compromiso?
Respuesta:
Comentar en esta plataforma es una cosa muy importante. Cuando leemos una publicación, podemos votarla y eso sería todo. Pero no es suficiente, si queremos crecer, deberíamos escribir un comentario para decirle al usuario lo que sentimos al leer su publicación, decirle que nos gustó y que estamos interesados en su contenido.
El compromiso que obtenemos vale la pena. Y cuando recibimos un comentario en nuestras publicaciones, significa que fue leída y que pudo ser una buena lectura para esa persona.
Second question:
Do you think commenting can bring short, medium and long term good rewards to your content?
Answer:
Yes I do think so, we can get feedback between each users, we can start talking with others users, we can make a friendship more than borders.
It would be a good thing if commenting could bring us good rewards, but we should making comments without waiting a reward, it should be something to get engage with the platform.
In my experience I feel very happy when someone let me a comment, because it means that my post could let something in someone else. Maybe a little words can change the day to the other person, and then this person let a comment to others and then, it's a chain of good comments growing up.
Segunda pregunta:
¿Crees que el realizar comentarios pueda traer en el corto, mediano y largo plazo buenas recompensas a tu contenido?
Respuesta:
Si yo creo que si, podemos conseguir interacción entre otros usuarios, podemos empezar a hablar con otros usuarios, hacer una amistad más allá de las fronteras.
Sería una muy buena cosa si comentar nos podría traer buenas recompensas, pero deberíamos hacer comentarios sin esperar una recompensa, sería algo para comprometernos con la plataforma.
En mi experiencia me siento feliz cuando alguien me deja un comentario porque significa que mi publicación le dejó algo a otra persona. Quizás unas pocas palabras puedan cambiar el día de esa persona, y ella deja un comentario a otros también, se forma una cadena de comentarios creciendo.
Finally, comments might be so important than post, it's a way to get involved with the platform and for growing up in this blockchain.
Thanks for this change to let me write on LeoFinance, as I said, this is my first post, I liked it the idea to post it here, I hope you can read this post and let's begin to make good comments on this beautiful and useful platform! Starting from now.
Valeryc from Argentina.
Finalmente, los comentarios podrían ser tan importantes como las publicaciones, es una forma de involucrarse con la plataforma y crecer en esta blockchain.
Gracias por la oportunidad de dejarme escribir en LeoFinance, como dije, es mi primera publicación, me gustaba la idea de publicar aquí, espero que puedan leer esta publicación y empecemos a hacer buenos comentarios en esta hermosa y útil plataforma! Empezando desde ahora.
Valeryc desde Argentina.
Imagen from Pixabay, LeoFinance logo from LeoFinance's Discord resources, edited with Corel and Paint.

Imagen de Pixabay, logo de LeoFinance de los recursos del Discord oficial, editado con Corel y Paint.

Posted Using LeoFinance Beta
---
---