ASK LEO : WHAT ARE THE IMPORTANCE OF FEASIBILITY STUDIES BEFORE SETTING UP OUR BUSINESS?
The reasons why most people create their own business is to make profit, so in a bid not to run into lost from implementing our businesses, there are some things that must be put in place before we set up such business at all, and one of such thing is feasibility studies.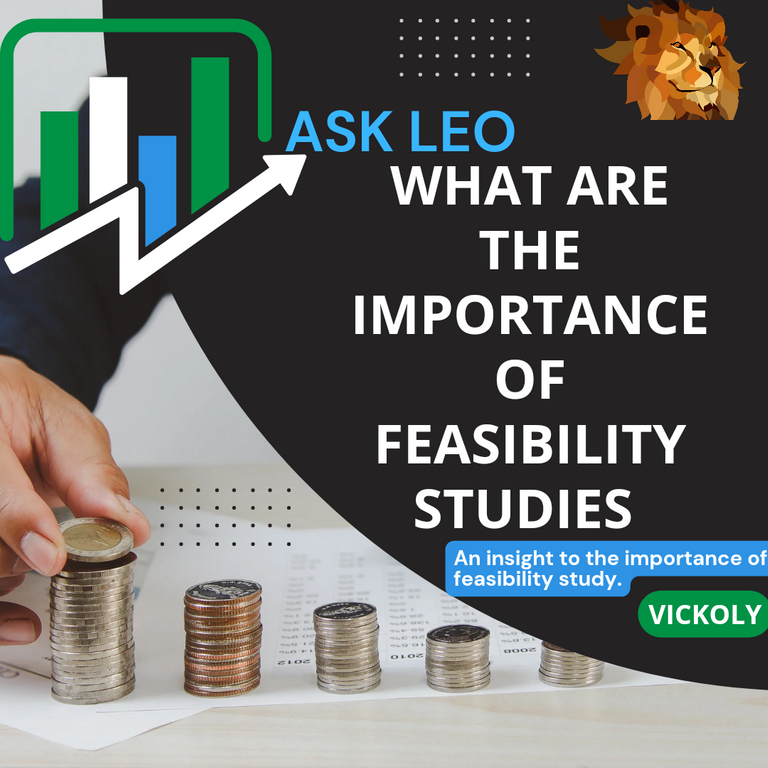 Design by me on canva.
Feasibility study can be define as the a practical findings and researches done as regarding a business or project before it is been implemented.
And a further explanation into feasibility study shows that it helps intending business owners to be aware of the possibility of if their business in such environment will be a success or a disaster.
It's can also be sight as an avenue that helps intending business owners to navigate around a Community, making research that helps them understand the needs of the people in such community.
I believe the main business where business owners set up their businesses with the hope of getting financial income in return, is that they'll be about to met the needs of people, a Business that doesn't meet the need of people one way or another will certainly fail.
Another beauty of feasibility studies is that he help intending business owners to be aware of the likely amount of capital that'll be enough to set up their businesses, because going around to making findings about the prices of each equipment that'll be valuable to your business will go a long way in helping your become aware of your likely expenditure on time, even before such business kick of.
Lastly for today, feasibility studies help intending business owners understand and become aware of how and what their likely competitors does to attract customers, and when that is understood, such new business owner can come up with a new strategy that'll be more appealing to the customer in both quality and cost friendliness compare to that of their competitors.
The role of feasibility studies in a business can never be overemphasized, when properly done, it can aid the growth of a business/project, and in a situation when it isn't done or it isn't properly done, this can lead to the downfall of a business even before it Kickstart.
It's my advice that we make proper findings of different business we wish to dive into, before embarking on them at all, because these will help us count the cost of what is needed to set up such business, the likely interest that will follow it and to decide if the business is what diving into in such community or not.
Thanks for checking out my post, have a blessed day.
Posted Using LeoFinance Beta
---
---