NEWBIES INITIATIVE TASK 7 || MY FEEDBACKS & RECOUNT OF HIVE GOALS
It's true that everything has a beginning and an end, but if I had the power to choose, I'd wish that the day we graduate from the initiatives never arrived. It's not that I'm being ungrateful; rather, when I think back on the numerous positive effects the programs established by @starstrings01 have had on me, I can't help but wish to remain under the initiative's guidance.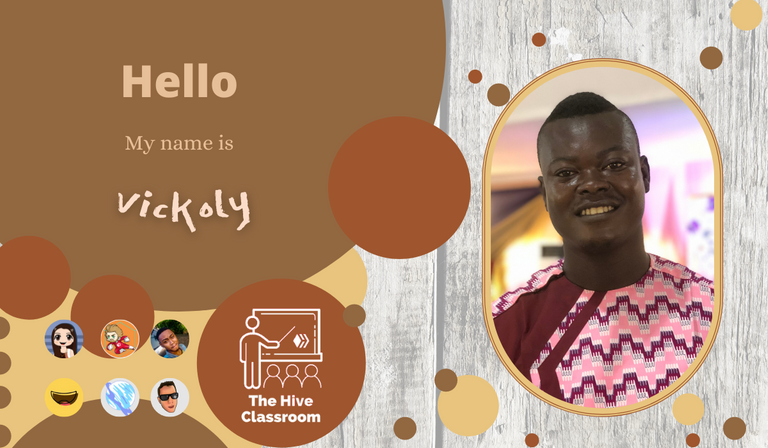 Image design by:
@projectmamabg
Writing down my parting/farewell remarks to the initiative and reviewing the various tasks we've been assigned, as well as evaluating my progress/growth on the blockchain compared to when I was just stumbling around hive without a blueprint and someone to teach me the specifics of hive, as got me so emotional because what I've been able to accomplish within those five months is nothing short of mind-blowing, compare to what I had before writing my application lette.

I owe the initiative the majority of my successes to date because of the knowledge and lessons they imparted to us, which I was able to build upon and use as a guide for navigating the blockchain. However, I also deserve credit for my tenacity, persistence, and commitment in ensuring that all of my objectives and wishes were carried out in full.
Without further ado, follow along as I discuss my response to Task 7 and also update my stated objectives and how well I did in achieving each and every one of them.

WHAT DO YOU THINK ABOUT THE NEWBIES INITIATIVE AND HOW HAS IT BEEN BENEFICIAL?
The newbies initiative is essentially the best place for all newcomers to be on the blockchain because, as is obvious from my thread on the hive blockchain, I have never encountered a program or post that fully explains everything you need to know about the blockchain and as well as guides and helps you find your place on the network.
The testimony of the previous and present committed students is proof that the program has had an unparalleled impact on the advancement of newcomers in both information dissemination and financial growth.
Some of the benefits of these initiatives is that;
You get to meet new friends if like mind that can challenge you to achieving your goals.
You are being equip with concrete knowledge about the blockchain and with thing you'll be able to easily share your niche in the appropriate Community.
You get to have learn about the appropriate things to do, that'll literally make your post appealing to go through, make your post visible to more audience and thereby earn you more rewards.
I'm a living testimony of the kind of benefits you stand to get from the newbies initiative, when you're commited, and I say a big thank from the depth of my heart to all the team members for the massive support I've gotten over the course of the initiative.

HOW HAS THE TASKS GIVEN BEEN HELPFUL?
All the tasks we were given as all been a channel of blessing to me, the impact of taking note of these task and doing more research as greatly aid my growth on the blockchain and below I'll be reviewing each of the tasks we've done during the course of the initiative.
---
---
TASKS ONE
The first task was anchored by our vice chancellor @starstrings01 and in this tasks, he talks to us about the importance and benefits of goal setting, he also extensively explain the essence of setting smart and realistic goals which will stand as a pattern that guide our path during the course of the initiative.
And here I submitted my entry for the 1st tasks, in which I thoroughly analyze my goal and as well set up a strategy of how to achieve each and everyone one of the goals.
---
---
TASKS TWO
This task is another mind-blowing impact of the initiative, and here we were taught about hive guidelines and markdowns by @prayzz who thoroughly explain the difference guidelines that will help us stay out of trouble, and these guidelines includes teaching about plagiarism, source/referencing, and many other like that.
In this particular tasks which I submitted my entry for here, my write-up and styling took a drastic change via the markdowns teachings, that help us to not just writing quality content, but to as well design it with in a way that makes our articles appealing for readers to go through.
---
---
TASKS THREE
In this tasks anchored by @bruno-kema we were extensively taught about hive keys and security, and here we get to learn about the different keys allocated to each hive account and the benefit of each one of them, we also learn about how to recover our hive account and how to check/set up a trustee account for our account recovery should in case we mistakenly lose access to our keys.
My entry for this task was submitted here, and I tried as much as possible to do justice to the tasks and also make good use of the lesson learnt by using into to safe guard my account and keys.
---
---
TASKS FOUR
In this tasks, we were taught by @projectmamabg about the different dapps we've on the hive blockchain and she also spoke extensively about the benefits of each one of them.
And after her teaching, we were encourage to make and upload a video content to express our understanding on each dapps, to talk about which is our favourite among them and what we can suggest for the fall developer to improve on in their interface, here is my entry for for this tasks.
---
---
TASKS FIVE
This was anchored by @samostically and in this tasks he taught us about tribe token and the uses of tags, I got to learn a lot from his teaching and token and then uses of tags, because I realize tags goes a long way in helping us project our content to the desired audience.
After hus teaching, u submit my entry for the task here, and u explain each questions to the best of my knowledge.
---
---
TASKS SIX
This tasks was a dive into blockchain games, and it's was anchored by @ksam in which he talked about the blockchain game, the difference once we've on hive, and the various ways we can earn and trade NFT of these games.
He extensively explain splinterlands as a case study, and after the teaching, we were given a tasks, here is my entry for that task, and via these tasks the fire to play splinterlands as been rekindle in me.

WHAT DO YOU THINK WE MAY NEED TO IMPROVE IN THE INITIATIVE AND HOW DO YOU THINK IT CAN BE DONE?
Firstly I must commend the effort put in place to make these initiatives a success, and I must confess it's been perfecto in all areas, because the initiator as done an excellent job to bring it thus far, but if I'm to share some of the things that could be improve on, then I'll say;
More awareness for meeting: now I know we've all got other life stuff to deal with, which includes the organizers, so it might be impossible to set and a fix date for the next meeting during the current one or in the task post, but in other to make it visible and attendance for everyone, then it's of esteem importance that an awareness is been made at least 2 days before the meeting date, so that everyone can easily reschedule what ever they have fixed in that time frame.
I suggested this because, I've seen situation where announcement for meeting were made just few a hour to the meeting or sometimes few minutes to it.
And such situation we can't really blame those who don't attend, because there probably not online when the announcement was made, or the timing to announce was too short which lead to them being unable to attend.
I don't fall victim of these, because I attended every single meeting during them course of the initiative, but when I see few people attend, I can't help but help them look for excuses for not being present.
---
---
Announce the tutor and moderator to the newbies from the beginning: These might look kind of irrelevant, but u believe one of the way awareness for meeting were made earlier was via the post of the tutor, which will elaborate the next task and also carries a date and time of the next meeting date, which is good.
So the reason why I suggested announcing the moderators to the students from the beginning, is so the that they can be on the look for each post made by such people, and by so doing they would miss out on the tutorial post and the timing for meeting.
As we all know, there are many people on hive and it's impossible to view everyone post, but having list of your tutor makes you keep an eye on their post always.
---
---
Recruit more hands: Attending to many students isn't an easy task for a single person, and I know how tasking these would have been for @starstrings01 because he was mostly the only one available to curate, vet, write task post and still coordinate meeting, at a point Mistural was helping out, but after sometime it was only him.
So I believe to made a long lasting impact then the place off more hands is needed to run the initiative effectively, while @starstrings01 Can cross-check and vet the task as a superintendent, and employing past students or knowledgeable old hivers will get the job done.

REMEMBER THE NEWBIES INITIATIVE TASK 1 WHERE YOU WERE ASKED TO SET DOWN YOUR GOALS. SHOW US A RECOUNT OF YOUR GOALS AND HOW FAR YOU HAVE COME THROUGH.
These sections of this last tasks got got me smiling and overly excited when I saw how far I've come and how I've been able to attain most of my set goals, yes we where ask to set a smart goals and I did and analysis of my previous earning which I felt when set as a blueprint, will aid my possibility of attaining the smart goals, and below are my recount 😁😊🤗.
---
---
HIVE POWER
I started the initiative with just 392HP and I set a target that by the end of the initiative I should have 800HP, so when talking about these aspect of the my goals I must confess I've done a great job and got help that aid me to now have a whopping 1,405HP, that's mean I've been able to crush the goal and went beyond it.
| PREVIOUS HP | PRESENT HP |
| --- | --- |
| | |
---
---
TOTAL POST TARGET
I set a goal to make sure I publish a post everyday throughout the initiative, and here I can boldly say no day as past without me publishing a point this year.
---
---
FOLLOWERS GOALS
Before setting my goals for followers, I have just 361 followers, and I set a target of 500 total followers by the end of the initiative, and present I've also outrun these goal cause I now have 557 followers
| THEN | NOW |
| --- | --- |
| | |
---
---
ENGAGEMENT/COMMENT GOALS
Prior to setting these goal, I have 3,719 comment, and I set a target of making at least 30 comments per day, which will bring me to a total of comments by the end of the initiative, I also pass this goal and now as 7,570comment.
| THEN | NOW |
| --- | --- |
| | |
---
---
REPUTATION GOAL
By the time we started the initiative, I had just 60 reputation, and I set a target that I'll love to attain the height of 68 Reputation by the end of the program, although I'm yet to attain this height, but I'm not too far from it with 67.67, I'm certain I should be able to get to 68 Reputation on or before month ending.
THEN
NOW

APPRECIATION
From the very depth of my heart and via the love I've through these initiatives I'll like to appreaciate our vice chancellor, my Oga and the odogwu one of @newbies-hive in person of @starstrings01 your impact, teaching, love and patience don't go unnoticed, they've are very visible contagious and worthy of emulation, I pray help locate you in all your dealings as well, please don't hesitate to call on it you need any help in the subsequent initiative or in any avenue.
I'll also says a big thank you to the curators of the program, in person of @theycallmedan @aliento @lazy-panda and @blocktrades all your support are a blessing to me and though I'll miss you all, I still look forward to seeing more of you.
I appreciate all the team members, you're all loved 💖🤗💗🥰.
---
THANKS FOR CHECKING OUT MY BLOG POST, HAVE A BLESSED DAY AHEAD.
---
---