Thread For all Communities on Hive Blockchain : A call for Integration of thread in all Hive Communities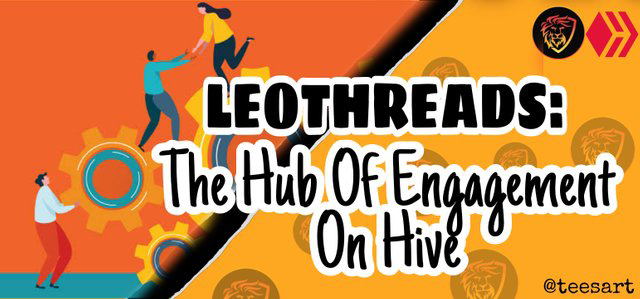 source
Coming to the lim light,spreading and becoming more versatile than ever before since it's lunch is the community called leofinance geared by the introduction of leothread. Going far and near is the subject matter called the leothread as it is taking over both in many activities done inside and outside of the hive Blockchain as some communities are set to buy the idea of #thread which was started by the great community called the leofinance community.
Evenly distribution of features and updates to other communities on hive Blockchain has been one of the more reason why the various communities on hive Blockchain are in togetherness. Noticeable is the fact that the hive Blockchain is the best of it's kind when it comes to web 3 Blockchain network. This being so because of the great foundation led and the togetherness of strength built up to achieve and get the project which is hive Blockchain to be established. Also evident enough that various communities on hive Blockchain buys into some of the ideas some admins in various communities has in their respective community which increases the level of engagement therein in such community. Coming with the enticing packages like giveaways,fest,upvotes keeps communities going and engaging enough but a different perspective of it was seen afar off and developed by one of the greatest community on hive Blockchain of which feature is called @leothread.
Unanimity of Various Communities to Leothread
We Invite all other Hive communities and projects to start using Threads. It's an amazing tool for marketing your project and building an audience. You can see a few communities - like #CTP - getting active on Threads and increasing awareness about their project, community and the things they love talking about.source
Imagine what this is going to be if all the communities on hive Blockchain buy into this idea put forth by the #leofinance community by inducting threading. Imagine the rate of engagement,joy,fun,this could bring in all the communities on hive Blockchain. This not being out of hand that if the idea of threading is established in the mind of hive users at first,then what is been established been put to work at different perspective of understanding,surely will it be that the hive Blockchain is already at the next top level.
What threading Can Offer
There is an increase rate of engagement on Communities that integrate it into the system.
Reduced workload of writing too much
Awareness are been created on different carrier opportunities,projects,works and many more.
Much more close help when there are difficulties encountered on hive and as such questions are been asked.
*For leofinance that initiated the idea,great accolades to the officials in charge of it,very many updates and upgrades added so far,but will still expect more.
Posted Using LeoFinance Beta
---
---