Adiós, mi viejo amigo [ENG/ESP]

https://images.ecency.com/DQmRs5VLMwviHWtyjPPYqkEpz77y64Y2FUwanCFg5ibsqyf/r.i.p..png
Descansa en paz, mi viejo amigo.
Rest in peace, my old friend.

Mi amigo de muchos años ha dicho adiós.
Mi teclado, que estuvo conmigo durante los últimos 8 años, sufrió un accidente y no pudo sobrevivir.
Era un día lluvioso, como cualquier otro día de esta época del año. Nada raro, a mi parecer, solo que yo estaba fuera de casa y no pude volver hasta bien entrada la noche.
Al volver, me encontré con la trágica escena. Una gotera justo encima de la ubicación de mi teclado, lo bañó por completo y lo dejó inservible.
Ya sé que le faltaban un par de teclas, y que quizá ya se estaba abriendo la carcaza en varias partes, pero era mi amigo fiel, y tenía mucha más vida por delante. De no ser por esa maldita gotera, aún estaría aquí conmigo.
Y disculpen que maldiga, pero de verdad no puedo contener mis emociones en este momento. Estoy triste, enojado... o mejor dicho, furioso.
Mi amigo que estuvo conmigo en las buenas y en las malas, quien me acompañó y me ayudó a escribir muchas de las historias acá publicadas, ha dicho adiós, y no volverá.
No me queda más que decir ¡Gracias! Gracias por estar conmigo y ser mi fiel compañero durante estos últimos 8 años. Nunca te olvidaré, y aunque llegué a tener otro teclado, ninguno será tan especial como tú lo has sido, y eres, para mí.
My friend of many years has said goodbye.
My keyboard, which was with me for the last 8 years, was in an accident and could not survive.
It was a rainy day, just like any other day this time of year. Nothing unusual, in my opinion, only that I was out of the house and could not return until late in the evening.
Upon returning, I was confronted with the tragic scene. A leak right above the location of my keyboard, completely drenched it and rendered it unusable.
I know it was missing a couple of keys, and maybe the case was already cracking open in several places, but it was my faithful friend, and it had a lot more life left in it. If it weren't for that damn leak, it would still be here with me.
And excuse me for cursing, but I really can't contain my emotions right now. I'm sad, angry... or rather, furious.


My friend who was with me through thick and thin, who accompanied me and helped me write many of the stories published here, has said goodbye, and will not return.


I can only say Thank you! Thank you for being with me and being my faithful companion during these last 8 years. I will never forget you, and even if I had another keyboard, none will be as special as you have been, and are, for me.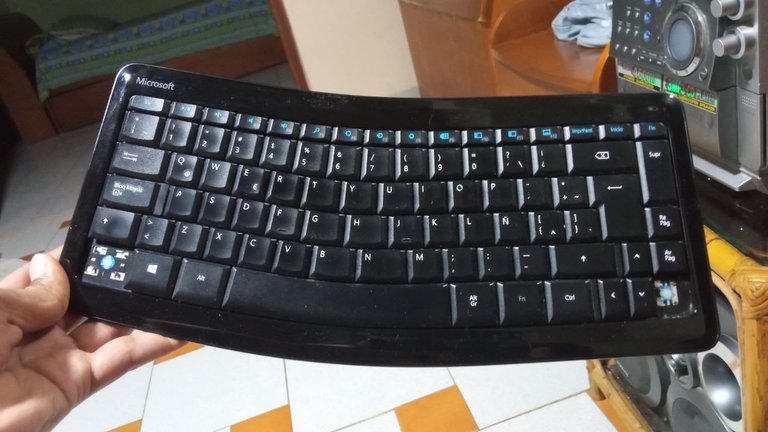 Fotos tomadas por mí con mi Redmi 9.
Editadas en Canva.
Separador hecho en Canva.

PD: Estoy escribiendo con el teclado de mi hermano, porque no he podido comprar uno nuevo. Esa es la razón de mi ausencia acá durante los últimos días. Espero poder comprar uno pronto y estar más presente con ustedes.
PD 2: No me gusta publicar desde el celular, por eso no lo hago.
Photos taken by me with my Redmi 9.
Edited in Canva.
Separator made in Canva.
PS: I am typing with my brother's keyboard, because I have not been able to buy a new one. That is the reason for my absence here during the last few days. I hope to be able to buy one soon and be more present with you.
PS 2: I don't like to post from my cell phone, that's why I don't do it.
---
---