Aspendos Ancient City and Theatre, Serik, Antalya [ENG-TUR]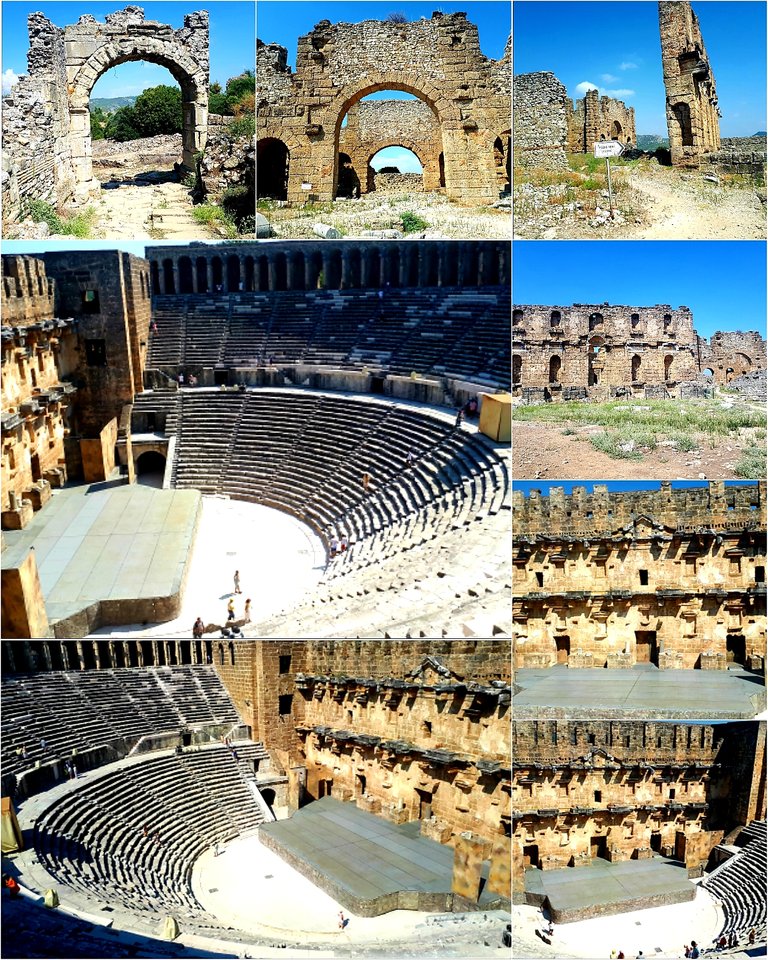 Hi Friends
After a long break, I took a short vacation in the last week of August. I decided to go to Antalya for a few days at the invitation of a friend of mine living in there. I had previously been to Antalya for only one day in the winter season. Therefore, it would not be possible to turn down this offer. In this part of my travel blog, I will write about Aspendos, one of the places I visited particularly during my short vacation in Antalya.
Merhaba Arkadaşlar
Uzun bir aradan sonra, Ağustos'un son haftası kısa bir tatile çıktım. Antalya'da yaşayan bir arkadaşım daveti üzerine birkaç günlüğüne Antalya'ya gitmeye karar verdim. Antalya'ya daha önce kış mevsiminde sadece bir günlüğüne gitmiştim. Bu nedenle bu teklifi geri çevirmek olmazdı. Gezi yazılarımın bu bölümünde sizlere, Antalya'daki kısa süreli tatilim boyunca detaylı gezebildiğim yerlerden biri olan Aspendos'tan bahsedeceğim.
First of all, I would like to ask friends living in Antalya, how can you live there in the summer with that heat and humidity? : ) I thought that I was walking inside an oven while I was outside. As far as I have learned, it is not the right timing to go to Antalya in July and August. The heat is manageable, but the humidity really takes a toll on you and even prevents you from doing anything. I think that one can't go to bed at night without air condition.
Öncelikle Antalya'da yaşayan arkadaşlara sormak istiyorum o sıcak ve nemle birlikte yazın orada nasıl durabiliyorsunuz? : ) Dışarda dolaşırken kendimi fırının içinde geziyor sanıyordum. Öğrendiğim kadarıyla Antalya'ya Temmuz ve Ağustos'ta gitmek doğru bir zamanlama değilmiş. Sıcaklıkla baş edilebiliyor ama nem insanı gerçekten etkiliyor ve hatta bir şey yapmanızı bile engelliyor. Geceleri klima olmadan kesinlikle yatılamayacağını düşünüyorum.
This is how I experienced the first day after a long bus ride. The next day, I asked my friend to show me the best places in Antalya during my short vacation. I had read from the post of friends here that Antalya had very beautiful natural places and ancient cities. While in Konyaaltı, we decided to go to Aspendos, which is about an hour away. We set out in the afternoon, the weather was hot and humid as usual. We ate at a restaurant on the way.
İlk günü yol yorgunluğuyla birlikte bu şekilde tecrübe ettim. Ertesi gün arkadaşımdan bu kısa süreli tatilimde bana Antalya'nın en iyi yerlerini gezdirmesini istedim. Burdaki arkadaşların yazılarından da Antalya'nın çok güzel doğal yerlere ve antik kentlere sahip olduğunu okumuştum. Konyaaltı'nda iken yaklaşık bir saat uzaklıkta bulunan Aspendos'a gitmeye karar verdik. Öğleden sonra yola çıktık, hava her zamanki gibi sıcak ve nemliydi. Yol üzerinde bir restorantta yemek yedik.
After about 1.5 hours, we arrived Aspendos, located in the Belkıs village. We took a breather in the shade in front of Aspendos, then went towards the entrance. First of all, let me say that the admission fee of 150 TL is very high compared to other ancient cities and ruins in Turkey. Fortunately, we didn't pay the admission fee as we had museum cards. First, we wanted to visit the ancient city. Aspendos was one of the richest cities of Pamphylia. Later, the Romans took the possession of the city and built the ancient theater, which has been well preserved until today. You can find the source and the detailed information here.
Yaklaşık 1.5 saat sonra Belkıs köyünde bulunan Aspendos'a varmıştık. Aspendos'un önünde gölgede biraz soluklandık, sonra girişe doğru gittik. Öncelikle şunu söyleyeyim, Türkiye'deki diğer antik kent ve ören yerlerine göre 150 TL giriş ücreti çok yüksek. Neyse ki müze kartlarımız olduğu için bu ücreti ödemedik. İlk olarak antik şehri gezmek istedik. Aspendos, Pamfilya'nın en zengin şehirlerinden biriymiş. Daha sonra şehir Romalıların eline geçmiş ve bugüne kadar korunan antik tiyatro inşaa edilmiş. Kaynak ve detaylı bilgiyi burada bulabilirsiniz.
Going up from the right side, we respectively saw the Acropolis, Agora and Basilica. There are aqueducts further on, but we did not continue because the ancient city turned into more ruins and the weather was too hot.
Sağ taraftan yukarı doğru çıkarak sırasıyla karşımıza Acropolis, Agora ve Bazilika çıktı. Daha ilerde su kemerleri de var ama antik kent daha çok yıkıntıya döndüğü ve hava sıcak olduğu için devam etmedik.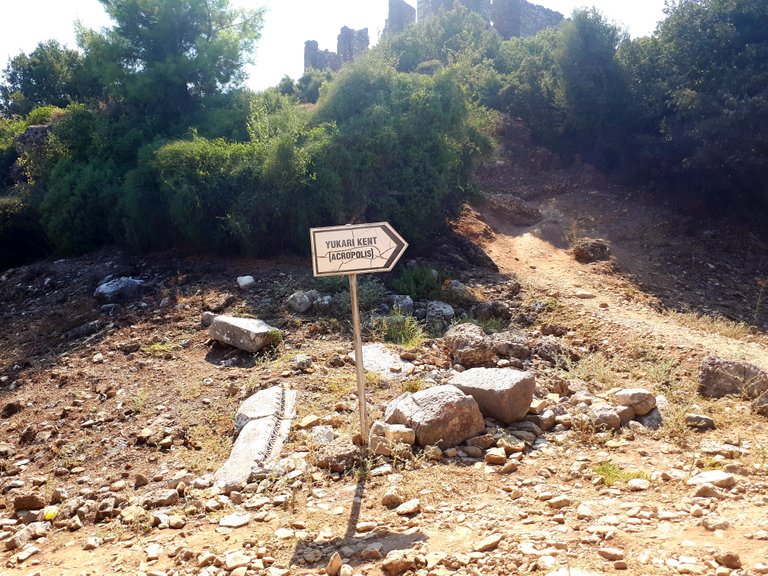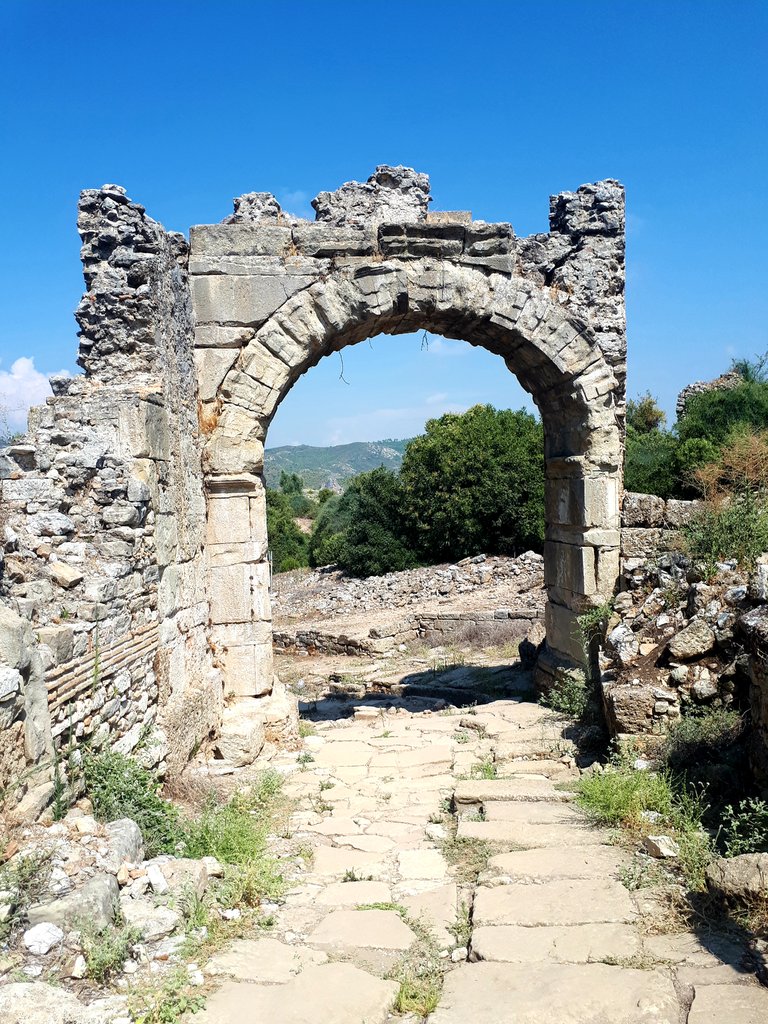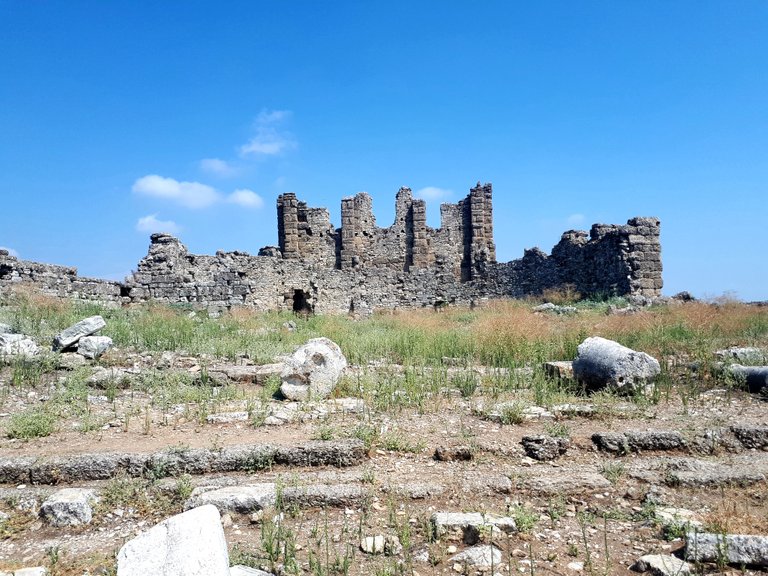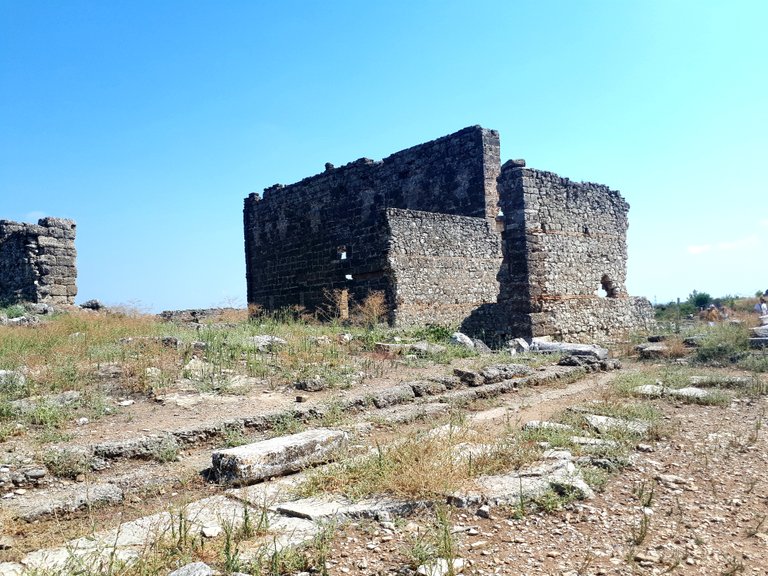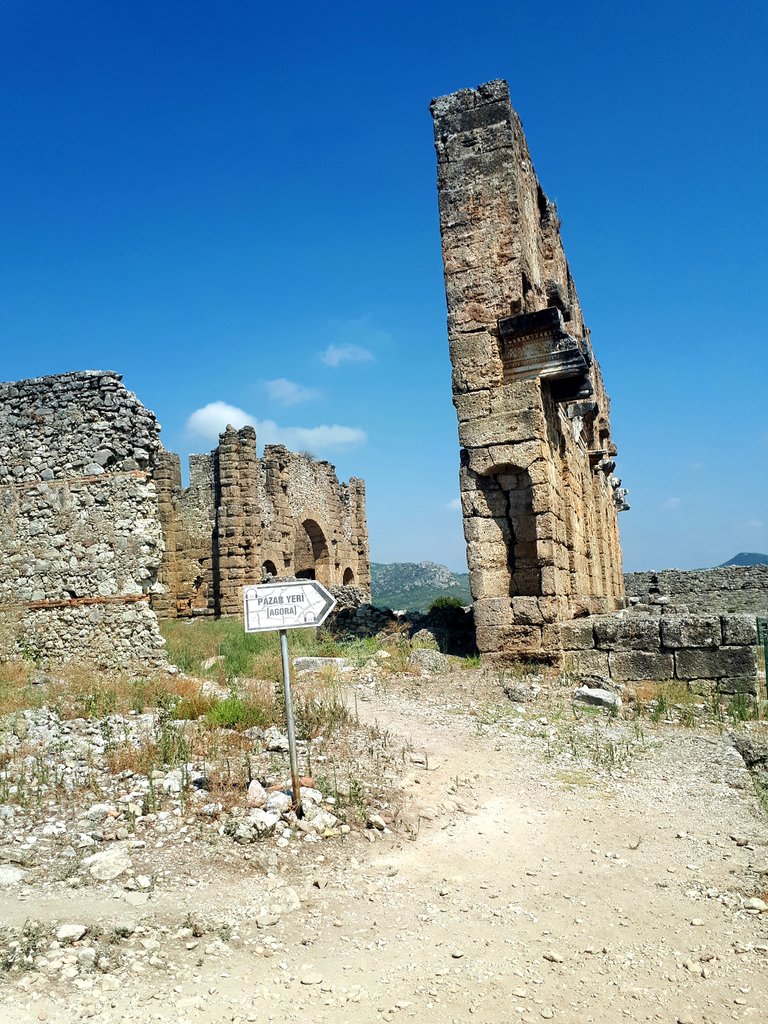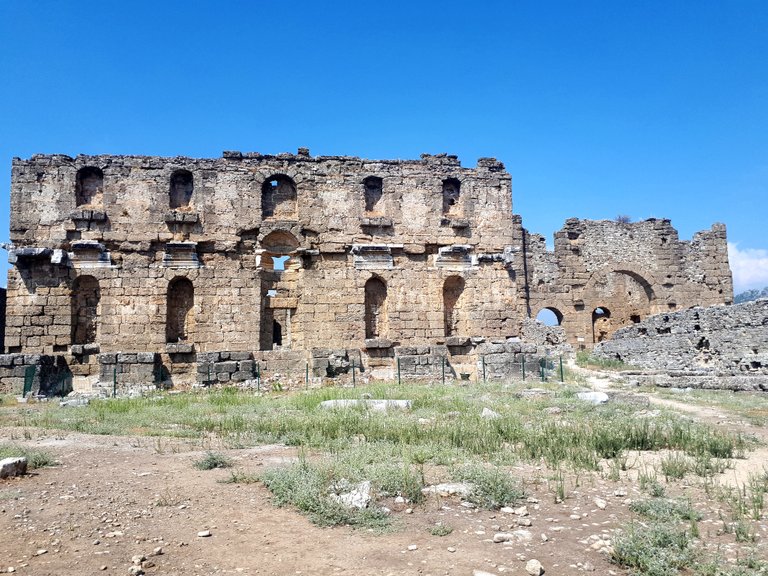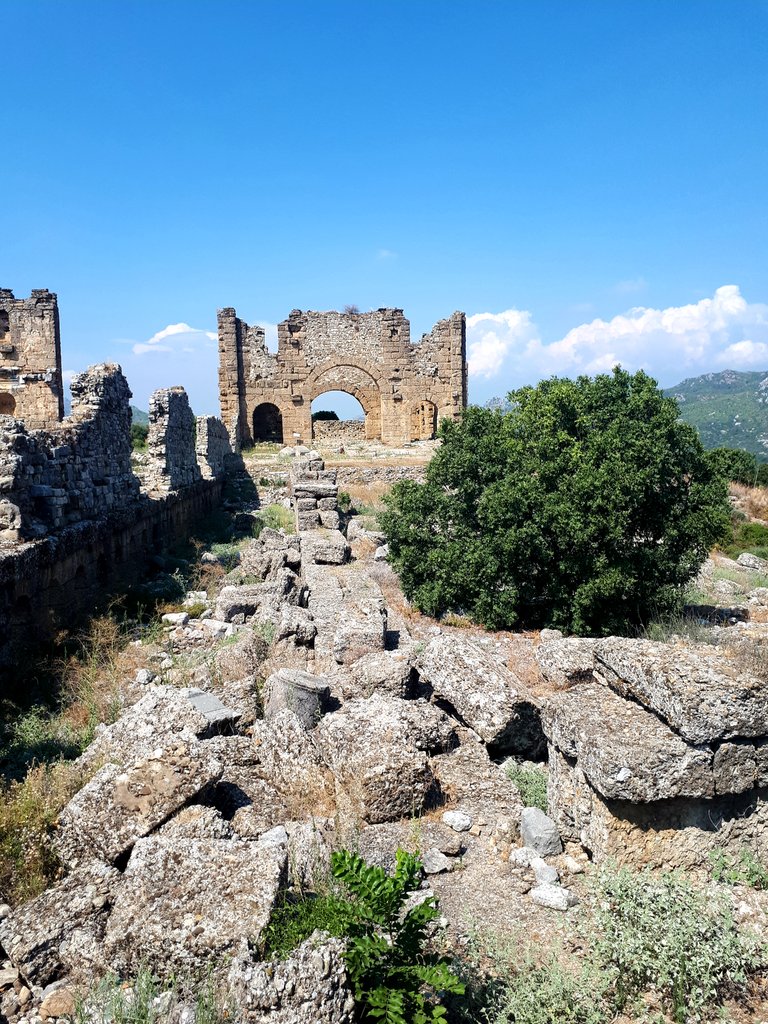 Turning back the way we came from, we went towards the Theater Hill. I don't know how reasonable it is to walk around in the heat, but if for an ancient building, I think it's worth it. After going up to the hill, we were out of breath, but it was worth seeing the Aspendos Antique Theater from a wide angle.
Geldiğimiz yoldan geri dönerek Tiyatro Tepesine doğru zorlu bir çıkış yaptık. Sıcağın altın böyle gezmek ne kadar mantıklı bilmem ama söz konusu antik bir yapı olunca bence değiyor. Tepeye çıktıktan sonra soluk soluğa kaldık ama Aspendos Antik Tiyatro'yu geniş açıdan görmeye değerdi.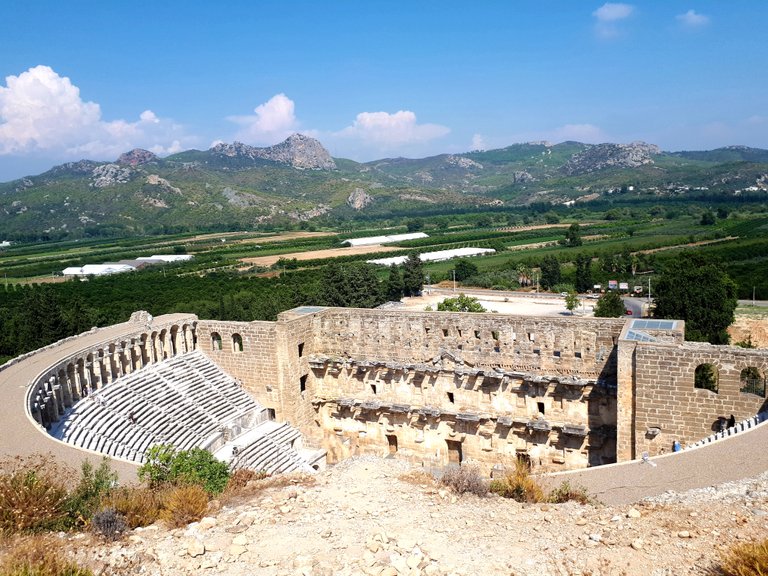 Having been wet awfully with sweat, we descended back from the hill and came to the entrance. Cooling down a bit in the washbasin at the entrance, we entered the ancient theater. There were domestic and foreign tourists inside, but it was not very crowded. The first thing that struck me was the tremendous resonance of any voice inside. I can say that Aspendos is the best ancient open-air theater I have ever seen. Although I was tired from wandering around in the heat, I quickly went up the stairs to the top of the ancient theater. I toured from right to left, left to right and took photos from many points.
Tepeden geri inerek fena terlemiş bir şekilde tekrar girişe geldik. Girişteki lavobolarda biraz serinledikten sonra antik tiyatroya girdik. İçerde yerli-yabancı turistler vardı ama içerisi çok kalabalık değildi. Beni ilk etkileyen şey içerdeki herhangi bir sesisin muazzam bir şekilde yankılanmasıydı. Aspendos bugüne kadar gördüğüm en iyi antik açık hava tiyatrosudur diyebilirim. Sıcağın altında dolaşıp yorulmama ragmen hemen merdivenlerden antick tiyatronun en yukarısına kadar çıktım. Sağdan sola, soldan sağa tur attım ve birçok noktadan fotoğraf çektim.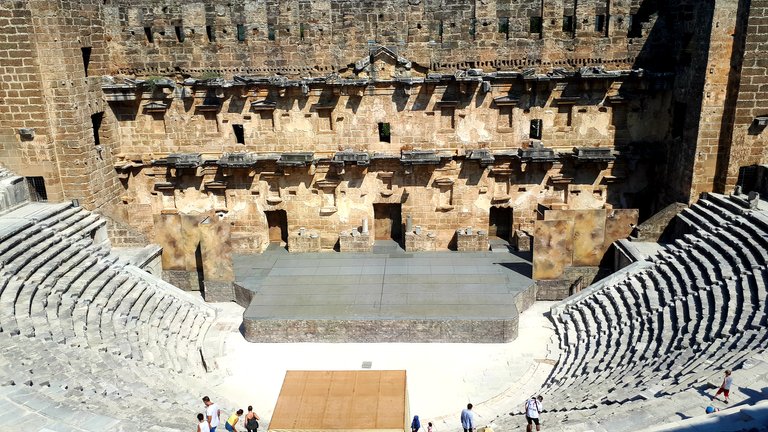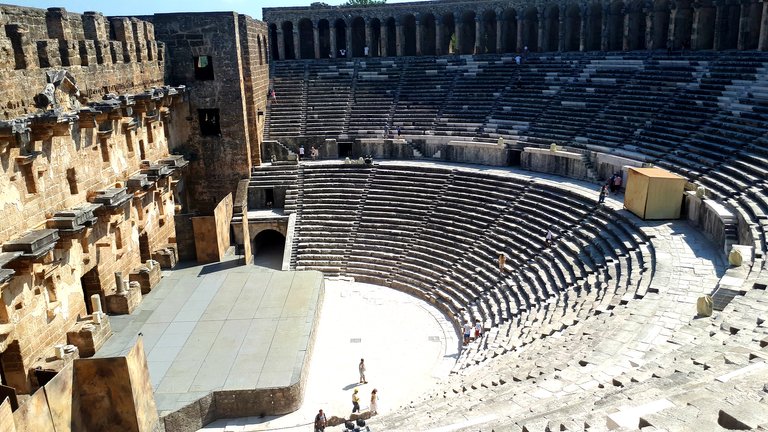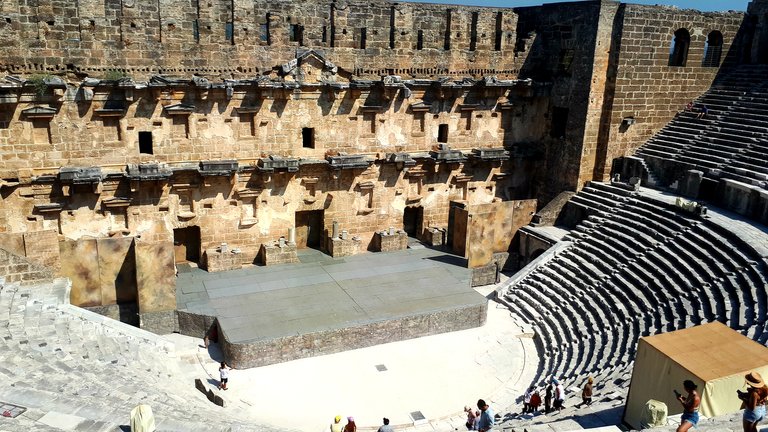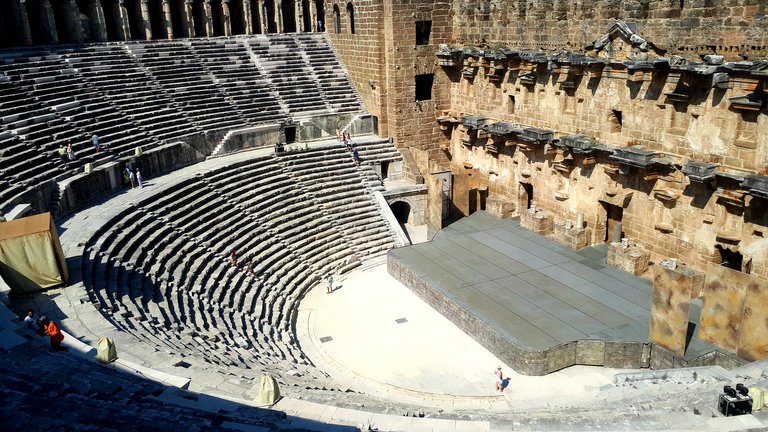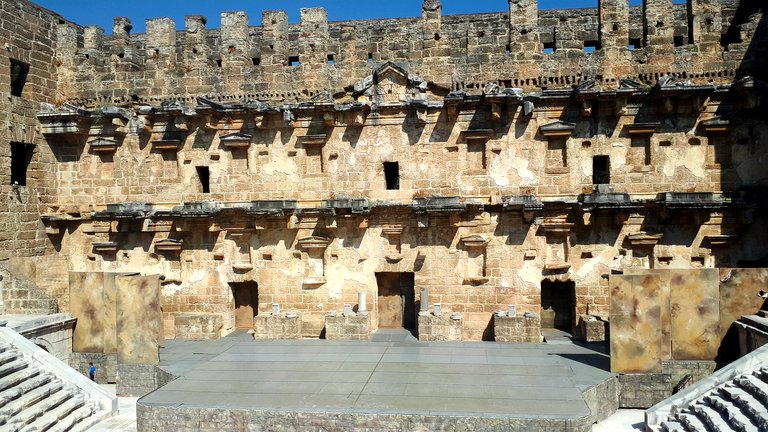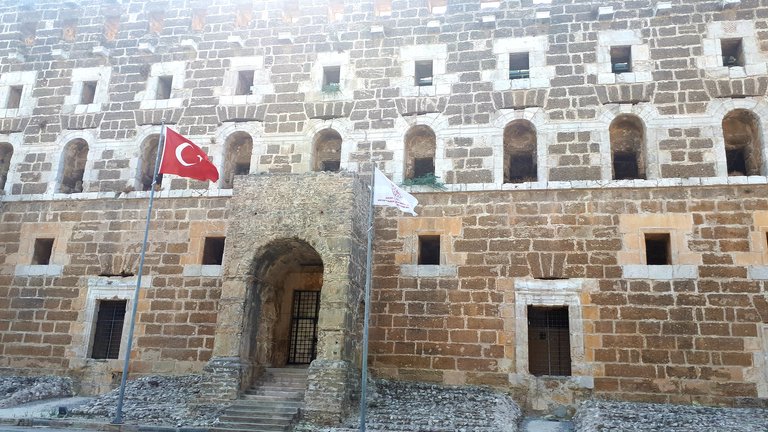 I would love to visit such ancient cities and buildings. All of them have their own mystical atmosphere. Touching their works takes me thousand of years back. While I wander around, I think of the people who lived in that period and built those ancient structures. How did they live? What were they happy with in life? What problems did they have? Perhaps, it took many years of their life to build those structures with the technology of that day. Crazy questions in my mind all the time...
Ben böyle antik şehir ve yapıları gezmeyi çok seviyorum. Hepsinin ayrı bir mistik havası var. Yaptıkları eserlere dokunmak beni binlerce yıl geriye götürüyor. Gezerken o dönemde yaşayan ve bu antik yapıları yapan insanları düşünürüm. Nasıl yaşıyorlardı? Hayatta neyle mutlu oluyorlardı? Ne gibi dertleri vardı? Belki de o günün teknolojisiyle o yapıları inşaa etmek hayatlarının büyük bir bölümünü onlardan aldı. Aklımda deli sorular hep…
All the photos in this post belong to me. Thank you for reding.
Bu yazıdaki bütün fotoğraflar bana aittir. Okuduğunuz için teşekkür ederim.
---
---