City Walk and Boat Trip, Kemer, Antalya [ENG-TUR]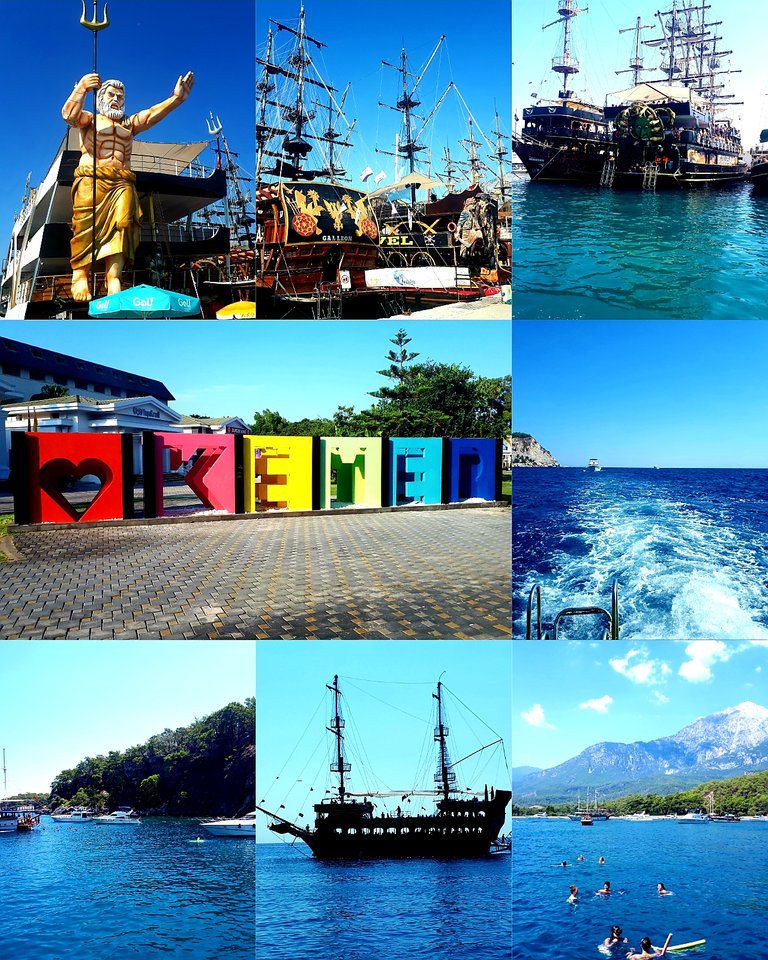 Hi Friends
After a long break, I took a short vacation in the last week of August. I decided to go to Antalya for a few days at the invitation of a friend living in there. I had previously been to Antalya for only one day in the winter season. Therefore, it would not be possible to turn down this offer. I will write about Kemer and the boat trip I joined in Kemer in this part of my short-time Antalya vacation. I did read posts of dear @olga.maslievich about Kemer on HIVE and I liked Kemer very much.
Merhaba Arkadaşlar
Uzun bir aradan sonra, Ağustos'un son haftası kısa bir tatile çıktım. Antalya'da yaşayan bir arkadaşım daveti üzerine birkaç günlüğüne Antalya'ya gitmeye karar verdim. Antalya'ya daha önce kış mevsiminde sadece bir günlüğüne gitmiştim. Bu nedenle bu teklifi geri çevirmek olmazdı. Kısa süreli Antalya gezimin bu bölümünde sizlere Kemer'den ve Kemer'de katıldığım tekne turundan bahsedeceğim. HIVE'da Kemer ile ilgili sevgili @olga.maslievich'in yazılarını okumuştum ve Kemer'i çok beğenmiştim.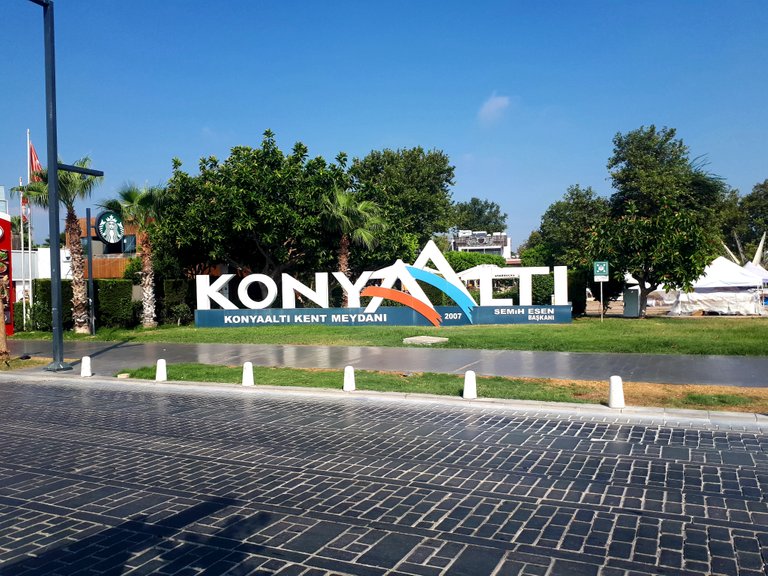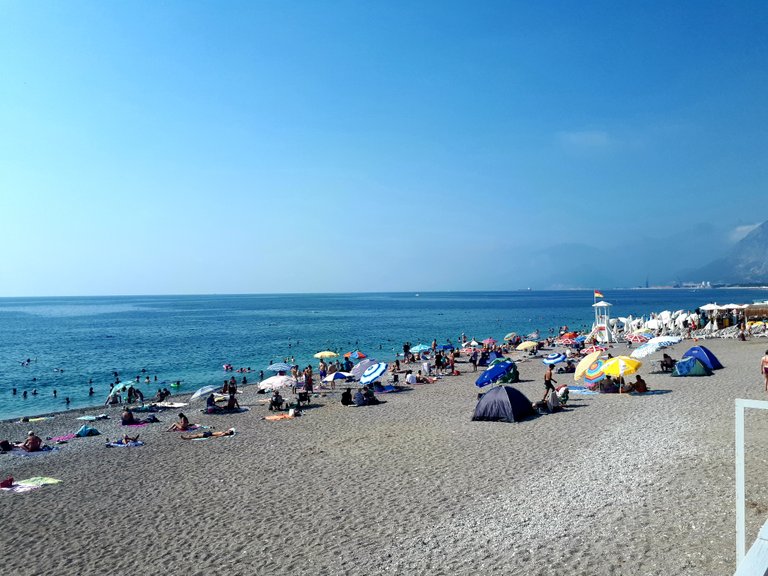 After the Aspendos tour, we returned to Konyaaltı and decided to go to the west of Antalya, towards Kemer in the evening. It was another hot and humid day. We arrived in Kemer around 6 pm. We found a more affordable hotel than other hotels, which is close to the Kemer Harbour. Leaving our belongings in the hotel, we wandered around the center and coastline of Kemer. Kemer district of Antalya is a place that appeals to the wealthier people comparing to Konyaaltı district. Almost all of the signs are in Turkish-Russian, and there are even real estate ads only in Russian. The number of Russian tourists or Russian residents seems to be quite high. I think German tourists come in second place. It is hard to come across with a Turk :)
Aspendos gezisinden sonra tekrar Konyaaltı'na döndük ve aynı akşam Antalya'nın batısına doğru, Kemer taraflarına gitmeye karar verdik. Yine sıcak ve nemli bir gündü. Saat 6 gibi Kemer'e varmıştık. Kemer Limanı'na yakın, diğer otellere göre daha uygun fiyatlı bir otel bulduk. Eşyalarımızı otele bıraktıktan sonra Kemer merkez ve Kemer sahil şeridini gezdik. Antalya'nın Kemer ilçesi, Konyaaltı ilçesine göre daha çok zenginlere hitap eden bir yer. Tabelaların hemen hemen hepsi Türkçe-Rusça, hatta emlak ilanlarında sadece Rusça olanları da var. Rus turist veya yerleşik yaşayan Rus sayısı baya fazla görünüyor. İkinci sırada Alman turistler geliyor sanırım. Türk'e rastlamak zor : )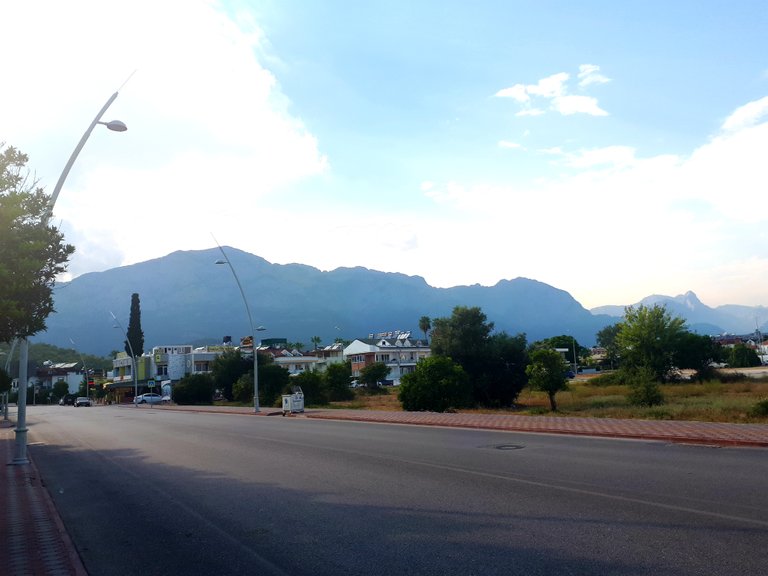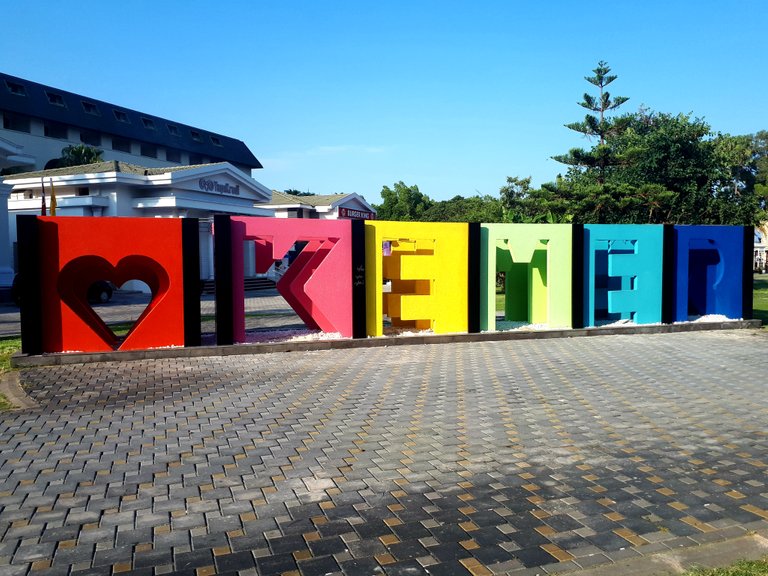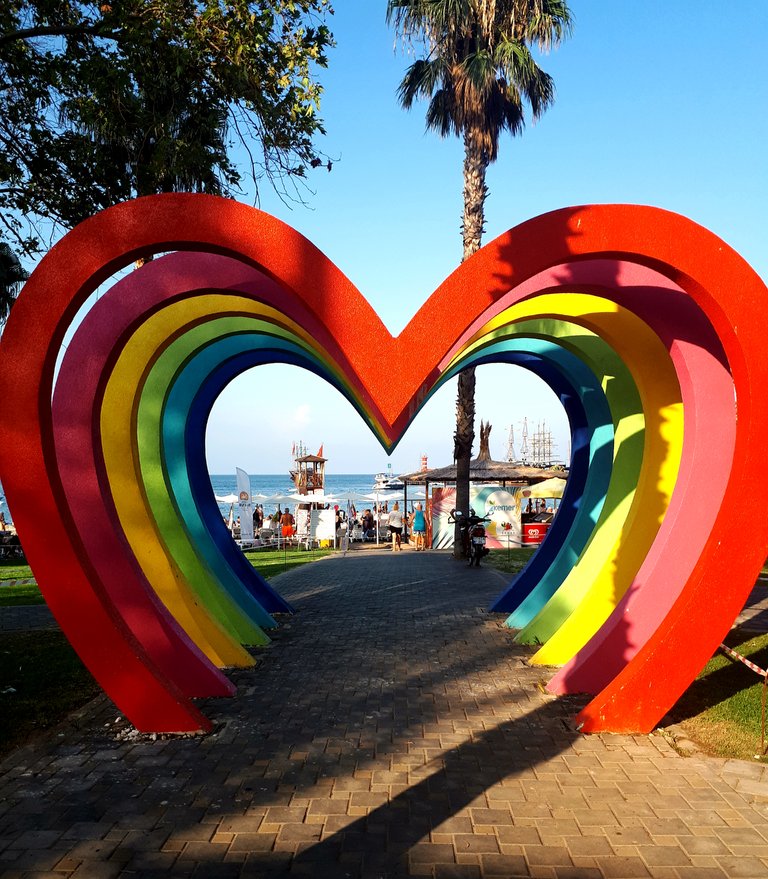 I can say that I did not like the public beach of Kemer. It is very crowded, narrow and there are sunbeds everywhere. There is almost no empty space for people to enter like in the Konyaaltı beach. Crowd increases in the evening hours due to the heat; however, they say the number of tourists has decreased considerably due to the war, sanctions and increasing air ticket prices in this year. As Kemer is a touristic place, I can say the price of eat, drink, travel and almost everything is indexed to Euro. Since we were going to get up early for the boat trip the next day, we returned to the hotel and rested.
Kemer'in halk plajını beğenmedim diyebilirim. Çok kalabalık, dar ve her yerde şezlong var. Konyaaltı plajındaki gibi halkın girmesi için boş alan nerdeyse bırakılmamış. Sıcak nedeniyle akşam saatlerinde nüfus yoğunluğu artıyor; buna karşın, savaş, ambargolar ve artan uçak bileti fiyatları nedeniyle bu yıl gelen turist sayısı oldukça azaldığını söylüyorlar. Turistik bir yer olduğu için Kemer'de yeme, içme, gezme neredeyse herşeyin fiyatı Euro'ya endekslenmiş diyebilirim. Ertesi gün tekne turu için erken kalkacağımızdan otele dönerek dinlendik.
We got up at 8.30 in the morning and had our breakfast, then we walked towards the Kemer Harbour. There are many options in the port, from small boats to large pirate-like ships. We preferred a small boat and paid 250 TL (18 EUR) per person. After a group of 10-15 tourists arrived, we sailed at around 10 am.
Sabah 8.30 gibi kalkıp kahvaltımızı yaptıktan sonra Kemer Limanı'na doğru yürüdük. Limanda küçük teknelerden büyük korsansı gemilerine kadar seçenek çok. Biz küçük bir tekne tercih ettik ve kişi başı 250 TL (18 EUR) ödedik. 10-15 kişilik turist kafilesi geldikten sonra saat 10 gibi hareket ettik.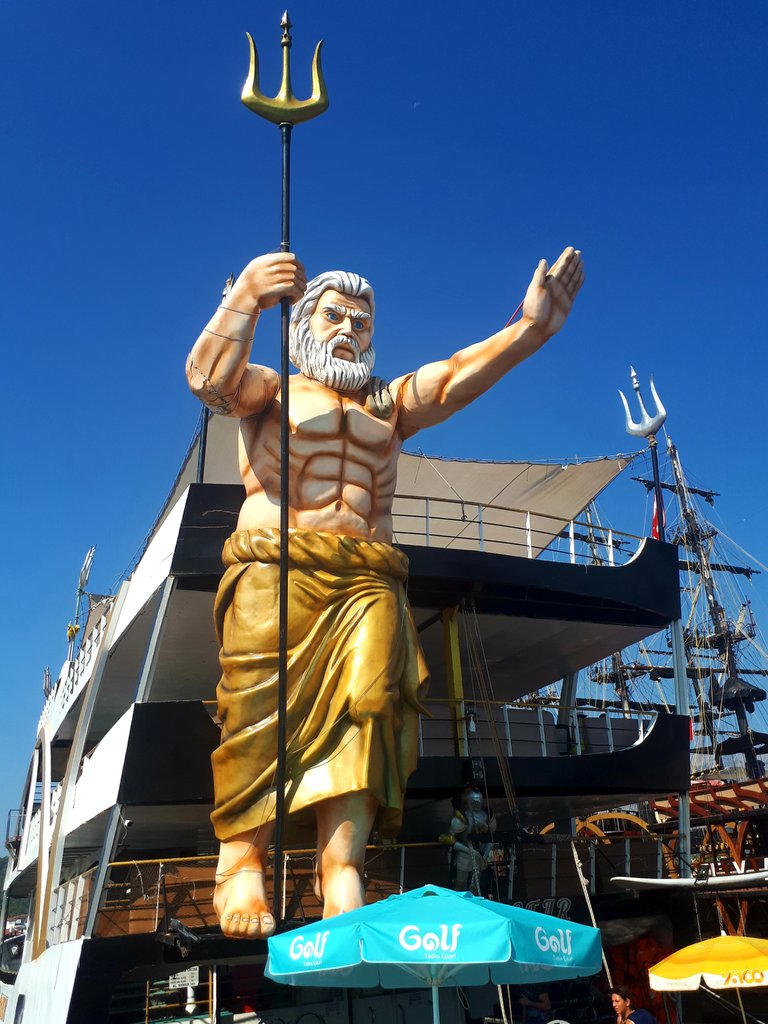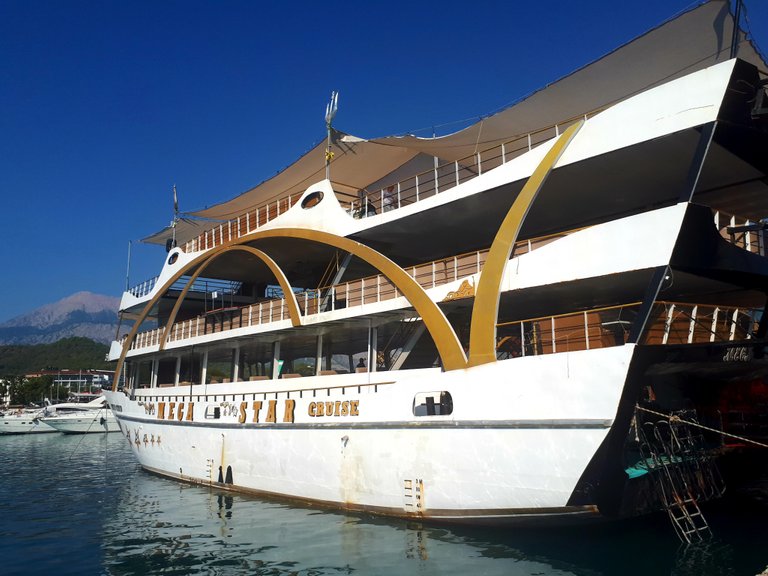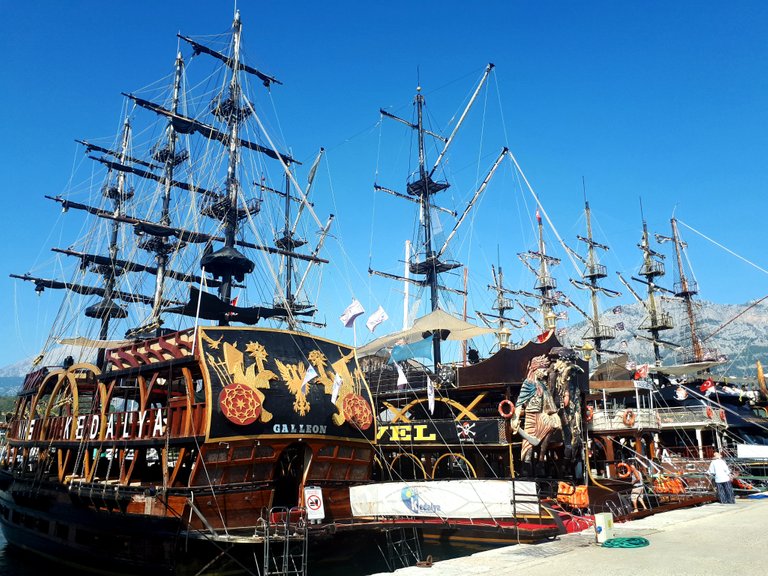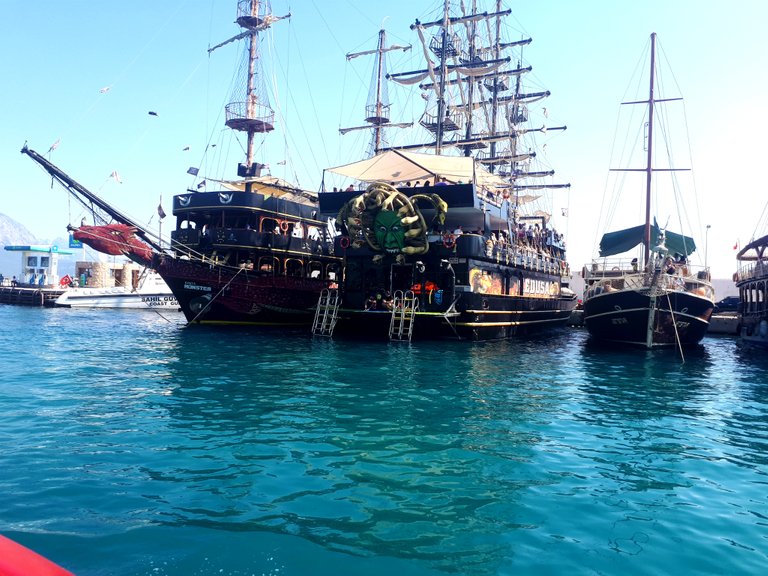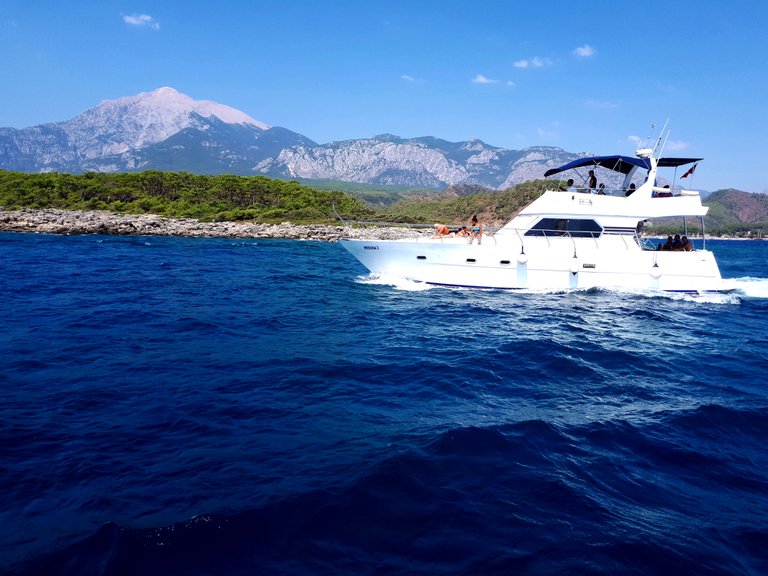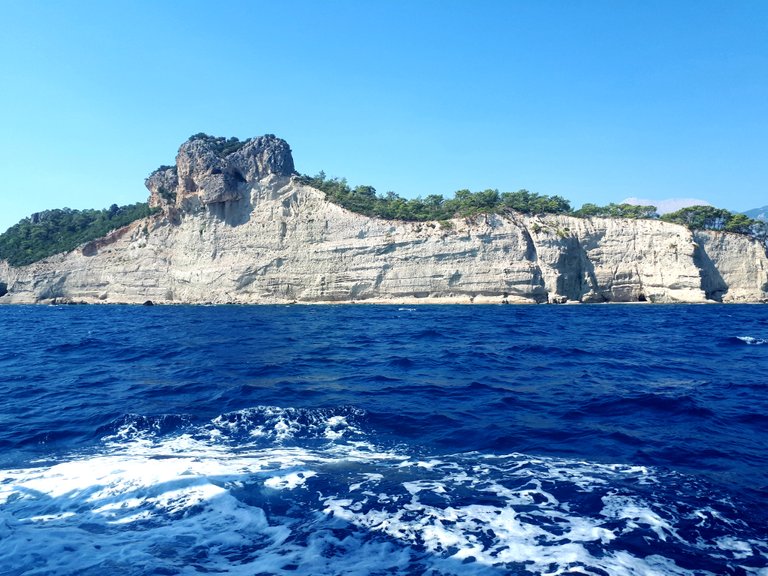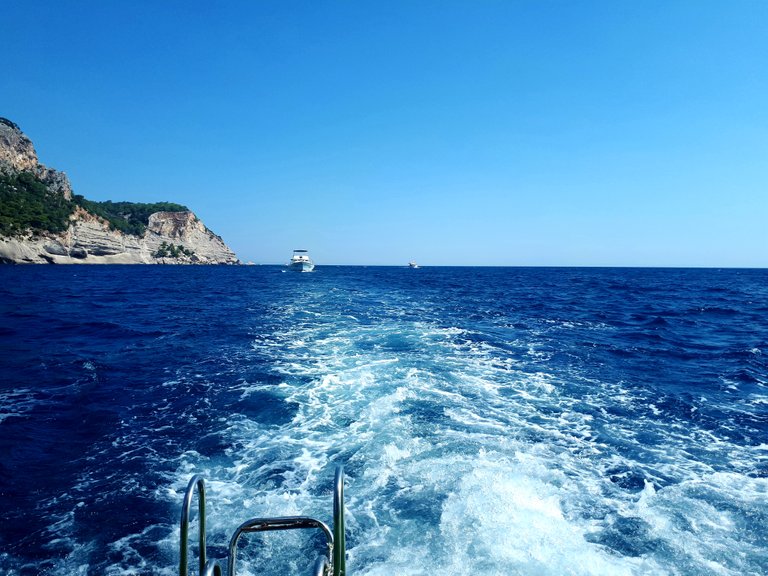 Boat tour here takes 4-5 hours. There was a lot of wind and waves in the sea. After about 45 minutes, we arrived at Phaselis Bay. This bay belongs to the ancient city Phaselis, which is in the forests. I did not have the opportunity to go to this ancient city. Hopefully next time. Photos I took from Phaselis bay:
Burda tekne turları 4-5 saat sürüyor. Denizde rüzgar ve dalga fazlaydı. Yaklaşık 45 dakika sonra Phaselis koyuna vardık. Bu koy ormanların içinde olan antik kent Phaselis'e ait. Bu antik kente gitme fırsatım olmadı. Umarım bir sonraki sefere. Phaselis koyundan çektiğim fotoğraflar: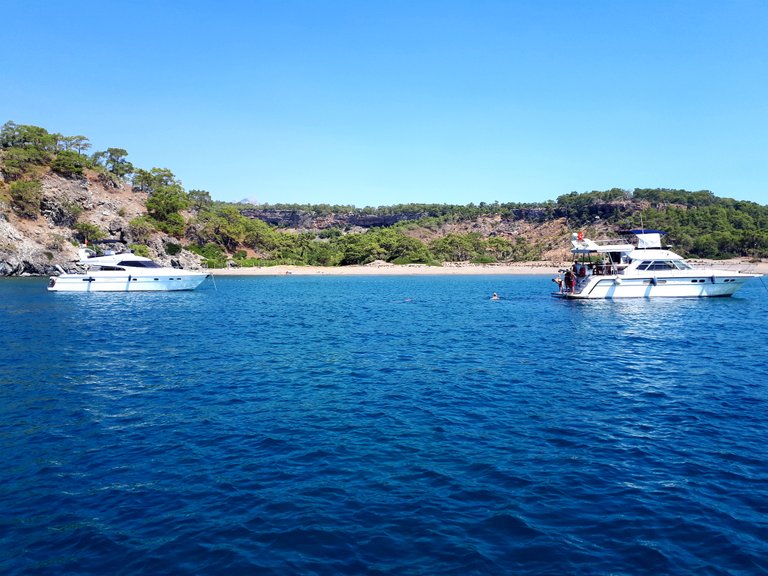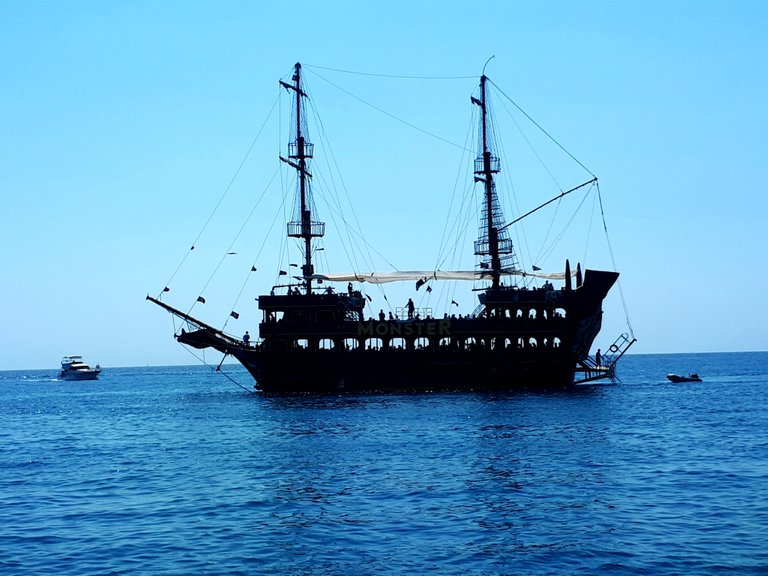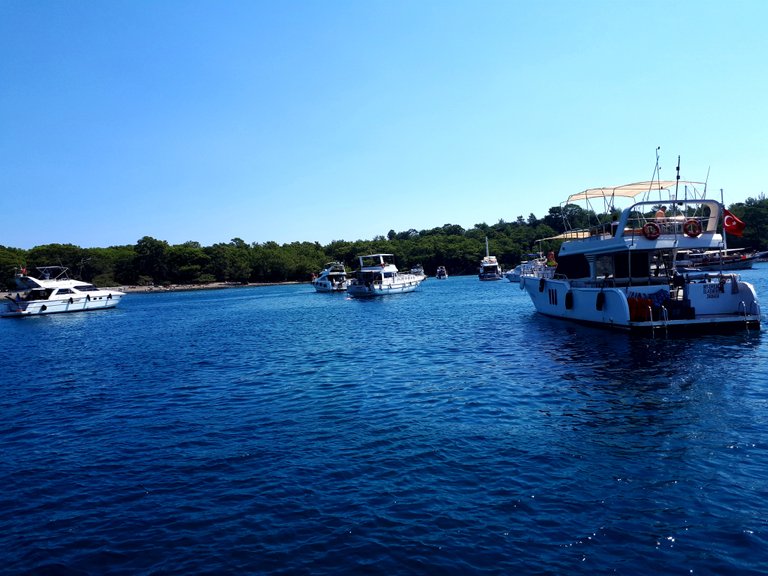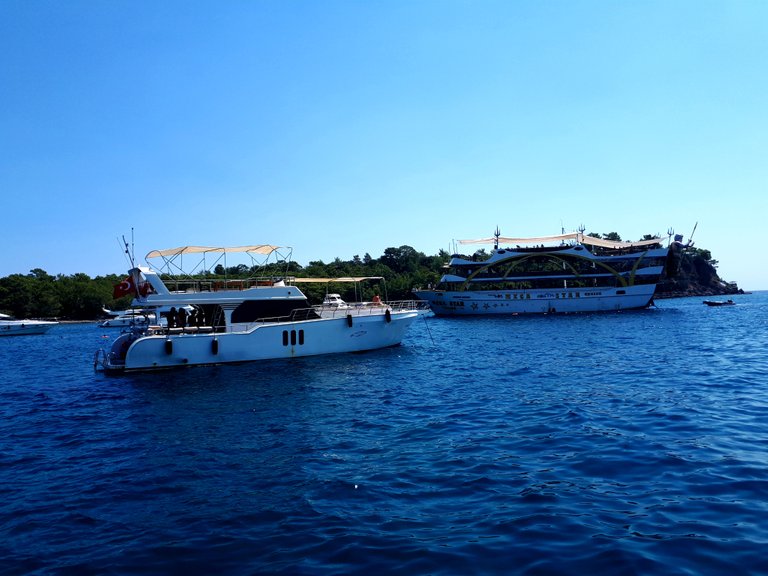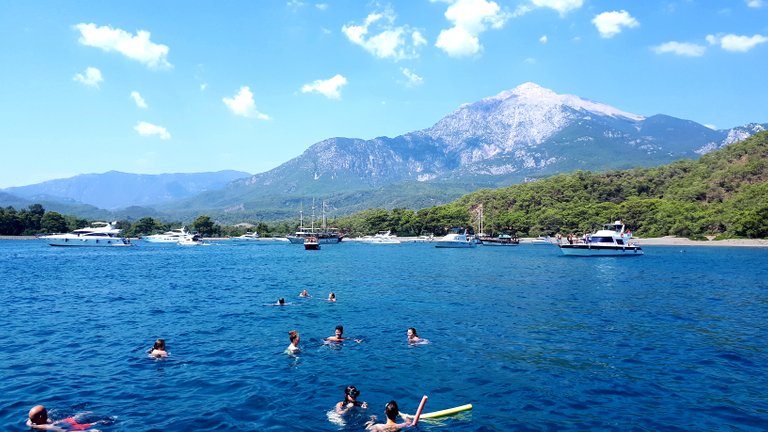 Everything was fine so far. The boats had thrown off anchors and chains into the sea, and people were jumping from the boats into the sea and swimming. The pirate-like ship suddenly started to move The ship began to come backwards due to the change of direction of the wind. The chain of the ship was unable to hold the ship. The people in the sea began to shout in panic. Life buoys were thrown into the sea, they tried to save people from with boats. Meanwhile, the captain had to start the engine and the wave it created turned into another panic. There was kind of a matter of life or death in front of our eyes. Those who could get aboard were screaming. It was the first time in my life that I witnessed such an incident.
Buraya kadar herşey iyiydi. Tekneler zincirlerini atmış, insanlar teknelerden denize atlayıp yüzüyorlardı. Birden önümüzdeki korsansı gemide bir hareketlenme oldu. Gemi, rüzgarın yön değiştirmesi nedeniyle geriye doğru gelmeye başladı. Geminin zinciri tutmuyordu. Denizdeki insanlar panikle bağırmaya başladı. Denize can simitleri atıldı, botlarla insanları denizden kurtarmaya çalıştılar. Bu arada kaptan mecburen motoru çalıştırdı ve onun yarattğı dalga ayrı bir paniğe dönüştü. Gözlerimizin önünde adeta bir can pazarı vardı. Gemiye çıkabilenler de çığlık çığlığa bağırıyordu. Hayatımda ilk defa böyle bir olaya tanıklık ettim.
Fortunately, nothing happened to anyone, the ship was under control and things settled. The captain of our boat did not want to stay in this bay any longer and moved the boat in the direction we came from. After about 15 minutes, we arrived at Alacasu Cennet Bay. This bay also has a forested area but a smaller bay. A few more boats followed us. Food was served here. People jumped into the sea again. I didn't want to. After staying in this bay for about two hours, we set off for Kemer Harbour again.
Neyse ki kimseye bir şey olmadan gemi kontrol altına alında ve ortalık sakinleşti. Bizim teknenin kaptanı bu koyda daha fazla durmak istemeyip tekneyi geldiğimiz yöne doğru hareket ettirdi. Yaklaşık 15 dakika sonra Alacasu Cennet Koyu'na varmıştık. Bu koy da ormanlık alana sahip ama daha küçük bir koydu. Bizim peşimizden birkaç tekne daha geldi. Burada yemek servisi yapıldı. İnsanlar tekrar denize girdiler. Ben girmek istemedim. Yaklaşık iki saat bu koyda kaldıktan sonra tekrar Kemer Limanı'na doğru hareket ettik.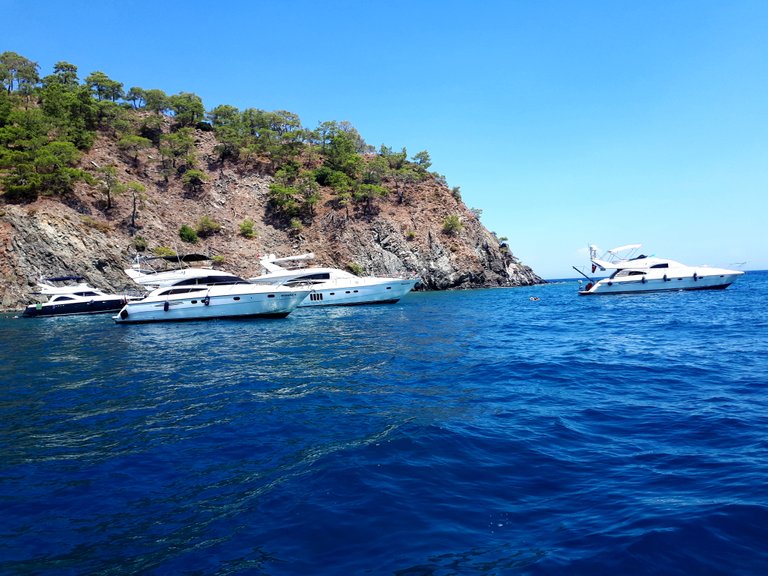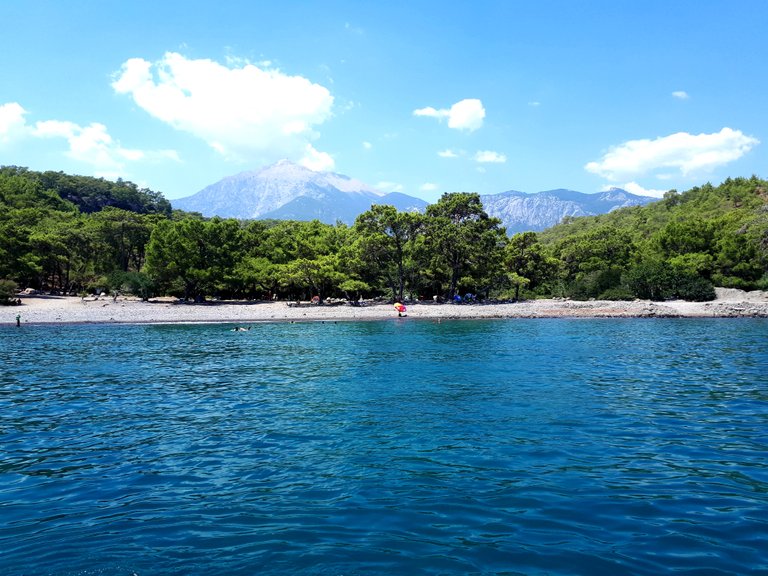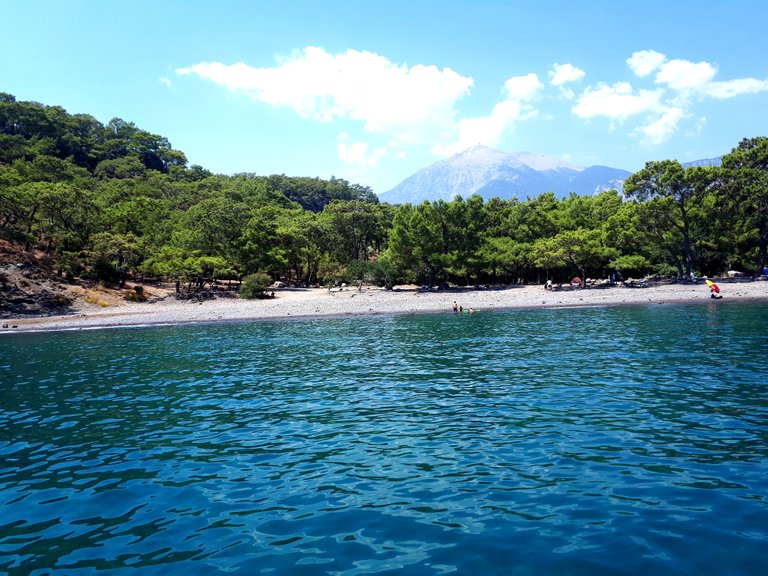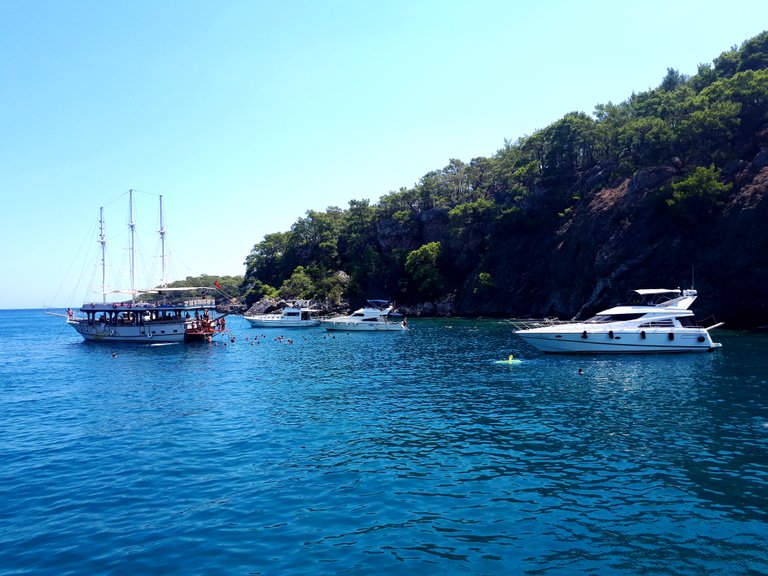 We returned to Kemer Harbour at 4 pm. It was an attractive boat tour for me, maybe it was because of my luck :) I had a flight the next day, I spent the evening resting. Antalya is a city with very beautiful natural riches. I couldn't travel in detail due to the limited time, but I will definitely come here for a longer holiday in the future. For sure, this will not happen in July or August :)
Saat 4 gibi Kemer Limanı'na geri döndük. Benim için atraksiyonlu bir tekne turu olmuştu, belki de benim şansıma : ) Ertesi gün uçağım vardı, akşamı dinlenerek geçirdim. Antalya çok güzel doğal zenginliklere sahip bir şehir. Bu kısa sürede çok detaylı gezemedim ama ilerde mutlaka daha uzun bir tatil için buraya geleceğim. Tabi bu Temmuz veya Ağustos ayında olmyacak : )
Thank you for reading. All the photos in this post belong to me.
Okuduğunuz için teşekkür ederim. Bu yazıdaki tüm fotoğraflar bana aittir.
---
---