I Have Reached 1000 Hive Power [ENG-TUR]


I took the photo from hive.io community and rearranged it.
Hi Friends
Today, I have reached over 1000 Hive Power which is an important milestone for me on HIVE. I have been a member of HIVE for 4 years and 6 months. Considering this period, reaching 1000 HP may not be very important, but I think it is important in terms of motivation. Sure, I have not done this period of 4 years and 6 months membership to the fullest. When I first became a member of HIVE (Steemit back then), the existence of a strong team supporting projects and competitions contributed greatly to both personal and account development of new members such as me. This situation lasted for about 4-5 months. Afterwards, I started to be less active in HIVE due to a number of reasons such as the separation of Steemit into HIVE and Steemit, workloads and time constraints. Until the middle of 2021, I had dropped by HIVE from time to time and shared a few posts, but I had never left HIVE.
Merhaba Arkadaşlar
Bugün, benim için HIVE'de önemli bir dönüm noktası olan 1000 HIVE Oy Gücüne ulaştım. 4 yıl 6 aydır HIVE'a üyeyim. Bu süreyi göz önüne aldığımızda 1000 HP'ye ulaşmak belki çok önemli değil ama motivasyon açısından önemli olduğunu düşünüyorum. Tabi bu 4 yıl 6 aylık üyelik sürecini dolu dolu geçirmedim. HIVE'ye üye olduğum ilk zamanlar (O zamanlar Steemit), proje ve yarışmaları destekleyen güçlü bir ekip olması, benim gibi yeni üyelerin hem kişisel hem de hesap gelişimine büyük katkısı olmuştur. Bu durum yaklaşık 4-5 ay böyle sürdü. Sonrasında Steemit'in HIVE ve Steemit olarak ikiye ayrılması, iş yoğunluğu, zaman sıkıntısı gibi bir takım nedenlerle HIVE'de daha az aktif olmaya başladım. 2021'in ortalarına kadar HIVE'a ara ara uğrayıp tek tük paylaşımlar yaptım ama hiç bir zaman HIVE'dan kopmadım.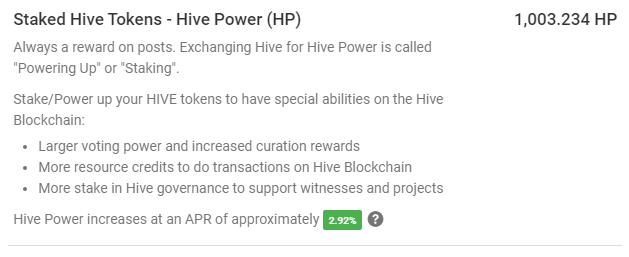 Source
I had about 590 Hive Power in August of 2021. I have started to be more active on HIVE from August on. Meanwhile, we have started talking again with the few remaining friends in our Hive Türkiye Discord channel. Thereafter, some ex-members who had left their accounts as they were returned. Depending on the developments in Turkish Community, Trliste has started to be active again after three years and has started to support posts written in Turkish with tr tag. My activity on HIVE has also increased gradually by posting, upvoting and commenting on posts thanks to @ecency DApp.
2021'in Ağustos ayında yaklaşık 590 Hive Oy Gücüm vardı. Ağustos ayından itibaren HIVE'da daha fazla aktif olmaya başladım. Bu arada, Hive Türkiye Discord kanalımızda kalan az sayıda arkadaşla tekrar konuşmaya başladık. Sonrasında, hesabını olduğu gibi bırakıp geri dönen bazı eski üyeler de oldu. Türk Topluluğu'nda gelişmelere bağlı olarak Trliste de üç yıl sonra tekrar aktif hale geldi ve tr etiketinde yazılan Türkçe yazılara destek vermeye başladı. Benim de HIVE'daki aktifliğim @ecency uygulaması sayesinde yazı paylaşarak, yazılara oy verip yorum yaparak giderek arttı.
2021 was the year in which I shared the most posts, read the most posts, upvoted the most posts, received the most upvotes, commented on the most posts, and received the most comments on HIVE. I think that I achieved my first goal by doing even more in the first seven months of 2022. I have still kept going this way. Besides, I have also joined the HIVE Power Up Day since April 2022 and I have powered up 31 HIVE till then. If it wasn't for the Ecency DApp, perhaps I wouldn't be this much active on HIVE. However, there is also a DApp released by the @leofinance team.
2021 yılı, HIVE'de en çok yazı paylaştığım, en çok yazı okuduğum, en çok paylaşıma oy verdiğim, en çok oy aldığım, paylaşımlara en çok yorum yaptığım ve en çok yorum aldığım yıl oldu. 2022 yılının ilk yedi ayında daha da fazlasını gerçekleştirerek ilk hedefime ulaştığımı düşünüyorum. Hala da bu şekilde devam ediyorum. Ayrıca 2022'nin Nisan ayından itibaren HIVE Güç Arttırma günlerine de katıldım ve şimdiye kadar 31 HIVE oy gücü artışı yaptım. Ecency uygulaması olmasaydı belki HIVE'de bu kadar aktif olamazdım. Gerçi artık @leofinance ekibinin çıkardığı uygulama da var.
I see HIVE as a long-term investment. For this reason, I regularly use the HIVE I receive from author and curation rewards to power up, while I transfer HBD into my savings account and get 20% annual interest yield. I have never drawn them from my wallet and used for any other purpose. There might be people who need this income from HIVE, I have no words for them; however, I am in favor of powering up HIVE rewards up to a goal for a stronger account and the community. This goal can be 1000 HP, 5000 HP, 10.000 HP.
Ben HIVE'yi uzun vadeli bir yatırım olarak görüyorum. Bu nedenle yazarlık ve kürasyon gelirlerinden elde ettiğim HIVE'ı düzenli olarak Hive oy gücümü arttırmada kullanıyorum, HBD'yi ise birikim hesabıma atıp yıllık %20 faiz geliri elde ediyorum. Onları hiçbir zaman cüzdanımdan çekip farklı bir amaç için kullanmadım. HIVE'dan elde edilecek gelire ihtiyacı olan insanlar olabilir, onlara bir şey diyemem; ama ben, daha güçlü bir hesap ve topluluk için elde edilen HIVE'in bir hedefe kadar biriktirilmesi taraftarıyım. Bu 1000 HP, 5000 HP, 10000 HP olabilir.
I would like to thank those who supported me through this period, firstly @trliste and @campingclub on behalf of TR Community; @tarazkp, @ericvancewalton, @phortun, @meesterboom, @olga.maslievich, @bluemoon, @brian.rrr, @geekgirl, @lukewearechange, @antisocialist, @borepstein, @cryptospa, @pele23, @slobberchops, @torem-di-torem, @taskmaster4450le, @traciyork and the whole HIVE family.
Bu süreçte bana destek veren başta TR topluluğu adına @trliste ve @campingclub olmak üzere @tarazkp, @ericvancewalton, @phortun, @meesterboom, @olga.maslievich, @bluemoon, @brian.rrr, @geekgirl, @lukewearechange, @antisocialist, @borepstein, @cryptospa, @pele23, @slobberchops, @torem-di-torem, @taskmaster4450le, @traciyork ve tüm HIVE ailesine teşekkür ederim.
My next goal is to reach 1250 Hive Power. May everyone achieve their goals on HIVE, thank you for reading.
Bir sonraki hedefim 1250 HIVE Oy Gücüne ulaşmak. Herkesin HIVE'da hedeflerine ulaşması dileğiyle, okuduğunuz için teşekkür ederim.
---
---