Why I just bought up two max-level Grenadiers.

I just bought 91 BCX of the card Grenadier in the game Splinterlands to complement the 1 BCX I already had in order to have enough to combine for 2 max level Grenadier. In total, I coughed up a little over $81 to make this happen.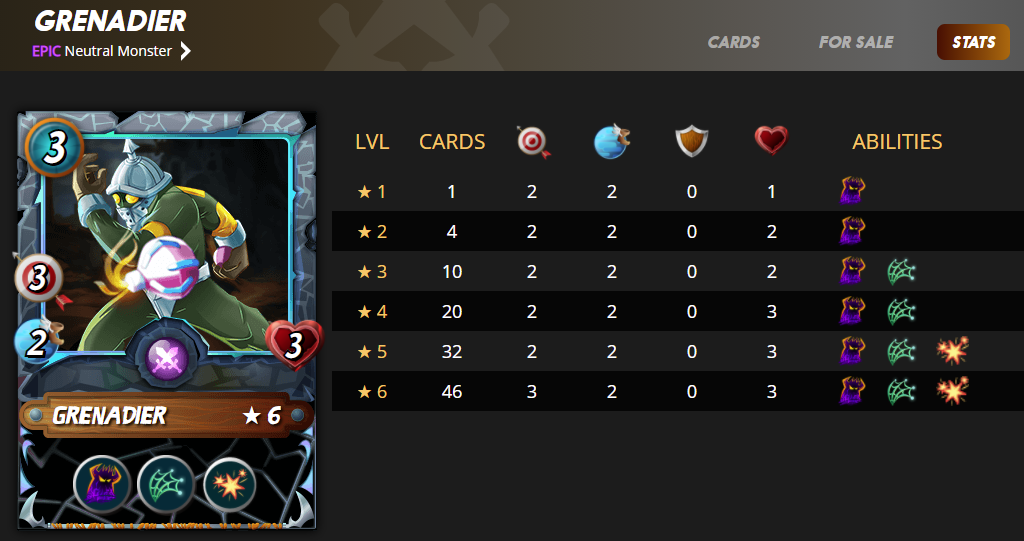 Why??
Because it looks relatively cheap to its in-game value. At an average of $0.89/BCX, the Grenadier appears to be a somewhat overlooked Epic card at the moment.
Key benefits:
Neutral - Significantly increased usability
Blast - Significantly increased damage to spread around
Oppress - Can double the damage against 0-attack wall defenders
Snare - Automatically hits flying monsters and makes them earthquake-susceptible
Now some of the things people don't consider is when you start to blend these benefits together. For example, snare doesn't just apply to the monster being hit, but also to those that are being blasted with splash damage. Likewise, how many neutral monsters actually have blast? Recall that neutral monsters are amplified in terms of how much use you actually get out of a card. How about Oppress and Blast? That splash damage is also doubled when a 0-attack defender is targeted.
Overall, what makes Grenadier so underappreciated is the fact that it has so many synergies of efficiency that are often overlooked.
Considering so many of the great Epics are now trading over $1/BCX, I was surprised to see this bargain card trading at such a low valuation. I get that DICE cards themselves haven't been the most popular, but the Grenadier is definitely one of those that shouldn't be dismissed.
Posted Using LeoFinance Beta
---
---