Why Lobstradamus Is Currently Undervalued
As of the time of writing this, Lobstradamus (the latest UNTAMED epic card that was recently airdropped) is currently priced at $0.89/bcx.
---
Lobstradamus should be priced way over $1
For those not aware, here are the stats for Lobstradamus: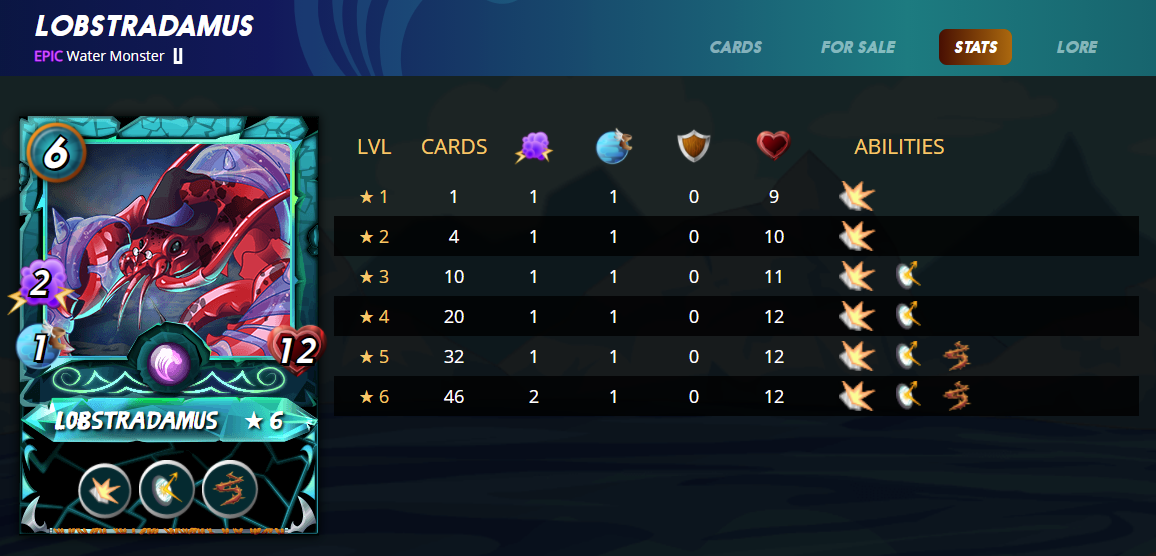 A few short reasons why the card should be worth more:
It's one of the last epic cards to be released. This means it will inherently have less supply available relative to the prior epics released in the Untamed set. For example Thunderbird has 18101 total BCX available while Lobstradamus currently has 11690 Total BCX. Bear in mind that 11690 BCX at present is only enough cards to support 254 maxed out cards in a game now supporting thousands of active players.

Lobstradamus has both shield and magic reflect. This starts at level 3, making MR elgible in the Silver Leagues! Considering the lack of MR in the lower leagues, this is a devastatingly powerful combination of front & middle defense for a mere 6 mana cost.

Thorns is a bonus to the high initial and final HP levels obtainable. If you're able to get a level 5 or higher, you're looking at a monster who's able to take 12 hits from a melee monster dealing 2 melee damage. Each one of those attacks takes 1 damage to Lobstradamus while reflecting 2 back at the attacker. Think about how strong that is.

The low speed is a boon in the reduced speed ruleset. While one might be prone to believe one-speed hinders the monster, it can actually bolster it. Water is already speed hindered and therefore excels at reduced speed format. Likewise, this monster uses a magic attack so its ability to hit the target is not degraded (outside of the Phase ability).

Lobstradamus' magic attack allows it be to a utility position player. Lobstradamus can be used in any position (front, middle, rear). While I believe the monster is best suited in the 2nd or 3rd position, one can use him both in the first and last positions as well. The shield, thorns, and high HP allows for flexible use against melee monsters attacking the front and rear. Likewise, the magic reflect is very useful in the front.
---
All together, what makes Lobstradamus so strong is that it's a very versatile monster card able to provide covering support regardless of position and indeed is able to be used in every position. For 6 mana, one can get a monster able to dish out 3 magic (with Alric or Valnamor). But above all, it can provide instant field coverage to slow down an attacking force from any direction.
The one weakness Lobstradamus has is that it remains susceptible to magic attacks... but even there it's reflecting magic back at (usually softer) attackers & is somewhat covered by its high HP.
This monster is a tank. Better yet, it's a tank that's powerful even for the lowest league play. With 9 HP and a shield at level 1, Lobstradamus is a must-own card. This is especially the case as Untamed remains in use in the new game format when Chaos Legion is introduced. This allows Lobstradamus to be made elgible for both reward pools of the new game format and the wild format where older cards are phased out.
I expect this card won't last under $1 for much longer, especially as Untamed packs begin to sell out.
Posted Using LeoFinance Beta
---
---