BADGER and RARI Listed on Coinbase!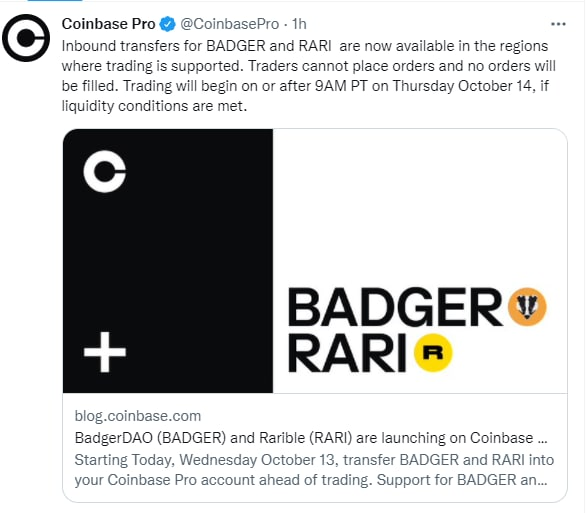 source
BadgerDAO (Badger) and Rarible (Rari) are available for full transactions on Coinbase.com and in Coinbase Apps.
Coinbase is aware of the reasons for a variety of coins in recent years, which is mechanically known as the same way, because they want to trade a variety of coins to customers' coinbase platforms. Recently, the recently listed coins, Avalanche, WCFG, WLUNA, Function X, etc. are coins of various parts.
Transaction Pair available:
Badger - USD, Badger - USDT, Badger - EUR
RARI - USD, RARI - USDT, RARI - EUR.
The Order Book is gradually launched to three stages, Post-Only, Limit-Only and later Trading.
BadgerDAO (Badger) is a governance token as an ongoing token. It is focusing on the bitcoin and the part of the deduction of DEX, which is dedicated to this, and some chain-based distributed DEXs. Solana, BSC, Polygon, such as the DEFI, which has been providing services before the defi of polygon is available. It is DEFI that the bitcoin has been staked in DEFI at the beginning at the beginning of Merit. Remember, it remembers that the rate was good enough. The BSC is a significant increase in DEX with a significant grade.
Rarible (RARI) is used in an infrastructure-based token in a community-based NFT MARKETPLACE. You can create NFT from Rarible, sell, buy. RARI can be obtained when using the platform and can be used for curation or Plotting. I've been thinking of a highly possible token from the past, but I lacked it, so I sold it early after a few purchases, and I have not been able to prepare for future growth.
Nowadays, Crypto investors and related field workers have much spirit. The DEFI, which has been pouring from the first half of the NFT projects and the first half of the day, has been reinforced with a variety of new Concept, and the DEFI's type and numbers have been significantly large.
There is a lot of atmosphere with the recent rise in bitcoin. Most Alt Coins declined as a bitcoin assault last week, but there seems to be anticipation that this rising atmosphere would be delivered to AltCoins. So I see a lot of people who are a little nervous and looking at the market.
When necessary, actively participate and have good achievements, but sometimes they are right now to see what I am doing. The direction of participating in the Crypto market or other various investment markets should be right, but it is not possible to return to the right place, but there is no missing part of everyday life.
Posted Using LeoFinance Beta
---
---