DeFi growing North America's Crypo Market!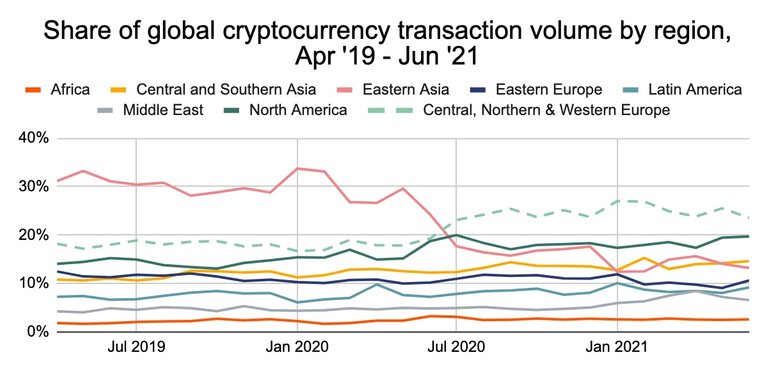 source
DEFI's growth has grown into the global 2nd biggest market while expanding the Crypto market in North America.
The North American region is 18.4% of the global trading volume of $ 750B from July 2020. In the synchronization, Europe showed $1 Trillion's trading volume,25% share.
By July 20, the North American area has reached 1,000% of the month of trading volume. $14.4B has risen to $ 164B. This rising is analyzed as due to DEFI. The DEFI trading volume seems to correspond to 37% of the total trading volume of North America. Excellence that shows the most transactions is Uniswap. Next, it is a centralized exchange Coinbase and DYDX.
On May to June, the amount of mining bitcoins deposited in Biennium showed the largest drop. The $200m, and this trend was the same applied to the second-ranked Huobi, and a decline in $ 150m. The third FTX has a decline in $100m. This liquidity supply decrease is a major cause of the degradation of the overall cryptospatography.
North America's global mining hashrate rate increased more than 2 times in last August. Handic Chinese hashrate is almost theoretically converged to zero.
CME (Chicago Mercantile Exchange) increases Bitcoin Futures agreement!
As the bitcoin ETF is approved, the Chicago Mercantile Exchange(CME)is increasing its bitcoin futures agreements. It is the highest since last February. As each institutional investor participated, the Chicago futures exchange has become a major concern.
The CME seems to classify the group to trade gifts into four.
Dealer broker: Customer's gift transactions such as securities companies to sell ETFs
Asset Manager: Mutual Fund, Long Term Investor, etc.
Leverage Fund: Hedge Fund, Short-term Investment Center
Other: Reportables + NonrePortables, judges that it is a place where there is an obligation to report,
Two long-term investor groups and other reporting investors are long position trends, and Leverage Groups and Dealer Locator groups, short-term aggressive trading groups and the Dealer Roche Group increase the short position.
As of last 12 days, the number of unpaid arrangements is 9,284, and it is the maximum since last February.
The currently approved ETF is Pro Shaears ETF, and the transaction will begin since this week.
It is a short-term decline in a short-term decline, giving the individual investors, giving a significant number of declines, and a significant level of decline in the rising country, and a significant decline in a significant decline in the Sell The News Each investor seems to be making its own story. The voices of being careful to move on to the holidays are between short-term traders.
Posted Using LeoFinance Beta
---
---