🗞 Daily Crypto News & Video, December, 22nd💰
Welcome to the Daily Crypto News: A complete News Review, Coin Calendar and Analysis. Enjoy!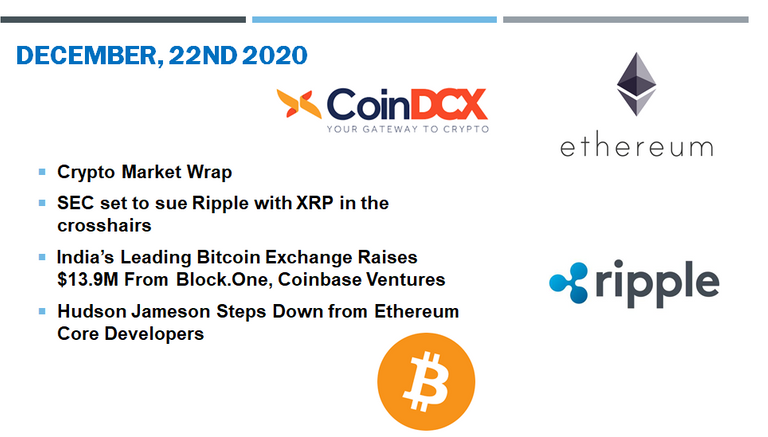 After the past week's record bitcoin volume for 2020, the price dipped on lower volume. Meanwhile, November's dip in ether assets locked in DeFi can at least partially be attributed to the Ethereum network's ambitious 2.0 upgrade.
Bitcoin (BTC) trading around $22,843 as of 21:00 UTC (4 p.m. ET). Slipping 5.3% over the previous 24 hours.
Bitcoin's 24-hour range: $21,960-$24,081 (CoinDesk 20)
BTC near its 10-hour moving average and below the 50-hour on the hourly chart, a sideways-to-bearish signal for market technicians.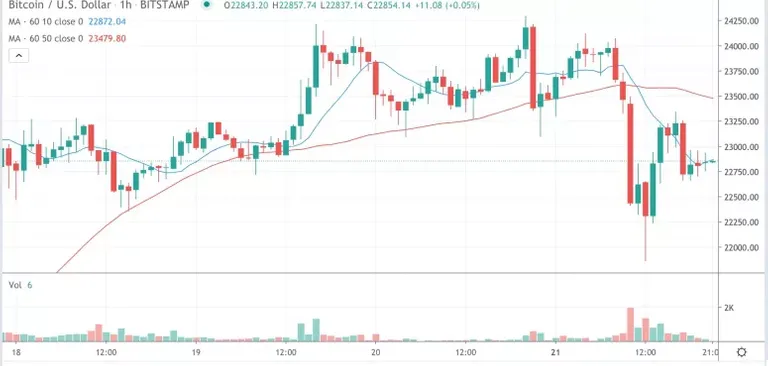 "Trading activity is subdued. That doesn't motivate anyone to trade on Christmas week," said Misha Alefirenko, co-founder of crypto market maker VelvetFormula.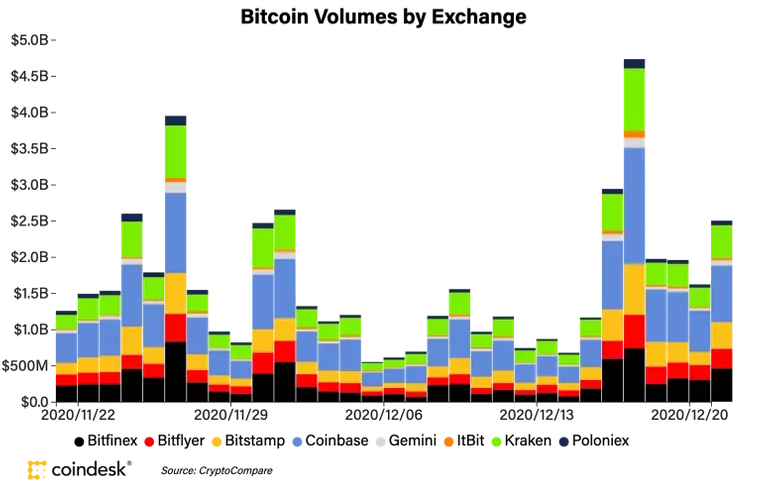 Open interest, or OI, is loaded up in the bitcoin options market for Dec. 25 expiration, according to data from aggregator Skew.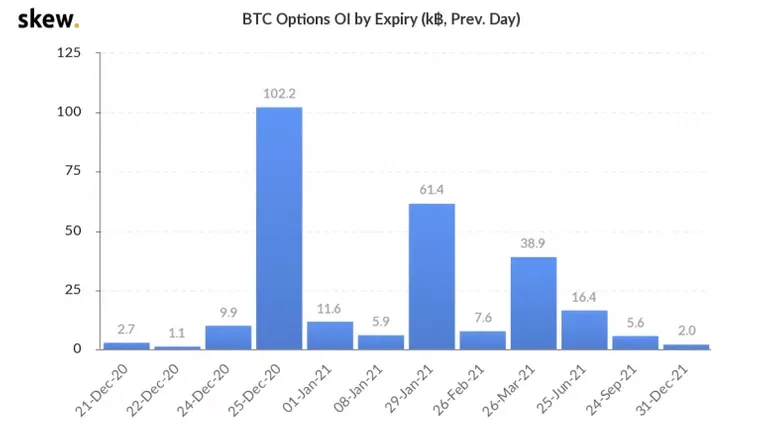 ETH Locked in DeFi rising from November trough
The amount of ether "locked" in decentralized finance, or DeFi, for "yield" or a return in exchange for providing liquidity, hit a high of 9.4 million ETH on Oct. 20. In November, the amount of ether locked dipped as low as 6.7 million before rebounding in December, at over 7.2 million ETH as of press time.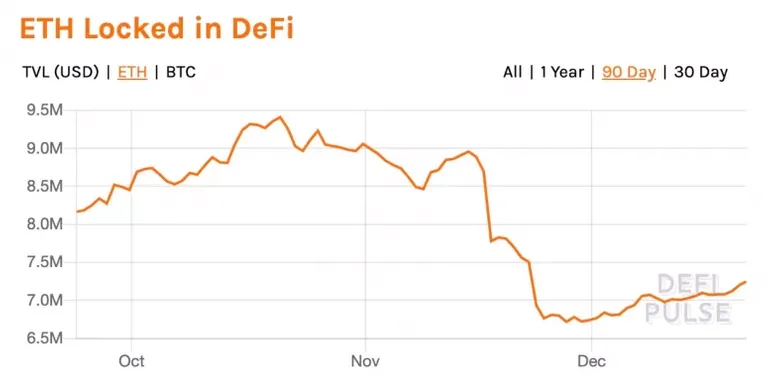 Ripple will be sued by the SEC for allegedly selling unlicensed securities in the form of XRP tokens, according to Fortune.
In a move reminiscent of Coinbase's recent front-running of a New York Times expose of its alleged treatment of employees of color, Ripple CEO Brad Garlinghouse has taken the unusual step of posting to Twitter to seemingly legislate the issue in the court of public opinion.
A source with connections to Ripple told Cointelegraph that:
"There's no way it [XRP] is not a security."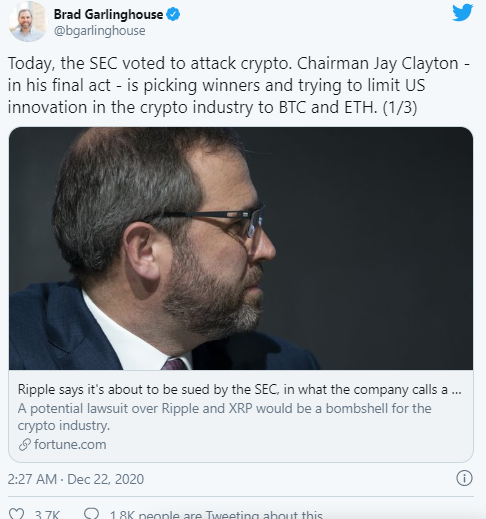 Bitcoin and Ethereum have both escaped SEC enforcement due to their decentralized nature. However, XRP, the token associated with Ripple, has long been criticized by some members of the crypto community as highly centralized. Ripple has maintained an escrow account of around 50 billion XRP, or around half of the total supply, which the CTO David Schwartz claims to have been 'gifted' by the creators of the third-largest cryptocurrency.
The company continued to allege, without evidence, that Bitcoin and Ether are "two Chinese-controlled virtual currencies that the SEC has stated are not securities" and that "Innovation in the cryptocurrency industry will be fully ceded to China" should the potential lawsuit brought by the SEC be successful.
India's largest cryptocurrency exchange, CoinDCX, has raised the equivalent of $13.9 million in a Series B funding round led by Block.one, the creator of the software that runs EOS.
This follows on a May 2020 round for $2.5 million from Polychain Capital and Coinbase Ventures, who returned to participate in this new round of funding. Other participants included Uncorrelated Ventures, Jump Capital and Mehta Ventures.
"This has been the most exciting year for CoinDCX. While the pandemic forced everyone indoors, CoinDCX scaled up exponentially and continues to do so," Sumit Gupta, CEO and co-founder of CoinDCX, said in a statement.
CoinDCX provides a fiat on-ramp to its users and trading, but it provides other basic services as well. It enables lending, trading on margin and the ability to stake cryptocurrencies that earn rewards for doing so.
Hudson Jameson, who helps coordinate Ethereum's Core developers, and functions as its ( unofficial) "communicator in chief," announced today that he is stepping down from his role.
"After 4 years of facilitating the bi-weekly Ethereum Core Developer meetings (aka AllCoreDevs calls) I've decided to step down from that role," he tweeted Monday. "The fantastic Tim Beiko will be replacing me in this role after the Berlin hard fork," Hudson said at the start of the Twitter thread where he explains his decision.
"Since Ethereum is a decentralized ecosystem there really isn't a communication head or communicator in chief officially, but I do have the designation of Community Lead at the Ethereum Foundation," he told Decrypt in an interview. He said that though he is leaving his post, he plans to stay on with the Foundation. "I'll be helping out with the ETH 2.0 transition but in a different capacity and a less public-facing capacity than I am now."
🗞 Daily Crypto Calendar, December, 22nd💰

"Mark your calendars, folks! Waves founder Sasha Ivanov is going live for an AMA session on December 22!"
"On the 22nd of December 2020, Stratis will be releasing InterFlux, the blockchain-agnostic and open-source protocol for communication..."
"Swipe is thrilled to announce that #Swipe @Visa Physical Cards in the US will begin shipping to all virtual cardholders Dec 22."
Muneeb Ali, Co-founder of Blockstack, will be speaking at CoinTelegraph's 1 year anniversary event.
"Christmas coming early frens! Join us for a Binance AMA on December 22"
Wabi product, tech and features updates and announcements. Twitter @wabitoken.


➡️ Youtube
➡️ Twitter
➡️ Hive
➡️ Publish0x
➡️ UpTrennd
➡️ Read.cash
➡️ LBRY
➡️ Spotify
➡️ Be paid daily to browse with Brave Internet Browser
➡️ A secure and easy wallet to use: Atomic Wallet
➡️ Invest and Trade on Binance and get a % of fees back
➡️ Check out my video on Unstoppable Domains and get 10$ off a 40$ domain purchase
➡️ Get 25$ free by ordering a free Visa Card on Crypto.com using this link or using this code qs4ha45pvh


20% of this article rewards wil go to the @hodl-fund account in order to support HODL Community Initiatives.
Find out more about HODL Community: Crypto Social Community and by following our community account @hodlcommunity

If you would like to delegate some HP to our community and support us; we give you back 90% of the curation rewards on a daily basis ! APR > 12% !
500 HP - 1000 HP - 2500 HP - 5000 HP
Make a good APR Curation by following our HIVE trail here
---
---