Whining finally stopped as Bitcoin is bouncing

Hi HODLers,
Well it seems everybody relaxed as markets are bouncing back up! Some clearly need to chill the f***k out sometimes. Market cannot always go up.
Everyone in the crypto space should see the big picture and the structural shift that is taking place.
I hope you were able to do some Black Friday shopping in real life or in crypto as I did (more in this post).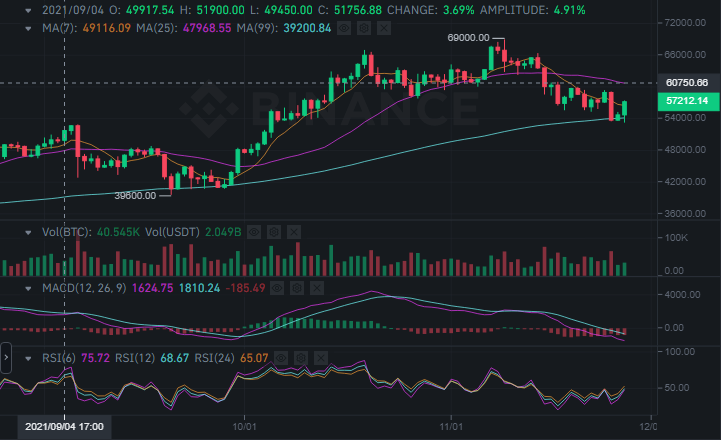 Bitcoin is north of $57k and it feels everybody is taking a breather. Nice. Nevertheless, as I was watching football in the US, I could not help to notice the increasing number of advertising for financial apps. cryptocurrency trading platforms, financial and wealth manager...
This is not good, then after the commercial, first time I saw the "Crypto.com halftime report". Well, we must be close to the end of the bull market or in the beginning of the structural shift. Pick your guess hehe :D.

What am I buying now?
I continued investing in my current top holdings including:
I am very eager to get my hands on the juicy Spartacadabra airdrop and I expect Spartacus to announce it very soon.
Latest proposal (#6) passed to allow for wrapped Staked SPA $wsSPA. which will allow holders to participate in a wsSPA-FTM pool on SpookySwap and therefore get rebase + LP fees/incentives on SpookySwap; crazy right?
I very much like that the dollar value backing one SPA is $131 and current SPA Market price is just $150.
FantOHM (OHM fork on the Fantom network)
Which just announced it is going cross-chain on Moonriver. I have to admit I do not know much about Moonriver but they claimed the team was super helpful and reaching out to FantOHM. They also state that this 1st cross-chain project will help for future implementations on Kusama and Polkadot.
More information to read here: The first Fantom OHM fork to go cross chain: FantOHM launches on Moonriver
I am also looking to re-enter Popsicle $ICE as it corrected a lot even if the developers keep on adding functionalities (soon a stablecoin).
Invictus is on the top of my list as the Solana network's strongest OHM fork but I haven't had time to deal with this yet :D.
Also, I am quite surprised at the constant LEO dump these past weeks. Despite the $HIVE bullrun, LEO price went down and I do not understand why. Do we have more information on who is selling and why? Not blaming anyone but this seems odd.
Have a great upcoming week and don't forget to telle me what you are buying.

Latest Analysis
Posted Using LeoFinance Beta
---
---