||| Maquillando a mi esposo: Mi experiencia ||| I do my husband makeup: My experience ||| [ESP-ENG]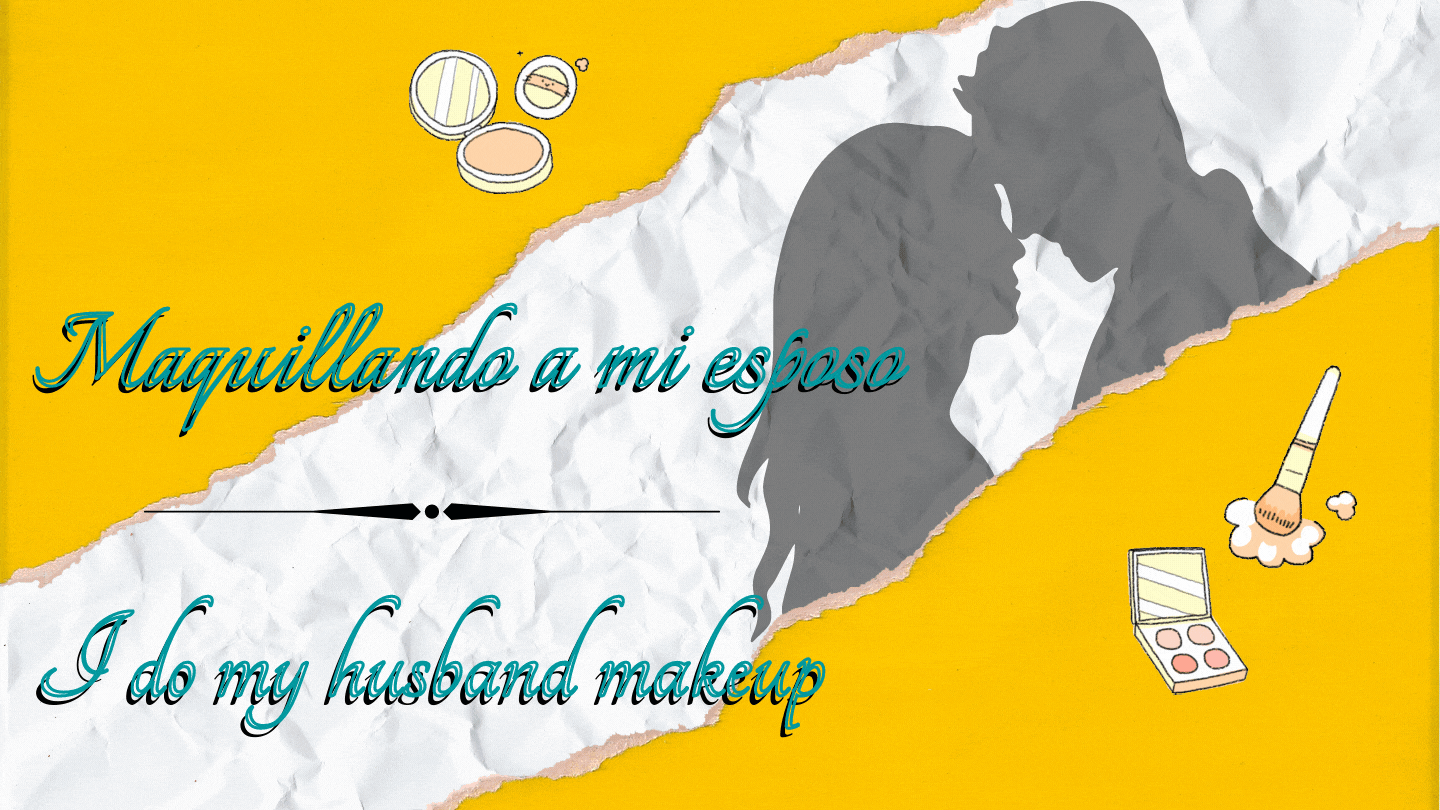 ESPAÑOL
Bienvenid@ una vez mas a mi blog, espero te encuentres bien, que tus sueños se estén cumpliendo, que tus proyectos se estén realizando. Yo por mi parte me encuentro excelente, estoy emocionada y ansiosa por la llegada de mi bebé, solo faltan 2 meses, la verdad siento que el embarazo pasó demasiado rápido, gracias a Dios todo va bien con el bebé y con mi vida personal
Para el día de hoy les traigo un post de maquillando a mi esposo, fue bastante cómico, todo empezó porque estaba aburrida y le pregunté que si me dejaba maquillarlo, pero luego me lo tome muy en serio, al punto que no dejaba que se parara ni al baño, y el pensando ¿en que me metí? Jajajajaja. Así que, decidí hacer un post sobre la experiencia, ya que nunca había maquillado a otra persona, no es un tutorial, pues como les digo no estaba planeado, espero lo disfruten. Les iré dejando las fotos que le tomé mientras les cuento mi experiencia.
ENGLISH
Welcome once again to my blog, I hope you are feeling well, that your dreams are coming true, that your projects are being realized. For me, I am feeling excellent, I am excited and anxious for the arrival of my baby, only 2 months to go, the truth is that the pregnancy went by too fast, thank God everything is going well with the baby and with my personal life.
For today I bring you a post about makeup for my husband, it was quite funny, it all started because I was bored and I asked him if he would let me do his makeup, but then I took it very seriously, to the point that I didn't even let him go to the bathroom, and he was thinking, what did I get myself into? Hahahahahaha. So, I decided to make a post about the experience, since I had never makeup another person, it is not a tutorial, because as I say it was not planned, I hope you enjoy it. I will leave you the pictures I took while I tell you about my experience.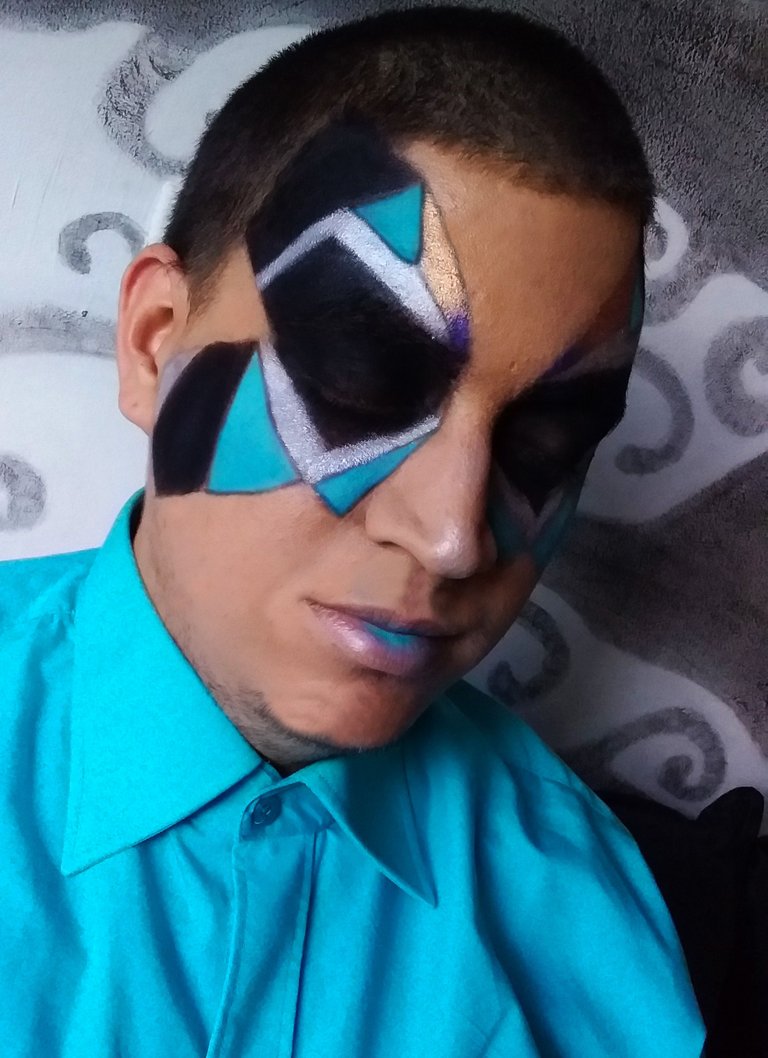 Primero que nada, convencerlo, no costó mucho la verdad, porque el siempre me apoya en mis inventos, la verdad doy gracias por tener a alguien así en mi vida.
Lo segundo fue elegir lo que le iba a hacer, y no tenia ni idea, estaba pensando en un maquillaje de halloween, pero no encontré nada que me gustará, fui buscando maquillajes de hombres y nada, luego figuras y nada, la verdad no se que terminé haciendo, a mi parecer luce como una mariposa geométrica, déjame en los comentarios ¿a qué se te parece?
First of all, to convince him, it didn't cost much to be honest, because he always supports me in my inventions, the truth is that I am thankful to have someone like that in my life.
The second thing was to choose what I was going to do, and I had no idea, I was thinking about a halloween makeup, but I didn't find anything I liked, I went looking for men's makeup and nothing, then figures and nothing, the truth is I don't know what I ended up doing, in my opinion it looks like a geometric butterfly, let me in the comments, what does it look like to you?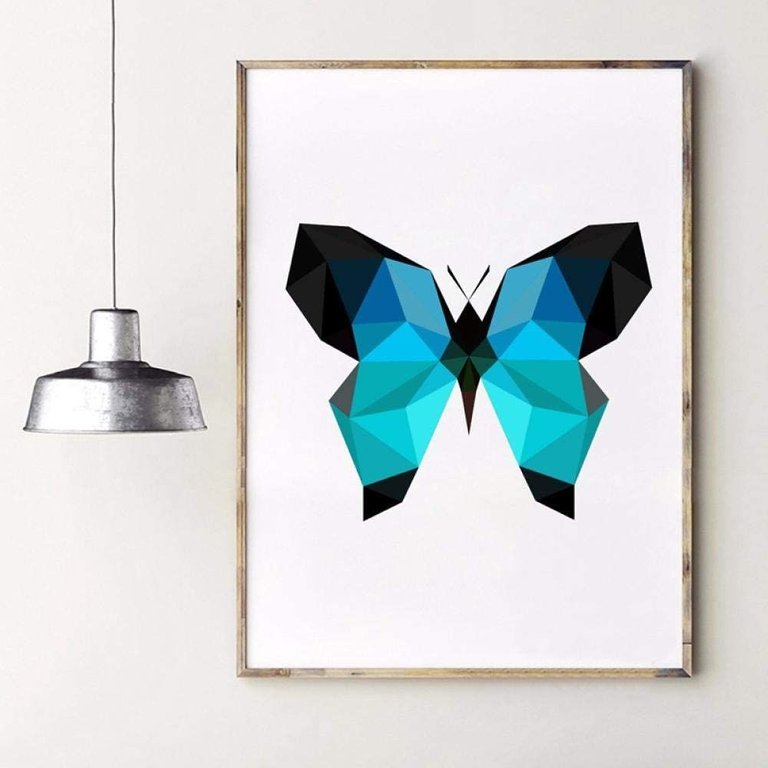 El estaba muy curioso sobre que le estaba haciendo a su cara, y que le estaba aplicando, así que, mientras lo maquillaba iba explicándole para que servia cada cosa, él extrañado que porque se usaban tantas cosas si solo eran 3 colores de sombras. Decía que sentía la cara pesada y pegostosa por la crema hidratante y la base, que si no se podía hacer sin eso, yo como me podía reír, me preguntaba que porque nos poníamos tantas cosas en la cara, cada 2 minutos me preguntaba que si ya había terminado.
He was very curious about what I was doing to his face, and what I was applying, so, while I was applying his makeup I was explaining him what each thing was for, he was wondering why we were using so many things if there were only 3 colors of shadows. He said that his face felt heavy and sticky because of the hydrating cream and the foundation, that he couldn't do without it, I could laugh, I wondered why we were putting so many things on his face, every 2 minutes he asked me if I had finished.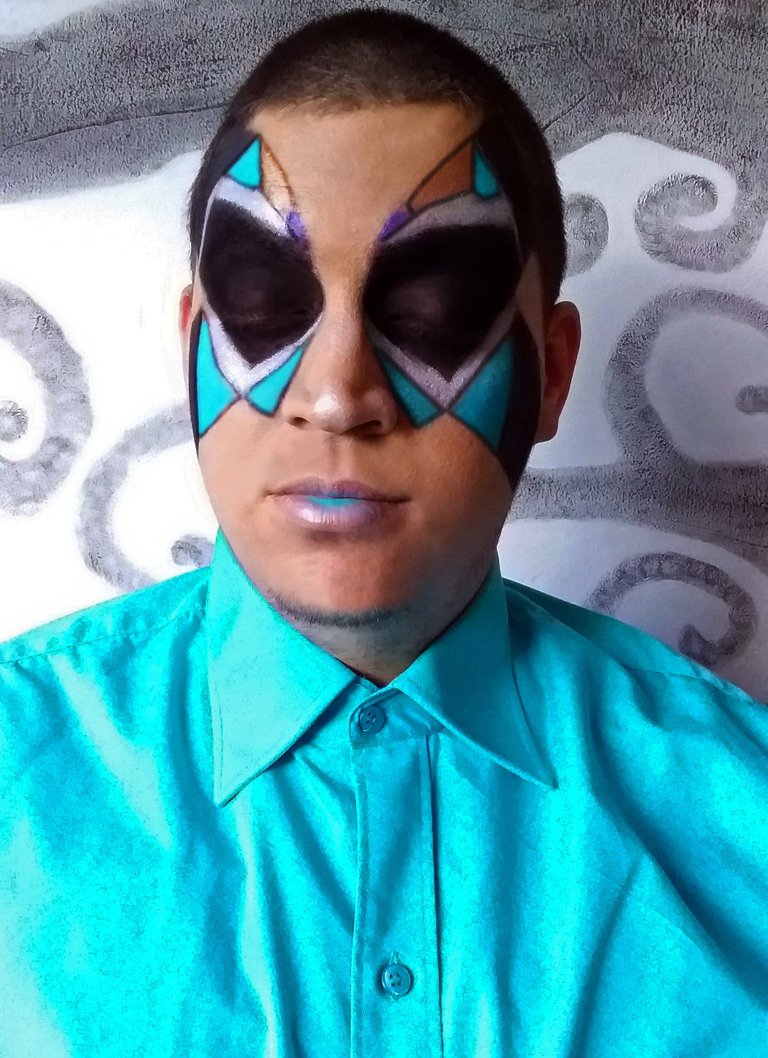 Justo al lado, tenia a la sobrina de mi esposo, ella quería que también la maquillara, ella quería ser una princesa, también preguntándome todo lo que hacia, y por qué lo hacia así, debo admitir que nunca en mi vida había sentido tanta presión, admiro a los que trabajan de estilistas.
Cuando yo me maquillo puedo tardar 10 minutos o 6 horas fácilmente porque me pongo a perfeccionar cada detalle, me paro a tomar agua, juego en el teléfono, veo facebook, como alguito, en otras palabras me distraigo con lo que sea, pero estaba maquillando a alguien más, no podía tardar tanto y mas si le molestaba "el pegoste"
Next to me I had my husband's niece, she wanted me to do her makeup too, she wanted to be a princess, also asking me everything I was doing, and why I was doing it that way, I must admit that I had never felt so much pressure in my life, I admire those who work as makeup artist.
When I do my make up I can easily take 10 minutes or 6 hours because I perfect every detail, I stop to drink water, I play on the phone, I see facebook, I eat something, in other words I get distracted with whatever, but I was doing someone else's make up, I could not take so long and more if he was bothered by the sticky base.

Siendo sincera, a pesar de la presión, me divertí bastante, me sentí como las payasitas que pintaban afuera de los parques, cuando uno les pedía pintarse una mariposa, un spiderman, corazoncitos, etc. Pasé un momento diferente y sobretodo salí del aburrimiento que tenia, quería maquillar también a la bebé pero con lo del embarazo me canso demasiado rápido, de estar sentada o parada.
¿Que aprendi? Definitivamnete no es lo mismo maquillarse uno mismo que a otra persona, hacer que quedaran los lados parecidos, que no se moviera, aplicar bien los productos, no meterle la brocha en el ojo, fue un gran desafió para mi, por lo que nunca lo habia hecho.
To be honest, even though the pressure, I had a lot of fun, I felt like the little clowns that painted outside the parks, when you asked them to paint a butterfly, a spiderman, little hearts, etc. I had a different time and above all I got out of the boredom I had, I wanted to do the baby's makeup too but with the pregnancy I get tired too fast, sitting or standing.
What did I learn? It's definitely not the same to do your own makeup as it is to do someone else's, making the sides look similar, not moving, applying the products well, not sticking the brush in the eye, was a big challenge for me, which is why I had never done it before.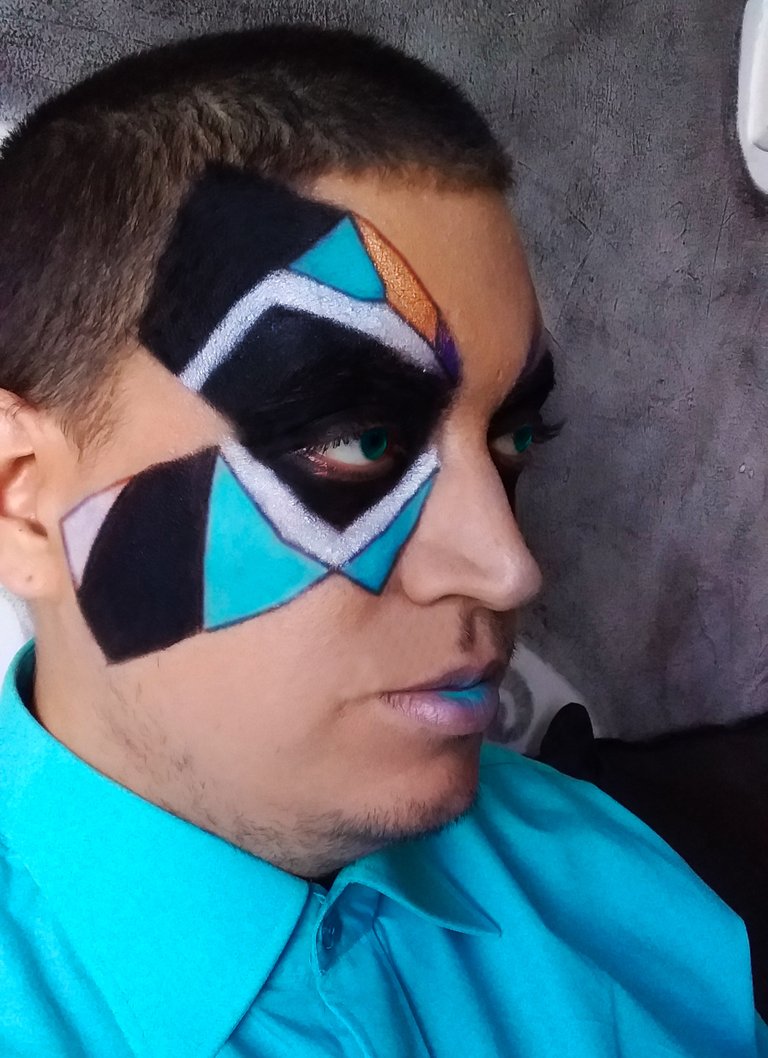 Seguiré mejorando, pronto les traeré mas colaboraciones con el, debería hacer uno maquillando a todos los que viven conmigo, ahora que lo pienso, que les parece? Espero les haya gustado, nos leemos en una próxima ocasión
I will keep improving, soon I will bring you more collaborations with him, I should do one making up everyone who lives with me, now that I think about it, what do you think? I hope you liked it, see you next time.


Quédate con aquella persona que te permita ser como eres, que te apoye en tus sueños y momentos difíciles, que no te limite, en la que puedas confiar
---
Stay with the person who allows you to be who you are, who supports you in your dreams and difficult moments, who does not limit you, someone you can trust.
Love, Vanessa ❤️


Sígueme en mis Redes Sociales - Follow me on my Social Networks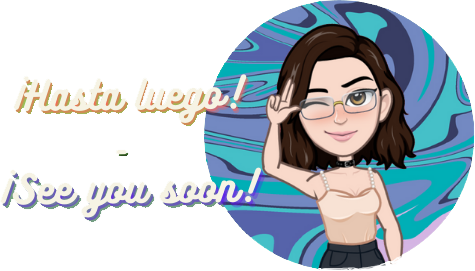 ---
---