||| Top 5: Mis canciones favoritas ||| Top 5: My favorite songs ||| [ ESP - ENG]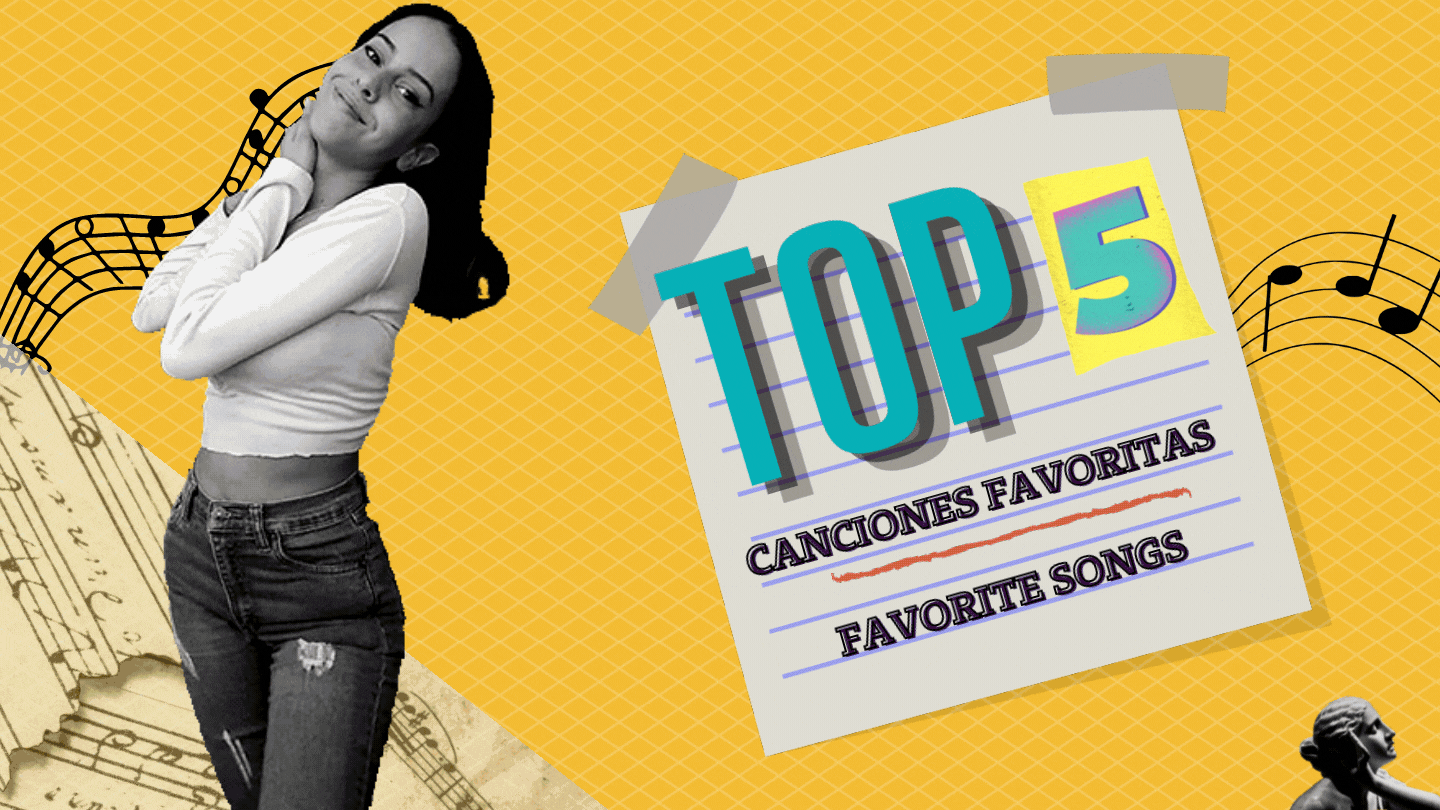 ESPAÑOL
Quise hacer este top porque a mi parecer la música es ese algo que esta presente en la vida de todas las personas, nos guste o no. Es ese algo que esta presente en el trabajo, en la calle, en la cocina, en el baño, en cualquier lugar al que vayamos, la verdad me parece maravilloso, ¿por qué? Ya solo con escuchar 2 segundos de una canción podemos saber si nos gusta, la detestamos o simplemente nos lleva a un recuerdo directo, un lugar o nos lleva con una persona.
Quise hacer mi top 5 de canciones favoritas basadas en recuerdos con personas, son canciones muy significativas para mi, ya iré explicando el porqué de cada una. Sin más nada que agregar, empecemos ❤️
ENGLISH
I wanted to make this top because in my opinion music is something that is present in everyone's life, whether we like it or not. It is that something that is present at work, in the street, in the kitchen, in the bathroom, anywhere we go, the truth is wonderful, why? Just by listening to 2 seconds of a song we can know if we like it, we hate it or simply takes us to a direct memory, a place or takes us to a person.
I wanted to make my top 5 favorite songs based on memories with people, they are very meaningful songs for me, I will explain why each one. Without anything else to add, let's start ❤️

5️⃣ Si Tu Te Atreves - Luis Miguel

Mi mamá trabajaba toda la semana y mi hermano mayor y yo después de la escuela teníamos otras actividades, los fines de semana específicamente los sábados los agarrábamos para limpiar, nosotros no podíamos limpiar sin escuchar música y mi mamá como una buena madre latina, le encanta Luis Miguel, creo que luego de Chayanne, Luis Miguel es el amor platónico de todas las madres y una de las canciones que no faltaban todos los sábados era esta, me la sé al derecho y al revés, y para serles sincera si me encanta esta canción, cantarla a todo pulmón es mi pasión, me lleva a esos sábados de mi infancia, hasta me dan ganas de limpiar así este en medio de una cola para agarrar el bus jajajaja
My mom worked all week and my older brother and I after school we had other activities, on weekends specifically on Saturdays we took them to clean, we could not clean without listening to music and my mom as a good Latin mother, she loves Luis Miguel, I think after Chayanne, Luis Miguel is the platonic love of all mothers and one of the songs that were not missing every Saturday was this one, I know it backwards and forwards, and to be honest I love this song, singing it at the top of my lungs is my passion, it takes me to those Saturdays of my childhood, it even makes me want to clean even if I am in the middle of a queue to catch the bus hahaha.

4️⃣ Gotta My Own Way - High School Musical

Por favor, estoy segura que la mayoría de los que estamos aquí hemos visto HSM, al menos visto o escuchado algo de ahí. Mi prima y yo eramos fans de HSM, no me da pena decirlo jajaja, eramos fans de ver a Gabriela arrastrándose por los pasillos llorando y haciendo drama porque si. Mi prima vivia un tanto lejos, nos veíamos muy poco, pero cuando nos veíamos ya era casi una cita ver HSM 2, y esta puedo decir que es nuestra canción y obviamente nos turnábamos para hacer las partes de Troy y Gaby, ella es como una hermana para mi, y escuchar esta canción es como volver a vivir todo de nuevo junto a ella cuando nos visitábamos
Please, I'm sure most of us here have seen HSM, at least seen or heard something from there. My cousin and I were fans of HSM, I'm not ashamed to say it hahaha, we were fans of watching Gabriela crawling through the halls crying and doing drama just because. My cousin lived far away, we saw each other very little, but when we saw each other it was almost a date to watch HSM 2, and I can say that this is our song and obviously we took turns to do the parts of Troy and Gaby, she is like a sister to me, and listening to this song is like living it all over again with her when we visited each other.

3️⃣ Atlantis - Seafret

Si hay una canción que les podría recomendar que escuchen y sientan su letra es esta, amo esta canción casi tanto como amo a la persona que me recuerda @mvl2304. Aunque no lo crean, esta canción es la responsable de que el día de hoy este viviendo un sueño con mi pareja, tenemos 5 meses de embarazo, vivimos juntos y pensamos en casarnos, es el amor de mi vida. No estábamos en el momento correcto en aquel tiempo, pasaron muchísimas cosas entre nosotros, obstáculos, pero me alegra que hayamos podido con eso y más, y todo se lo agradezco a esta canción.
If there is a song that I could recommend you to listen to and feel its lyrics is this one, I love this song almost as much as I love the person that reminds me @mvl2304. Believe it or not, this song is responsible for the fact that today I am living a dream with my partner, we are 5 months pregnant, we live together and we are thinking about getting married, he is the love of my life. We were not at the right time at that time, many things happened between us, obstacles, but I'm glad we were able to overcome that and more, and I thank this song for all of it.

2️⃣ Sweet Child O' Mine - Guns N' Roses

Mi papá me la canta desde que estaba en la barriga de mi mamá, es su canción favorita y luego se volvió la mía, me cargaba en sus brazos y me arrullaba hasta dormirme cantándome esta canción, al escucharla entro en trance, me da paz y tranquilidad, me siento en sus brazos, siento que otra vez tengo apenas 2 meses de nacida, amo a mi papá y amo esta canción, el día que él me falte, esta canción es lo que voy a atesorar, esta canción es simplemente mi papá en una melodía.
My dad sings it to me since I was in my mom's belly, it is his favorite song and then it became mine, he would carry me in his arms and lull me to sleep singing this song to me, when I listen to it I go into a trance, it gives me peace and tranquility, I feel like I am only 2 months old again, I love my dad and I love this song, the day he leaves me, this song is what I will treasure, this song is simply my dad in a melody.

1️⃣ Yo Te Esperaba - Alejandra Guzmán

Me la dedicó mi mamá, yo tenia como 9 años y eso lo hace mas significativo, fue un momento muy sentimental entre ella y yo, sentí la canción mientras ella lloraba cantandomela, sentí todo su amor mientras las palabras salían de su boca, recuerdo que al final de la canción nos dimos un abrazo eterno, no podíamos soltarnos. Yo soy muy apegada con mi mamá, ella es mi mejor amiga y confidente, no escuchamos esa canción todo el tiempo pero cuando lo hacemos simplemente no podemos contener las lagrimas y ahora yo sé la canto a mi bebé, quiero que mi bebé sienta ese amor que yo sentí de mi mamá cada que se la pongo ❤️
My mom dedicated it to me, I was about 9 years old and that makes it more meaningful, it was a very sentimental moment between her and me, I felt the song while she cried singing it to me, I felt all her love while the words came out of her mouth, I remember that at the end of the song we gave each other an eternal hug, we could not let go of each other. I am very close to my mom, she is my best friend and confidant, we don't listen to that song all the time but when we do we just can't hold back the tears and now I know I sing it to my baby, I want my baby to feel that love I felt from my mom every time I play it ❤️

Estas son mis 5 canciones, forman parte de mis recuerdos, de mi infancia, de mi vida, me hacen feliz de verdad, momentos que nunca olvidaré y siempre tendré conmigo en mi corazón, momentos y recuerdos que me hicieron ser lo que soy hoy, incluso la de HSM. Espero les haya gustado y gracias por darme unos minutos de su tiempo, si llegan a hacer un top no duden en etiquetarme ❤️
These are my 5 songs, they are part of my memories, of my childhood, of my life, they really make me happy, moments that I will never forget and will always have with me in my heart, moments and memories that made me what I am today, even the HSM one. I hope you liked it and thank you for giving me a few minutes of your time, if you make a top don't hesitate to tag me ❤️



Sígueme en mis Redes Sociales - Follow me on my Social Networks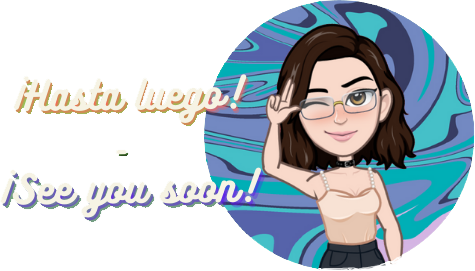 ---
---