Receiving FC6 Rosie and FA1 Supportive Friend by Performing Rising Star Missions
Good morning ...
Have a nice day!
I am continuing Rising Star Game and my game level is 72 and Completed Missions are 1408.
Yesterday evening, I completed 75 Missions of Promote Fan Club.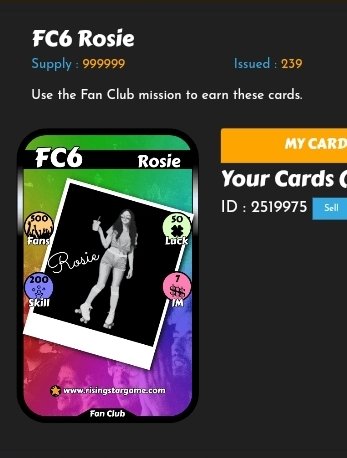 So, I received FC6 Rosie featured Fans 500, Skill 200, Luck 50 and IM 7 .
I am doing Music Promotor to get $STARPRO .
I will perform Promote Fan Club missions more by paying Starpro to complete other Record Signing mission.
And I performed Record Signing Mission and received FA1 Supportive Friend.
Now I have two cards of FA1 Supportive Friend.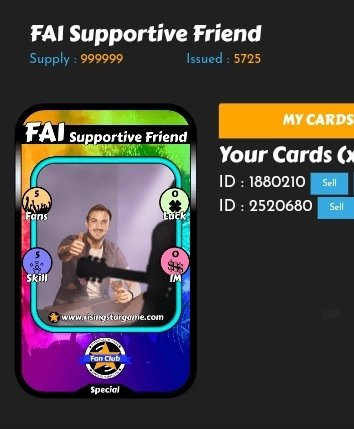 There have Fans 7435 , Luck 1864, Skill 12221 and Income Modifier 153 from the total Game NFT 170 cards.
I have done 1552 Missions in RisingStar Game.
These are
Illegal Busking 75,
Open Mic Night 146,
Mid Week Support 173,
Licensed Busking 19,
Midweek Heading Slot 23,
Saturday Support 44,
Saturday Headline 77,
Radio Interview 87,
Radio Studio Session 93,
Shopping Mall 92,
Record A Demo 87,
Local Festival Acoustic Tent 90,
Local MiniTour Support 123,
Promote Fan Club 75,
Record Signing 2,
STARBITS Millionaire 34,
Basic Singing Lesson 21,
Guitar Lesson 103,
Production Lesson 154,
Piano Lesson 31 and
Drum Lesson 3.
The Ego is 0%.
So, I need to do more Music Lessons too.
What are you doing in Rising Star.
You can use my Referral Link to start RisingStar Game.
---
---