Why I Wait to buy Can of Petrol and Buying People NFT card
Hello.
I have now reached level 101 in the Rising Star Game.
At level 100, we can do the Full Band Headline Mission, but we need 10 Petrol Cans to do that mission.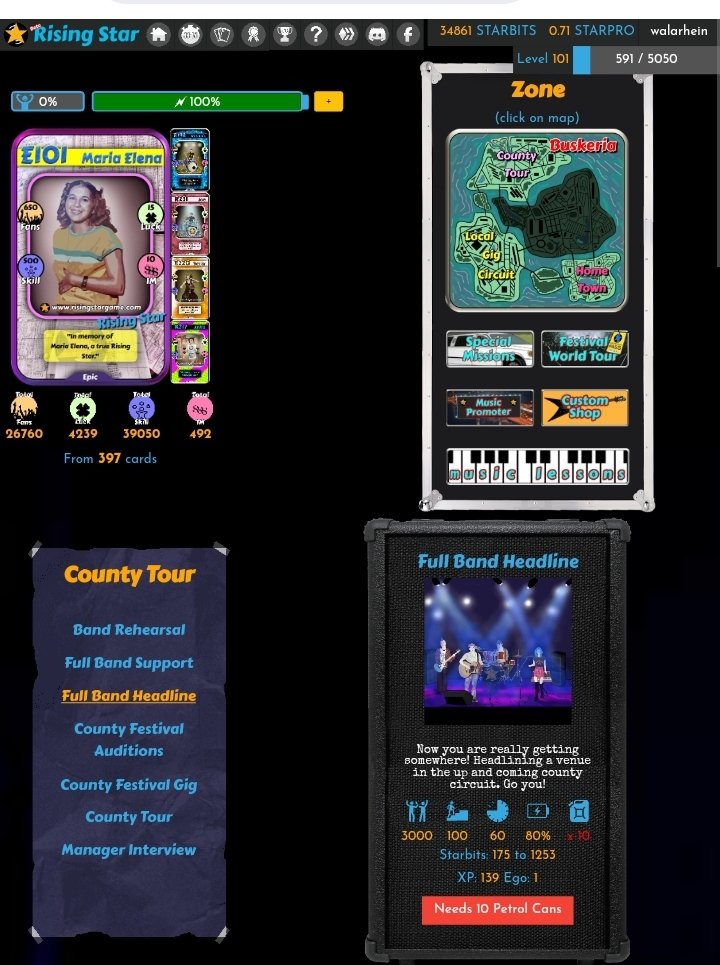 When I visited Rising Star's Market Collection to buy a Can of Petrol, I saw that the lowest value of a Petrol Can was 24651 Starbits or 1.3 Swap.hive or 0.1 Starpro.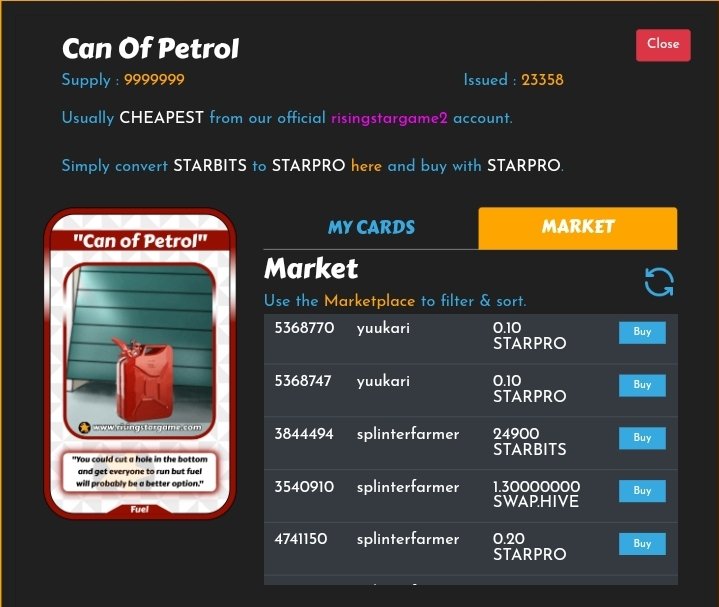 After doing the Full Band Headline Mission once, I will get 175 - 1253 STARBITS.
I already bought 5 Cans of petrol before, so I will have to buy 5 more Petrol Cans to do the Full Band Headline mission.
According to the current price, buying 5 Petrol cans will cost me 123255 STARBITS.
So, to get the above cost back, I will have to complete about 100 Full Band Headline Missions.
Therefore, I am waiting for the price of Can of Petrol to drop.
I was in need of a fan, so I bought a R170 Kev People NFT card with Fans 125, Skill 100, Luck 3 and IM 3.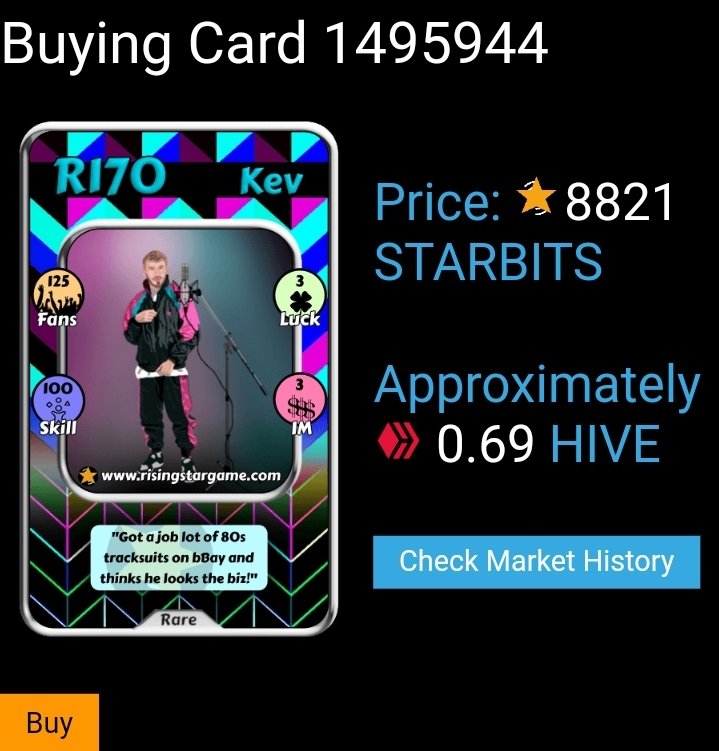 Now I continue doing Missions which can be done with Fans 23900, Skill 39050, Luck 4239 and IM 492.
မင်္ဂလာပါ။
ကျွန်တော်သည် Rising Star Game ကစားလာရာ ယခုအခါ၌ Level 101 သို့ ရောက်ရှိနေပါပြီ။
Level 100 ၌ Full Band Headline Mission ကို ပြုလုပ်နိုင်မည် ဖြစ်သော်လည်း ၎င်း mission ပြုလုပ်ရန် 10 Petrol Cans လိုအပ်နေပါသည်။
Rising Star ၏ Market Collection မှာ Can of Petrol ဝယ်ယူရန် သွားရောက်ကြည့်ရှုရာ Petrol Can တစ်ခု၏ အနိမ့်ဆုံး တန်ဖိုးမှာ 24651 Starbits or 1.3 Swap.hive or 0.1 Starpro စသည်ဖြင့် တွေ့မြင်ခဲ့ရသည်။
Full Band Headline Mission တစ်ကြိမ် ပြုလုပ်ပြီးလျှင် STARBITS 175 - 1253 ထိ ရရှိနိုင်ပါမည်။
ကျွန်တော်သည် ယခင်က 5 Cans of petrol ဝယ်ယူထားပြီး ဖြစ်သောကြောင့် Full Band Headline mission ပြုလုပ်ရန် 5 Petrol Cans ထပ်မံ ဝယ်ယူရလိမ့်မည်။
ယခု တွေ့မြင်ရသော ဈေးနှုန်း အရ 5 Petrol cans ဝယ်ယူလျှင် STARBITS 123255 ကုန်ကျလိမ့်မည်။
သို့ဖြစ်၍ အထက်ပါ ကုန်ကျစရိတ် ပြန်ရရန် Full Band Headline Mission 100 ကြိမ်မျှလောက် လုပ်ဆောင်ရလိမ့်မည်။
ထို့ကြောင့် ကျွန်တော်သည် Can of Petrol ၏ ဈေးနှုန်း အကျကို စောင့်နေမိပါသည်။
ကျွန်တော်သည် Fan လိုအပ်နေသည်ဖြစ်၍ Fans 125, Skill 100, Luck 3 and IM 3 ပါဝင်သော R170 Kev People NFT card ကို ဝယ်ယူခဲ့ပါသည်။
ယခုအခါ ကျွန်တော်သည် Fans 23900 , Skill 39050, Luck 4239 and IM 492 ဖြင့် လုပ်လို့ရသည့် Missions ကို ဆက်လက် လုပ်ဆောင်နေပါသည်။
---
---