Dreemport sublime staff challenge freewrite day 3
Wednesday evening in the twilight of Christmas and New year. A snowstorm shot flakes of snow at the window pane. Sheltered behind the glass a flame cast orange glow to the only other resident perched by the window. Sat upon a cushion with her knee's to her chest. Her arms wrapped around her legs grasping a hot cup of cocoa. She sat in a dreemy dreem and stared out to the darkness camouflaged up by a blanket of snow.
---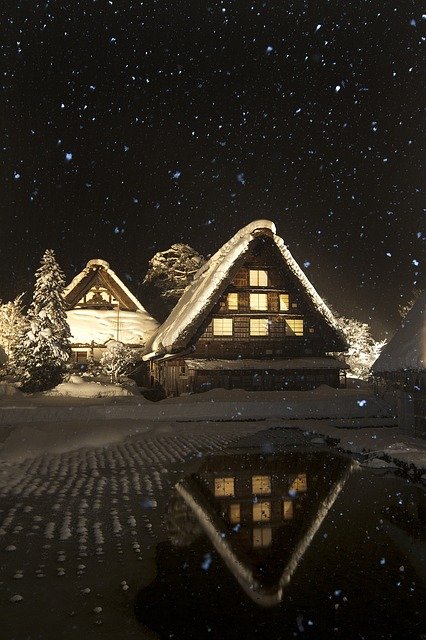 Pixabay
---
She dreamt of sun lit flickers through tree shadows, stretched taut like effigies of old gods. In the forest of her dreemy dreem, the earth is moist & the grass deep green, a deer speeds through a hunter's nightmare & the river frolics with sweaty stones. A snow capped mountain stirs the clouds with the tip of its skull. She sees her dirt stained feet trundling through the moss, through the mud, into the welcoming warmth of the heath. She gathers flowers to her nose and laughter bubbles out of her chest into the buzz of hungry bees.
Her lover is there too, at least she is sure. The maybe maybe because his face is blurred in the dreem. He is tall like a monolith, his hand a big grasping of empty wind. She reach for his embrace but he fades away like dust gathered by butterfly wings and she is left with the empty ache where a wound should be.
The dreemy dreem takes her through that summer before the winter came with its own emptiness. The horses were sold off before her lover left with his Harley Davidson, eager to see what the city had to give him. The city that chewed and spat out boys like him. He wrote once from a motel on the highway, where he washed cars for tips so he could get enough to get back to her. But it was already late. She was pregnant by then for dependable Al. Al of ties and shoeshine.
The flakes crept down the windowpane, the wind howled just outside her grasp and her body shivered in the empty stain of memory. She didn't even hear the cackle of fire in the kitchen or perceive the scent of burning tupperware. When dependable Al returns to his prize, it would be ash & the gaping black teeth of burnt wood. She will be outside, under the cover of the stars, in the whitewashed world, wrapped in a firefighter's blanket, a hot cup in her hand, her eyes still dreeming the dreem of her lover who got lost in the mouth of the city, unable to find his way back to her.
This post was written by me, @warpedpoetic for Team Zizy @zyzymena in the Dreemport Sublime Staff Challenge.
---
---