White spaces: experimenting with silence.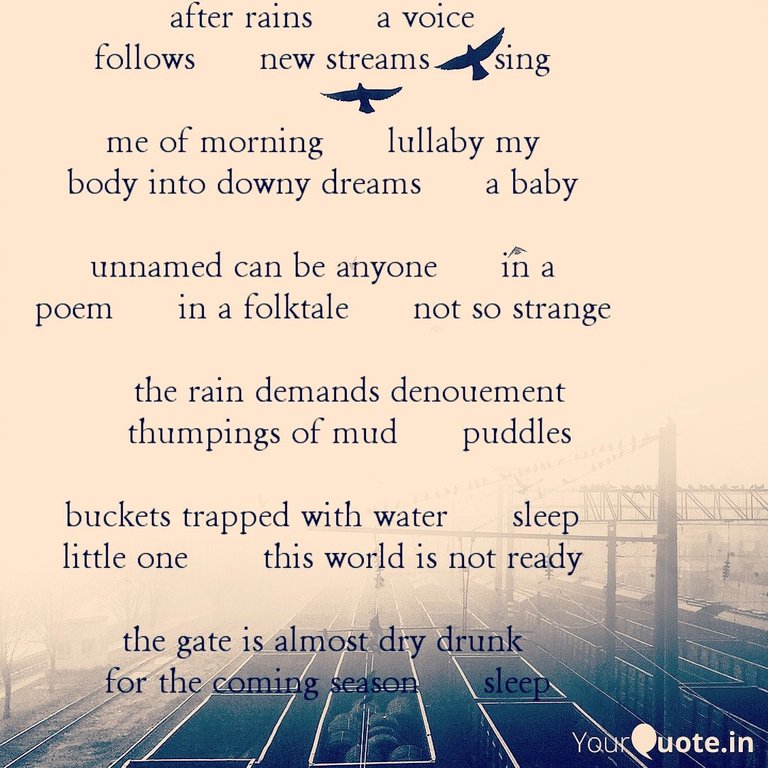 ---
Experiment 1
---
I recently discovered an anthology of African American poets Russel Atkins, Amiri Baraka et al and for the first time, though I have previously used white space in my writing, I am tryin to do it with purpose. Yourquote app is where I play and sometimes I write something good and sometimes I don't. I like to think that the above poem is a good one. This is it below:
after rains a voice
follows new streams sing
me of morning lullaby my
body into downy dreams a baby
unnamed can be anyone in a
poem in a folktale not so strange
the rain demands denouement
thumpings of mud puddles
buckets trapped with water sleep
little one this world is not ready
the gate is almost dry drunk
for the coming season sleep
---
Writing on hive has always been about exploring what my craft can become, how far can I go, what new image can I plumb from my quick depths. Gradually I am finding new ways to say the things that I hunger to say and they are beautiful ways too.
My thematic preoccupation has not changed though and then it is another end of the year and am still singing the same sad songs. Am I too old to feel this way, this empty, weary and angry? But let us not derail this post with psycho analysis of my mind.
---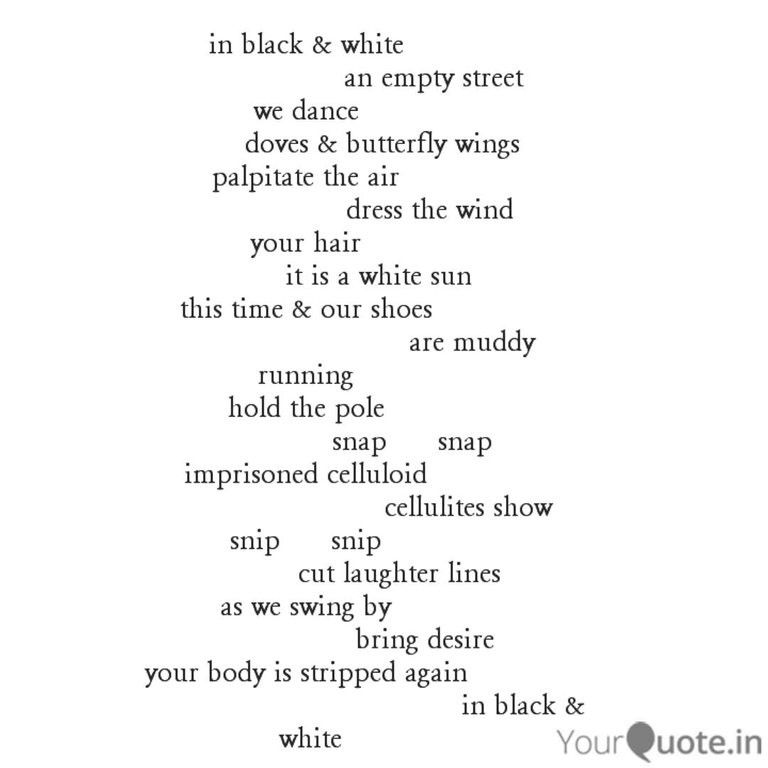 ---
Experiment 2
---
The second poem was informed by a monochrome picture of a girl holding on to a pole in a deserted street, her locks in the wind. I saw the poem and wanted to add something to that image.
Do you write poems randomly while seeing a movie or reading a novel or even a poetry collection? Do you get the urge, after reading a line that spoke to you, to reply back, to tell that character, that poet persona something about yourself? I do it all the time. In fact, I write as I read. The two go together.
Again as in the first example of my experiments with paring down my writing, you can see that I used fewer words and a lot of white space. I am searching for simplicity. If I am to use complex metaphors and turns of phrase, the. I need to make the work spare and bare for easy reading. That is what this experiments are about. This poem can be read below:
in black & white
an empty street
we dance
doves & butterfly wings
palpitate the air
dress the wind
your hair
it is a white sun
this time & our shoes
are muddy running
hold the pole
snap snap
imprisoned celluloid
cellulites show
snip snip
cut laughter lines
as we swing by
bring desire
your body is stripped again
in black & white
---
Unfortunately, I do not have the energy to format the poems on this posting board. You will have to make do with the screenshots.
It is my hope one day to craft something that would make the world shimmer. I hope these two small poems meet you well and mean more to you than you hoped. Namaste.
---
---