Curtis Blaydes Destroza a Daukaus // La Paciencia Fue Clave - Curtis Blaydes Destroys Daukaus // Patience Was Key [ESP-ENG]
Ayer se estuvo llevando otra buena velada de UFC, últimamente todas las carteleras han estado muy interesantes y ayer no seria la excepción. Me estaré enfocando en la pelea estelar de la noche, Curtis Blaydes vs Chris Daukaus la cual no duro mucho pero me pareció muy bueno lo que vi por parte de Curtis Blaydes tanto que esta pelea la repetí hoy nuevamente para poder traer este articulo y dar una mejor opinión de lo que para mi fue clave en esta lucha.
Yesterday was another good UFC evening, lately all the fights have been very interesting and yesterday would not be the exception. I will be focusing on the main fight of the night, Curtis Blaydes vs Chris Daukaus which did not last long but I thought it was very good what I saw from Curtis Blaydes so much that I replayed this fight again today to bring this article and give a better opinion of what for me was key in this fight.
Para mi la división mas floja de la UFC es la de los pesos pesados, pienso que Francis Nganou esta un escalón por arriba de todos e igualmente Ciryl Gane, por esa razón ver esta gran actuación de Curtis Blaydes es muy positivo porque si hace falta competitividad en esta división, donde hace tiempo que no se tiene un peleador que pueda amenazar a los top 3 que están ahora mismo y no puede ser así porque los fanáticos aman esta categoría por el nivel de fuerza que hay entre los luchadores. Siempre que pelea un peso completo todos los fanáticos esperan algún KO, pero también se quiere ver buenas luchas y competidores que destaquen y eso no se estaba viendo en mi criterio personal en los últimos años. Falta mucho todavía pero me alegro de esta gran victoria de Curtis Blaydes.
For me the weakest division in the UFC is the heavyweight, I think Francis Nganou is a step above everyone and Ciryl Gane too, for that reason seeing this great performance of Curtis Blaydes is very positive because if there is a lack of competitiveness in this division, where for a long time there has not been a fighter who can threaten the top 3 who are right now and it can not be so because the fans love this category for the level of strength that exists between the fighters. Whenever a heavyweight fights all the fans expect some KO, but they also want to see good fights and competitors that stand out and that was not being seen in my personal criteria in the last few years. There is still a long way to go but I'm glad for this great victory for Curtis Blaydes.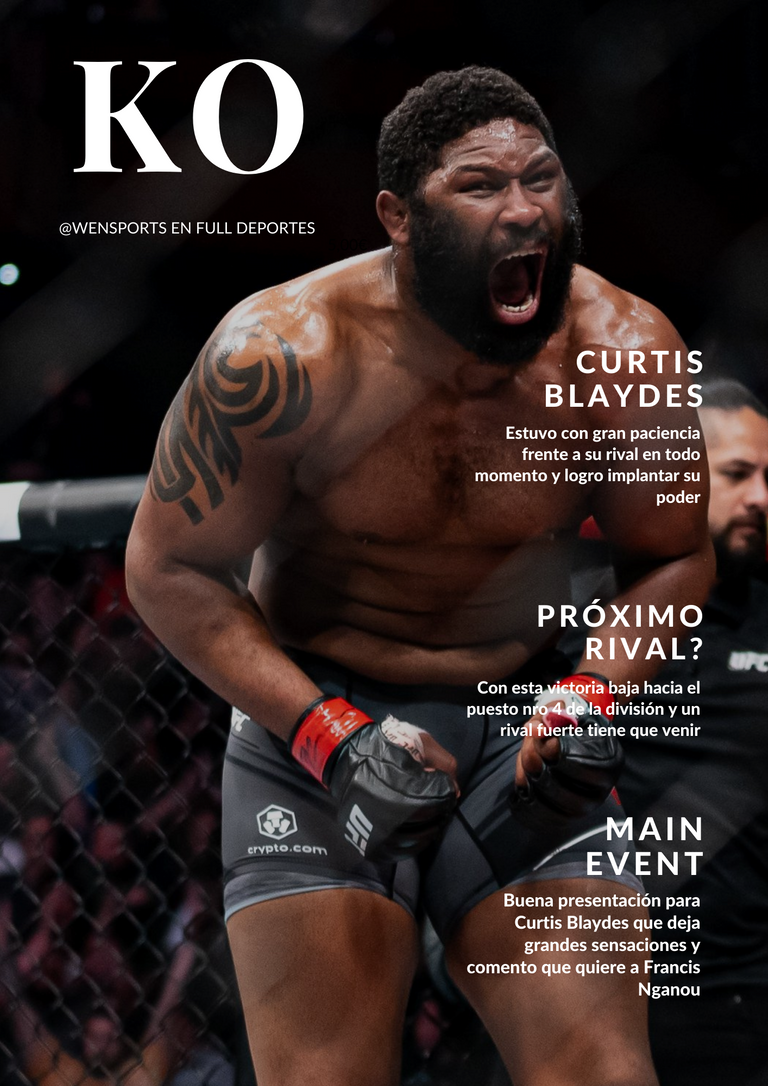 Imagen Editada En Canva

Análisis del Combate & Factor Clave - Combat Analysis & Key Factor
Voy a entrar directamente hacia el análisis de esta lucha que realmente no duro mucho, comenzando el segundo round Curtis Blaydes logro el TKO, pero en el primer round estuvo haciendo muchas cosas interesantes y empezare nombrando las low kicks. En el ese primer asalto Curtis Blaydes estaba pegando muchas patadas abajo a su rival, eso provoca que pierda un poco de movilidad mediante va avanzando el combate y también hace que la guardia de arriba se abra y pueda entrar el peleador con combinaciones de abajo y arriba que suelen ser muy peligrosas en el octágono.
I'm going to go directly to the analysis of this fight that really did not last long, starting the second round Curtis Blaydes achieved the TKO, but in the first round he was doing many interesting things and I will start by naming the low kicks. In the first round Curtis Blaydes was hitting a lot of low kicks to his opponent, that causes him to lose a little mobility as the fight progresses and also makes the top guard open and can enter the fighter with combinations from below and above that are usually very dangerous in the octagon.
Las low kicks fueron importantes pero también me gusto mucho la paciencia que estaba teniendo Curtis Blaydes, para mi eso fue la clave del combate porque no se estaba desesperando en ningún momento, sabe que los dos tienen poder y que en cualquier golpe fuerte se puede acabar el pelea. El uso del jab que estaba conectando era para mantener la distancia, tener paciencia y seguir conectando muchas low kicks esperando la gran oportunidad para ir al frente con todo su poder. La paciencia hizo que nunca corriera riesgo, siguiera su plan de lucha que para mi era ir avanzando de round poco a poco controlando el centro del ring y cuando viera la guardia desprotegida del rival buscar su derecha potente.
The low kicks were important but I also liked the patience that Curtis Blaydes was having, for me that was the key of the fight because he was not getting desperate at any time, he knows that both have power and that any strong punch can end the fight. The use of the jab he was connecting was to keep the distance, be patient and keep connecting many low kicks waiting for the big opportunity to go forward with all his power. Patience meant that he never took any risk, he followed his fight plan which for me was to advance the round little by little controlling the center of the ring and when he saw his opponent's guard unprotected he would look for his powerful right hand.
Si pueden ver el golpe de Curtis Blaydes que lleva al piso a Daukaus, podrán notar que el esta tranquilo esperando y Daukaus cuando se va al frente queda totalmente abierto y ahí le entra la potente derecha que lo manda de una al suelo y posteriormente se viene el TKO. La clave del combate fue totalmente paciencia, esperar a su rival para el contragolpear con mucho poder, teniendo gran inteligencia sumando puntos con las Low Kicks que hacen daño y algunas combinaciones que lanzaba en ciertos pasajes del combate que lo mantenían con el control del ring. Fue impresionante el golpe que le conecto, sumamente seco al rostro que para mi ya cuando cayo al suelo estaba totalmente ido y cuando Curtis Blaydes se zumbó arriba de el sabia que todo había terminado.
If you can see the punch of Curtis Blaydes that takes Daukaus to the floor, you can notice that he is calmly waiting and Daukaus when he goes to the front is completely open and there enters the powerful right hand that sends him to the ground and then comes the TKO. The key of the fight was totally patience, waiting for his opponent to counterattack with a lot of power, having great intelligence adding points with the Low Kicks that do damage and some combinations that he threw in certain passages of the fight that kept him in control of the ring. It was impressive the blow that he hit him, extremely dry to the face that for me when he fell to the ground was totally gone and when Curtis Blaydes buzzed on top of him I knew it was all over.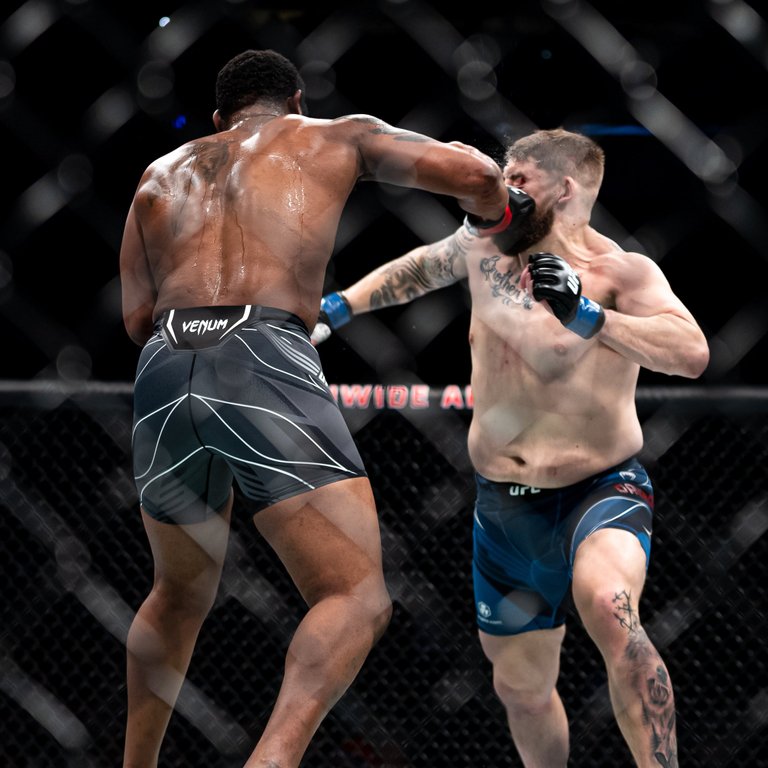 Que sigue para Curtis Blaydes? - What's next for Curtis Blaydes?
Curtis Blaydes acaba de colocarse en la posición numero 4 del ranking de peso completo, por delante de este hombre tenemos a Tai Tuivasa que viene en un ascenso extraordinario y por supuesto a los dos mejores de la división que son Ciryl Gane junto al campeón Francis Nganou. Pienso que un combate contra Tai Tuivasa seria muy espectacular pero no creo que vaya a suceder, Tuivasa seguro estará buscando enfrentar a Ciryl Gane por lo menos para después buscar la lucha por el titulo y Curtis Blaydes que fue derrotado hace un año por Derrick Lewis pudiera buscar la revancha. Cuando termino el combate el estuvo mencionando a Francis, hombre que también le gano hace unos años atrás y ahora no veo la posibilidad de que Dana White le ceda esa oportunidad por el titulo antes que a Tai Tuivasa por lo que sus opciones se reducen.
Curtis Blaydes has just moved into the number 4 position in the heavyweight rankings, ahead of this man we have Tai Tuivasa who is on an extraordinary rise and of course the two best in the division which are Ciryl Gane and the champion Francis Nganou. I think a fight against Tai Tuivasa would be very spectacular but I don't think it's going to happen, Tuivasa will be looking to face Ciryl Gane at least for a title fight and Curtis Blaydes who was defeated a year ago by Derrick Lewis could be looking for a rematch. When the fight was over he was mentioning Francis, a man who also beat him a few years ago and now I don't see the possibility of Dana White giving him that title shot before Tai Tuivasa so his options are reduced.
Tom Aspinall es otro hombre que viene subiendo posiciones en los ranking, estaba en el puesto 10 y con su victoria del pasado fin de semana se coloco en el puesto numero 6. Pensando aquí un poco creo que Curtis Blaydes enfrentando a un Aspinall seria grandioso, porque todos los fanáticos de la UFC vemos que Tom viene dando mucho de que hablar y si logra ganarle a Curtis Blaydes repunta su carrera muchísimo por lo que seria buen negocio para Dana White. Yo estaría buscando esta lucha desde ahora mismo, los dos peleadores vienen de ganar sus respectivos combates y en las mismas fechas por lo cual tienen tiempo para prepararse y cualquiera de ellos dos que gane ese combate estaría obteniendo mucho valor para su carrera.
Tom Aspinall is another man who has been moving up in the rankings, he was ranked number 10 and with his win last weekend he moved up to number 6. Thinking here a little bit I think that Curtis Blaydes facing Aspinall would be great, because all UFC fans see that Tom has been giving a lot to talk about and if he manages to beat Curtis Blaydes his career rebounds a lot so it would be good business for Dana White. I would be looking for this fight right now, both fighters come from winning their respective fights and on the same dates so they have time to prepare and whichever one of them wins that fight would be getting a lot of value for his career.
Lanzar un combate de Curtis Blaydes contra Derrick Lewis no tendría mucho sentido para mi, Derrick Lewis si vuelve a ganar estaría otra vez subiendo en los ranking y me parece que este luchador ya esta viviendo sus últimos momentos buenos en la UFC. Quiero ver otros nombres arriba que le den mas valor a esta categoría, se necesita volver a revivir la división de peso pesado que es tan atractiva para todos y que me gustaría que volviera hacer como hace años cuando estaba Cain Velasquez junto a Brock Lesnar que eran batallas campales. Lo único que si se puede confirmar es que Curtis Blaydes esta en una buena posición en este momento, solo esta a una victoria contundente contra algún hombre bueno que seguro le va a tocar y quizás reciba la oportunidad de lucha por el titulo, anoche dio una gran presentación en su cartelera estelar y la gente se fue muy contenta viendo su victoria.
To throw a Curtis Blaydes vs. Derrick Lewis fight would not make much sense to me, Derrick Lewis if he wins again would be again climbing in the rankings and it seems to me that this fighter is already living his last good moments in the UFC. I want to see other names at the top that give more value to this category, it needs to revive the heavyweight division that is so attractive to everyone and I would like to return to do as years ago when Cain Velasquez was with Brock Lesnar that were pitched battles. The only thing that can be confirmed is that Curtis Blaydes is in a good position right now, he's just one win away from a good fight against a good guy and maybe he'll get a title shot, last night he gave a great performance in his main event and the crowd was very happy to see him win.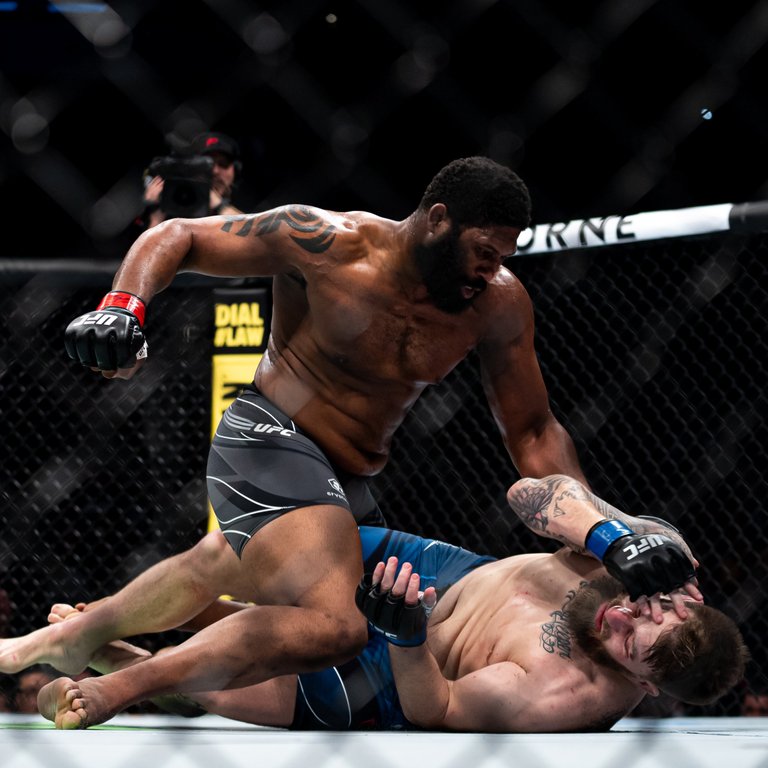 Jon Jones llegara a Luchar? - Will Jon Jones get to fight?
Siguiendo la onda de los pesos pesados hay un nombre que por ahora no se ve en los Ranking pero que posiblemente pueda luchar este año y descontrole todo lo que hay ahora mismo en los planes o pensamientos de los fanáticos. Jon Jones para mi el mejor luchador de la historia de la UFC, decidió subir de categoría hacia los pesos completos, Jones toda su carrera la lucho en los semicompletos donde se mantuvo invicto y defendió el titulo mas de 10 veces siendo una barbaridad porque fueron mas de 8 años ganando. Jon Jones quiere pelear contra Francis Nganou por el titulo, comento que solo quiere hacer esa lucha y Dana White tiene que dársela porque se lo merece ya que como digo es el mejor luchador que ha pasado por la compañía.
Following the heavyweight wave, there is a name that for now is not seen in the rankings but that could possibly fight this year and disrupt everything that there is right now in the plans or thoughts of the fans. Jon Jones for me the best fighter in the history of the UFC, decided to move up to the heavyweight category, Jones all his career fought in the semi-complete where he remained undefeated and defended the title more than 10 times being a barbarity because they were more than 8 years winning. Jon Jones wants to fight Francis Nganou for the title, he said he just wants to make that fight and Dana White has to give it to him because he deserves it because as I say he is the best fighter who has gone through the company.
Francis Nganou se opero una molestia que tenia en las rodillas por lo que pasara mínimo 1 año sin competir, eso hace que Jon Jones ahora quiera pelear con Stipe Miocic quien esta 2do en el ranking y es considerado el mejor peso pesado de la historia. Y porque Jon Jones cambiara todo? Pues si Jones le gana a Stipe Miocic va directo hacia el titulo y no va importar Tai Tuivasa ni Curtis Blaydes alguno que lo pueda impedir, lo que hará que todo se vuelva muy impredecible y no sepamos quien contra quien vaya a estar luchando en esta categoría. Eso me lleva a pensar que en realidad ahora mismo no podemos imaginarnos quien va ser el que este retando a Francis Nganou cuando se recupere de la lesión, pueden pasar muchos movimientos este año y al final no veamos a ninguno de los que están horita luchado por ese cinturón.
Francis Nganou underwent surgery on a knee problem, so he will spend at least 1 year without competing, that makes Jon Jones now wants to fight Stipe Miocic who is 2nd in the ranking and is considered the best heavyweight in history. And why Jon Jones will change everything? Well, if Jones beats Stipe Miocic he will go straight to the title and no matter Tai Tuivasa or Curtis Blaydes will be able to stop him, which will make everything very unpredictable and we don't know who he will be fighting against in this category. That leads me to think that right now we can't really imagine who will be challenging Francis Nganou when he recovers from the injury, many moves can happen this year and in the end we won't see any of those who are fighting for the belt.
Me atrevo a decir que Jon Jones le gana a el top 5 de los pesos completos, solo hay una persona que quizás lo pueda vencer otorgándole su primera derrota en su carrera y seria precisamente el campeón actual Francis Nganou. Por eso yo deseo ver mucho ese combate, porque si Jon Jones le llega a ganar a Francis ya considero que no habrá absolutamente nadie que pueda alcanzar el legado de este hombre dentro de la UFC, lo que ha hecho en sus 12 años de competición ha sido una locura y no creo que se pueda ver algo así nuevamente. Este ultimo segmento se salió un poco de la lucha que tuvo Curtis Blaydes, pero va muy relacionado con este peleador porque para mi debería buscar pelear lo antes posible para que se pueda posicionar lo mas alto posible y lo consideren en las carteleras importantes porque Tai Tuivasa viene con todo, Tom Aspinall igualmente y si sumamos a Jon Jones el buen Curtis Blaydes puede quedar afuera de todo esto.
I dare to say that Jon Jones beats the top 5 of the heavyweights, there is only one person who might beat him giving him his first defeat in his career and it would be precisely the current champion Francis Nganou. That's why I really want to see that fight, because if Jon Jones beats Francis I think there will be absolutely no one who can reach the legacy of this man in the UFC, what he has done in his 12 years of competition has been crazy and I do not think you can see something like that again. This last segment was a little out of the fight that Curtis Blaydes had, but it is very related to this fighter because for me he should look for a fight as soon as possible so he can be positioned as high as possible and be considered in the most important fights because Tai Tuivasa comes with everything, Tom Aspinall as well and if we add Jon Jones the good Curtis Blaydes can be left out of all this.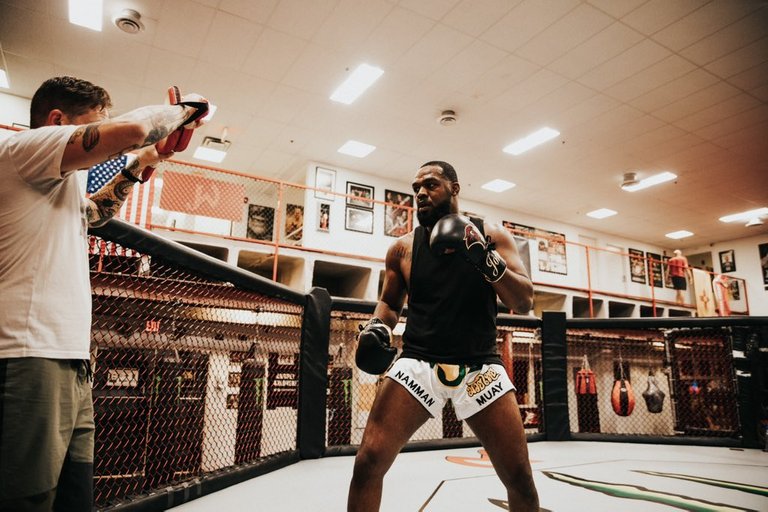 Fuentes de Imagenes - Image Sources
1-2-3-4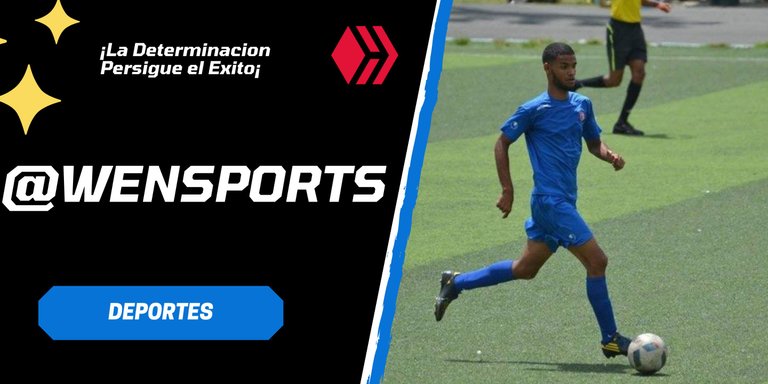 ---
---