Kamzat Chimaev Will Win in the 1st Round // May Be the Best in History Kamzat Chimaev Ganara en el 1er Round? // Puede ser el Mejor de la Historia - [ENG-ESP]
For Saturday, April 9, there will be an impressive lineup in the UFC, I can already say that it will be one of the best of the year without a doubt because of the fights that will take place that day, we have two fights for the championship and of course the fight of Kamzat Chimaev facing Gilbert Burns. Little by little I will be talking about all the big fights, but I will start today talking about Chimaev because I find interesting everything he has done in a short period of time in the UFC, he has simply been crushing his opponents and this Saturday if he manages to do the same against Gilbert Burns it will be something out of the ordinary.
Para el sábado 09 de abril se va llevar una cartelera impresionante en la UFC, puedo decir desde ya que será de lo mejor del año sin duda alguna por las peleas que habrán ese día, tenemos dos luchas por el campeonato y por supuesto el combate de Kamzat Chimaev enfrentando a Gilbert Burns. Poco a poco estaré hablando de todos los grandes enfrentamientos, pero comenzare el día de hoy hablando de Chimaev porque me resulta interesante todo lo que ha hecho en un corto periodo de tiempo en la UFC, sencillamente ha venido aplastando a sus rivales y este sábado si consigue hacer lo mismo frente a Gilbert Burns será algo fuera de lo normal.
Kamzat Chimaev is a man who has only 4 fights in the UFC, having an extremely impressive record beating his opponents in the 1st round of the fight, but the most brilliant of all is that he has received less than 5 punches and his second fight in the company was after 10 days of having had his first fight which today is still a record and all these great numbers indicate that Chimaev is the biggest promise that the UFC has. What we can say is that his opponents have not been the strongest, but now if he is going to face the 3 of the Welterweight category and for me is an extremely good man talking about Gilbert Burns, so if he manages to beat him so easily all the fans of this sport will be amazed because I do not think he can do that to a fighter like Gilbert who has so many skills and was nothing to be champion when he faced Kamaru Usman.
Kamzat Chimaev es un hombre que lleva solo 4 peleas en la UFC, teniendo un registro sumamente imponente venciendo a sus contrincantes en el 1er round del cotejo, pero lo mas brillante de todo es que ha recibido menos de 5 golpes y su segunda pelea en la compañía fue luego de 10 días de haber tenido su primer combate lo que al día de hoy todavía es un récord y todos estos números grandiosos indican que Chimaev es la mayor promesa que tiene la UFC. Lo que si podemos decir es que sus contrincantes no han sido los mas fuertes, pero ahora si va enfrentar al 3 de la categoría Welter y para mi es un hombre extremadamente bueno hablando de Gilbert Burns, por lo cual si logra vencerlo así de manera fácil todos los fanáticos de este deporte vamos a quedar asombrados porque no creo que pueda hacerle eso a un luchador como Gilbert que tiene tantas habilidades y estuvo a nada de ser campeón cuando se enfrento a Kamaru Usman.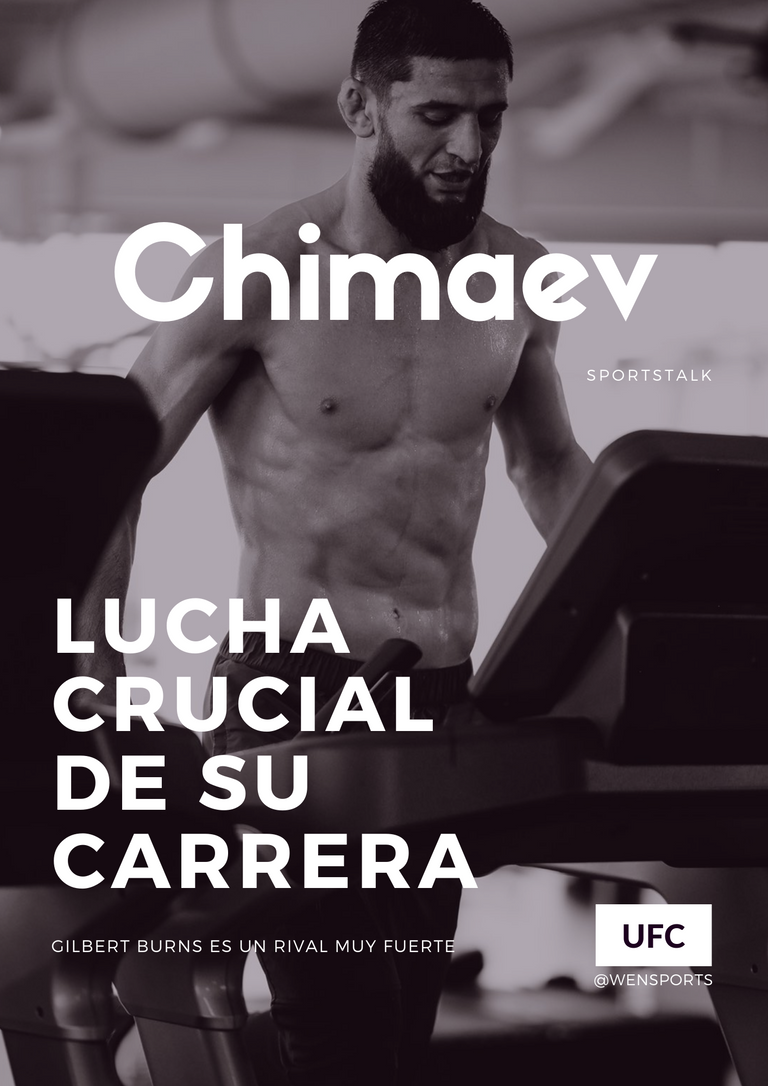 Image edited in Canva - Imagen Editada en Canva
Testing the Chimaev Cardio - Probar el Cardio de Chimaev
A big question mark I have about Kamzat is his cardio inside the octagon, all of his fights have ended in the 1st round and that's why we haven't been able to see if he can keep up the pace after 2 or 3 rounds in the cage. Especially I think that this fight against Gilbert will not be able to finish in the 1st round, since I am already answering the title question, so I am very interested to see the cardio of Chimaev after the minutes of the fight go by because it is a fundamental aspect in all UFC fighters. I also say it because Chimaev suffered covid-19, a disease that almost retired him from the sport because he was very affected, he spent more than 1 year without fighting and he was not training precisely because of that, it has been said that this disease leaves sequels and being the lungs the most affected I want to see if he is fully recovered having the ability to withstand the intensity.
Una gran interrogante que tengo yo sobre Kamzat es su cardio dentro del octágono, todas sus luchas han terminado en el 1er round y por eso no hemos podido ver si puede aguantar el ritmo luego de 2 o 3 asaltos en la jaula. Especialmente yo creo que esta lucha contra Gilbert no la va poder finalizar en el 1er round, desde ya estoy respondiendo la pregunta del titulo, así que me interesa ver mucho el cardio de Chimaev luego que vayan pasando los minutos del combate porque es un aspecto fundamental en todos los luchadores de la UFC. También lo digo porque Chimaev sufrió covid-19, enfermedad que casi lo retira del deporte porque se vio muy afectado, duro mas de 1 año sin pelear y no estaba entrenando precisamente por eso, se ha comentado que esta enfermedad deja secuelas y siendo los pulmones los mas afectados quiero ver si esta totalmente recuperado teniendo la capacidad de aguantar la intensidad.
As for Gilbert Burns I am sure that his cardio is totally spectacular, this man has fought against the best in 5 round fights and has nothing to prove in this area because we know that his ability is impressive. If you see the way Gilbert trains you will surely be impressed, at least I'm crazy every time I see them because he works so hard, this fighter really trains very hard with great intensity and that's why he is one of the best in the UFC. That said, it would be a huge surprise if he could be defeated in the 1st round by Chimaev, although I think Kamzat has more to win I don't see him dominating so easy and if it happens I think we are facing the best fighter in the company.
Por parte de Gilbert Burns ya estoy seguro que su cardio es totalmente espectacular, este hombre se ha enfrentado contra los mejores en combates a 5 round y no tiene nada que demostrar en este renglón porque sabemos que su capacidad es impresionante. Si ven la manera de entrenar de Gilbert seguro quedarían impresionados, por lo menos yo cada vez que los veo quedo loco porque se esfuerza muchísimo, realmente entrena muy fuerte este luchador con gran intensidad y por eso es uno de los mejores de la UFC. Dicho esto comento que seria una enorme sorpresa que pueda ser derrotado en el 1er round por Chimaev, aunque pienso que Kamzat tiene mas para ganar no lo veo dominando tan fácil y si llega a suceder creo que estamos frente al mejor luchador de la compañía.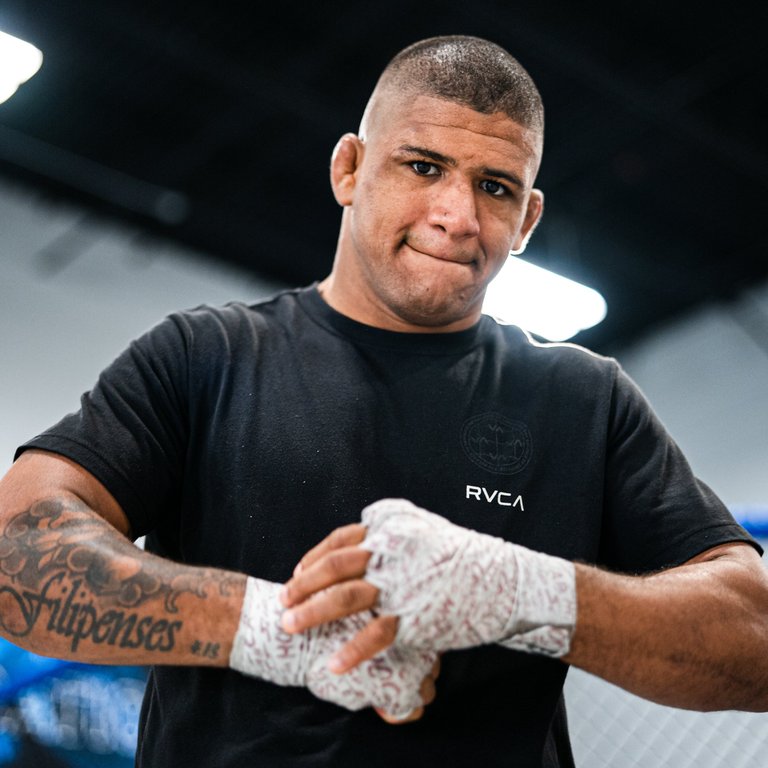 Chimaev Betting favorite - Chimaev Favorito en las Apuestas
I was noticing that Kamzat Chimaev is the big favorite in the betting for this fight, that to me does not make much sense because Gilbert Burns is ranked number 3 in the category, while Kamzat is outside the top 10 ranked number 11, plus Gilbert has faced the best and for Chimaev this will be his first big fight in the UFC. I don't want to say with this that Gilbert will win the fight, I think it will be the closest fight of the night and where I don't have a clear prediction, but what I can certify is that Gilbert has to be the favorite if or if, Chimaev although he is having a great boom and getting a lot of fame is in a building process and Burns is rather looking for his second chance for the title of the category.
Estuve notando que Kamzat Chimaev es el gran favorito en las apuestas para este combate, eso para mi no tiene mucho sentido porque Gilbert Burns es el rankiado numero 3 de la categoría, mientras que Kamzat se encuentra fuera del top 10 ubicado en el puesto numero 11, además que Gilbert se ha enfrentado contra los mejores y para Chimaev esta será su primera gran batalla en la UFC. No quiero decir con esto que Gilbert va ganar el combate, me parece que será la pelea mas cerrada de la noche y en donde no tengo un pronostico claro, pero lo que si puedo certificar es que Gilbert tiene que ser el favorito si o si, Chimaev a pesar de que esta teniendo un gran auge y consiguiendo mucha fama esta en un proceso de construcción y Burns mas bien esta buscando su segunda oportunidad por el titulo de la categoría.
Observing that Kamzat is the big favorite at the bookmakers lets me know that everyone is riding on the Chimaev hype, everyone is visualizing that this man is the big star of the company and that his projection is really solid to be considered an imposing promise. But we can not get ahead of ourselves, we can not disrespect the fighter in front of him who for some reason is at the top of this category, Chimaev will prove his status in this fight, this is where we will be able to know if this man really has everything to become what everyone thinks, which would be the best in history and end all who want to face him. Horita Kamzat is at 170 pounds, but his first fight if I remember correctly was at 180 pounds, this fighter is huge and he has commented that he wants to reign in both divisions, he has great potential to achieve it but first we have to have confirmations and on Saturday we will have a very important one against Burns.
Observar que Kamzat es el gran favorito en las casas de apuestas me deja saber que todo el mundo esta subido en el Hype de Chimaev, todos están visualizando que este hombre es la gran estrella de la compañía y que toda su proyección es verdaderamente solida para ser considerado una promesa imponente. Pero no nos podemos adelantar a los acontecimientos, tampoco podemos faltarle el respeto al luchador que tiene al frente que por alguna razón esta en lo mas alto de esta categoría, Chimaev va probar su estatus en este combate, aquí es donde vamos a poder saber si en verdad este hombre tiene todo para convertirse en lo que todos piensan, que seria ser el mejor de la historia y acabar con todos los que lo quieran enfrentar. Horita Kamzat esta en 170 libras, pero su primera pelea si mal no recuerdo fue en 180 libras, este peleador es enorme y el ha comentado que quiere reinar en las dos divisiones, tiene gran potencial para lograrlo pero primero hay que tener confirmaciones y el sábado vamos a tener una muy importante contra Burns.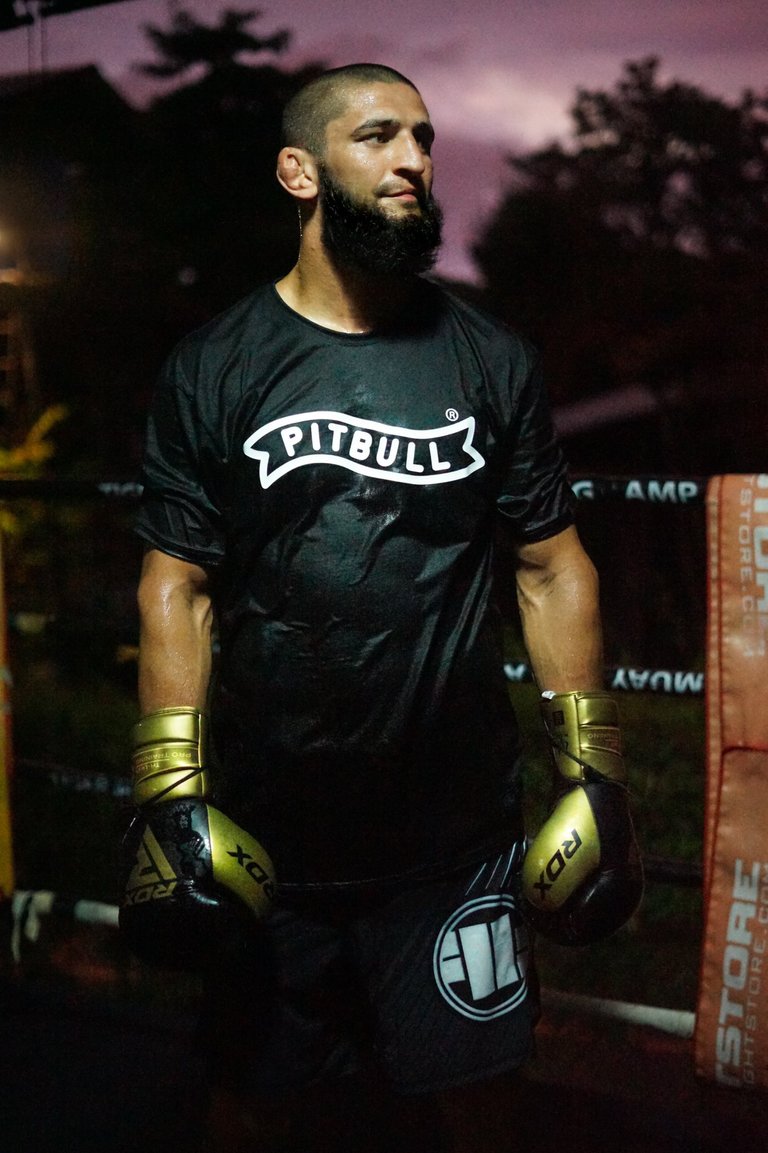 Chimaev will be the Best in History? - Chimaev será el Mejor de la Historia?
No! quickly I have to answer this question that many fans are asking on social networks, because Jon Jones became champion at 22 years of age being the youngest in history and reigned for 10 years undefeated fighting against the best. Chimaev is 27 years old and has not yet had his first title fight, it is not possible that he can surpass what Jon Jones did, what I can say about this great prospect is that I see him to be the best in the company today and even to be one of the top 5 in history if his career is glorious as some of us hope it will be. Making these predictions in a contact sport is complicated, many things can happen that change the course of everything, so it is best to go little by little evaluating and watching the progress of the fighter to not give us a big disappointment.
No! rápidamente tengo que contestar esta pregunta que muchos fanáticos se están haciendo en las redes sociales, pues Jon Jones quedo campeón a los 22 años de edad siendo el mas joven de la historia y reino durante 10 años de manera invicta luchando contra los mejores. Chimaev tiene 27 años de edad y aun no ha tenido su primera pelea por el titulo, no es posible que pueda superar lo que hizo Jon Jones, lo que si puedo decir de este gran prospecto es que lo veo para ser el mejor de la compañía actualmente y hasta para ser uno de los top 5 de la historia si su carrera es gloriosa como algunos esperamos que sea. Hacer estos pronósticos en un deporte de contacto es complicado, pueden suceder muchas cosas que cambien el rumbo de todo, así que lo mejor es ir de poco a poco evaluando y viendo el progreso del luchador para después no darnos una gran decepción.
Kamzat if he manages to beat Gilbert Burns will go directly to fight for the title in his next fight, title that has right now Kamaru Usman who is the best pound for pound of the company, a person who is undefeated in the UFC and who has also passed over all his opponents. That would be another crucial fight in Chimaev's career, that's why it's hard to label him as what we think he can be, the division where he is fighting has very good names and if he wants to move up to 180 pounds he will also be up against extremely good fighters where Israel Adensanya is the champion who for many is the best in the company as well. The hype that Chimaev has raised is very big, everyone wants to see him fight, everyone wants to see if we are in front of a next legend and I am also one of them who needs to see him. I am very excited about this fight, writing this article I can feel a little bit of how this night is going to be lived, there is only 1 week left to see Kamzat's performance against an elite opponent.
Kamzat si logra vencer a Gilbert Burns va ir directamente a luchar por el titulo en su siguiente combate, titulo que tiene ahora mismo Kamaru Usman quien es el mejor libra por libra de la compañía, una persona que esta invicta en la UFC y que también ha pasado por arriba de todos sus contrincantes. Esa seria otra lucha crucial en la carrera de Chimaev, por eso colocarle la etiqueta horita de lo que pensamos que puede ser es difícil, la división donde esta peleando tiene nombres muy buenos y si quiere subir hacia las 180 libras también se encontrara contra luchadores extremadamente buenos donde esta Israel Adensanya de campeón que para muchos es el mejor de la compañía también. El hype que ha levantado Chimaev es muy grande, todos quieren verlo luchar, todos quieren comprobar si estamos ante una próxima leyenda y yo también soy uno de ellos que necesita verlo. Estoy muy emocionado de este combate, escribiendo este articulo puedo palpar un poco de como se va vivir esa noche, falta solo 1 semana para ver el rendimiento de Kamzat contra un adversario de categoría elite.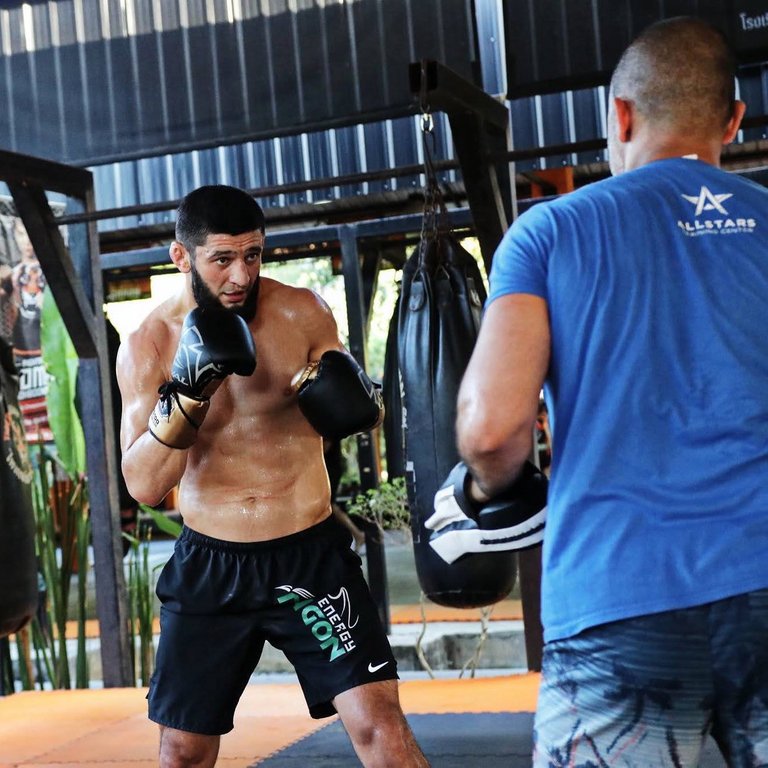 Pre-Combat Impressions - Impresiones Previas al Combate
Gilbert Burns is a specialist in ground fighting, but also has good striking fighting standing through boxing, Kamzat is an excellent fighter on the ground where his last fight he won precisely in that area, but also already had a great KO applying striking, so both have mixed skills for everything inside the octagon and that's why this fight looks amazing because we don't know what either of them can come out with. I think Kamzat is a little better in every aspect, I don't think the difference in skills are that extreme either, but I do see him a little more specifically on the ground, which is why I think this fight is going to go to striking because Gilbert Burns is not going to want to go to the ground against this man who we have seen him fight bigger people than him in Grappling exhibition fights and he has won.
Gilbert Burns es un especialista en la lucha en el suelo, pero también tiene buen striking luchando de pie a través de boxeo, Kamzat es un excelente luchador en el suelo donde su ultima pelea la gano precisamente en esa zona, pero también ya tuvo un gran KO aplicando el striking, así que ambos tienen habilidades mixtas para todo dentro del octágono y por eso esta pelea luce increíble porque no sabemos con que puedan salir ninguno de los dos. Creo que Kamzat es un poco mejor en cada aspecto, tampoco pienso que la diferencia de habilidades sean tan extremas, pero si le veo un poco mas específicamente en el suelo, por lo cual yo creo que esta lucha se va ir a striking porque Gilbert Burns no va querer irse al suelo contra este hombre que lo hemos visto luchando contra personas mas grandes que el en luchas de exhibición de Grappling y ha ganado.
I think you will see a lot of exchange of blows by the two in the center of the cage, taking into account the previous fights of Burns I can say that he has a lot of punch, a good right hand that connects can finish everything with a KO, then Kamzat Chimaev has not shown us much because he has not gone beyond the 1st round, although it sounds incredible but seeing that he also has a KO with a single powerful right, you can comment that he has a good punch and if the two are placed to fight in boxing will be something very nice and interesting to watch. Gilbert Burns recently commented that he was training with 2 Russians who are improving his ground techniques, maybe then he will try to go to that area, but it seems to me the most dangerous because Chimaev has a lot of dominance on the ground and if the fight goes there I see him winning more comfortably than fighting standing.
Pienso que va ver mucho intercambio de golpes por parte de los dos en el centro de la jaula, tomando en cuenta las luchas anteriores de Burns puedo decir que tiene mucha pegada, una buena derecha que conecte puede acabar todo mediante un KO, luego Kamzat Chimaev no nos ha mostrado mucho porque no ha pasado del 1er round, aunque suene increíble así a sido pero viendo que también tiene un KO con una sola derecha potente, se puede comentar que cuenta con buena pegada igualmente y si se colocan los dos a luchar en boxeo será algo muy lindo e interesante de observar. Gilbert Burns comento hace poco que estuvo entrenando con 2 rusos que le están mejorando técnicas en el suelo, quizás entonces busque irse hacia esa zona, pero me parece lo mas peligroso porque Chimaev tiene mucho dominio en el suelo y si la pelea se va hacia allá lo veo ganando mas cómodamente que luchando de pie.
Thank you If you made it this far, I invite you to watch these two men fight on Saturday, April 9.
Gracias Si llegaste hasta aquí, te invito a ver la lucha de estos 2 hombres el sábado 09 de abril.

Follow me on Twitter --> Wensports
Translator Used: Deepl
Banner created in Canva
---
---