Alex Pereira es el Coco de Israel Adesanya [ESP-ENG]
---
ESPAÑOL
Este año en la UFC, hemos tenido muchas transiciones, los campeones más dominantes han estado perdiendo y se abrieron nuevos en distintas divisiones. En las 185 libras, Israel Adesanya estaba cómodo, hasta que llego Alex Pereira a la compañía y se activaron las alarmas. Luego de tanta incertidumbre, llegaría el momento de verse cara a cara sobre el octágono y volver a enfrentarse luego de sus 2 anteriores combates. Para muchos puede ser una sorpresa, para mí no lo fue, Alex Pereira tenía muchísimas opciones para ganar y el nocaut siempre estuvo latente.
La única sorpresa fue la manera de conseguirlo, estando abajo en las tarjetas y dejando todo en el último round a punto de perder. Todo el mérito es para el brasileño, pero Israel Adesanya también tiene mucha responsabilidad, cometió un grave error y perdió una batalla que estaba ganada. ¿Se dejó influenciar por los fanáticos? Pienso que si, recibir abucheos, lo coloco en una zona de riesgo, porque no quiso buscar la distancia y se quedó expuesto ante la pegada del "Poatan". Llegaron 2 manos fuertes de derecha y posteriormente un gancho terrible de izquierda para terminar con el combate.
ENGLISH
This year in the UFC, we've had a lot of transitions, the most dominant champions have been losing and new ones opened up in different divisions. At 185 pounds, Israel Adesanya was comfortable, until Alex Pereira came to the company and the alarm bells went off. After so much uncertainty, the time would come to meet face to face in the octagon and face each other again after their two previous fights. For many it may be a surprise, for me it was not, Alex Pereira had many options to win and the knockout was always latent.
The only surprise was the way he got it, being down in the cards and leaving everything in the last round about to lose. All the credit goes to the Brazilian, but Israel Adesanya also has a lot of responsibility, he made a big mistake and lost a fight that was won. Was he influenced by the fans? I think so, getting booed, put him in a risky zone, because he didn't want to look for the distance and he was exposed to the punch of "Poatan". Two strong right hands came and then a terrible left hook to end the fight.
---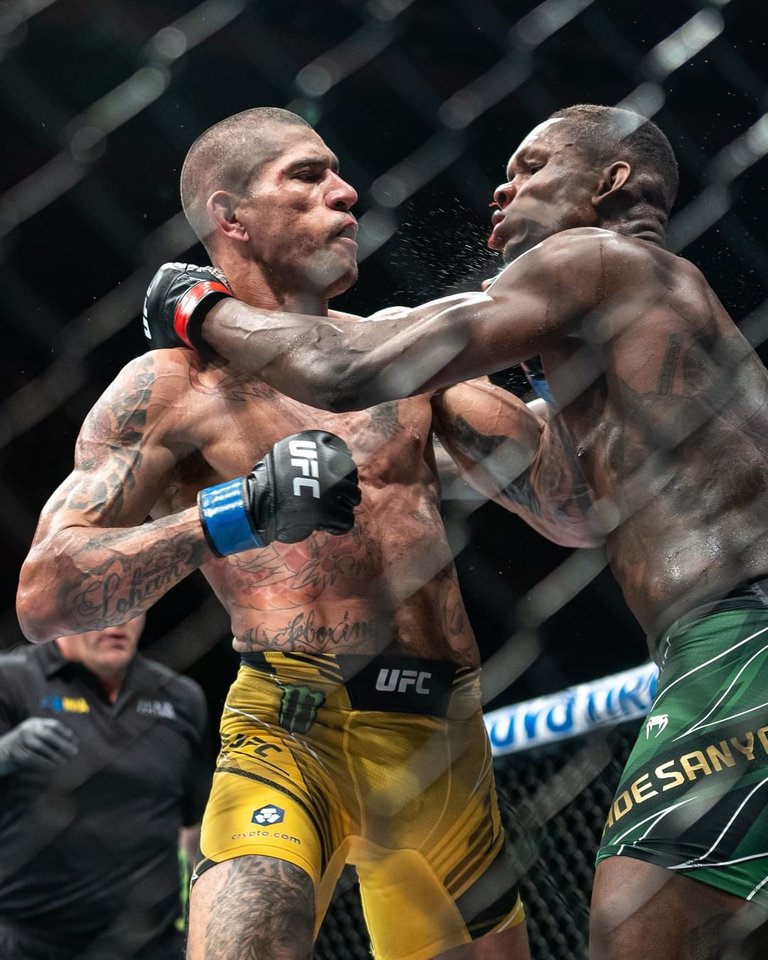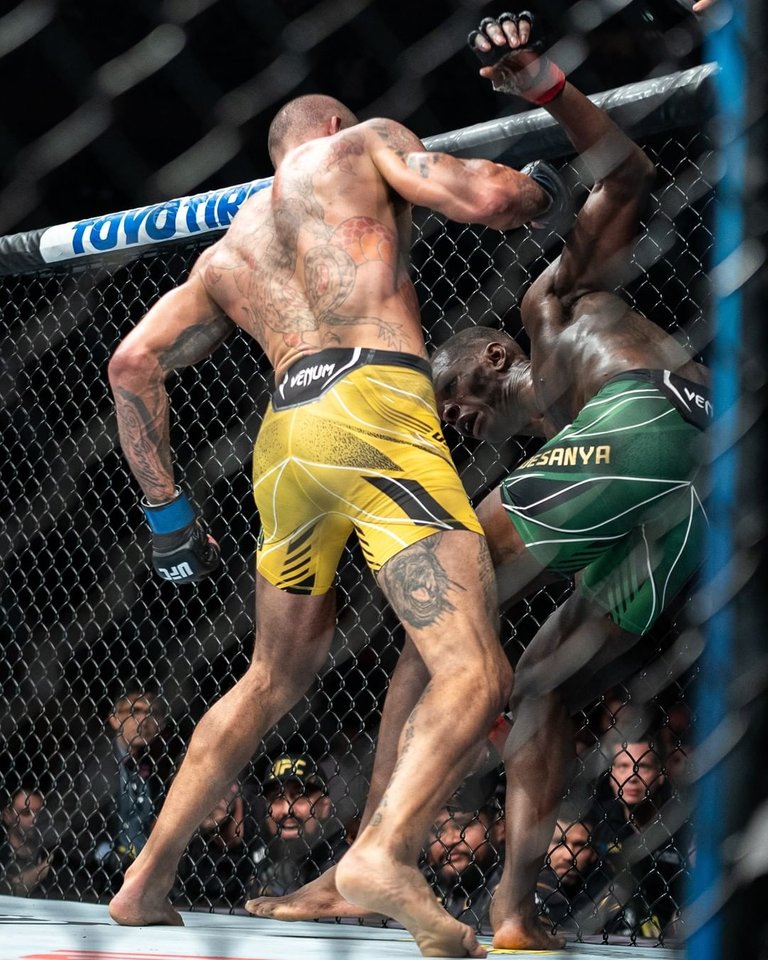 ---
ESPAÑOL
A nivel psicológico debe ser muy duro, acabas de perder por tercera ocasión contra un mismo rival y 2 fueron por la vía del KO. Alex Pereira, que se encontraba lejos de la UFC, ingresa en la compañía para enfrentar a Israel Adesanya y con tan solo 4 peleas consigue el título. ¡Brillante! El "Poatan" es cosa seria, tiene un físico descomunal y una pegada impresionante. Espero que no haya una revancha directa, porque el favorito seria Alex Pereira y otra derrota para Israel Adesanya sería terrible.
Confieso que me dolió un poco, Adesanya es mejor peleador, tiene mucha más técnica y distintas herramientas al momento de atacar y defender. Pero, por alguna razón, no puede vencer a un Alex Pereira que cada vez se hace más fuerte en la mente de Adesanya. Tan solo un round y se llevaba la victoria porque estaba adelante en las tarjetas. Triste, pero el "Poatan" consiguió su 3ra victoria ante Israel Adesanya y es el nuevo campeón indiscutido de las 185 libras. ¿Podrá defenderlo muchas veces? Por ahora pienso que no, pero es un gran tema para luego discutir, lo cierto es que hoy el cinturón está en sus manos.
ENGLISH
On a psychological level it must be very hard, you just lost for the third time against the same opponent and 2 of them were by KO. Alex Pereira, who was far away from the UFC, enters the company to face Israel Adesanya and with only 4 fights he wins the title. Brilliant! The "Poatan" is serious stuff, he has a huge physique and an impressive punch. I hope there is no direct rematch, because the favorite would be Alex Pereira and another defeat for Israel Adesanya would be terrible.
I confess that it hurt me a little, Adesanya is a better fighter, he has much more technique and different tools when attacking and defending. But, for some reason, he can't beat Alex Pereira who is getting stronger and stronger in Adesanya's mind. Only one round and he would win because he was ahead in the scorecards. Sad, but "Poatan" got his 3rd win over Israel Adesanya and is the new undisputed 185 lbs. champion. Will he be able to defend it many times? For now I think not, but it's a great topic to discuss later, what is certain is that today the belt is in his hands.
---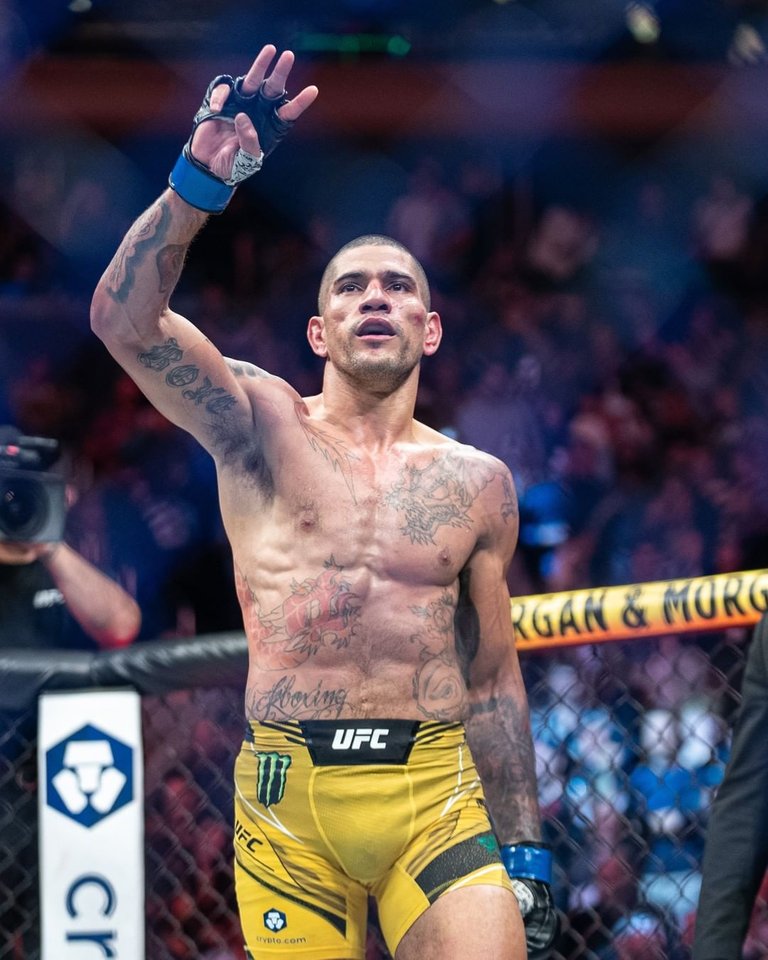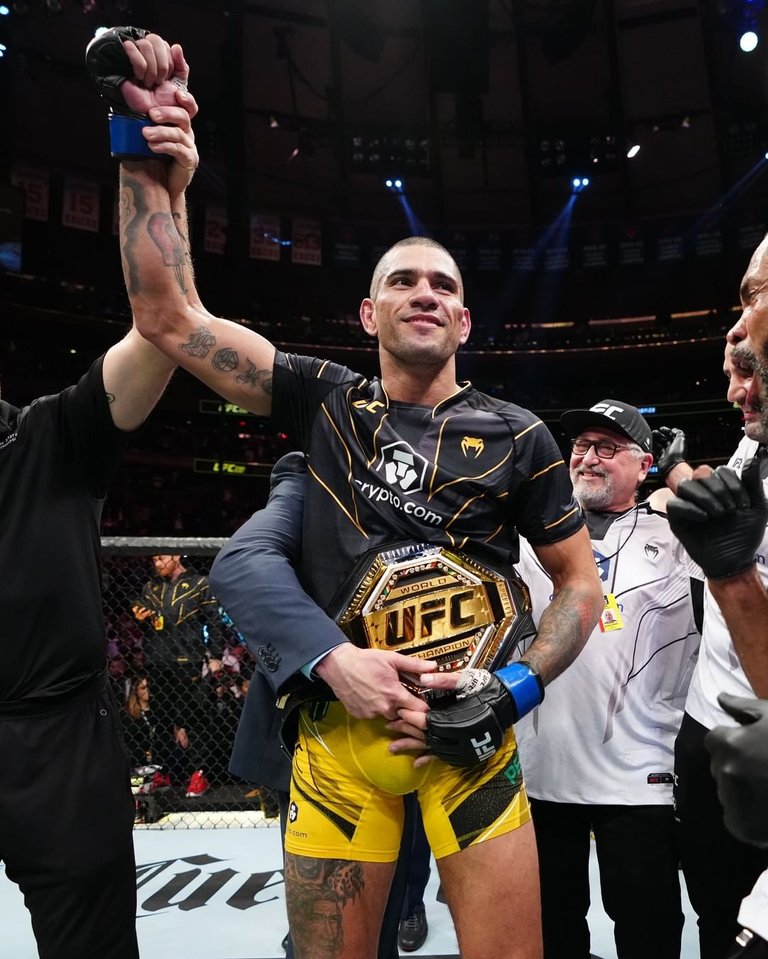 ---
---
---