¡Paddy Pimblett sigue ganando! - Paddy Pimblett keeps winning! [ESP-ENG]
Uno de los prospectos mas grandes que tiene la UFC, Paddy Pimblett que se ha ganado una enorme fanaticada en poco tiempo, hombre que causando mucha euforia en los espectadores y no es para menos, cada combate resulta un show, no se guarda absolutamente nada y sale siempre a finalizar. Muchos han dudado sobre su rendimiento, piensan que no esta listo para los top de la división, pero anoche demostró que si tiene mucho por dar y pronto lo veremos enfrentando a un top 15.
One of the biggest prospects in the UFC, Paddy Pimblett has earned a huge fan base in a short time, a man who causes a lot of euphoria in the spectators and it is not for less, every fight is a show, he does not save anything and always comes out to finish. Many have doubted about his performance, they think he is not ready for the top of the division, but last night he showed that he has a lot to give and soon we will see him facing a top 15.
El enfrentamiento era contra Jordan Leavitt, otro gran prospecto que venia subiendo en la UFC, lo cual era importante para Paddy ganar esta pelea, porque viene con mucho auge su nombre, las carteleras donde el esta peleando, se están vendiendo a máxima capacidad y todo gracias a su participación en el octágono. No le conviene a la compañía que pierda, mucho menos contra otro prospecto, la misión es que siga subiendo escalones en los ranking y hasta el momento va cumpliendo con el objetivo.
The fight was against Jordan Leavitt, another great prospect that was rising in the UFC, which was important for Paddy to win this fight, because his name is booming, the billboards where he is fighting, are selling at maximum capacity and all thanks to his participation in the octagon. It is not in the company's best interest for him to lose, much less against another prospect, the mission is for him to continue climbing the rankings and so far he is accomplishing his goal.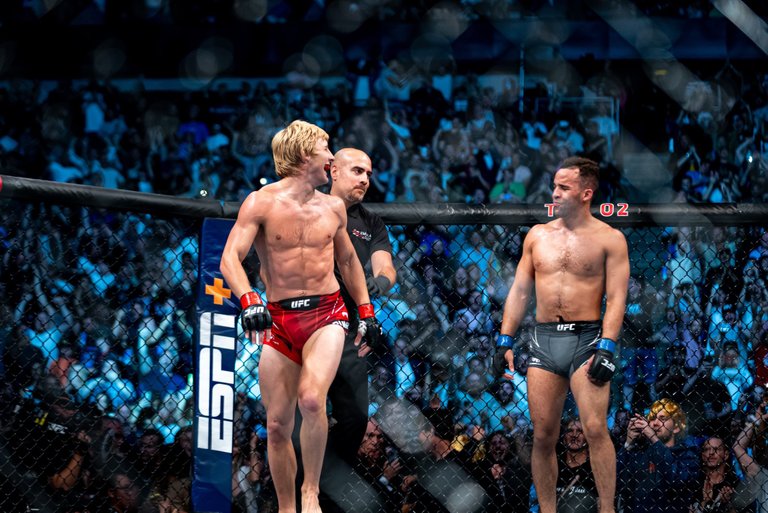 ---
Lucha de jiu jitsu - Jiu Jitsu Fighting
---
ESPAÑOL
El fuerte que tiene en su repertorio Paddy Pimblett es el suelo, aquí es donde mayor temor deben tener sus rivales, Paddy cuenta con un gran jiu jitsu, pero estaba enfrentando a un hombre que también es especialista, lo que hizo que la pelea fuera totalmente llevada a esa zona, aunque Paddy intento pelear de pie, salió con todo atacando fuertemente con striking, pero Jordan Leavitt no quería saber nada de eso, lo único que busco fue controlar el cuerpo de Paddy y durante el primer asalto logro ejercer una buena presión.
Lo interesante de Paddy es que no le teme ir al suelo, aunque su rival es fuerte, no tenia problemas porque confía absolutamente en sus habilidades. Es grandioso porque lo hace un peleador completo, quizás no tenga el mejor striking, pero tampoco es malo y su pegada es fuerte. La única oportunidad que tenia Jordan Leavitt de ganar era en el suelo, donde pudo levantarlo y aplicarle mucha fuerza, pero Paddy tiene recursos y mediante una rodilla que impacto fuerte, pudo sacar mucha ventaja para colocarse en una gran posición de finalización.
No se pueden descuidar contra Paddy Pimblett, este hombre sorprende de cualquier forma, y aquí logro ganar con una guillotina muy asombrosa. Mientras estaba dominando la espalda de Jordan Leavitt, también pudo atraparle un brazo con la llave de piernas, fue sencillamente hermoso ver ese movimiento y hay fácilmente logro la victoria. El primer round Paddy lo perdio, pero salio con todo el segundo, me gusta su mentalidad, tiene un gran enfoque y sabe que tiene los recursos para acabar un combate en poco tiempo. Hay que tener mucho cuidado con Paddy Pimblett.
ENGLISH
The strongest thing that Paddy Pimblett has in his repertoire is the ground, this is where his opponents should be most afraid, Paddy has a great jiu jitsu, but he was facing a man who is also a specialist, which made the fight was totally taken to that area, although Paddy tried to fight standing, he went all out attacking strongly with striking, but Jordan Leavitt did not want to know anything about that, the only thing he sought was to control Paddy's body and during the first round he managed to exert good pressure.
The interesting thing about Paddy is that he is not afraid to go to the ground, even though his opponent is strong, he had no problems because he is absolutely confident in his abilities. It's great because it makes him a complete fighter, maybe he doesn't have the best striking, but he's not bad either and his striking is strong. The only chance Jordan Leavitt had to win was on the ground, where he was able to pick him up and apply a lot of force, but Paddy is resourceful and with a hard-hitting knee, he was able to get a lot of leverage to put himself in a great finishing position.
You can't be careless against Paddy Pimblett, this man surprises in any way, and here he managed to win with a very amazing guillotine. While he was dominating Jordan Leavitt's back, he was also able to catch him in an armbar with the leglock, it was simply beautiful to see that move and there he easily got the win. The first round Paddy lost, but he came out with everything the second, I like his mentality, he has a great focus and knows he has the resources to finish a fight in a short amount of time. You have to be very careful with Paddy Pimblett.
---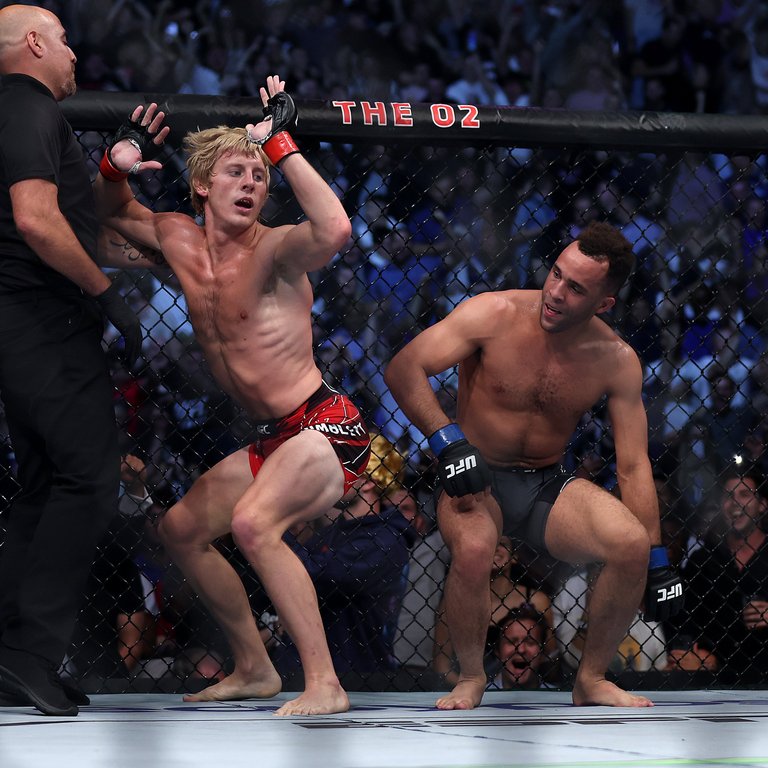 ---
El peso de Paddy Pimblett - Paddy Pimblett's weight
---
ESPAÑOL
Paddy Pimblett ha recibido muchas criticas por su peso, pues cuando no esta en campamento de pelea, este hombre eleva su peso a mas de 200 libras, pero el compite en 155 libras, lo cual no es nada saludable que este teniendo cortes de peso tan fuertes, porque eso genera mucho estrés, complica tus riñones por la falta de agua y puede llevar la carrera de un peleador hacia el descenso. Hasta los momentos Paddy Pimblett ha podido dar el peso sin falta, todo un profesional en los 3 meses que hace campamento, pero hasta que punto podrá aguantar su físico, porque realmente no esta nada bien lo que hace y muchos cuestionan que jamás podrá ser campeón debido a su falta de disciplina.
TJ Dillashaw ex campeón de la UFC, comento que Paddy Pimblett jamás podrá ser campeón, mientras siga comiendo de todo y no cuide su físico, va llegar un momento que no va aguantar los cortes de peso y todo se va ir abajo. Lo cierto es que desea pelear nuevamente en Diciembre, ya quedan solo 5 meses, no seria nada bueno que descuide su peso y vuelva a colocarse gordo. Literalmente el tiempo esta corto, volver ha subir mucho para luego bajar de vuelta, literalmente seria un poco arriesgado y espero que tenga conciencia sobre eso.
Yo veo a Paddy Pimblett como una estrella de la UFC, aunque todavía no este en el top 15, pero es que tiene mucha fanaticada, ya logro impactar mas que cualquier otro top 3 y eso tiene un inmenso valor. No me gustaría que su carrera tuviera un declive, tiene mucho por conseguir, pero concuerdo con las criticas, pues si no se cuida va terminar costando caro su paso por la compañía, porque los cortes de peso son muy fuertes, llevan el cuerpo al limite y no puede andar jugando con su físico de mala forma.
En la rueda de prensa se estaba comiendo una hamburguesa, piensa que todo es un chiste, pero debe comprender que al largo plazo le puede afectar, horita tiene 27 años de edad, su cuerpo ha resistido a esas subidas y bajadas hasta el momento, luego mas adelante no hay mucha probabilidad que si pueda hacerlo y realmente espero que mantenga un peso adecuado para que el próximo corte de peso lo de sin mayor problema, solo tendrá mes y medio para recuperación, después si va pelear en Diciembre tendrá 3 meses de campamento y no hay opción para saltarse la disciplina si quiere seguir ganando.
ENGLISH
Paddy Pimblett has received a lot of criticism for his weight, because when he is not in fight camp, this man raises his weight to more than 200 pounds, but he competes at 155 pounds, which is not healthy at all that he is having such strong weight cuts, because that generates a lot of stress, complicates your kidneys by the lack of water and can lead the career of a fighter towards the decline. So far Paddy Pimblett has been able to make weight without fail, a professional in the 3 months he has been in camp, but to what extent will he be able to endure his physique, because it is really not good what he is doing and many question that he will never be champion due to his lack of discipline.
TJ Dillashaw, former UFC champion, commented that Paddy Pimblett will never be champion, as long as he keeps eating everything and does not take care of his physique, there will come a time when he will not be able to withstand the weight cuts and everything will go down. The truth is that he wants to fight again in December, there are only 5 months left, it would not be good for him to neglect his weight and get fat again. Literally time is short, to go back up a lot and then go back down again would literally be a bit risky and I hope he has a conscience about that.
I see Paddy Pimblett as a star in the UFC, even if he's not in the top 15 yet, but he's got a huge fan base, he's already made more of an impact than any other top 3 fighter and that has immense value. I would not like his career to have a decline, he has a lot to achieve, but I agree with the criticisms, because if he does not take care of himself it will end up costing him dearly his time in the company, because the weight cuts are very strong, they take the body to the limit and he can not play with his physique in a bad way.
In the press conference he was eating a hamburger, he thinks that everything is a joke, but he must understand that in the long term it can affect him, he is 27 years old, his body has resisted these ups and downs so far, then later there is not much chance that if he can do it and I really hope he maintains an adequate weight so that the next weight cut he can make it without major problems, he will only have a month and a half to recover, then if he fights in December he will have 3 months of camp and there is no option to skip the discipline if he wants to continue winning.
---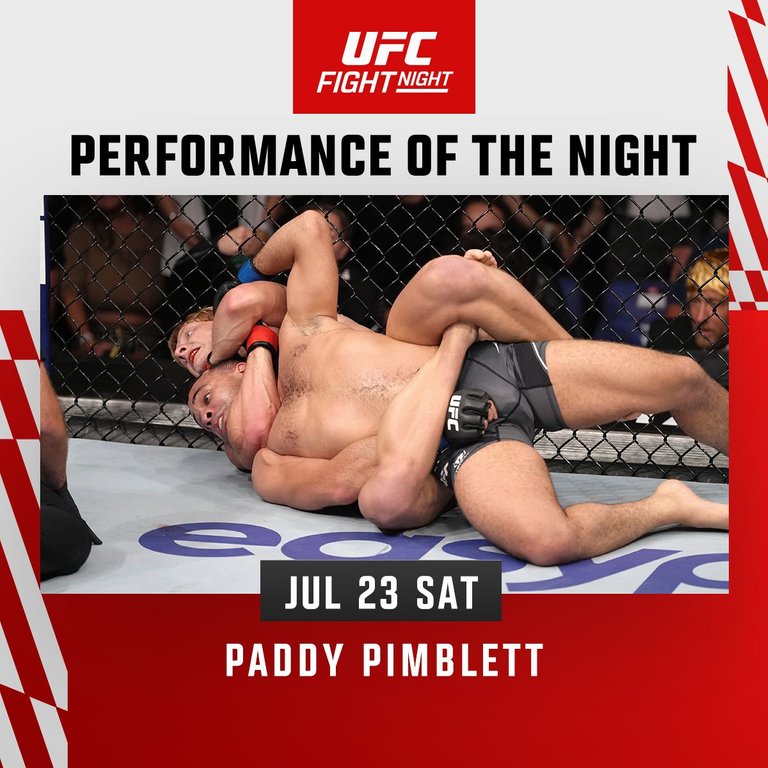 ---
¿Qué sigue para Paddy? - What's next for Paddy?
---
ESPAÑOL
Observando el ranking de peso ligero, pienso que Dan Hooker seria el hombre perfecto para Paddy Pimblett, aunque me da un poco de tristeza por Hooker, peleador que estuvo en el top 5 y viene perdiendo mucho, pero precisamente por eso lo colocara en un enfrentamiento contra Paddy, porque es un hombre que tiene buen nombre en la compañía, la fanaticada lo conoce y hoy en día veo a Paddy Pimblett ganando frente a Dan Hooker.
La UFC no tendría un gran riesgo de perdida con Dan Hooker, lo cual seria una pequeña protección y los espectadores van a ver que Paddy lucho contra un top 15. Ya muchos comenzaran a pedirle un top, van a querer comprobar si el prospecto tiene todo lo necesario, por eso si la compañia quisiera cuidarlo un poco, Dan Hooker es una persona que Paddy pudiera dominar en el suelo y ganar sin mayor inconveniente.
Otro nombre importante que Paddy Pimblett puede vencer, seria Conor Mcgregor, una lucha que además vendería muchísimos boletos, pero no creo que a Mcgregor le interese pelear contra Paddy, aunque seria interesante y la compañía ganaría por ambas partes. Si Paddy le gana a Mcgregor su carrera se despega, claramente su nombre aumentaría mucho mas en popularidad y si Mcgregor gana vuelve a ser super relevante frente al ojo critico.
Sinceramente la categoría de peso ligero es la mas fuerte de la UFC, dentro de poco Paddy Pimblett va tener un gran desafío, la mayoría del top 15 son peleadores muy fuertes, muchos con habilidades de striking y suelo. Igualmente veo a Paddy con muchas oportunidades de ganar a un top, tiene un gran repertorio, dejando a fuera su falta de disciplina, sus habilidades como peleador son excelentes, aunque obviamente tiene que seguir mejorando ciertos detalles, su gran jiu jitsu puede resolver en situaciones de aprietos y lo hace un peleador muy bueno dentro del octágono.
ENGLISH
Looking at the lightweight rankings, I think Dan Hooker would be the perfect man for Paddy Pimblett, although I am a little sad for Hooker, a fighter who was in the top 5 and has been losing a lot, but that is precisely why I will put him in a fight against Paddy, because he is a man who has a good name in the company, the fans know him and today I see Paddy Pimblett winning against Dan Hooker.
The UFC wouldn't have a big risk of loss with Dan Hooker, which would be a small protection and the viewers are going to see Paddy fight a top 15 fighter. Already many will start asking for a top, they will want to see if the prospect has what it takes, so if the company wanted to take care of him a little bit, Dan Hooker is a person that Paddy could dominate on the ground and win without much of an issue.
Another big name that Paddy Pimblett could beat would be Conor Mcgregor, a fight that would also sell a lot of tickets, but I don't think Mcgregor would be interested in fighting Paddy, although it would be interesting and the company would win on both sides. If Paddy beats Mcgregor his career takes off, clearly his name would increase much more in popularity and if Mcgregor wins he becomes super relevant again in front of the critical eye.
Honestly the lightweight division is the strongest in the UFC, soon Paddy Pimblett will have a big challenge, most of the top 15 are very strong fighters, many with striking and ground skills. I also see Paddy with many opportunities to beat a top, he has a great repertoire, leaving out his lack of discipline, his skills as a fighter are excellent, although obviously he has to continue to improve certain details, his great jiu jitsu can solve in tight situations and makes him a very good fighter in the octagon.
---
Un poco de Paddy Pimblett / A bit of Paddy Pimblett

---
---