Previa || Jiri Procházka vs Glover Teixeira // ¿Habrá nuevo campeón? - Preview || Jiri Procházka vs Glover Teixeira // Will there be a new champion? [ESP-ENG]
Para el sábado 11-06-22 se va llevar a cabo la cartelera del UFC 275 en Singapur, aquí vamos a tener dos peleas por el titulo, siendo la estelar y última de la noche la mas esperada. Nos encontramos con el futuro de la división semipesado, Jiri Procházka contra el mas veterano y campeón Glover Teixeira, duelo mas que interesante porque ambos tienen estilos de peleas distinto, va ser muy atractivo visualizar en el octágono quien impone el ritmo de la lucha y si habrá nuevo campeón o de lo contrario Glover Teixeira defenderá su titulo por primera vez.
On Saturday 11-06-22 the UFC 275 card will take place in Singapore, here we will have two fights for the title, being the stellar and last of the night the most expected. We find the future of the light heavyweight division, Jiri Procházka against the most veteran and champion Glover Teixeira, more than interesting duel because both have different styles of fighting, it will be very attractive to see in the octagon who imposes the pace of the fight and if there will be a new champion or otherwise Glover Teixeira will defend his title for the first time.
El favorito para ganar esta lucha sin dudas es Jiri Procházka, hombre que tiene a la fanaticada totalmente sorprendida, solo lleva 2 peleas en la UFC y ya esta peleando por el titulo, pero es que se lo ha ganado, porque tuvo victorias contra peleadores importantes de la clasificación y además los venció de una manera contundente por medio de knockouts. Luego Glover Teixeira es el gran renacido de la UFC, hombre que tuvo una racha de derrotas, después comenzó a ganar y nos dejo la gran sorpresa cuando logro vencer por el titulo al mas solido de la división Jan Błachowicz. Tenemos el hambre de juventud contra la veteranía mas brillante del UFC, pronostico mas que complicado, pero en cuestión de habilidades tenemos a uno muy superior y si logra imponer todas sus herramientas se llevara el combate.
The favorite to win this fight is undoubtedly Jiri Procházka, a man who has the fans totally surprised, he only has 2 fights in the UFC and he is already fighting for the title, but he has earned it, because he had victories against important fighters of the classification and also defeated them in a convincing way by knockouts. Then Glover Teixeira is the great reborn of the UFC, a man who had a losing streak, then began to win and left us the big surprise when he managed to beat the most solid of the division Jan Błachowicz for the title. We have the hunger of youth against the brightest veteran of the UFC, prediction more than complicated, but in terms of skills we have a far superior and if he can impose all his tools will take the fight.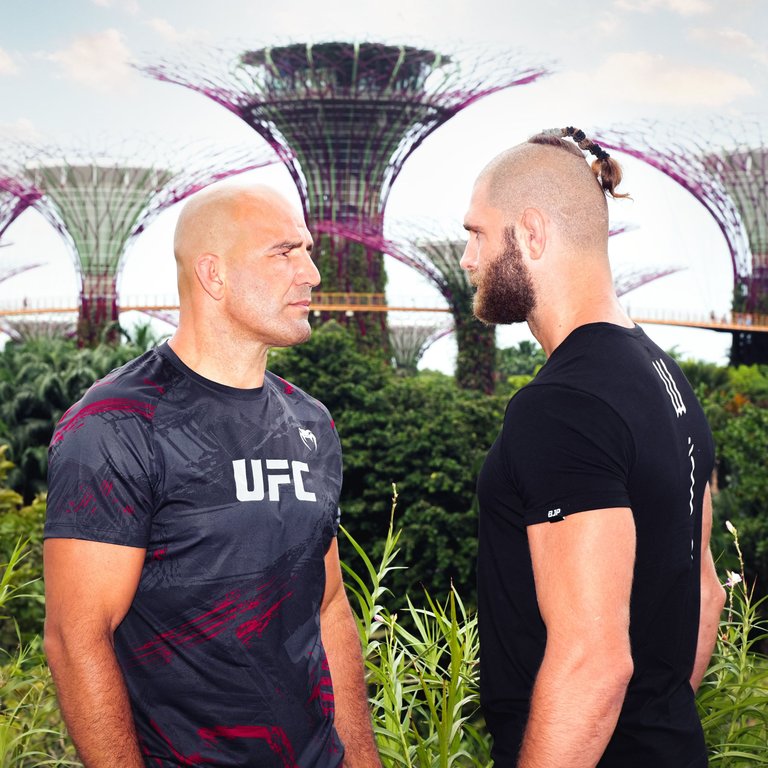 ---
Glover Teixeira & su grappling - Glover Teixeira & his grappling
---
El campeón mas viejo en la historia de la UFC, hombre que se corono en Abu Dhabi UFC 276, sin duda alguna tiene un presente mas que sobresaliente, teniendo victorias contra luchadores del top, siempre partiendo como no favorito y ante todas las adversidades logro llevarse la victoria. Poder tener el titulo a los 42 años de edad es increíble, hay que empezar a mirar a Glover Teixeira como uno de los mas grandes de la UFC, pero este sábado va tener un reto sumamente importante, va enfrentar un hombre que ha dominado por completo a sus rivales y es el gran favorito de la gente para llevarse el titulo. Nuevamente la situación de partir como infravalorado para Teixeira no debe ser nada nuevo, esta acostumbrado a esto, pero yo si le voy a dar su buen respeto, pienso que tiene opciones para ganar y va depender mucho de su grappling si no quiere perder su cinturón.
The oldest champion in the history of the UFC, man who was crowned at Abu Dhabi UFC 276, undoubtedly has a present more than outstanding, having victories against top fighters, always starting as underdog and against all odds managed to take the victory. To be able to have the title at 42 years of age is incredible, you have to start looking at Glover Teixeira as one of the greatest in the UFC, but this Saturday he will have a very important challenge, he will face a man who has completely dominated his opponents and is the big favorite of the people to take the title. Again, the situation of Teixeira being underrated should be nothing new, he is used to this, but I will give him a lot of respect, I think he has options to win and he will depend a lot on his grappling if he doesn't want to lose his belt.
Glover Teixeira en striking se ha visto muy débil contra peleadores del top, simplemente ha recibido grandes palizas, momentos donde llegamos a pensar que seria noqueado, pero ahí venia su lucha del suelo y su buen grappling para salvarlo del conflicto. En sus últimas 6 peleas que han sido victorias, 4 de ellas fueron por la vía de la sumisión, mejoro mucho en el suelo y contra Jiri Procházka esa es la mejor opción para poder derrotarlo. No hemos visto nada de Procházka en el suelo, sus combates han sido todos de píe en el octágono, va ser interesante ver como responde si Glover Teixeira logra derribarlo, a parte veo que Glover va ir mas pesado al combate y eso le permite aguantar mas sobre su adversario una vez lo tenga en el piso dominado.
Glover Teixeira in striking has been very weak against top fighters, he has simply received big beatings, moments where we thought he would be knocked out, but there came his ground fighting and his good grappling to save him from the conflict. In his last 6 fights that have been victories, 4 of them were by submission, he improved a lot on the ground and against Jiri Procházka that is the best option to defeat him. We have not seen anything of Procházka on the ground, his fights have been all standing in the octagon, it will be interesting to see how he responds if Glover Teixeira manages to take him down, besides I see that Glover will go heavier to the fight and that allows him to hold more on his opponent once he has him on the floor dominated.
No puede permitir que la pelea se vaya hasta el 5to round, por tarjeta de los jueces no lo veo ganando, por esta razón los 3 primeros asaltos serán los mas importantes para Glover Teixeira, tiene que finalizar si o si por medio de la sumisión. En los primeros round los peleadores están secos, lo cual hace que en el suelo todo se complique para quien esta siendo dominado, se hace muy difícil poder salir de una llave y esto tiene que aprovecharlo el campeón. Debe salir a buscar el derribo desde el comienzo, no puede darle ventaja a Procházka para que imponga su striking, tiene que incomodarlo y una vez pueda llevarlo al suelo, trabajar con su grappling y doblegarlo hasta que pueda conseguir la sumisión.
He can't let the fight go to the 5th round, by the judges card I don't see him winning, for this reason the first 3 rounds will be the most important for Glover Teixeira, he has to finish by submission. In the first round the fighters are dry, which makes everything on the ground complicated for who is being dominated, it becomes very difficult to get out of a key and this has to take advantage of the champion. He must go for the takedown from the beginning, he cannot give Procházka an advantage to impose his striking, he has to make him uncomfortable and once he can take him to the ground, work with his grappling and break him until he can get the submission.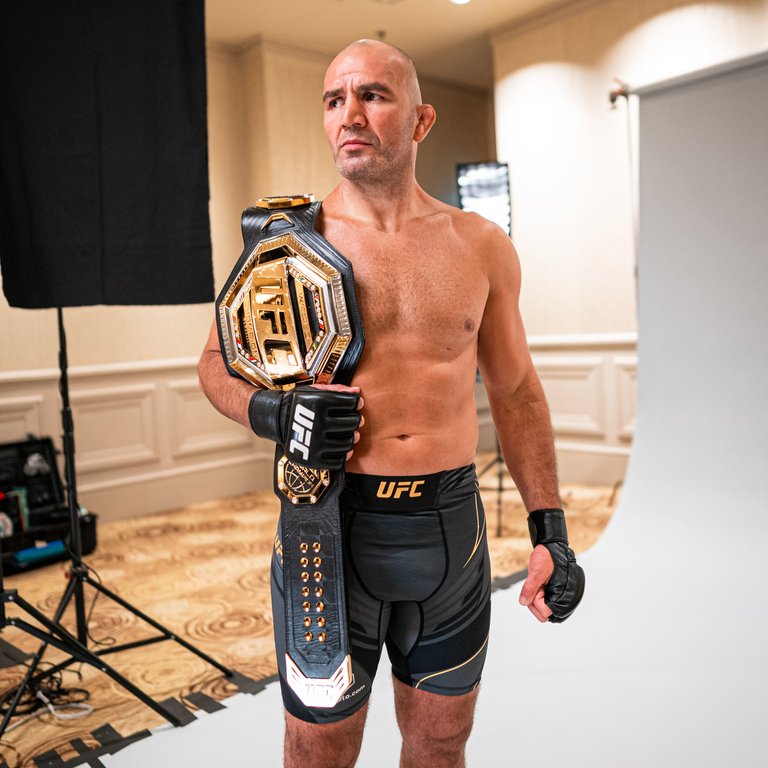 ---
Jiri Procházka & su explosividad - Jiri Procházka & his explosiveness
---
Uno de los prospectos mas importantes que tiene la UFC, hombre que llego a la compañía y logro vencer a 2 luchadores que habían sido retadores del titulo. Inmediatamente estas victorias lo colocaron en lo mas alto del ranking de los semipesados, para tener ahora la gran oportunidad de luchar por el titulo, partiendo además como el gran favorito para llevarse el cinturón y comenzar una hegemonía en la división. También lo veo como el ganador de esta pelea, tiene habilidades impresionantes en striking y un volumen de golpe totalmente avasallante. Para ganar el cinturón no puede confiarse, tiene que estar atento para defender los derribos que intente buscar Teixeira, jamás puede dejar que lo lleven al suelo y deberá mantener todo en el centro del octágono donde el puede ser el dominante.
One of the most important prospects that the UFC has, a man who came to the company and managed to beat 2 fighters who had been title challengers. Immediately these victories placed him at the top of the light heavyweight rankings, to now have the great opportunity to fight for the title, also starting as the favorite to take the belt and start a hegemony in the division. I also see him as the winner of this fight, he has impressive striking skills and a totally overwhelming punch volume. To win the belt he can't be confident, he has to be attentive to defend the takedowns that Teixeira tries to look for, he can never let them take him to the ground and he will have to keep everything in the center of the octagon where he can be the dominant one.
Jiri Procházka tiene un gran alcance que lo puede beneficiar en este combate, lograr imponer la distancia puede ser clave, impactar con un buen jab y luego entrar con combinaciones de golpes. En su anterior lucha contra Dominick Reyes, demostró que tiene muy buen cardio, puede lanzar patadas abajo, también buscar en la zona de arriba y luego seguir lanzando golpes rectos para castigar a su oponente. De poder hacer esto nuevamente va terminar dándole un KO a Glover Teixeira, no creo que pueda aguantar todo ese volumen que lanza Jiri Procházka, se convierte en un lobo dentro del octágono, sencillamente una locura de peleador y en habilidades esta muy por arriba del campeón. El mayor riesgo lo encuentra en el suelo, vuelvo a repetir que no puede dejar que el combate se vaya a esa zona, ahí si puede ser un poco peligroso para sus aspiraciones de victoria y la defensa contra derribos va ser crucial en esta pelea para Jiri.
Jiri Procházka has a great reach that can benefit him in this fight, being able to impose the distance can be key, impact with a good jab and then come in with punching combinations. In his previous fight against Dominick Reyes, he showed that he has very good cardio, he can throw kicks down, also look upstairs and then keep throwing straight punches to punish his opponent. If he can do this again he will end up giving a KO to Glover Teixeira, I do not think he can withstand all that volume that Jiri Procházka throws, he becomes a wolf inside the octagon, simply a crazy fighter and in skills he is far above the champion. The biggest risk is on the ground, I repeat again that he can not let the fight go to that area, there if it can be a little dangerous for their aspirations of victory and defense against takedowns will be crucial in this fight for Jiri.
Logro propinar un KO a dos luchadores que jamás habían sido noqueados, esto habla del gran poder de pegada que tiene Procházka, veremos si Glover todavía tiene mandíbula a sus 42 años para soportar la potencia de este buen peleador, mientras mas se alargue el combate mas posibilidades de ganar tendrá Procházka, porque tiene mejor cardio, cuenta con menos de 30 años de edad, lo cual nos dice que su capacidad física debería estar mejor que la de Glover Teixeira y un 4to o 5to round donde se definen las luchas de campeonato, Jiri tiene toda la ventaja para sacar sus mejores habilidades y buscar incluso un buen golpe que lo lleve al suelo a Teixeira para finalizar las acciones de la pelea.
He managed to KO two fighters who had never been knocked out, this speaks of the great punching power that Procházka has, we will see if Glover still has the jaw at 42 years old to withstand the power of this good fighter, the longer the fight goes on the more chances of winning Procházka will have, because he has better cardio, He is less than 30 years old, which tells us that his physical capacity should be better than Glover Teixeira's and in a 4th or 5th round where the championship fights are defined, Jiri has all the advantage to bring out his best skills and even look for a good punch to take Teixeira to the ground to finish the fight.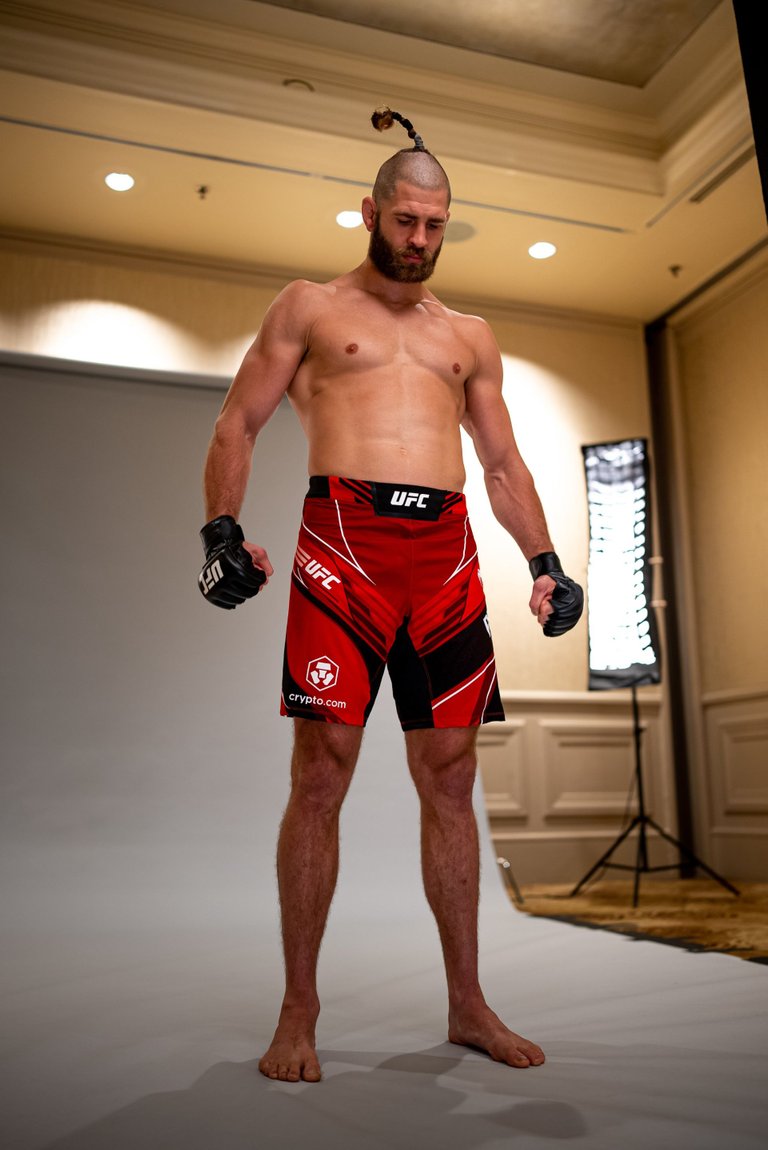 ---
Procházka campeón ideal para la UFC - Procházka ideal champion for the UFC
---
Para la compañía tener a Jiri Procházka como el nuevo campeón va ser lo mejor, desde hace mucho tiempo no tienen un luchador mediático con el cinturón, ahora con el checo pueden conseguirlo, su llegada a la UFC paso por desapercibida, pero sus contundentes victorias hicieron que su nombre este en el ojo publico, y si llega a ganar este sábado su popularidad va seguir aumentando mucho mas. Los peleadores que venden muchos PPV, son importantes para Dana White jefe de la compañía, en estos momentos entre los campeones no hay muchos que tengan esa capacidad para vender tanto, quizás Israel Adensanya y Francis Ngannou sean los nombres mas sobresalientes de los campeones que tiene horita la UFC.
For the company to have Jiri Procházka as the new champion will be the best, for a long time they have not had a media fighter with the belt, now with the Czech can get it, his arrival to the UFC went unnoticed, but his convincing victories made his name in the public eye, and if he wins this Saturday his popularity will continue to increase much more. The fighters who sell a lot of PPV, are important for Dana White head of the company, at this time among the champions there are not many who have the ability to sell so much, perhaps Israel Adensanya and Francis Ngannou are the most outstanding names of the champions that the UFC has now.
Pero Jiri Procházka tiene para ser mucho mas grande que ellos, esto lo sabe la UFC que seguramente esperan verlo ganar, por eso le dieron rápidamente la oportunidad de tener esta pelea y personalmente como fanático pienso que seria lo mejor. Al publico le encanta ver peleadores agresivos, hombres que terminan sus combates con KO's impresionantes, pues todo esto lo tiene Procházka por eso ha conectado rápido con la fanaticada, lo cual esta excelente porque mientras mas popularidad logre obtener, mas visibilidad va tener la compañía y el deporte de la MMA va seguir creciendo.
But Jiri Procházka has to be much bigger than them, the UFC knows this and they surely hope to see him win, that's why they gave him the opportunity to have this fight and personally as a fan I think it would be the best. The public loves to see aggressive fighters, men who finish their fights with impressive KO's, Procházka has all this, that's why he has connected quickly with the fans, which is excellent because the more popularity he gets, the more visibility the company will have and the sport of MMA will continue to grow.
Mi pronostico para este combate esta en un 60% hacia Procházka, voy a respetar un poco al campeón dando un 40% hacia Glover Teixeira, pienso que se lo ha ganado obteniendo grandes victorias y a parte no se convirtió en campeón por casualidad. Jiri es un gran peleador pero tiene que cuidarse muy bien, porque puede suceder otra nueva sorpresa y eso le bajaría mucho el cache a su nombre. Una nueva super estrella esta a punto de nacer, Procházka tiene todo para ser campeón y poder defender el cinturón por unos buenos años, aunque nada esta dicho hasta que finalice el combate y el sábado vamos a poder tener la respuesta de esta pelea.
My prediction for this fight is 60% towards Procházka, I am going to respect the champion a little bit giving 40% towards Glover Teixeira, I think he has earned it by getting great victories and he didn't become champion by chance. Jiri is a great fighter but he has to take care of himself very well, because another new surprise could happen and that would lower his name a lot. A new superstar is about to be born, Procházka has everything to be champion and to be able to defend the belt for a few good years, although nothing is said until the end of the fight and on Saturday we will be able to have the answer of this fight.
No se pueden perder la pelea estelar de la noche - Don't miss the main fight of the night.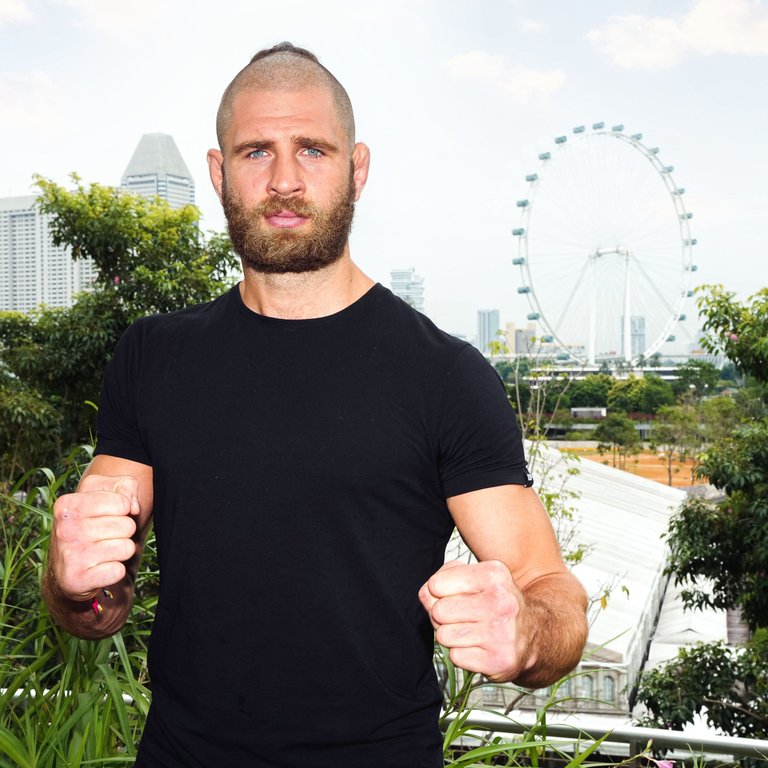 Les dejo Mi Twitter ---> Wensports
Traductor Utilizado: Deepl
Banner creado en Canva
---
---